Infield trio reps Tortugas at All-Star Game
Reds prospects Senzel, Long, LaValley enjoy friendly competition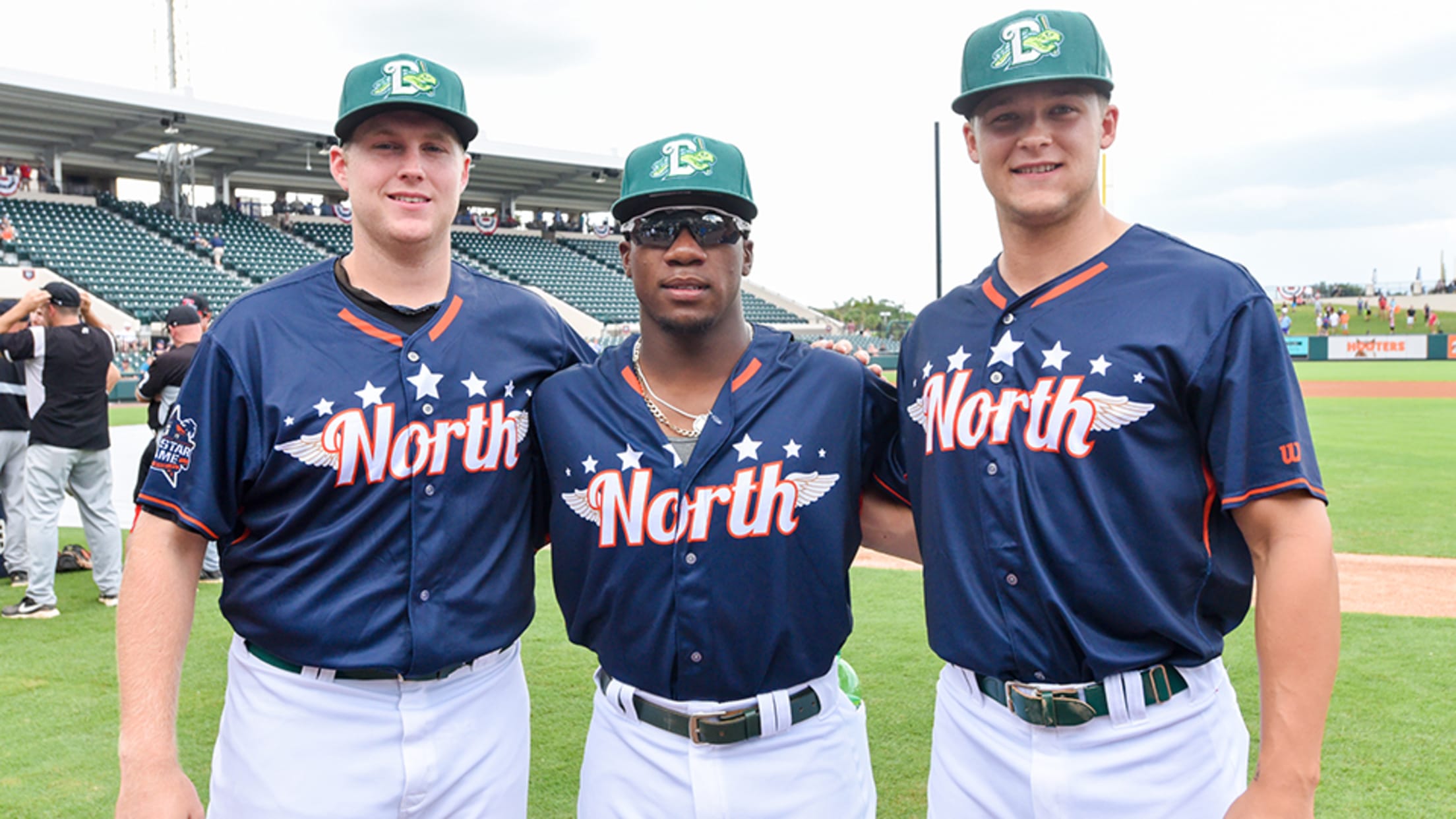 The names of Gavin LaValley, Shed Long and Nick Senzel are all over the Florida State League leaderboards. (Tom Hagerty/MiLB.com)
LAKELAND, Florida -- Daytona Tortugas second baseman Shed Long insists on having the "trifecta" present before talking to the media."I want Nick with me. Where's Gavin?"When Long gathers teammates Nick Senzel and Gavin LaValley, a discussion finally can begin. Well, after reporters are turned into impromptu photographers with the players'
LAKELAND, Florida -- Daytona Tortugas second baseman Shed Long insists on having the "trifecta" present before talking to the media.
"I want Nick with me. Where's Gavin?"
When Long gathers teammates Nick Senzel and Gavin LaValley, a discussion finally can begin. Well, after reporters are turned into impromptu photographers with the players' cameras.
The camaraderie comes as no surprise. The three have formed a tight bond since last year's instructional league. It carried into Spring Training, through Daytona's successful first half and, now, to the the Florida State League All-Star Game.
"[The Reds] told us this is the group they are going to focus on," LaValley said. "They wanted us to bond and show what we can do and what we're capable of doing."
The three not only earned invitations to Joker Marchant Stadium but spots in the North Division starting lineup. Long and Senzel will form half of the infield, while LaValley -- a first baseman -- will be the designated hitter.
"I still get to be in the lineup," LaValley said. "We like to hit. That's our thing."
Clearly.
LaValley shares the league lead with 15 homers and ranks second with 44 RBIs. Long and Senzel ranks first and second in hits with 74 and 72, respectively, and Senzel -- the Reds' top prospect -- is tied for third among all Minor Leaguers with 24 doubles. The Tortugas infielders have combined for a whopping 362 total bases.
"We're making it a competition between ourselves to get the best out of each other," Long said. "It's not a competition of 'I want to do well and one to do bad.' If I'm going to do this, you've got to do it, too. We're just trying to push each other to be the best we can be."
That support not only has kept the group excelling, it helped Daytona go 32-29 in the first half, one game behind Clearwater and Tampa in a competitive North Division.
"There's still a lot of baseball to be played," Senzel said. "Having the friendly competition with these guys here makes it fun to come to work every day."

In brief
Derby washout:
Just as Clearwater Threshers second baseman
Drew Stankiewicz
unleashed a barrage of six long balls in the second round of Home Run Derby, the rains came.
A torrential downpour and lightning delayed, then led to a cancellation of the event.
In the first round, Palm Beach's
Randy Arozarena
hit four homers to advance, while Stankiewicz, Bradenton's
Casey Hughston
, St. Lucie's
Jhoan Urena
and Lakeland's
Arvicent Perez
hit three apiece. Clearwater's
Herlis Rodriguez
, who hit one homer, was eliminated.
Players had two minutes in each round to hit as many home runs as possible.
Marauders bring 18:
Bradenton had the shortest trip to Lakeland among South Division teams, and that's probably a good thing. Thanks to last-minute roster changes, the Marauders ended up having the most All-Star representatives, packing two vans to carry 12 players and six coaches roughly 70 miles. "It's good to have some familiar faces around, it makes you not as nervous," Hughston said. "But it's nice meeting new guys, getting to know them and other teams as well."
North without hot hand:
Tampa's
Zack Littell
, who leads the league in wins, was unavailable for the North All-Stars after
pitching for Double-A Trenton
on Thursday. Littell enters the break as one of the FSL's hottest hurlers, allowing nine earned runs and striking out 39 over 45 1/3 innings in winning his last seven starts for the Yankees. "A great first half," Tampa pitching coach Tim Norton said." He's got elite command of his fastball at this level. He's very confident in all of his pitches. He's got a good four-pitch mix. Great composure, great competitor, great worker. He's just done everything we've asked him to do and he's had a great start."
Erin Brown is a contributor to MiLB.com.