Somerset At Harrisburg Series Preview: 4/25 – 4/30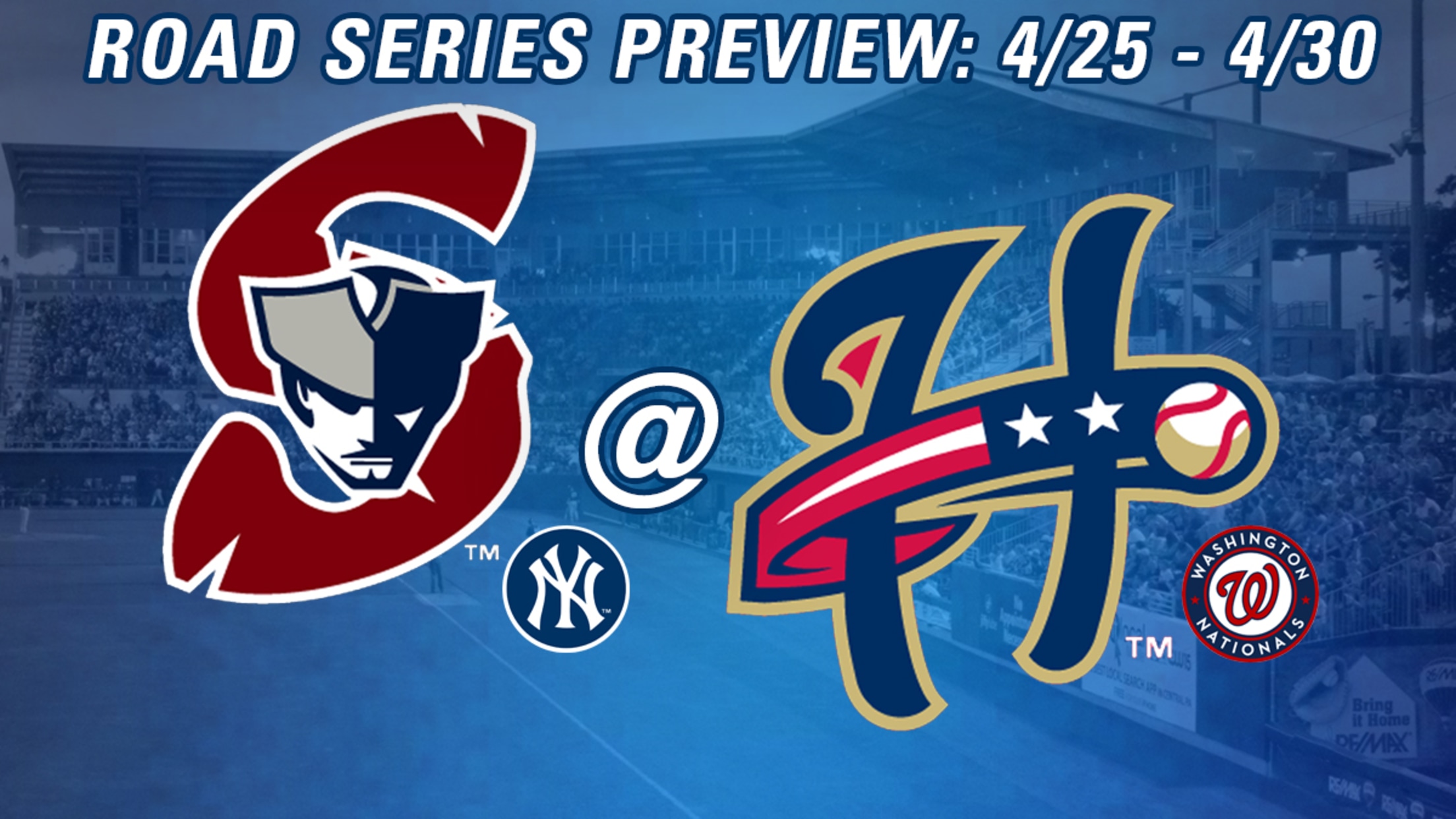 Bridgewater, New Jersey - After salvaging a series split with the visiting New Hampshire Fisher Cats on Sunday, the second place Patriots, sitting at 8-7 overall, will board the buses and travel to Harrisburg for a six-game slate with the Senators this week. The Patriots took two-of-three meetings from the
Bridgewater, New Jersey - After salvaging a series split with the visiting New Hampshire Fisher Cats on Sunday, the second place Patriots, sitting at 8-7 overall, will board the buses and travel to Harrisburg for a six-game slate with the Senators this week. The Patriots took two-of-three meetings from the Nationals affiliate in their season opening series earlier this month.
Follow all the action with Patriots play-by-play broadcaster Steven Cusumano on FOX Sports New Jersey
It's unclear whether Yankees outfielder Harrison Bader will continue his rehab assignment on the road with the Patriots, or potentially join the RailRiders while they are on the road in Worcester this week. The Bombers centerfielder played in two games for Somerset over the weekend in what was his first live game action since he suffered a left oblique strain and was placed on the IL on March 27.
The 28-year-old Bader doubled on Friday night for his only hit in six at-bats and has showed no reservation in recording six put outs over the 10 innings he has spent in center thus far. So far, so good for one of baseball's elite defenders. Yankees manager Aaron Boone told reporters on Monday night that he doesn't expect Bader to join the big-league club during their current seven game road trip.
"I feel good - checked off all the boxes in the rehab process to get back on the field and play," Bader said prior to Friday night's game. "Looking forward to going out there and getting my game ready to go help the team in the Bronx win some baseball games."
"For me individually it starts with today getting back onto the field and progressing my game to a point where I'm effective at the major league level," said Bader. "I'm just excited to go out there and put that uniform on but before I can do that, I've got to take care of business here and potentially the Triple-A level if that's where I am going to be headed after this."
Before the Patriots and Senators square off, we take a look at the notable performances in the week that was for Somerset and look ahead to some key Nationals prospects that they will square off against in the week that lies ahead.
Downright Offensive
It's Max Burt's world and we're just living in it. The versatile infielder continued his torrid early season stretch last week, going 5-for-13 with two homers, five RBI and seven runs scored and four stolen bases. The 26-year-old Burt is tied for second in the Eastern League in both home runs (4) and RBI (13) in just 10 games of action thus far. The longtime Yankees farmhand says the basis to his 2023 success is just more so mental than anything mechanical: merely finding enjoyment in the games purest sense while taking a day-to-day approach.
"For me, I just kind of dumbed everything down," admitted Burt. "For me I would always have a bunch of stuff going on in my head and for me, I just kind of made things easy for me to understand; take two or three things and make them simple and just go from there."
Burt added, "It's all mental for me. I know I had all of the physical attributes, but for me, I needed to take a step up mentally and I knew that was that next step to take me to that next level. I'm still working on it every day. You're only as good as your next at-bat."
Burt's .455 batting average is the highest mark in the Eastern League amongst all players with at least 10 games of action thus far.
Strong-Arms
Right-handers Clayton Beeter and Blas Castano have been two huge bright spots to the Patriots extended six-man rotation the last two turns.
Beeter is sixth among qualified Eastern League starters with a 1.08 mark after three starts on the bump. The Texas Tech product has allowed just a .197 batting average to the opposition while posting a 17:6 K:BB ratio over 16.2 innings in his first season carrying a true starting pitcher's workload.
Castano has made just two starts at Double-A, but the Dominican-native has proven to be able to pitch at the upper-levels. The 24-year-old hurler has allowed just five hits and two earned runs while striking out 12 in his 10 innings since joining Somerset a few weeks ago. New Hampshire and Binghamton have combined to hit a mere .152 against him.
Speed on the Bases
Manager Raul Dominguez has proven to be ultra-aggressive on the base paths over the first three weeks of the season. As a team, Somerset leads the league in steals with 42 and that mark is good for second overall in minor league baseball.
Despite having just three hits on the season, outfielder Jasson Dominguez has managed to swipe a league-leading 9 bases due large in part because he has been able to draw a league-high 15 walks. It's encouraging to see The Martian making such a huge impact offensively even when things are not necessarily clicking yet with the bat.
Outfielder Brandon Lockridge (7) and Max Burt (6) find themselves ranked in top-five across the league in that respective category.
Knowing the Opponent
The Senators stand at 8-7 overall as they return home to the confines of FNB Field, winners of three straight after splitting a series with the RubberDucks on the road in Akron last week.
Catcher Drew Millas is the lone MLB pipeline top-30 Nationals position prospect on the Harrisburg roster, but the 25-year-old backstop has been a standout performer for the Senators in the early going. Originally a 2019 draftee by Oakland, Millas was dealt to Washington at the trade deadline in 2021 and he has been an on-base machine in the action he has seen. In 10 games thus far, Millas has been on base 17 times and his .439 OBP is among the best in the EL.
The Nationals took 24-year-old right-hander Jackson Rutledge with the 17th overall pick in the 2019 MLB Draft and the team's 11th ranked prospect on MLB Pipeline has been really strong in his first taste of Double-A action. Rutledge is striking out nearly a batter an inning and is fresh off a start in which he allowed just two earned runs over six innings against Akron.
Ronald Hererra was once a top-30 Yankees prospect not that long ago. He even pitched in two games in the big leagues for the Yankees in 2017 before eventually being dealt to Texas. The soon-to-be 28-year-old underwent shoulder surgery and ultimately found himself pitching internationally and on the independent circuit before inking a minor league deal with Washington. The right-hander is off to a strong start having fanned 18 batters in 13 innings while allowing just five earned runs over three starts.
Follow along with the series in real time, as Steven Cusumano calls the play-by-play live on Fox Sports New Jersey - 93.5 FM, 1450 AM. The broadcast can also be streamed live online by clicking here.
Probable Starting Rotations:
Tuesday 4/25 - RHP Blane Abeyta (0-0, 11.05 ERA) vs. RHP Jackson Rutledge (1-0, 3.45 ERA)
Wednesday 4/26 – RHP Richard Fitts (0-2, 7.36 ERA) vs. LHP Mitchell Parker (0-1, 10.24 ERA)
Thursday 4/27 – RHP Will Warren (1-0, 4.97 ERA) vs. RHP Ronald Herrera (0-1, 3.38 ERA)
Friday 4/28 – RHP Clayton Beeter (2-1, 1.08 ERA) vs. LHP Alex Troop (2-1, 4.73 ERA)
Saturday 4/29 – RHP Gray Fenter (1-1, 3.72 ERA) vs. RHP Michael Cuevas (1-0, 6.92 ERA)
Sunday 4/30 – RHP Blas Castano (1-0, 1.80 ERA) vs. RHP Jackson Rutledge (1-0, 3.45 ERA)
2023 SOMERSET PATRIOTS ROSTER!
Matt Kardos | SomersetPatriots.com Beat Writer
Matt Kardos has covered the Yankees minor league system for over a decade and will spend his 11th season on the beat covering the Patriots for SomersetPatriots.com. Throughout his career, Matt has contributed to MLB.com, YES Network and Pinstriped Prospects. When he's not at the ballpark, Matt enjoys traveling with his wife Kimberly, watching Jets football and collecting sports cards.