South Bend Barrage Too Much for Loons to Handle
ubs score in five of eight offensive innings while holding Great Lakes to five hits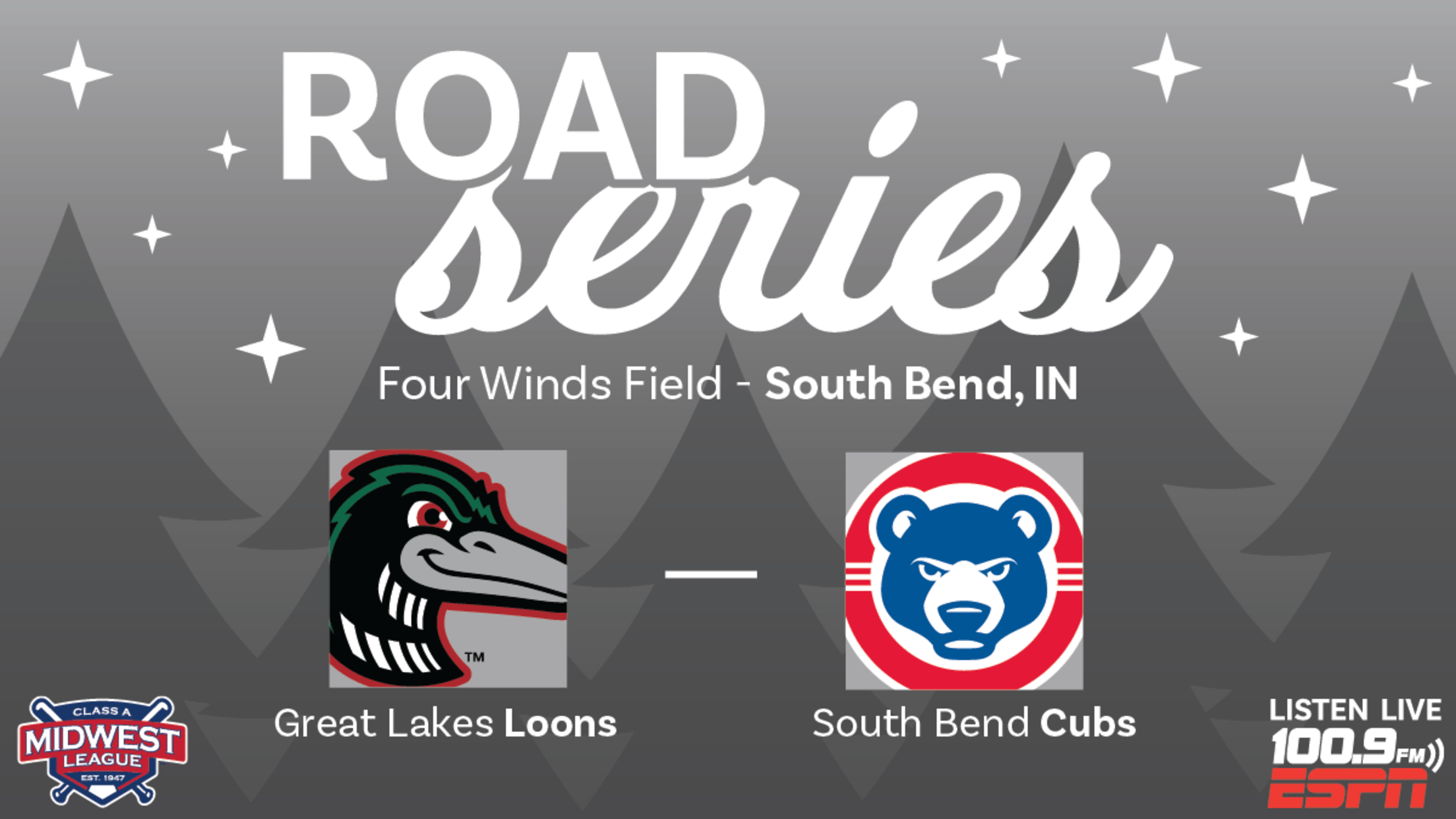 After being shut out Thursday on four hits, the Great Lakes Loons were more resourceful with their four hits Friday night, scoring four runs. Unfortunately, the South Bend Cubs were even more efficient. The Cubs scored 11 on just eight hits, downing the Loons, 11-4, at Four Winds Field at
After being shut out Thursday on four hits, the Great Lakes Loons were more resourceful with their four hits Friday night, scoring four runs.
Unfortunately, the South Bend Cubs were even more efficient.
The Cubs scored 11 on just eight hits, downing the Loons, 11-4, at Four Winds Field at Coveleski Stadium in South Bend, Ind.
South Bend (26-17) got out to an early lead in the first inning. Yohendrick Pinango singled with two outs, and after a walk, Owen Caissie doubled home both baserunners to put South Bend in front, 2-0.
Great Lakes (24-19) had an early response. On the first pitch of the second frame, Jose Ramos belted a deep fly ball over the seats in left field, his first High-A home run. That halved the Loons deficit, as they trailed 2-1.
After Nick Nastrini (L, 0-1) spun a perfect second inning, he would run into more trouble in the third. Nastrini put two Cubs aboard with walks before Jake Slaughter smashed his second longball of the year, putting the Cubs ahead 5-1. Nastrini's final line read three innings of three-hit ball, with five earned runs, four walks, and just one strikeout. Those four walks match a season-high by a Loons starter.
South Bend, High-A affiliate of the Chicago Cubs, would continue to pour it on. They tallied an unearned run in the fourth inning off of Adam Scoggins after a leadoff fielding error. In the fifth, Carlos Alejo walked four of the five batters he faced, getting pulled after retiring just one batter. Julian Smith inherited three runners and stranded two of them, needing just two pitches to get the final two outs of the frame.
The Loons, Midwest League partner with the Los Angeles Dodgers, would make it interesting in the top of the sixth, scoring three runs on two singles and an error.Ryan January and Leonel Valera tallied RBI hits, and Imanol Vargas drove in a run with a bases-loaded walk. January celebrated his 24th birthday Friday, and had the only hit in the frame which reached the outfield grass. Great Lakes looked like they were starting to close the gap, trailing 8-4 heading to the bottom of the sixth.
But the Cubs swung momentum back in their favor. After they notched back-to-back singles to begin the frame, both runners scored, on a wild pitch and a groundout. With two outs and the bases empty, Smith surrendered a walk, then a double, and South Bend got all three runs back that they allowed in the top of the frame. After the sixth, South Bend had an 11-4 lead.
Great Lakes would not allow any more runs, thanks to late-inning relief work from Jacob Cantleberry. The southpaw tossed two frames and allowed just one baserunner on a single, picking up a strikeout as well.
But the Loons could not do any damage against South Bend's bullpen. Bailey Reid and Jeremiah Estrada combined for 3 1-3 innings of scoreless baseball, allowing a pair of hits (one each), a pair of walks (one each), and picking up four strikeouts (one for Reid, three for Estrada).
South Bend holds a 3-1 advantage in the six-game set, and the best the Loons can hope for is a split – their four-series-long winning streak has officially come to an end. The Loons look for revenge Saturday night in South Bend, with another 7:05 p.m. first pitch. Loons lefty Lael Lockhart (1-0, 1.45 ERA) will take the hill, opposing right-hander Kohl Franklin (0-3, 9.69 ERA) for the Cubs. Pregame coverage begins on ESPN 100.9-FM with the Loons On-Deck Circle, driven by Garber Chevrolet Midland, at 6:50 p.m.
Correction (May 27, 2021): An earlier version of this story stated that the Loons tallied five hits in the contest. A later scoring decision changed a sixth-inning single into an error, giving Great Lakes four hits instead of five.
The Great Lakes Loons have been a Single-A partner of the Los Angeles Dodgers since the team's inception in 2007. Dow Diamond serves as the team's home and also houses the Michigan Baseball Foundation, a 501(c)(3) non-profit public charity, and ESPN 100.9-FM. For tickets or information about the Loons, call 989-837-BALL or visit Loons.com.