Then and now: Southern League
Long after Aaron broke boundaries, circuit adding to its legacy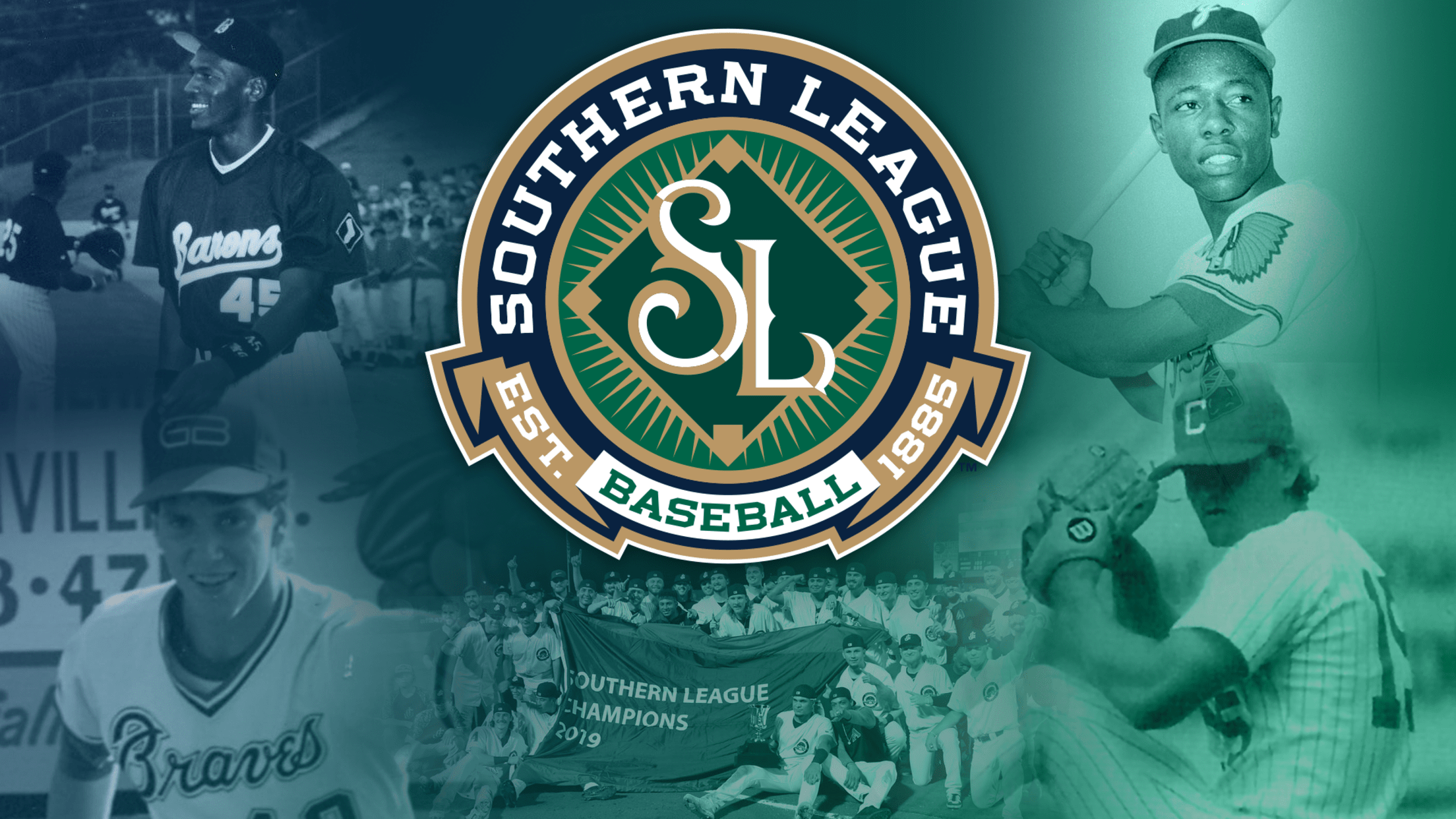 Following Major League Baseball's announcement that historical league names are returning to the Minors in 2022, MiLB.com provides a refresher on each of the 11 circuits from Triple-A, Double-A, High-A and Single-A -- including past champions, famous alumni and more. Take a tour of the Double-A Southern League, where baseball
Following Major League Baseball's announcement that historical league names are returning to the Minors in 2022, MiLB.com provides a refresher on each of the 11 circuits from Triple-A, Double-A, High-A and Single-A -- including past champions, famous alumni and more.
Take a tour of the Double-A Southern League, where baseball history evolved with American history, Hammerin' Hank honed his skills and His Airness rode the bus.
Southern League
Established in 1885, known in 2021 as the Double-A South
North Division
Birmingham Barons: Chicago White Sox, Regions Field – Birmingham, AL
Chattanooga Lookouts: Cincinnati Reds, AT&T Field – Chattanooga, TN (Ballpark Guide)
Rocket City Trash Pandas: Los Angeles Angels, Toyota Field – Madison, AL (Ballpark Guide)
Tennessee Smokies: Chicago Cubs, Smokies Stadium – Kodak, TN (Ballpark Guide)
South Division
Biloxi Shuckers: Milwaukee Brewers, MGM Park – Biloxi, MS
Mississippi Braves: Atlanta Braves, Trustmark Park – Pearl, MS
Montgomery Biscuits: Tampa Bay Rays, Montgomery Riverwalk Stadium – Montgomery, AL
Pensacola Blue Wahoos: Miami Marlins, Admiral Fetterman Field – Pensacola, FL
2021 champion: Mississippi Braves
Most championships, all-time: Birmingham Barons (12)
WE ARE YOUR 2021 DOUBLE-A SOUTH CHAMPIONS🥳🥳 pic.twitter.com/QwZZUB6Stm

— Mississippi Braves (@mbraves) September 27, 2021
Did you know? Named for Lookout Mountain, which rests along the state borders of Georgia, Alabama and Tennessee, the Chattanooga Lookouts have one of the oldest team names in the Minor Leagues, with the moniker dating back to 1885. Only the Buffalo Bisons (1877) have a longer history. … One of the original versions of the loop, known at its inception as the Southern Association, included an Atlanta Crackers team that was owned by John W. Heisman, who is the namesake for the highest honor in college football. Since then, two Heisman Trophy winners have toiled in the Southern League. Bo Jackson, the football and baseball legend, played for Memphis in 1986 -- one year after winning the Heisman Trophy at Auburn. He made a rehab stint on the circuit again with Birmingham in 1991. Chris Weinke played for Knoxville in 1994 and 1996 before going to college and winning the Heisman as a 28-year-old at Florida State in 2000.
LOOKOUT!

And look at how the iconic Chattanooga logo has evolved.

👀https://t.co/roH0kVF6MT pic.twitter.com/Ea5xliEPrQ

— Minor League Baseball (@MiLB) April 30, 2020
Notable alumni: Hank Aaron, Reggie Jackson, Fergie Jenkins, Vida Blue, Tony La Russa, Rollie Fingers, Alan Trammell, Cal Ripken Jr., Tom Glavine, Michael Jordan, Bo Jackson, Trevor Hoffman, Randy Johnson and Chipper Jones.
The history of the Southern League is almost as old as baseball in America.
Tracing back to the original eight-team circuit that came into existence in 1885, the league spawned two wildly popular variations in the first half of the 20th century. The Southern Association, founded in 1901, filled the void left by the original Southern League that folded in 1899. Games often began at 3:30 p.m. and, without lights, were typically completed in the span of 90 minutes. The Southern Association faced a rapid decline in attendance in the late 1950s as the advent of radio and television gave fans alternative means of enjoying games. The circuit folded in 1961.
Formed in 1904, the South Atlantic League weathered periods of dormancy during the Great Depression and World War II. It also made history when Hank Aaron, among others, brought integrated baseball to the league in 1953. After the Southern Association disbanded, the Sally League was elevated to Double-A status while adding two more teams – Chattanooga and Nashville – in 1963, and one year later, it adopted the original Southern League moniker.
From playing in the Negro Leagues to breaking the color barrier in the South Atlantic League, Hank Aaron's historic career began before his first Major League homer.https://t.co/3WvvwrWXJd pic.twitter.com/YvX3fyH39R

— Minor League Baseball (@MiLB) January 26, 2021
The crossover presents a complicated history for the two circuits in their modern form. Both the Southern League and the High-A South Atlantic League have laid claim to events from 1904-1963 as part of their respective histories, but in terms of record keeping, it was decided that all Southern League records would date back to the 1964 season.
Birmingham's Rickwood Field, the oldest baseball stadium in the country, bridges the history for both leagues. Built in 1910, the park was the Barons' first home until 1987 and also hosted the Birmingham Black Barons of the Negro American League for more than four decades, including Willie Mays' stint with the club in 1948. Since 1996, the Barons have played one regular-season game there each year, dubbed the Rickwood Classic – but it has been on hiatus since the pandemic.
Happy 110th anniversary to Rickwood Field!

Formerly home to the Birmingham Black Barons of the Negro Leagues, we're grateful for the abundance of history produced within its walls. pic.twitter.com/AmiZesknVT

— Minor League Baseball (@MiLB) August 18, 2020
Featuring an array of modern stars, the league has drawn over two million fans every season since 1991. Like most other circuits, the Southern League produced its share of Hall of Famers, like Tom Glavine and Trevor Hoffman, but it was also host to one of the biggest stars in the history of sports, Michael Jordan.
Perhaps the greatest basketball player of all time, Jordan spurred basketball for a contract with the White Sox in 1994, fresh off winning three consecutive NBA Championships with the Bulls. "His Airness" played 127 games with Birmingham in 1994 before returning to the NBA for the second half of his historic basketball career.
25 years later, a look at Michael Jordan's Minor League Baseball career through the eyes of teammates and opponents: https://t.co/lbZ9rYTLZC #WhiteSox pic.twitter.com/9q9tPScTmT

— Minor League Baseball (@MiLB) April 8, 2019
What's new: Since it was last known as the Southern League in 2019, the Jacksonville Jumbo Shrimp were elevated to Triple-A and the Jackson Generals were disbanded.
What's familiar: The modern Southern League has stayed at the Double-A level since 1964, and that won't change in 2022. The teams and divisions will remain the same as they were in '21.
For the record: The Greenville Braves accomplished the rare feat of winning 100 games in 1992. Led by Chipper Jones and an MVP season from Javy Lopez, that year's G-Braves were named No. 23 among the Top 100 Minor League teams of the 20th century. … Hal Stowe pitched just one inning in his Major League career but found fame with the pitch he didn't throw. While playing with Charlotte in his final Minor League season in 1964, Stowe earned a win against Asheville by getting the final out on a pickoff before throwing his first pitch. … Although this story might make a modern coach's head spin, Don Grate was credited three times with setting the world distance record for throwing a baseball while playing with Chattanooga in 1952 and 1953. His first historic long toss measured 434 feet, 1 inch and his last reportedly traveled 21 feet further. … Although most baseball fans have gotten used to seeing mammoth homers from Giancarlo Stanton over his 12 years in the big leagues, the Yankees' slugger -- then a Marlins prospect known as Michael Stanton -- built his legend with a 500-foot rocket in 2010 while playing for Jacksonville at Riverwalk Stadium in Montgomery.
Ben's Biz memory -- Interviewing Chattanooga's beloved franchise icon, Wanda the Program Lady
"I've met a lot of ballpark employees, gameday employees through the years, and a lot of them do have connections with the fans, ushers, vendors, front office in general. But I've never seen the level of connection between fans and a gameday employee like Wanda [Goins] the Program Lady. I think for two reasons. One, her job, as her name implies, she's 'Wanda the Program Lady' to everyone because she stands right at the entrance to the stadium and yells, 'Get your programs here!' in the repeatable sales patter that she's done through the years. And so for generations of Lookouts fans over, now, three-plus decades, she has just become so associated with the team that you're walking the stairs up to the stadium and you hear her voice coming from the entrance. And then when you see her, initially you could buy a program from her. Now she's holding up a QR code on a sign. She holds a mini bat and there's a QR code fixed to a mini bat, and now you just scan your phone. But even with this new technology, they couldn't ever get rid of Wanda the Program Lady because she's just a part of the gameday experience. She has such a warm personality. She probably gives out dozens, if not hundreds, of hugs in the course of any gameday. It's amazing. You talk to any Chattanooga Lookouts fan, I mean, anyone who's gone to any number of games over the last number of decades and they know who she is. I don't think I've ever written a story about someone who just has such recognition and is universally beloved."
Chattanooga's Wanda Goins -- aka, Wanda the Program Lady -- brings a warm, welcoming presence that's been synonymous with Lookouts baseball for decades.

"She treats everybody like they're her best friend."@bensbiz reports from the road: https://t.co/GCoYpfBXhJ pic.twitter.com/Hc8LwnqrCP

— Minor League Baseball (@MiLB) July 14, 2021
What to look for in 2022: The Mississippi Braves, like their parent club, took home the championship in '21 with a 3-2 series victory over Rays affiliate Montgomery. The M-Braves went a Minor League-best 45-26 against teams over .500, and eight members of the team held spots on the Braves' Top 30 list last season. On the heels of Drew Lugbauer's monster Arizona Fall League campaign – he batted .346 with a 1.145 OPS in 16 games – Mississippi could be poised for another run in the playoffs. Look out for the Double-A debuts of No. 3 Rays prospect Taj Bradley who dominated across two levels with a 1.83 ERA and 123 strikeouts en route to the MiLBY as the Starting Pitcher of the Year; and Milwaukee 2021 first-rounder Sal Frelick, who climbed to High-A in his first taste of professional ball and could crack the Biloxi roster if he has a strong start to '22. And watch for the potential returns of Marlins No. 6 prospect JJ Bleday, who struggled with Pensacola but was named AFL MVP after a dominant campaign; and White Sox prospect Yoelqui Cespedes, who hit .298/.340/.404 in 27 games for the Barons last year.