State of the System: Baltimore Orioles
Organization boasts Rutschman, robust crop of pitchers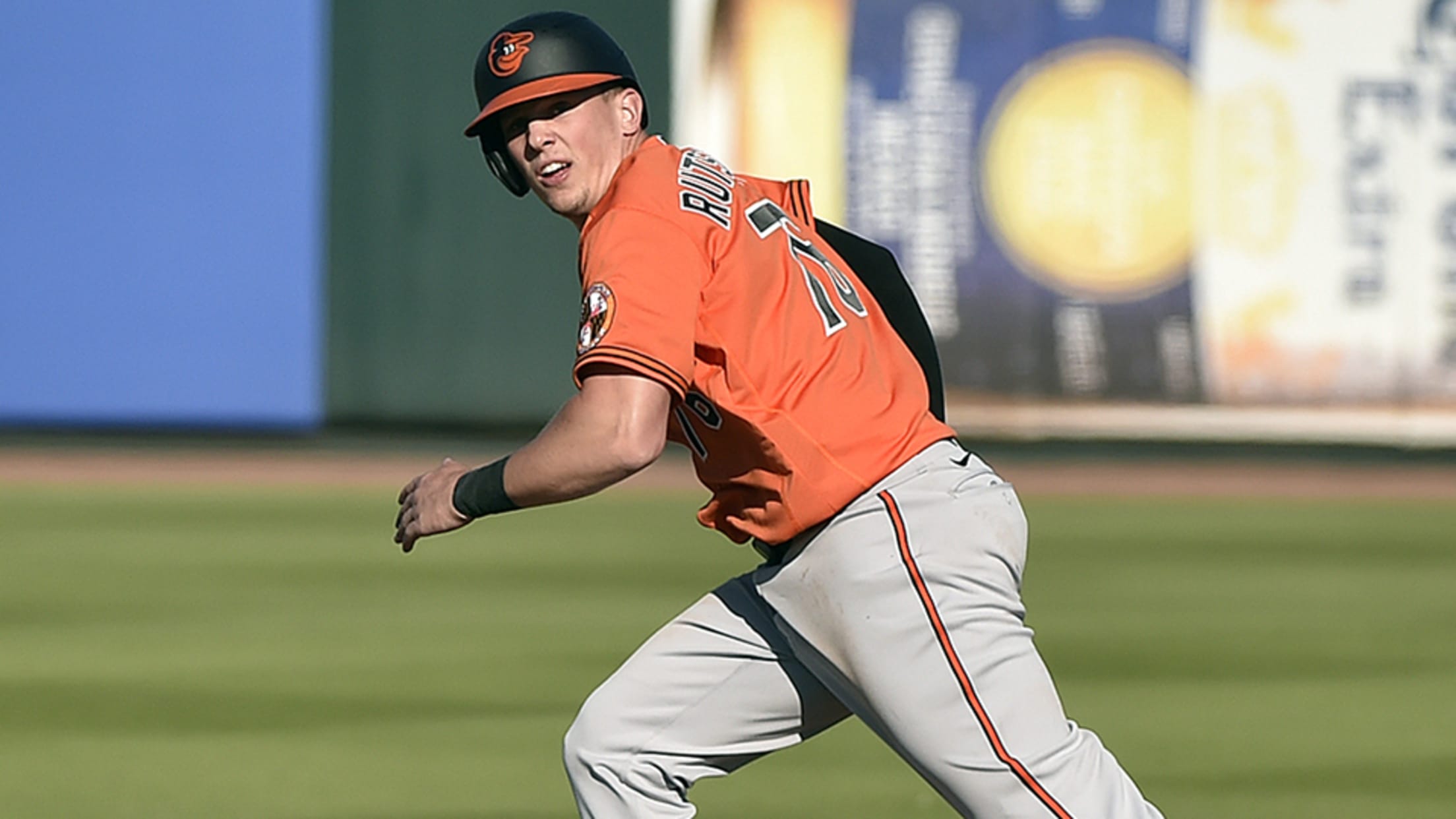 Top prospect Adley Rutschman is the long-term plan behind the plate in an Orioles system rich with pitchers. (Joy R. Absalon/MiLB.com)
Starting in October and running through the end of the year, MiLB.com's new State of the System series evaluates the strengths and weaknesses of each Major League organization, highlights prospects who've made the biggest strides in 2020 and offers a peek at 2021. On the surface, the 2020 season was
Starting in October and running through the end of the year, MiLB.com's new State of the System series evaluates the strengths and weaknesses of each Major League organization, highlights prospects who've made the biggest strides in 2020 and offers a peek at 2021.
On the surface, the 2020 season was another in which the Orioles finished among the worst teams in baseball. Although it'll be picking in the top five for the third consecutive Draft next summer, the organization took an extraordinary step forward.
It wasn't just that the Orioles had moments that showed they could actually contend in the shortened season. Baltimore also established a sturdier foundation in their rebuild.
There's still plenty of work to be done and likely another lean year or two before postseason baseball at Camden Yards could become a realistic goal. But general manager Mike Elias and director of player development Matt Blood have been aggressive in building a homegrown core.
Since the Elias regime took over in November 2018, the Orioles have leapt from the bottom five to the top 10 in MiLB.com's overall farm system rankings. The front office has addressed this issue on all fronts.
Trading All-Star Manny Machado signaled the start of the rebuild in Baltimore. And while swapping Major League veterans for reliable Minor Leaguers can only help so much, the revival of the club's previously dormant presence in the international market is the most drastic change.
The O's enter this offseason with five prospects among MLB Pipeline's Top 100 and all of whom were first-rounders in five of the past six Drafts. Excepting 2020 No. 2 overall pick Heston Kjerstad, the other four players participated at the team's alternate site in Bowie at some point this summer. Ryan Mountcastle, the No. 90 overall prospect and 2015 first-rounder, not only made his Major League debut but put together one of the best offensive performances by a rookie.
The others – catcher Adley Rutschman (No. 2), right-hander Grayson Rodriguez (No. 31) and left-hander DL Hall (No. 64) – are three of the six prospects who attended both the alternate training site and the instructional camp in Sarasota, Florida. The 55 players at the Ed Smith Sports Complex obviously skew younger as the rebuild is still in the early stages.
It's going to take time for the organization to be consistently competitive again. But nothing can be built without a foundation, and the Orioles have laid the groundwork.
System strength: Depth plays an important role in a rebuild. The O's have prospects they can bank on comfortably, as evidenced by their first-round successes. But the deepest pools of talent are comprised of pitchers and middle infielders, particularly shortstops.
Rodriguez and Hall, the club's second- and fourth-ranked prospects, respectively, are the class of the system on the mound. Rodriguez, who mostly works off a mid- to high-90s fastball with a plus slider, shared 2019 Minor League Pitcher of the Year honors with Orioles No. 9 prospect Michael Baumann after leading a staff at Class A Delmarva that was named the best team in the Minors. Hall throws three plus pitches – a mid-90s fastball, fading changeup and high-spinning breaking ball – and earned a spot in the Futures Game in Cleveland.
"These guys both had great summers. Electric, overpowering stuff," Blood said. "And just the experience in Bowie was so good for them because they faced mostly upper-level hitters who forced them to be a little more refined with the execution of their raw, overpowering stuff."
Zac Lowther (No. 11) is in Sarasota after his stay in Bowie this summer was limited by an oblique injury. Drew Rom (No. 23) is in Florida after playing competitive games in Kentucky in a league that featured former Major Leaguers Brandon Phillips and Eric Young Jr., as is 2020 fifth-rounder Carter Baumler (No. 18), the only pitcher the O's selected in the abbreviated Draft.
A right elbow strain kept Baumann from Sarasota. Dean Kremer (No. 10) and Keegan Akin (No. 15) both made their Major League debuts in 2020 and could compete for rotation spots next spring. Kevin Smith (No. 12) was acquired from the Mets for Miguel Castro at the Trade Deadline and Kyle Bradish (No. 28) was part of the return from the Angels for Dylan Bundy. Both pitchers were shut down after the organization felt they'd thrown enough at the alternate site.
The #Orioles future on display at Delmarva where top prospect Adley Rutschman and second-ranked Grayson Rodriguez battery for the @shorebirds 👀pic.twitter.com/Tg8nTQ5geO

— Minor League Baseball (@MiLB) August 24, 2019
The O's selected another shortstop, No. 7 prospect Jordan Westburg, in the collective bargaining round of this year's Draft and went back to that well again to take No. 20 prospect Anthony Servideo in the third. The duo joined a group of potential shortstops of the future led by 2019 second-rounder Gunnar Henderson.
"We have a philosophy of wanting [our prospects] to be versatile defenders," Blood said in regard to the glut of natural shortstops. "So they're getting experience in a lot of positions. … There's only one person who plays shortstop when the game starts, so if you want their bat in the lineup, they need to be able to have the confidence to play other places."
Areas for growth: If the Orioles need to reach down to the Minors for help next year, they probably won't be recalling one of their better prospects without making a very aggressive, Juan Soto-type move.
With the exception of the three rookies to debut in the Majors this year, Rylan Bannon (No. 25) was the only prospect among the O's top 30 who's played a game at the Triple-A level.
Obviously, all it takes for this to change is time. No. 9 prospect Yusniel Díaz, Baumann, Lowther and Smith all likely would have been in Norfolk at some point in a normal season. But the structure of the club's rosters in Bowie and Sarasota show just how young the featured names in this system truly are.
What changed in 2020: For several years, Orioles ownership decided to largely ignore the international market to allocate resources toward helping the big league club. That mode of thought began to change under previous GM Dan Duquette following the Machado trade. Then Elias was hired. He brought on Koby Perez as international scouting director, and the O's became one of the more aggressive teams in that market.
"It's definitely a shot in the arm for the system to see young talent, athletic Latin American players competing with our domestic players," Blood said. "It just provides a whole other level of depth in competition to the system. And it's exciting."
With the nature of the international market being such that the higher profile guys have basically decided their Major League organizations well before signing day, the Orioles were limited in who they were able to get right away. Fortunately, they took advantage of the foothold that Perez -- who held the same title in Cleveland -- established and signed a number of players to mid-six figure bonuses in 2019, rather than the multi-million dollar deals to which some prospects often agree.
"I would say the most exciting guys so far have been our trio of outfielders, Luis Gonzalez, Stiven Acevedo and Isaac Bellony," Blood said. "And two pitchers, Luis Ortiz, a left-handed pitcher and then right-handed pitcher Ofelky Peralta. I'd say that just those guys alone make an impact when it comes to just a noticeable difference in depth and the talent in our system. And we hope that that just improves year after year as we become more active in that market in signing these talented guys."
Baltimore spent $2.167 million on players left unsigned after July 2, 2018 and others before the June 15 deadline. Then the club signed 27 players on July 2 the following year, with Elias and Perez in attendance at the organization's Dominican site to signal how important the day would become to the organization.
The Orioles spent $4,876,000 of their $5,731,200 pool during the 2019-20 period and are expected to finally land some players on seven-figure bonuses when the next signing period begins in January.
New swag 🔥🔥 #J2 pic.twitter.com/L6QVejlELB

— Mike Elias (@MElias) June 6, 2019
Alternate site standouts: While depth from international signings and other places is necessary for a rebuild to work, it's stars like Rutschman who make it excel.
"He's the kind of guy you got to keep pushing and keep challenging. And every time you do, he recognizes that challenge and he rises to it," Blood said. "He's one of the guys that whenever you show up to watch the game, he's one of the guys that you can't wait to come to the plate because you're not sure what's going to happen -- in an excited way."
Robbed of his first full season in the Minors, the No. 1 overall pick in 2019 may have fallen into an accelerated development track.
At the Bowie site, the 22-year-old backstop got to hit against and put down signs for pitchers who were further along in their development, even some Major Leaguers, than the type of arms he'd likely have seen with Class A Advanced Frederick.
Rutschman was part of a leadership group of players -- with Henderson, Brett Cumberland, Isaac Mattson and Brian Gonzalez -- tasked with finding ways to develop a winning culture across all levels of the system.
Impact rookies: Mountcastle had one of the most impressive offensive seasons by a rookie. The 23-year-old hit .333/.386/.492 with five homers, five doubles and 23 RBIs in 126 at-bats, and the organization took note of his improved walk rate. But it was the shift to left field for the former shortstop that posed his biggest challenge.
"He's a big, athletic guy who can hit and he's got power. He's always kind of been that. The question was the position he was going to play," Blood said. "Ultimately, he's found himself in left field and he seems to be getting pretty comfortable there. … We hope we can run more guys like him out there that have success offensively right away and can find a comfortable position where they can help a big league team."
This Oriole loves the Big Apple.#Orioles No. 5 prospect Ryan Mountcastle goes deep into the New York night for his fourth home run.pic.twitter.com/MPewkqEAwT

— Minor League Baseball (@MiLB) September 9, 2020
Next big thing: If the Machado trade marked the start of the rebuild, then Diaz was the O's first big acquisition. The Dodgers signed the 24-year-old outfielder for $15.5 million out of Cuba in 2017, only to have him headline the deal for the superstar rental.
Diaz batted .265/.341/.464 with 11 homers, four triples, 22 doubles and 55 RBIs in 85 games across three levels, mainly Double-A Bowie, in 2019.
"He had a great alternate site, hit for a lot of power. He's really worked on his physique and overall athleticism," Blood said. "This is one we were pretty excited to see for next year, see and hopefully take a jump and get in that Major League discussion."
Diaz, along with Lowther and Baumann, are the safest locks for 40-man roster protection this offseason. With players like Rutschman, Rodriguez and Hall getting their most recent Minor Legaue experience at various Class A levels, Diaz is likely the next biggest name to debut in Baltimore.
Gerard Gilberto is a contributor to MiLB.com. Follow and interact with him on Twitter, **@Gerard_Gilberto**.