Suns Bats Steam Crawdads
Hagerstown Broke Out for Nine Runs in Win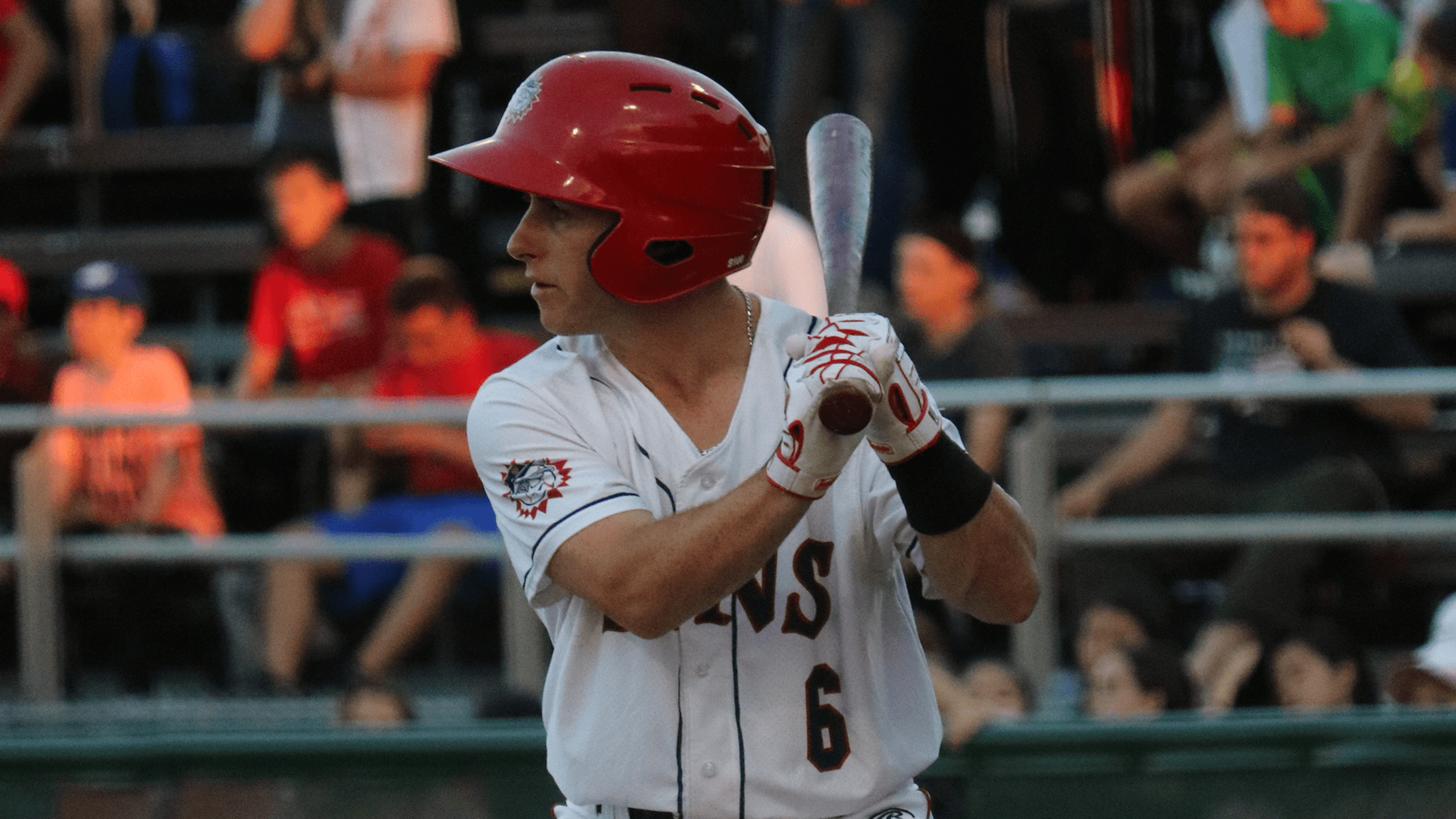 Phil Caulfied had three hits and two RBI in Hagerstown's 9-2 victory over Hickory Saturday. (Abby Choi/Hagerstown Suns)
HAGERSTOWN, MD (July 20, 2019) - The weather was hot, but the Suns bats were hotter, as Hagerstown piled up 14 hits in its 9-2 victory over the Hickory Crawdads at Municipal Stadium Saturday.Hagerstown (42-57, 12-17) used two big innings to put the Crawdads (60-35, 19-10) away. The Suns offense put
HAGERSTOWN, MD (July 20, 2019) - The weather was hot, but the Suns bats were hotter, as Hagerstown piled up 14 hits in its 9-2 victory over the Hickory Crawdads at Municipal Stadium Saturday.
Hagerstown (42-57, 12-17) used two big innings to put the Crawdads (60-35, 19-10) away. The Suns offense put up three runs in the third against Hickory starter Cole Winn (L, 1-4) and then scored three more in the fifth against reliever Jesus Linarez.
Before those big innings, the Suns got one run in the second when Cole Daily crossed home plate on a wild pitch. In the third, an Israel Pineda RBI gorundout made it a 2-0 game, and the Suns started a two-out rally. Kyle Marinconz came up with an RBI single and then Phil Caulfield's RBI double made it 4-0 and chased Winn from the game. The Hickory starter went only 2.2 innings and allowed four runs while walking four.
Linarez took over for Winn in the third and was solid until the fifth when Hagerstown got to him. After Pineda walked and Marinconz singled, Caulfied came up with another RBI double to extend the lead. Marinconz scored on a balk later in the inning, and then an Armond Upshaw sacrifice fly gave the Suns a 7-0 lead.
The final rally for the Suns came in the eighth against Hickory reliever Kelvin Gonzalez. After Drew Mendoza singled for the second time on the night, Jacob Rhinesmith drove him home with a double that gave him 50 RBI on the season. Marinconz followed with his second RBI single of the night to make it a 9-1 scoreline.
The hitters stole the show for Hagerstown, but the perfomance by the pitching staff wasn't too shabby either. Joan Adon (W, 8-3) put together five scoreless innings while allowing five hits and striking out two. The righty got himself into a few jams, but was able to work out of them.
Gabe Klobosits relieved Adon in the sixth to make his 2019 Suns debut and worked two strong innings. The right-hander struck out two and allowed only one hit. Alex Troop followed him out of the bullpen and closed out the victory. Troop did allow a solo home run to Tyreque Reed in the eighth, and a sacrifice fly to Kole Enright in the ninth, but neither run made a difference.
Tomorrow, Hagerstown concludes its four-game set against the Hickory Crawdads at 2:05 p.m. The Suns toss LHP Jackson Stoeckinger (1-2, 3.86 ERA), while Hickory will send RHP Tyree Thompson (4-5, 2.98 ERA) to the mound.
The Suns are in the midst of a four-game series with the Hickory Crawdads July 18-21. The homestand is concludes Sunday with a Kids Sunday Funday. For tickets or more information visit hagerstownsuns.com or call 301-791-6266.