Suns Fall 5-1 on Thursday Night
Hagerstown strikes out 14 times in loss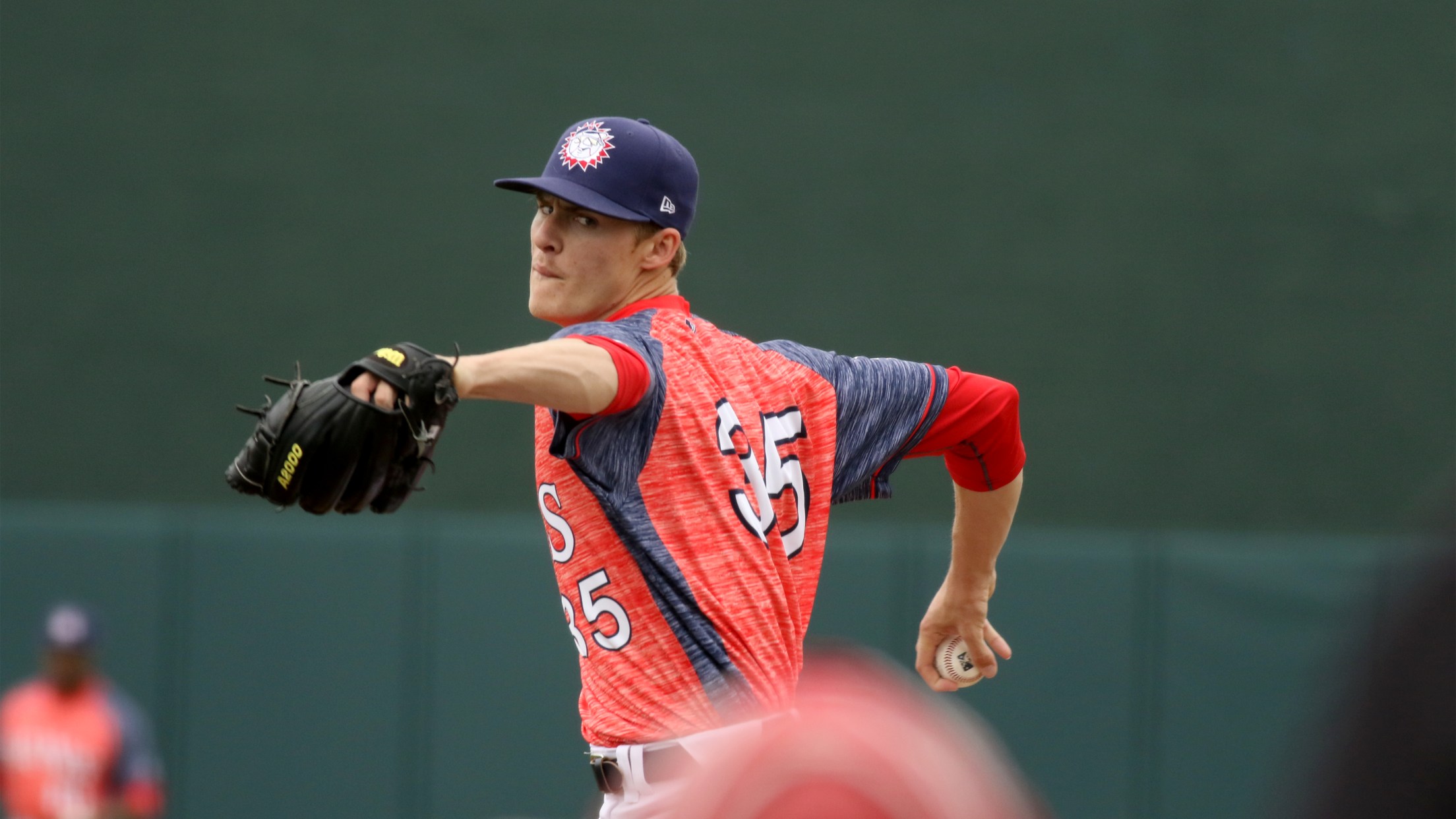 Hagerstown, MD -  The Hagerstown Suns struggled at the plate striking out 14 times in a 5-1 loss Thursday night against the Lakewood BlueClaws at Historic Municipal Stadium. The Suns are 8-18 in the second half, and 35-59 overall and will play the second game of the series on Friday
Hagerstown, MD - The Hagerstown Suns struggled at the plate striking out 14 times in a 5-1 loss Thursday night against the Lakewood BlueClaws at Historic Municipal Stadium. The Suns are 8-18 in the second half, and 35-59 overall and will play the second game of the series on Friday night with a 7:05 PM first pitch.
Lakewood scored first in the opening inning against Hagerstown starter Jackson Tetreault. With one out, Simon Muzziotti singled on a bunt down the first-baseline and advanced to second on a stolen base. Jake Scheiner singled to right field, plating Muzziotti to take a 1-0 advantage.
The Suns tied the game in the second inning against BlueClaws starter Spencer Howard. Alex Dunlap worked a walk, Nick Choruby grounded a ball to third base to advance Dunlap to second with two outs. A wild pitch allowed Dunlap to advance to third and Juan Pascal reached on an errant throw by Quincy Nieporte, scoring Dunlap to make it 1-1.
Lakewood regained the lead against Tetreault in the fourth inning. With one out, Nieporte doubled off the right-center field wall, Colby Fitch and Dalton Guthrie worked back-to-back walks to load the bases, and Daniel Brito hit a sacrifice fly to left field. Nieporte scored as Lakewood took a 2-1 lead.
The BlueClaws tacked on three runs against Suns reliever Frankie Bartow. Nick Maton led off with a single and Matt Vierling doubled off the left field wall, scoring Maton to make it 3-1. Nieporte reached on an infield single to put runners on the corners and Vierling scored on a wild pitch by Bartow to increase the lead to 4-1. Nieporte advanced to second on the play and Colby Fitch grounded out to move Nieporte to third base, Guthrie walked to put runners at the corners, and Brito grounded into a fielder's choice, plating Nieporte to extend the lead 5-1.
Tetreault (L, 3-8) spun seven innings while allowing five runs on eight hits with four walks and four strikeouts in a loss. Bartow pitched the eighth inning, giving up three runs on three hits with a walk. Jhonatan German pitched the ninth inning and retired the BlueClaws in order in a 5-1 loss.
Notes: Armond Upshaw extended his hit-streak to six games… Cole Freeman increased his hit streak to six games… Jake Scudder tied his career-high in strike outs with three… This is the fourth time he's done this on the season… the Suns 14 strikeouts tied a season-high… Hagerstown is 10-19 in the first game of the series… The Suns are 7-11 in the month of July… Hagerstown is 24-38 against RH starters… The Suns are 15-28 at home this season… Tetreault's four walks tied a career-high… Tetreault's seven innings tied a career-high… He has pitched seven innings four times this season… Hagerstown and Lakewood will play the second game of a four-game series on Friday night… First pitch will be at 7:05 PM… The Suns will send RHP Malvin Pena (1-0, 3.00 ERA) to the mound against BlueClaws LHP Damon Jones (7-3, 2.21 ERA)… The broadcast can be heard, starting with the pregame show at 6:50 PM on www.hagerstownsuns.com by going to multimedia tab and clicking on "Listen Live"... The broadcast is also available on the Hagerstown Suns Radio Network in the Tune-In Radio and MiLB First Pitch apps.