For Caputo, trips to Minors parks are sweet rides
Colorado man enjoys collection of about 300 ice cream helmets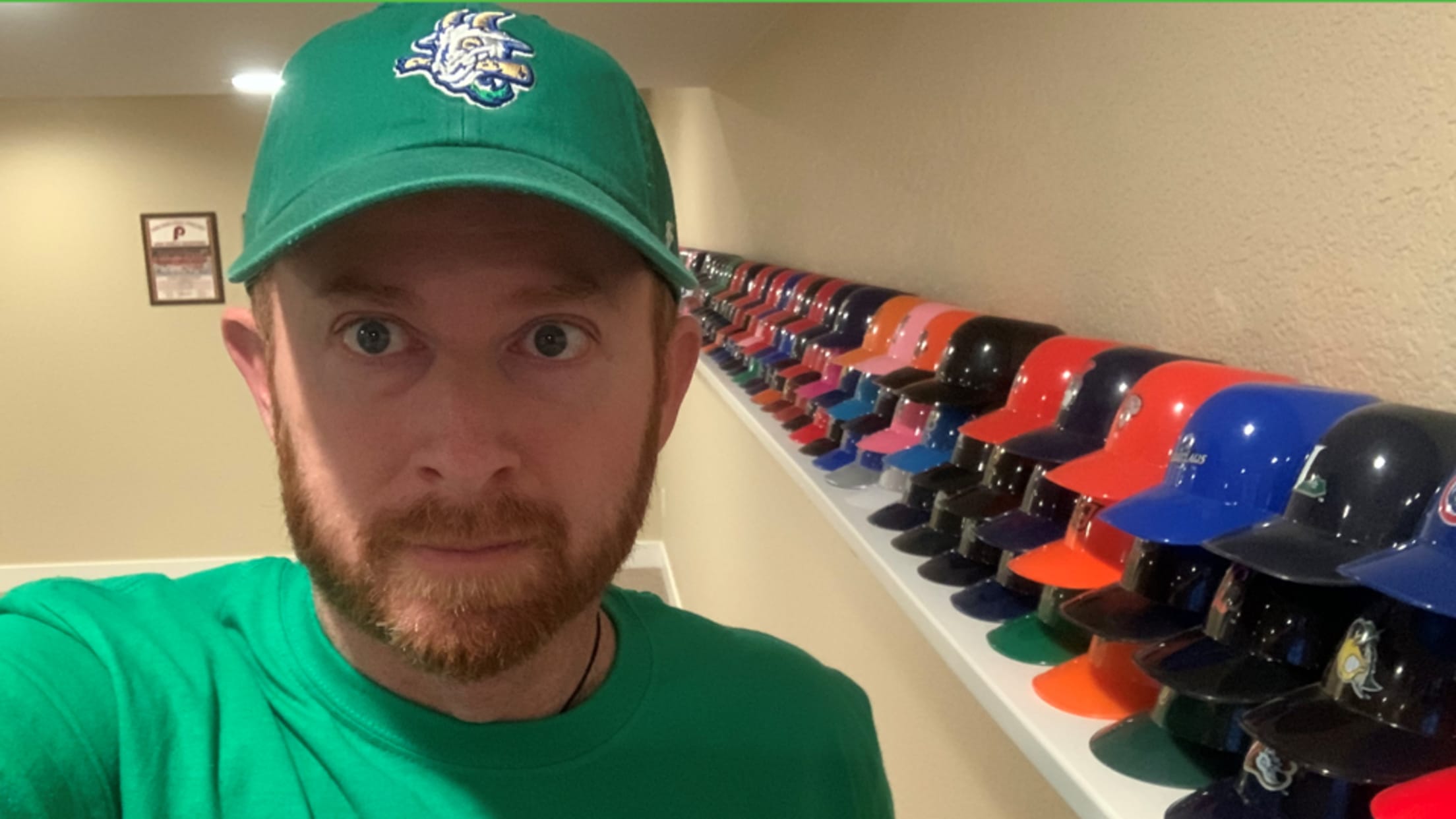 In Paul Caputo's basement, the Minor League fan finds himself among ice cream helmets in a line as long as the eye can see.
This month we're profiling Minor League Baseball fans across the country who go to impressive lengths to show their love of the game in creative ways and stay connected to their favorite teams even when the action on the field is on hold. Do you think you can stake your
This month we're profiling Minor League Baseball fans across the country who go to impressive lengths to show their love of the game in creative ways and stay connected to their favorite teams even when the action on the field is on hold. Do you think you can stake your claim as "MiLB's Biggest Fan?" Tell us why at the MiLB Fan Lounge, created in conjunction with MiLB partner Brand Activation Maximizer, for a chance to be a special guest and share your story on our official podcast, The Show Before the Show.
A lot has happened over the past six months. In the parade of events ranging from slight bummers to global tragedies, one piece of happy news was lost on many. Nonetheless, it deserves to be celebrated.
This spring, Paul Caputo graduated from hoarder to collector.
Meeting a standard established years ago by humorist John Hodgman -- a standard set specifically for Caputo -- the Minor League Baseball fan based in Fort Collins, Colorado, had shelving installed to exhibit about 300 of the ice cream sundae helmets he's amassed over nearly a decade. And counting.
Hodgman, widely known for his appearances on "The Daily Show" and his performances as the anthropomorphized PC from Apple's "I'm a Mac" campaign, hosts a long-running podcast in which he resolves disputes in the title role of Judge John Hodgman. In 2012, Hodgman took some of his caseload to the pages of The New York Times Magazine, including one brought by Caputo.
"I wrote to him and basically said that my then-wife -- we split up in 2016 -- says that my ice cream helmets are taking up critical space on our shelves. She says that if it's really a collection, I wouldn't use them for ice cream, so either I have too many because I don't need that many to eat ice cream out of, or the collection should be removed," Caputo recalled.
"He called them garbage-toys. He said, 'Take your garbage-toys and get them out of the kitchen.' And he wrote, 'The difference between a hoarder and collector is a display case.' It took me years, but I finally have a display case. I'm a collector -- not a hoarder -- now."
To quote John @hodgman, who was talking about my sundae helmets when he famously said this, "The difference between a hoarder and a collector is a display case." Six years later, that dream is a reality! pic.twitter.com/cVCuyCMy88

— Baseball and Ice Cream (@Count2Baseball) March 16, 2020
Caputo, the author of a book about the origins of Minor League logos who covers the same subject for Chris Creamer's SportsLogos.Net, never set out to be the world's foremost collector of Minor League Baseball ice cream helmets, but is one of a couple individuals with a decent claim to that title. (A fan named Eric Lichtenberg has a similarly sized collection and has compiled a timeline, complete with notes on manufacturers and design prototypes).
"You can sort of tie when I started getting more into the Minors to when the Phillies' run of success from '07-'11 tailed off," said Caputo, a lifelong Phillies fan who grew up in the Philadelphia area. "At that point, I started visiting more Minor League ballparks. I guess I thought, 'Well, I'll check out up-and-coming stars instead.'"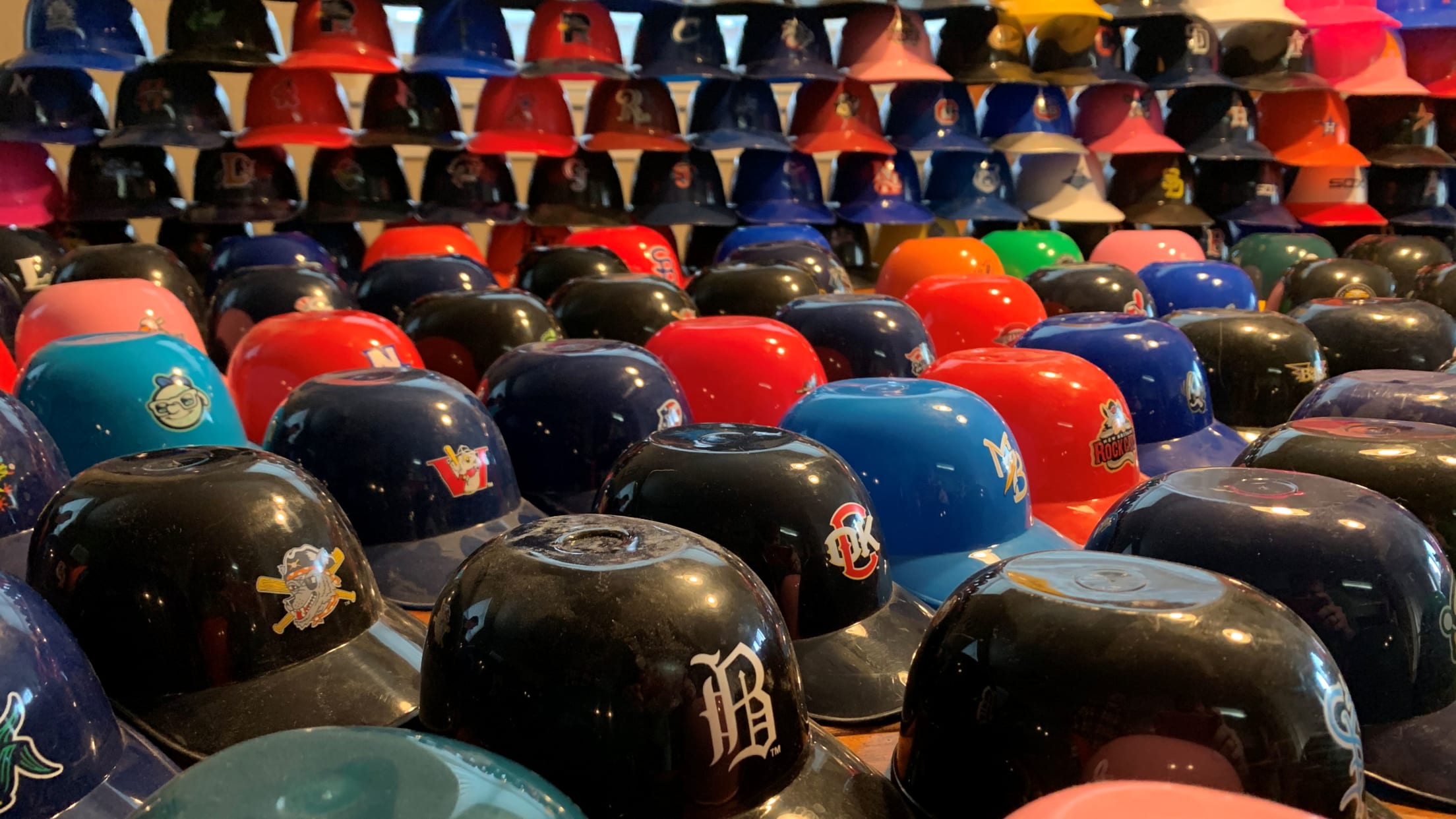 Before he knew it and through little effort of his own, Caputo's habit of enjoying a late-inning frozen treat at every game turned into a new hobby. His sister, Katie, perhaps half as a gag, wrote to every Minor League team within 100 or so miles of Philadelphia asking for sundae helmets to give to her brother for his birthday.
"When she did that, I don't think the teams realized she was talking about a grown man instead of a 12-year-old baseball fan with his hat on sideways," Caputo said.
But in addition to jump-starting his collection, the gift pointed Caputo down the road of exploring the origins of Minor League logos.
"My sister gave me these helmets and one of them has a celery stick swinging a baseball bat. I said, 'What the heck am I even looking at?' She said, 'That's from the Wilmington Blue Rocks,' and I thought, 'What does celery have to do with Blue Rocks?' Seeing these things, in that way, it kind of got me going writing about Minor League logos because as I started looking into them, it got more and more interesting."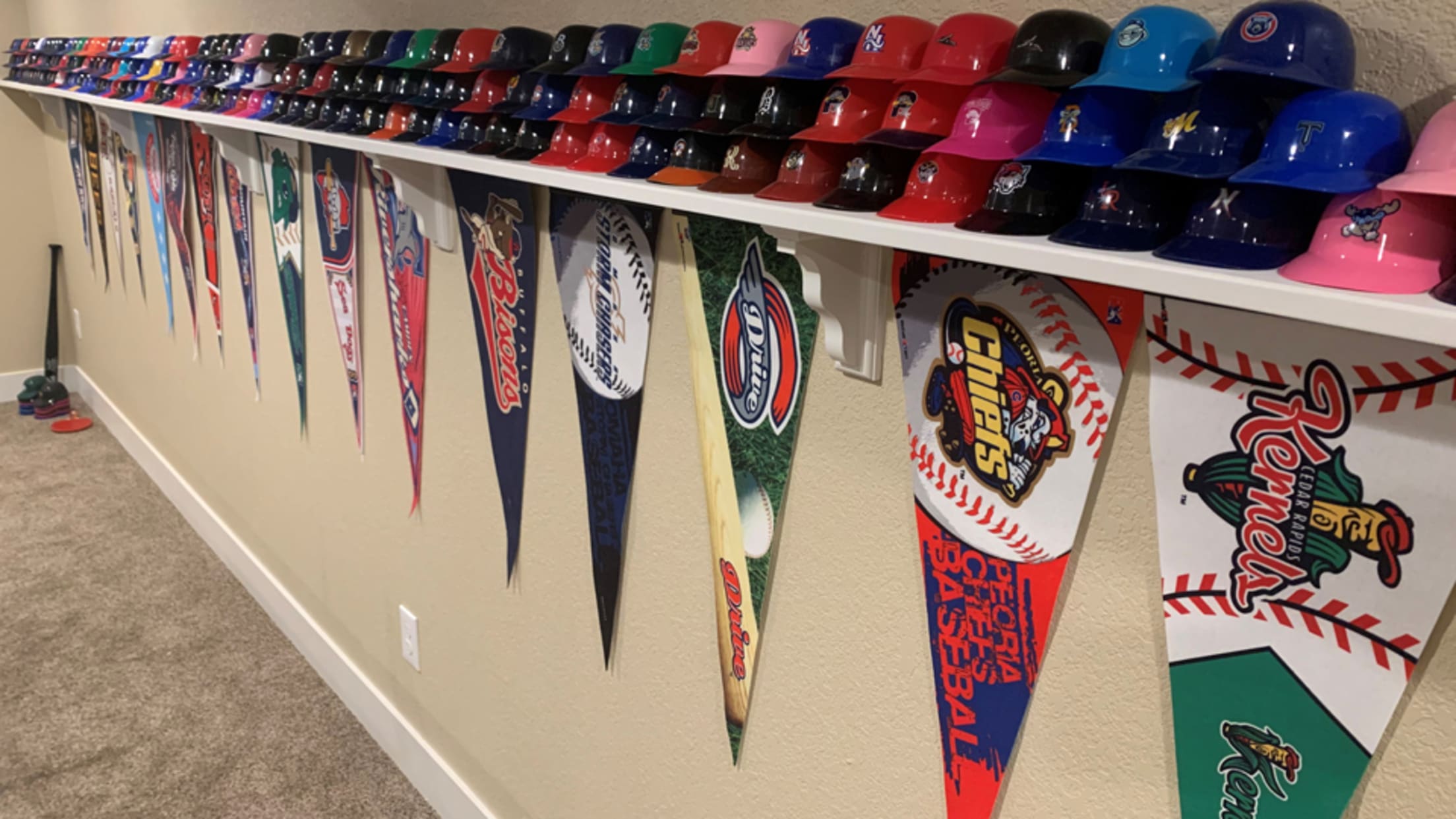 Developing an expertise in Minor League logos and collecting sundae helmets complemented Caputo's true love -- attending baseball games with family and friends. He regularly takes his 16-year-old son, Joel, and 13-year-old daughter, Maya, to Rockies games an hour down the road and, for several years running when the kids were younger, they went to a different city -- often a Minor League city -- to catch a game on the Fourth of July. When Maya Caputo was 8, she was picked entering the stadium to perform with the San Diego Chicken at a game in Colorado Springs (now home to the Rocky Mountain Vibes).
"They had a bit where the San Diego Chicken goes by the umpire, he lifts his leg like he's peeing on the umpire and the baby chicks go by and imitate him one at time," Caputo said. "They rehearsed and everything, and [Maya's] first in line so she got the biggest laugh. For years after, she would say, 'Do you remember when I was famous at the baseball game?'"
If every trip to a ballpark can't be remembered for making a family member famous, it can be memorialized and displayed on a shelf in the form of a miniature plastic batting helmet. Caputo, his children, his brothers and his nephew and nieces had planned a 2020 itinerary that would have taken them to, among other places, Omaha for a Storm Chasers game. Rest assured that had the Minors season not been canceled, Caputo would have gotten an ice cream sundae in a helmet at every stop.
He and his friends also make an annual pilgrimage that began as a two-man journey around four California League ballparks in 2014. Baseball Palooza (or #BaseballPalooza), as Caputo and his pals call the annual romp, has since blossomed to 11 travelers and taken the group to games in the Eastern, New York-Penn, South Atlantic, Carolina, International, Midwest, Southern and Pacific Coast leagues. A trip through the Pacific Northwest was on the docket for this season.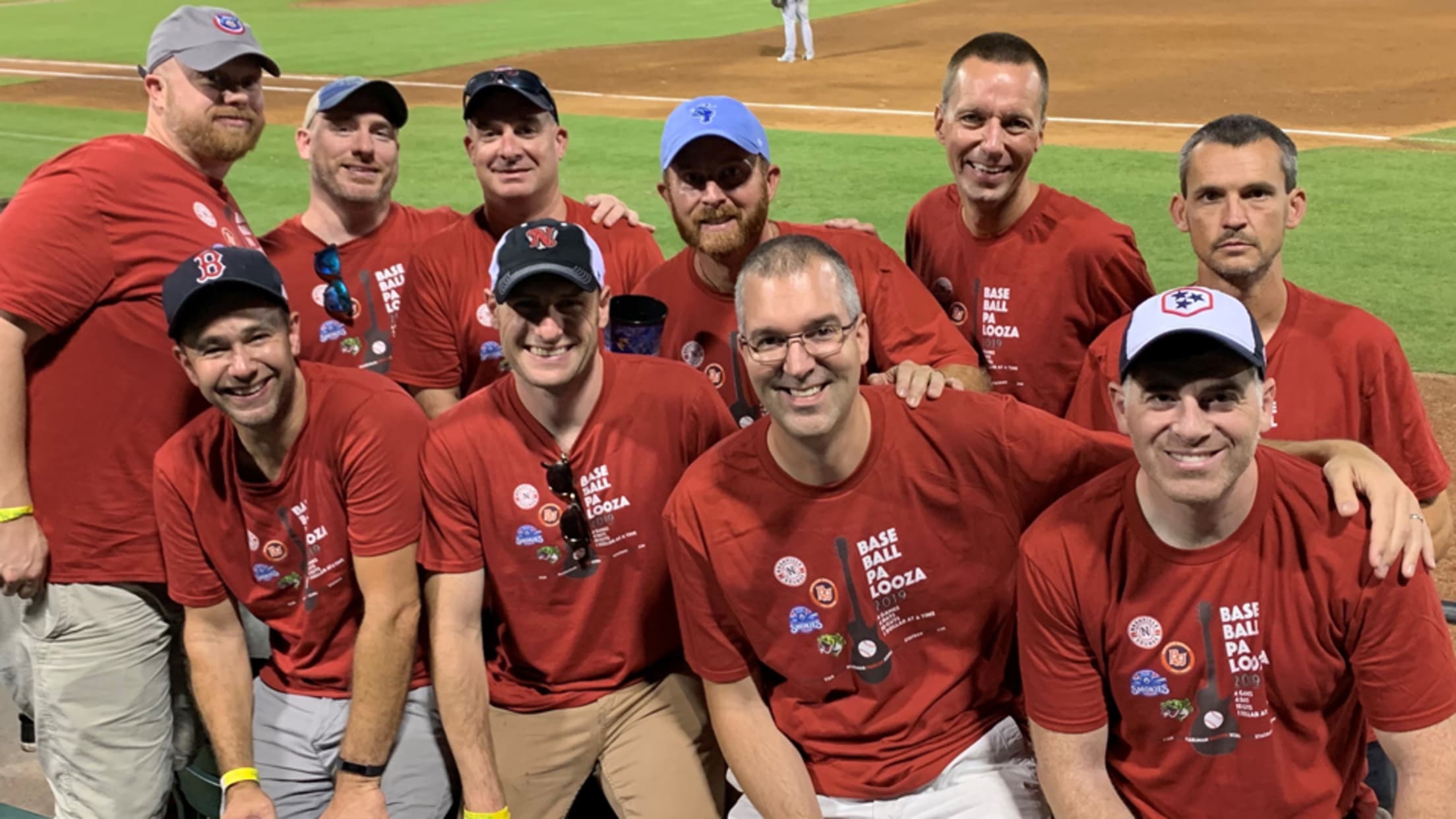 It's easy to assume Baseball Palooza was designed to get Caputo helmets he doesn't have, but ... well, not exactly.
"We like to go places we haven't gone before. I've probably been to the most places with baseball out of anybody in that group," he said. "In that regard, I have the most influence over that process. But the helmet sundaes probably don't have that much influence directly, because I don't go to the places to get the helmets. They're just a part of the experience and they end up being a reminder of it."
Besides, Caputo's real white whale can't be captured with a simple road trip.
"The one that I'm saddest I don't have even though I was at the park a couple times ... is the Las Vegas 51s," he said, referring to the team that rebranded as the Aviators for 2019. "It's a brand that I loved. ... I've never seen a photo of a 51s helmet, but I have heard that they used to sell them. I have one of their souvenir plastic cups -- I have a lot of those too -- but I've never been able to find a 51s helmet sundae. At this point, I would like either confirmation that they never existed or, if somebody out there has one, I'd like to hear from them."
Before the collection was so extensive that Caputo's No. 1 wish was for a Minor League helmet that may never have even existed, it started as a fairly simple accumulation of Major League sundae helmets. Caputo had an eye on the goal of one representing each big league team, but when he went to Wrigley Field in 2014 and wound up with a sundae helmet commemorating the 100th anniversary of the Friendly Confines, he realized he could go much deeper.
"I have one from the Indian-Braves World Series in '95," he said. After the acquisition of the Wrigley special edition, "I started looking into it as a collection a little more. I would say I average two or three helmets for each Major League team. Last year in Cleveland, I got one with the All-Star Game logo. I have at least five for a couple teams and I think the Astros, I have six.
"I found out pretty quickly that if you wanted to buy all 30 big league clubs' [ice cream helmets], you could do that easily. So that didn't feel very special. It's about the process. If you go to a game and get a helmet sundae, it's a souvenir from that trip, but even if somebody sends you a helmet with a cool Minor League logo, there's some kind of story to how you got it."
And a great many ended up in his possession through the kindness of strangers and near-strangers. After he published a Facebook post about having reached the 30-for-30 plateau, people from all over the country started offering to send him sundae helmets from the local Minor League park they visited a couple times a year.
"Helmets just started showing up in the mail," Caputo said. "One guy I hadn't spoken to in years -- literally years – messaged me and said, 'Hey, I have four helmets from the South Bend Silver Hawks. Would you like one?'"
The collection has grown so large that there are about 50 helmets in Caputo's house that he doesn't even consider part of it. Duplicates he hasn't yet swapped via a Facebook group that exists expressly for that purpose, they line what he calls "the 'Being John Malkovich' shelf" -- a shelf in his kitchen reminiscent of the film's seventh-and-a-half floor in that it's not big enough to be useful in any ordinary way. These 50 or so helmets are in use, as Caputo and his kids eat ice cream out of them four or five times a week.
If holding on to such a large number of helmets outside of the displayed collection puts Caputo at risk of being demoted back to "hoarder," well, so be it. He has no intentions to quit adding helmets.
"For some people, having a hot dog and a beer is that quintessential ballpark experience. It's part of going to a baseball game. For me, it's a helmet sundae," he said. "You have something that's salty and savory around the third inning and you go get ice cream in the sixth. A game is official after 4 1/2 innings, but for me, it becomes official in the middle of the sixth when I go for ice cream."
Josh Jackson is an editor for MiLB.com. Follow and interact with him on Twitter @JoshJacksonMiLB.