Syracuse Mets pay tribute to Donnie Baseball
Press box attendant remembered for hospitality, stats prowess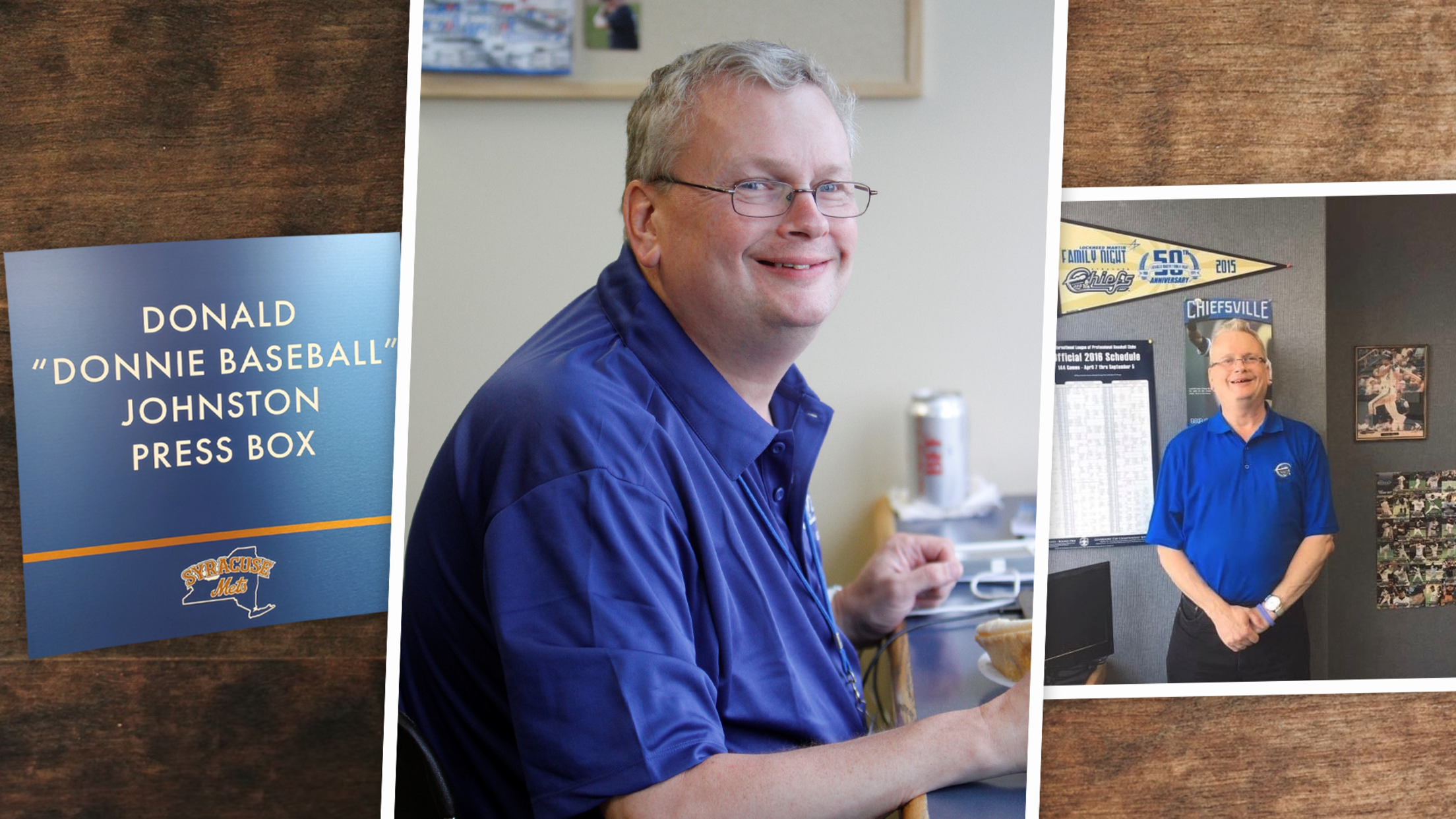 The Syracuse Mets' press box is now named in honor of the late Donald "Donnie Baseball" Johnston. (center photo: Herm Card)
Don Mattingly, though better known, isn't the only "Donnie Baseball" to have made a lasting impact. Syracuse's Donald "Donnie Baseball" Johnston, who passed away on Jan. 3 at the age of 61, was nothing less than a press box legend. Prior to Thursday's game against Worcester, the Syracuse Mets named
Don Mattingly, though better known, isn't the only "Donnie Baseball" to have made a lasting impact. Syracuse's Donald "Donnie Baseball" Johnston, who passed away on Jan. 3 at the age of 61, was nothing less than a press box legend.
Prior to Thursday's game against Worcester, the Syracuse Mets named the NBT Bank Stadium press box in honor of their Donnie Baseball. It was a fitting tribute to a man who persevered through childhood trauma, and subsequent health issues related to it, en route to becoming a beloved figure throughout the Syracuse sports community. Johnston, a peerless press box attendant, was known for his kindness, above-and-beyond hospitality and a remarkable ability to calculate statistics in his head.
"He was just Donnie. So genuine, so nice, not an evil or manipulative bone in his body," said Syracuse Mets general manager Jason Smorol, who knew Johnston for over 20 years. "If a member of the media he didn't know was coming, he wanted to know so that he could prepare. He wanted to make sure everyone had what they needed while they were here.
"And when it came to baseball, he was ready. The coffee had to get made, he had to be sure everyone had enough water, and that there were 7,000 stat packs ready to go. If he was still here with us, I'm sure he'd be at the ballpark today already, counting the press box forks to make sure we had enough."
In addition to spending over two decades as the press box attendant for the Mets (known as the Chiefs through 2018), Johnston also held similar positions with Syracuse Crunch hockey, Silver Knights soccer and Central Square High School athletics. In these non-baseball contexts he was often referred to as "Donnie Stats," but the care and consideration he put into his work was a constant.
"When he died I got texts from scouts, umpires, [former parent club] the Nationals reached out, the Rochester Red Wings, the Buffalo Bisons," said Smorol. "Everyone was like, 'Oh my God, it's so sad to hear about Donnie Baseball.'"
Just found out that legendary Syracuse press box attendant Don Johnston AKA "Donnie Baseball" passed away.

The world is less kind-hearted today.

I hope there's a sign on a door in heaven that says "WELCOME DONNIE" in big block letters.

— Jason Benetti (@jasonbenetti) January 5, 2022
Matt Michaels, Syracuse Chiefs beat writer from 1990-2009, was one of the many people deeply affected by Johnston's death.
"When you're a beat guy, covering every game, there are long nights, extra-inning games, all that. It was a pleasure to be there with Donnie," said Michaels, who wrote for the Syracuse Post-Standard. "He ran a meticulous press box, and always knew who was coming into town. [Indianapolis Indians broadcaster] Howard Kellman is a voracious reader, and Donnie would go out and get magazines for Howard. [Buffalo Bisons broadcaster] Duke [McGuire] liked peanut butter, and Donny would bring him peanut butter. He would always remember the things you told him and then remember to follow up on it…. Donnie was just notoriously kind."
Fond remembrances poured in on social media in the wake of Johnston's passing, and the Mets showed video tributes from former Chiefs broadcasters Jason Benetti and Kevin Brown prior to Thursday's game. Johnston's affinity for numbers was a common thread throughout these reminiscences.
Two of many examples: Upon being informed of a person's birthday, Johnston would calculate how many days that person had been alive (pausing, before he was done, to add in the extra leap year days). Visiting broadcasters, meanwhile, were greeted by notes taped to the door, reminding them of how many days, hours and minutes it had been since they last called a game in Syracuse.
Johnston was perhaps less accurate with numbers when it came to his infamous "30-second timeouts," which he'd utilize whenever he had pressing business to discuss.
"Literally every time he came in with his 30-second timeout -- he'd say that he didn't want to interrupt when there was a 100-percent chance that he was going to interrupt whatever was going on in the room," said Smorol with a laugh. "And it was usually a lot longer than 30 seconds."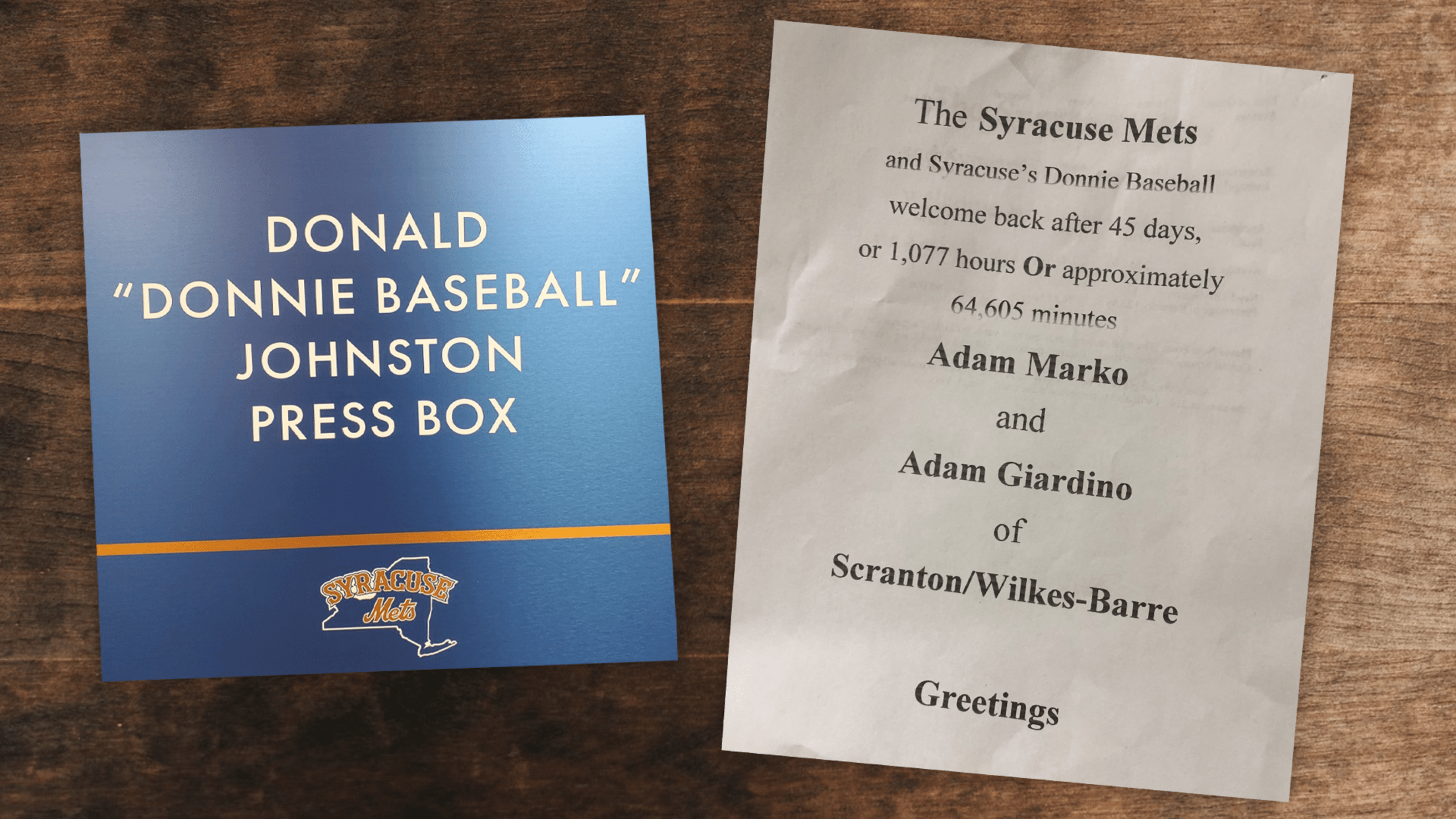 On Thursday, it was the Syracuse Mets' turn to take (more than a) 30-second timeout for their departed press box attendant. Going forward, visitors to his ballpark domain will be greeted by signage signifying that it is the "Donald 'Donnie Baseball' Johnston Press Box."
"It's nice that's what is being recognized here is a welcoming sort of feeling. The spirit of it says a lot if you knew him," said Michaels. "He took such pride in [the press box], in an area he didn't have to take such pride in. He never had marching orders to go above and beyond, but he did and made it his own. It's only right to have it named after him."
Donald "Donnie Baseball" Johnston has only been gone for three months and 20 days. But at NBT Bank Stadium, and throughout the Syracuse sports community and beyond, he will never be forgotten.