Smith notches cycle in career night for Las Vegas
Oakland infielder collects 5 hits, homers twice in PCL slugfest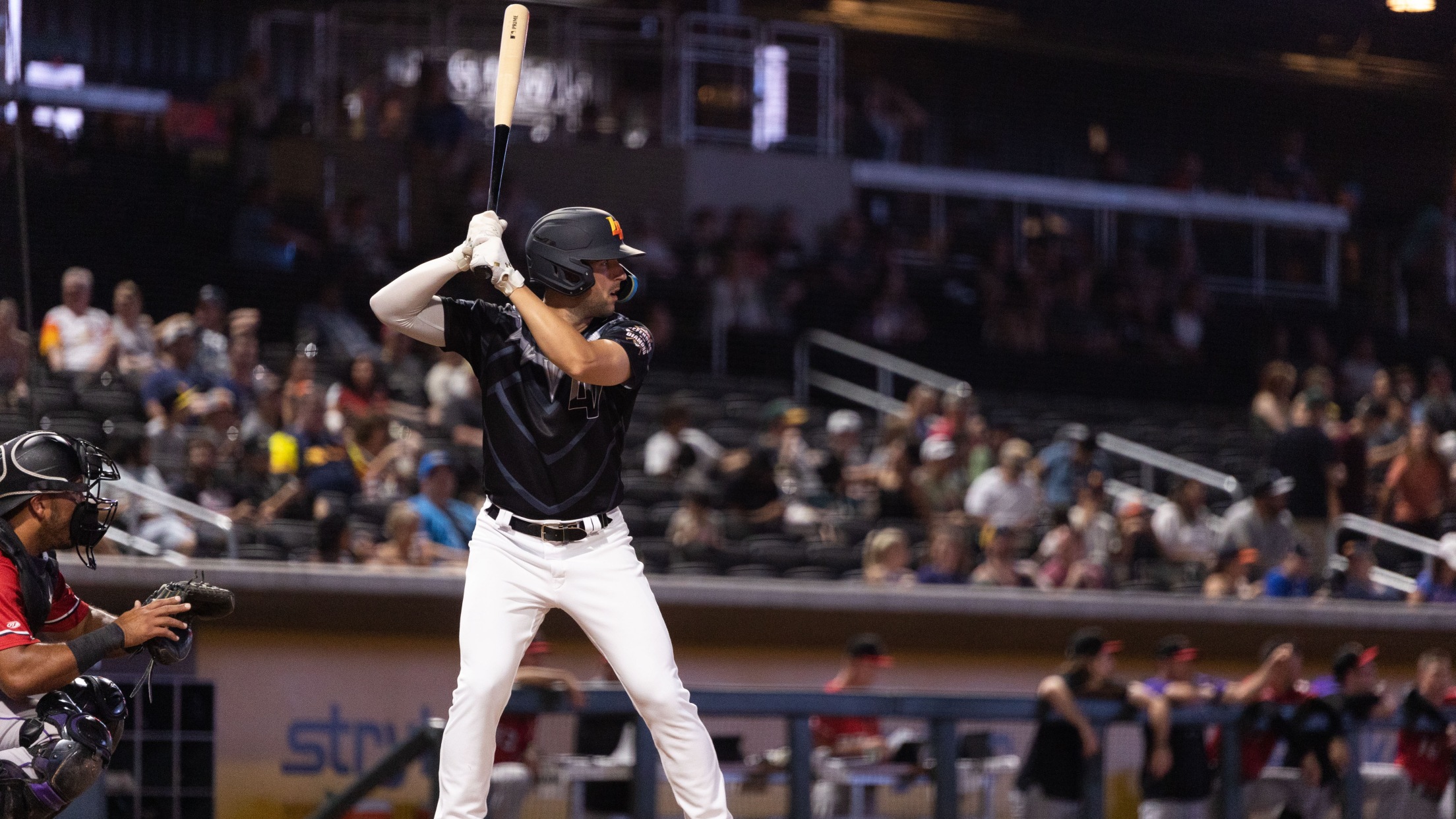 Kevin Smith wanted the third home run, something he had never done in a game as a pro. But leading off the bottom of the ninth with his team trailing by two, he knew the right play was to just put the ball in play. As it turned out, that
Brewers' Clarke cracks 3 homers for Biloxi
Shuckers set single-season dinger record on milestone night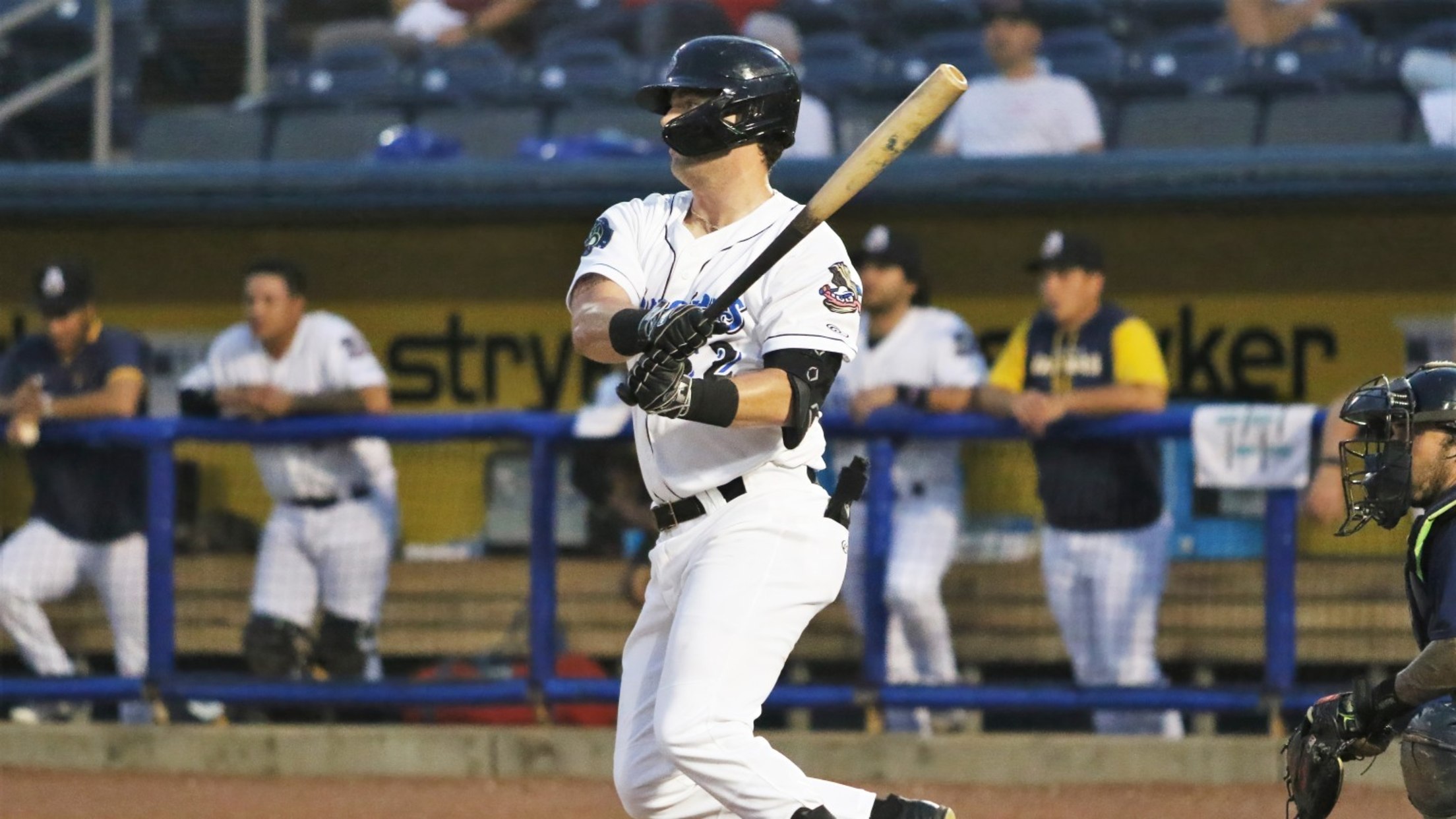 Shortly before his late August promotion to Double-A, Wes Clarke's hitting coach with the High-A Wisconsin Timber Rattlers, Nick Stanley, suggested Clarke adjust his batting stance so that his hands were held higher. The intention was to free up his swing and promote athleticism. Clarke homered in his first game
Six arms combine on no-no for Fayetteville
Woodpeckers finish off second no-hitter in franchise history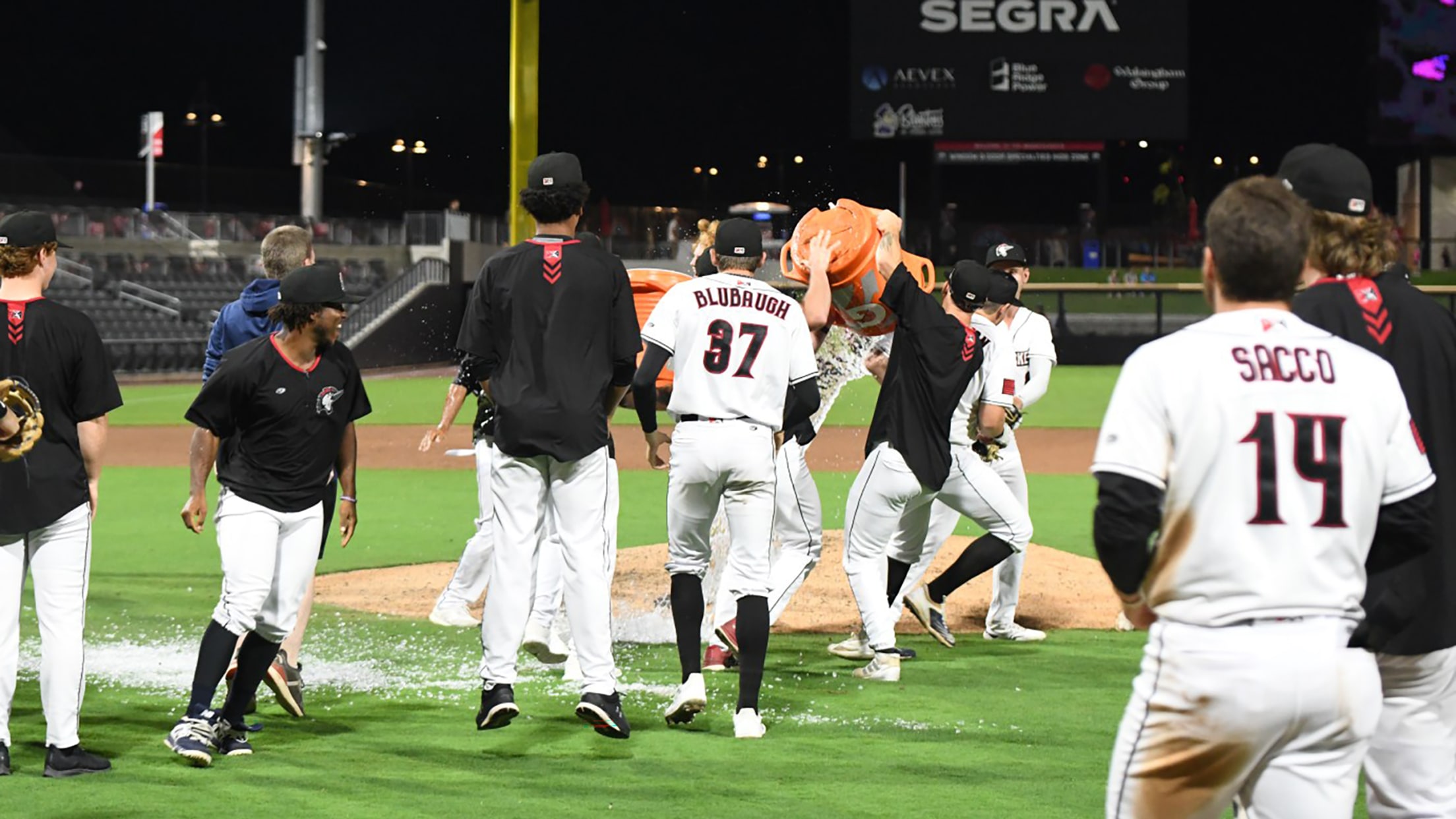 Baseball's evolution has brought about the emergence of what has become known as the "bullpen game." Usually an "opener" starts on the hill before giving way to another short-inning arm, and the pattern continues as nine innings are essentially pieced together. It's proven to be effective at the Major League
Lugnuts bend but don't crack in no-no
Lansing allows run, but holds on for club's third no-hitter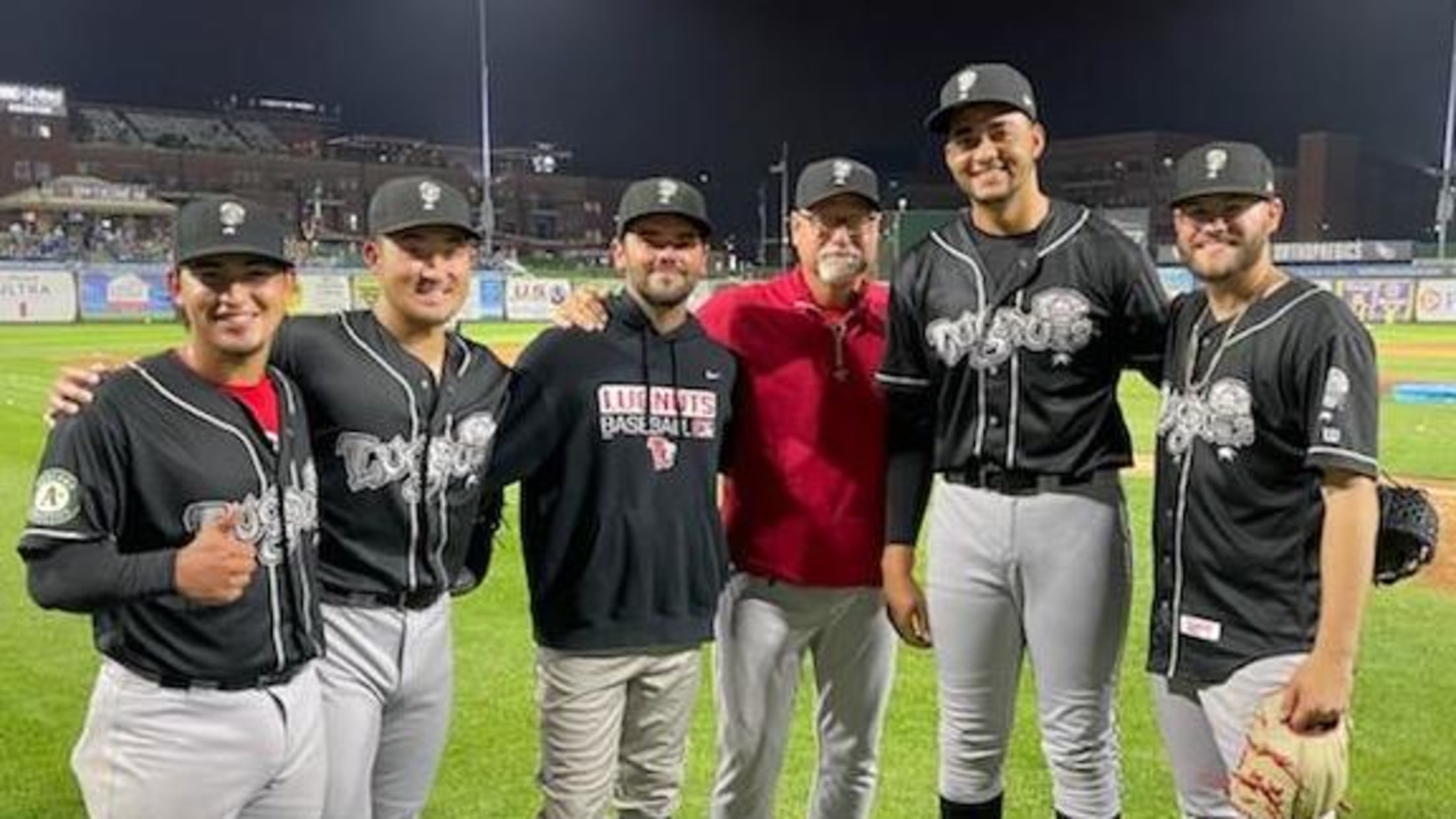 The last time the High-A Lansing Lugnuts, then a Single-A affiliate, threw a no-hitter, they ultimately lost the game. It nearly happened again. Despite combining for seven walks and allowing a run, four Lansing pitchers teamed up for the third no-hitter in franchise history, with the Athletics affiliate hanging on
Aced it: Jordan Luplow collects 3-homer game
Veteran outfielder notches the feat in fourth game with Reno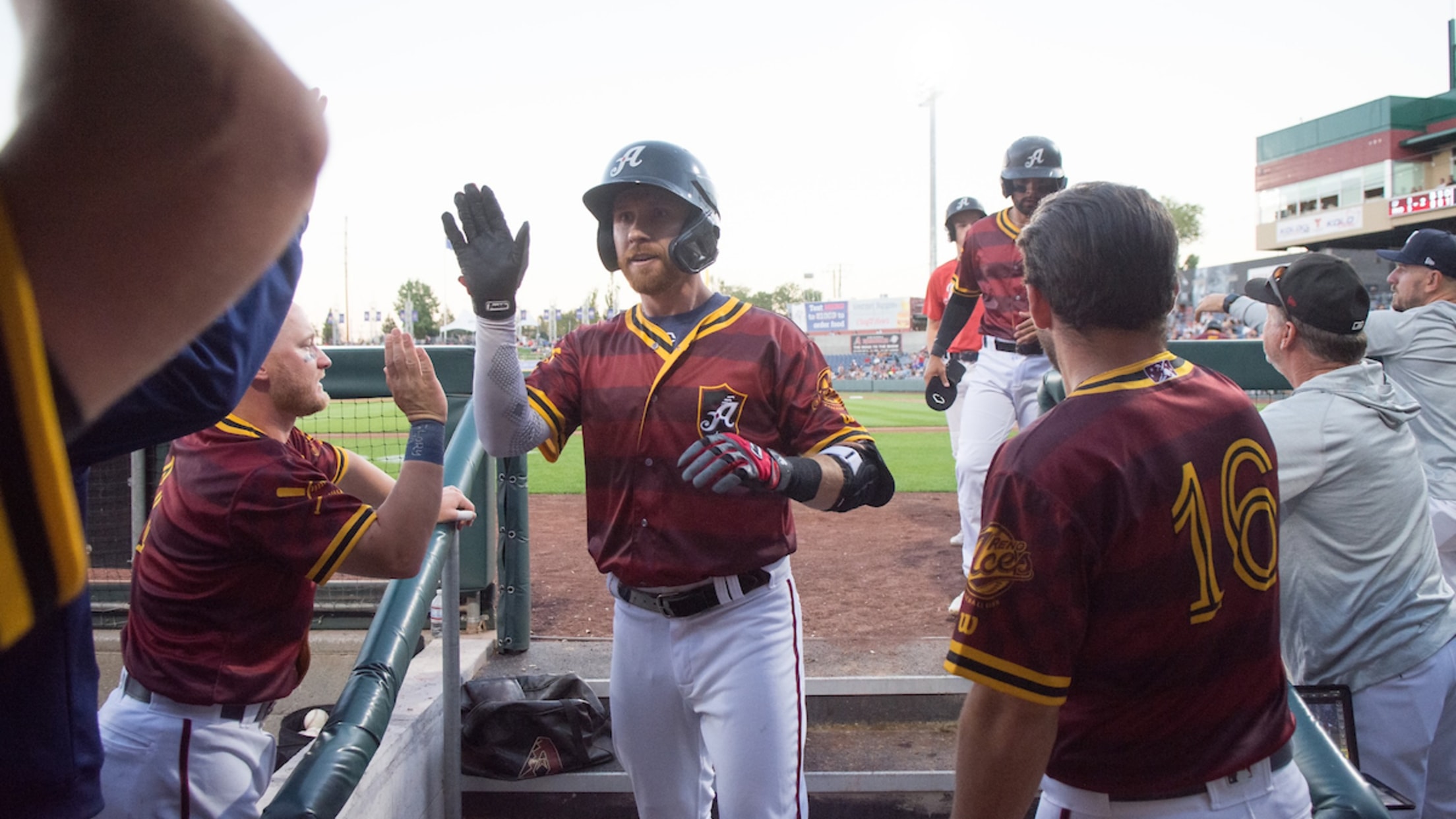 Less than a week after being optioned to Triple-A Reno to make room in the Majors for the Arizona Diamondbacks' top prospect, Jordan Luplow showed off the thump he still has in his bat. The veteran outfielder clobbered three home runs in his fourth game since joining the Aces, going
Rocket City trio combines on franchise's first no-no
Silseth, Murphy and Torres compile 15 K's across historic feat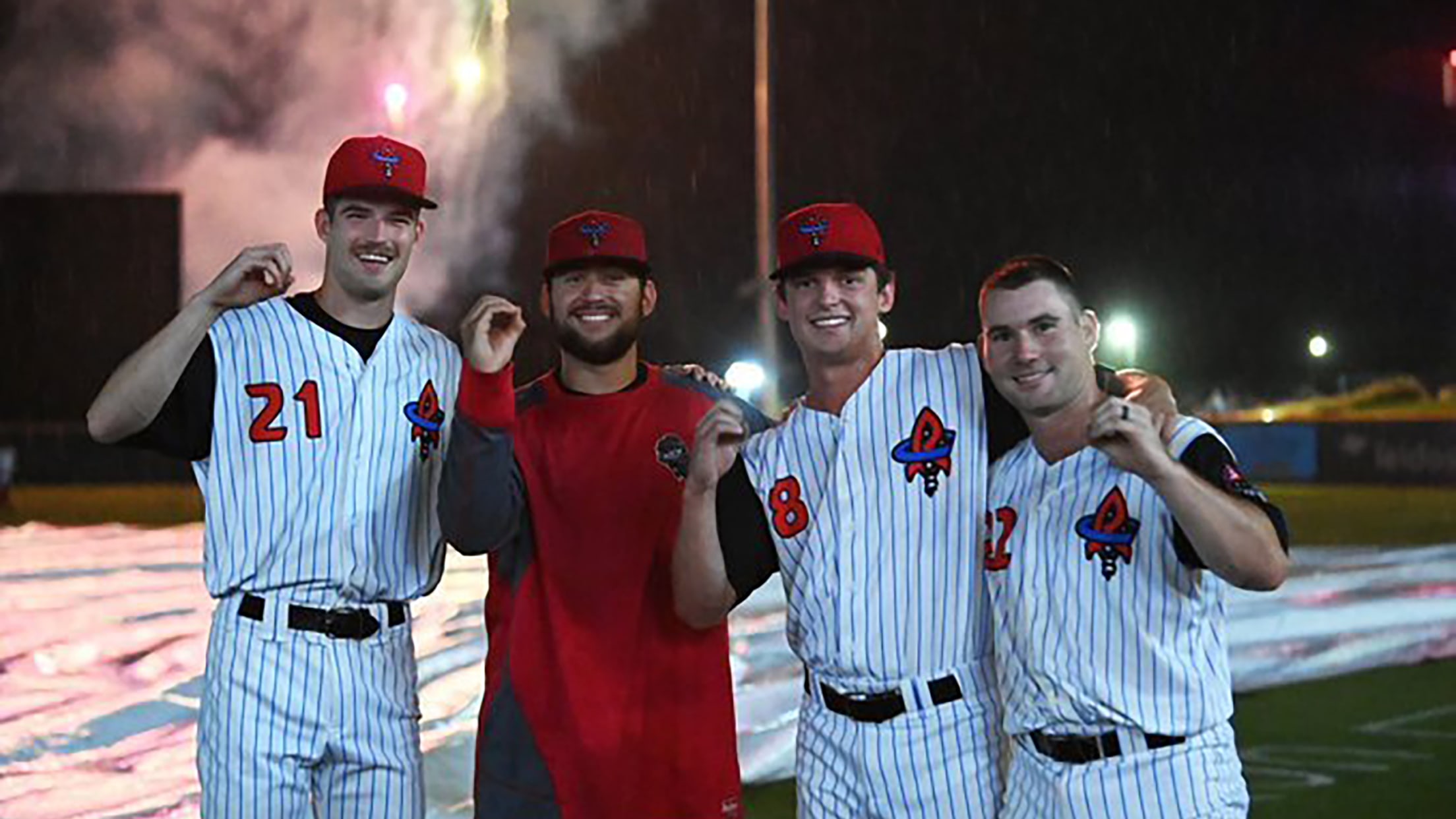 You never forget your first, and for Chase Silseth, Luke Murphy, Eric Torres and Double-A Rocket City, this feeling will certainly last a lifetime.
Wallner notches first cycle in Saints history
No. 5 Twins prospect, a Minnesota native, plates 6 on 5-hit night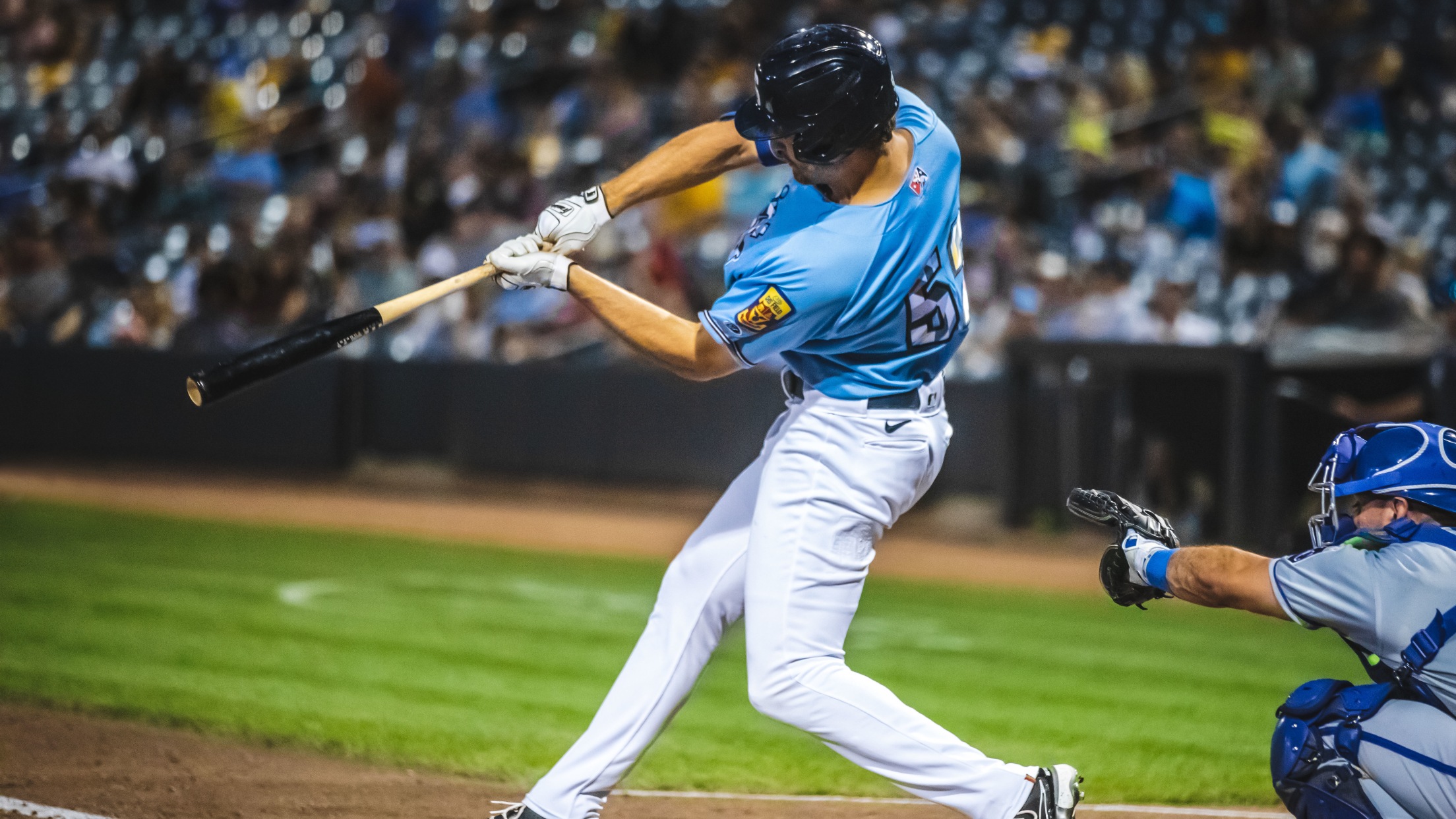 How locked in was Matt Wallner? He didn't even realize he was a triple shy of the cycle … until he hit second base. The No. 5 Twins prospect stumbled his way to third base and just barely beat the tag, but when he stood up he could finally crack
Outman gives new meaning to 'bi-cycle'
No. 13 Dodgers prospect tallies second cycle in four games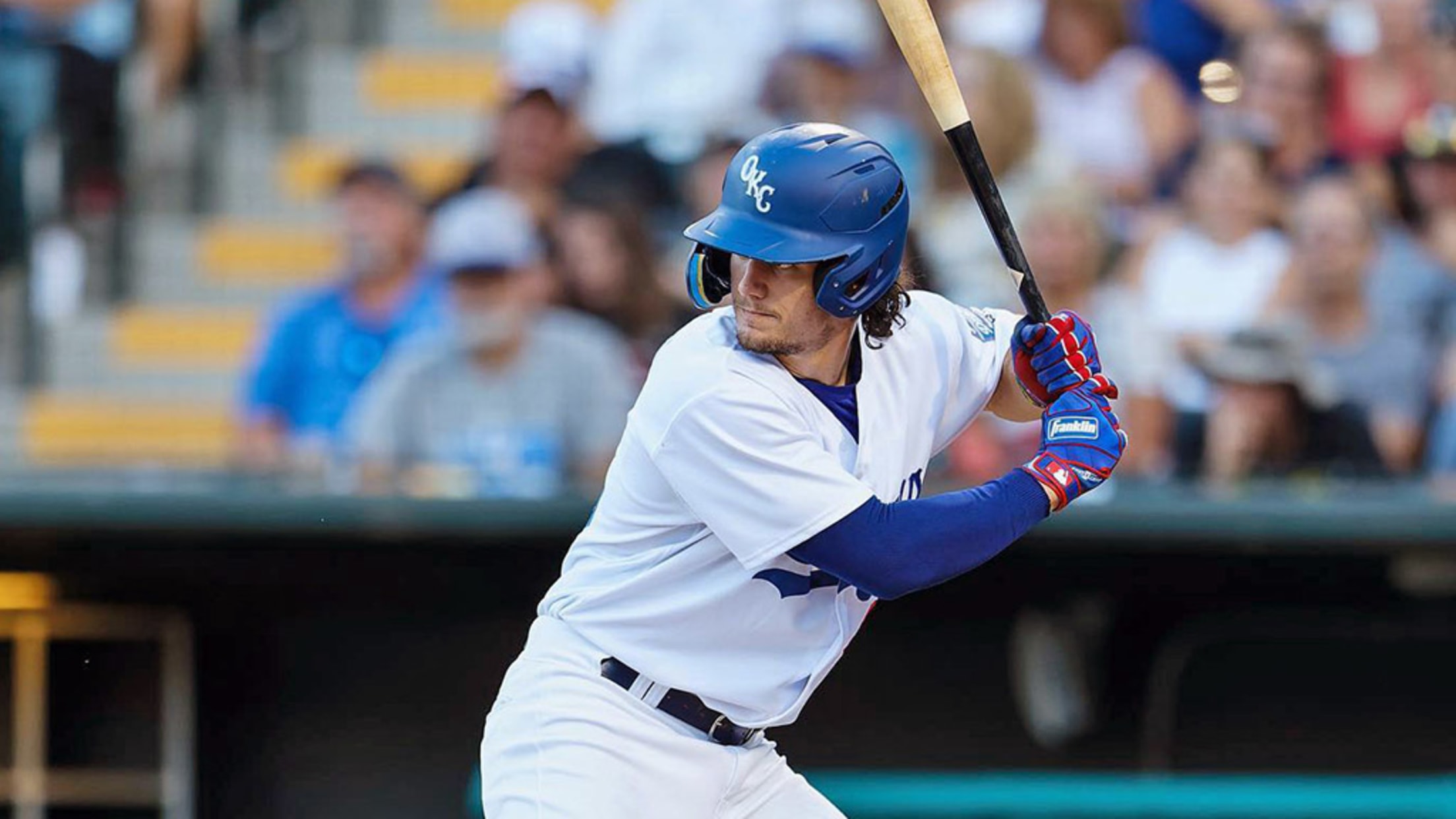 Triple-A Oklahoma City won't go another 11 years between cycles. In fact, it didn't even go one week. James Outman saw to that ... again. In a season that is shaping up to be magical, the No. 13 Dodgers prospect hit for the cycle for the second time in four
'It was really special:' Toglia slugs three homers
Colorado's No. 14 prospect gives 'Topes homers in 17 straight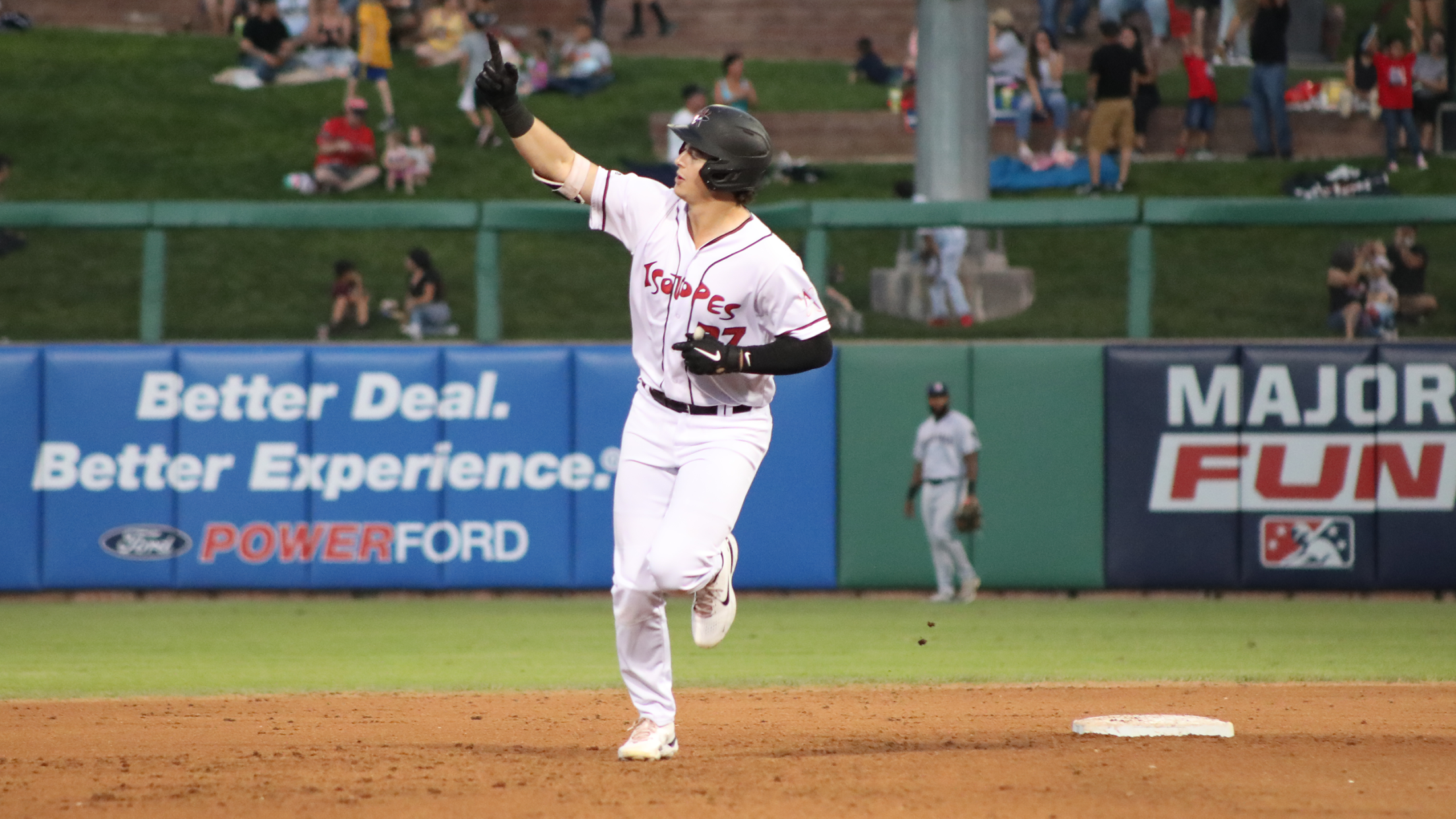 Triple-A Albuquerque has been hitting a lot of home runs lately. Michael Toglia was the latest player to join the long ball party with a milestone performance on Saturday that not only secured a pair of personal records, but a team mark as well. Colorado's No. 14 prospect clubbed the
Patriot Games: Sauer sizzles with 17 strikeouts
Yankees prospect registers most strikeouts in Minors since '19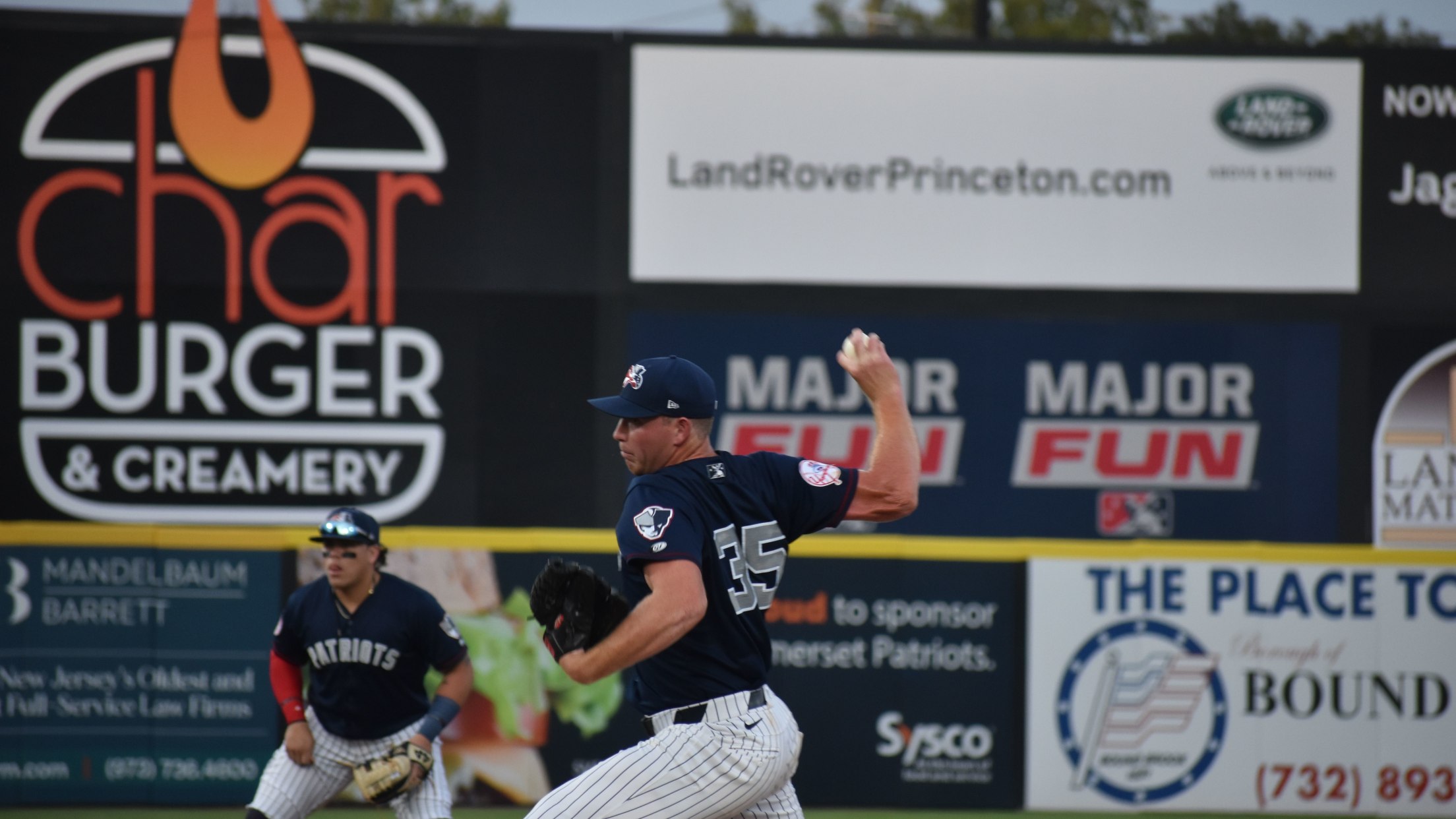 It's a spectacle when a pitcher registers 10 strikeouts, but Matt Sauer went above and beyond for Double-A Somerset. The second-round (54th overall) selection in the 2017 Draft has been steadily climbing the Minor League ranks, and in just his third start with the Patriots, he made history. Although his
Nwogu's night: Three homers by the fifth inning
Cubs prospect slugs his way into record books in four-hit night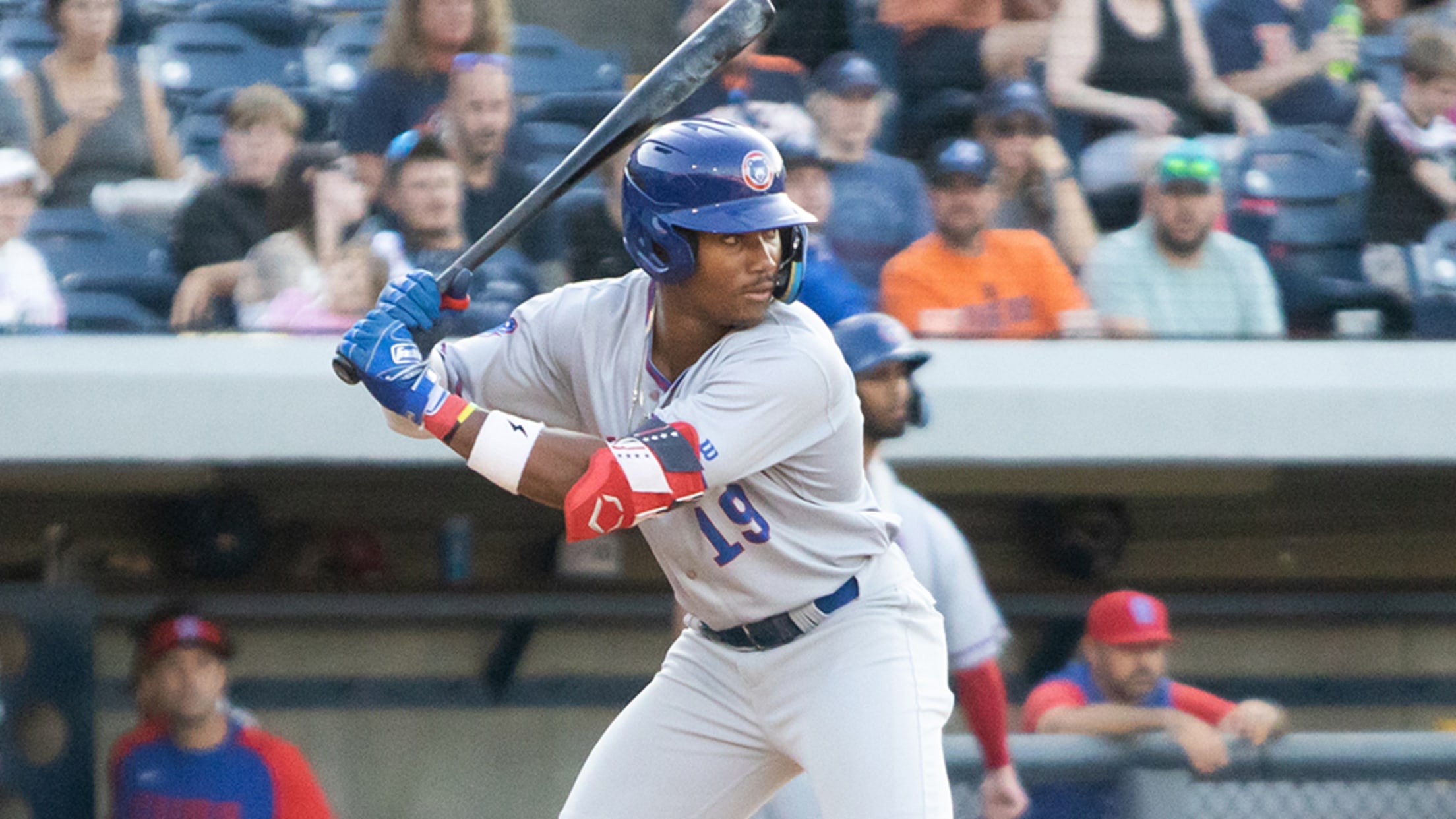 Jordan Nwogu had never hit two home runs in one game in his life (dingers in both ends of a high school doubleheader don't count, he says), so when asked where hitting three homers in one game ranked among the feats he's accomplished on the field in his life, the
Lee slugs three home runs for Sugar Land
Seventh-ranked Astros prospect leads club's nine-homer barrage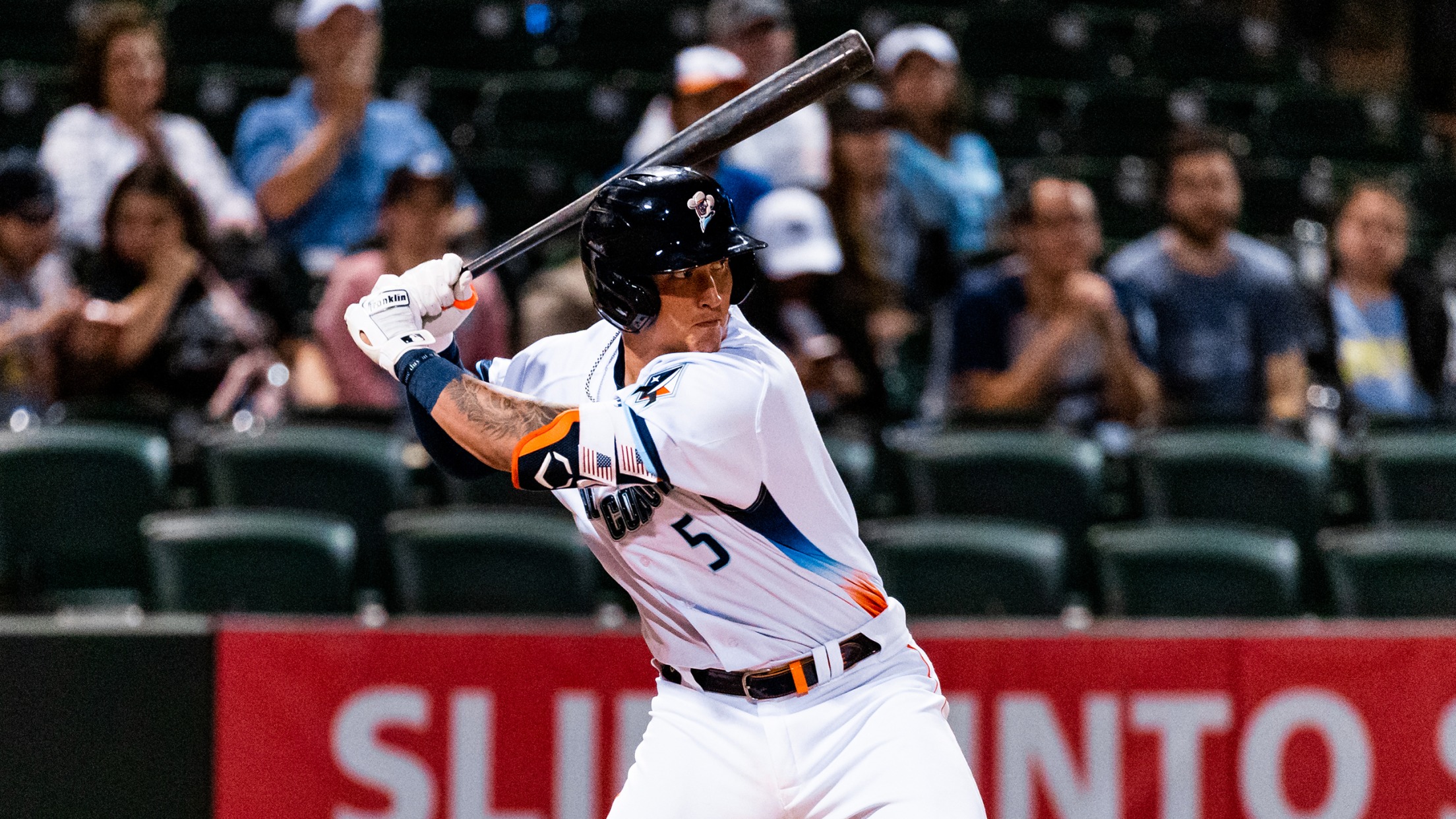 With his club beginning a road trip in Las Vegas on Tuesday night, it's only appropriate Korey Lee hit the jackpot. With a final score befitting a football game, the No. 7 Astros prospect left his mark by homering three times and driving in a career-high five runs to power
McDonough hits for the cycle for Greenville
After entering the season without one, Drive collect 2nd of '22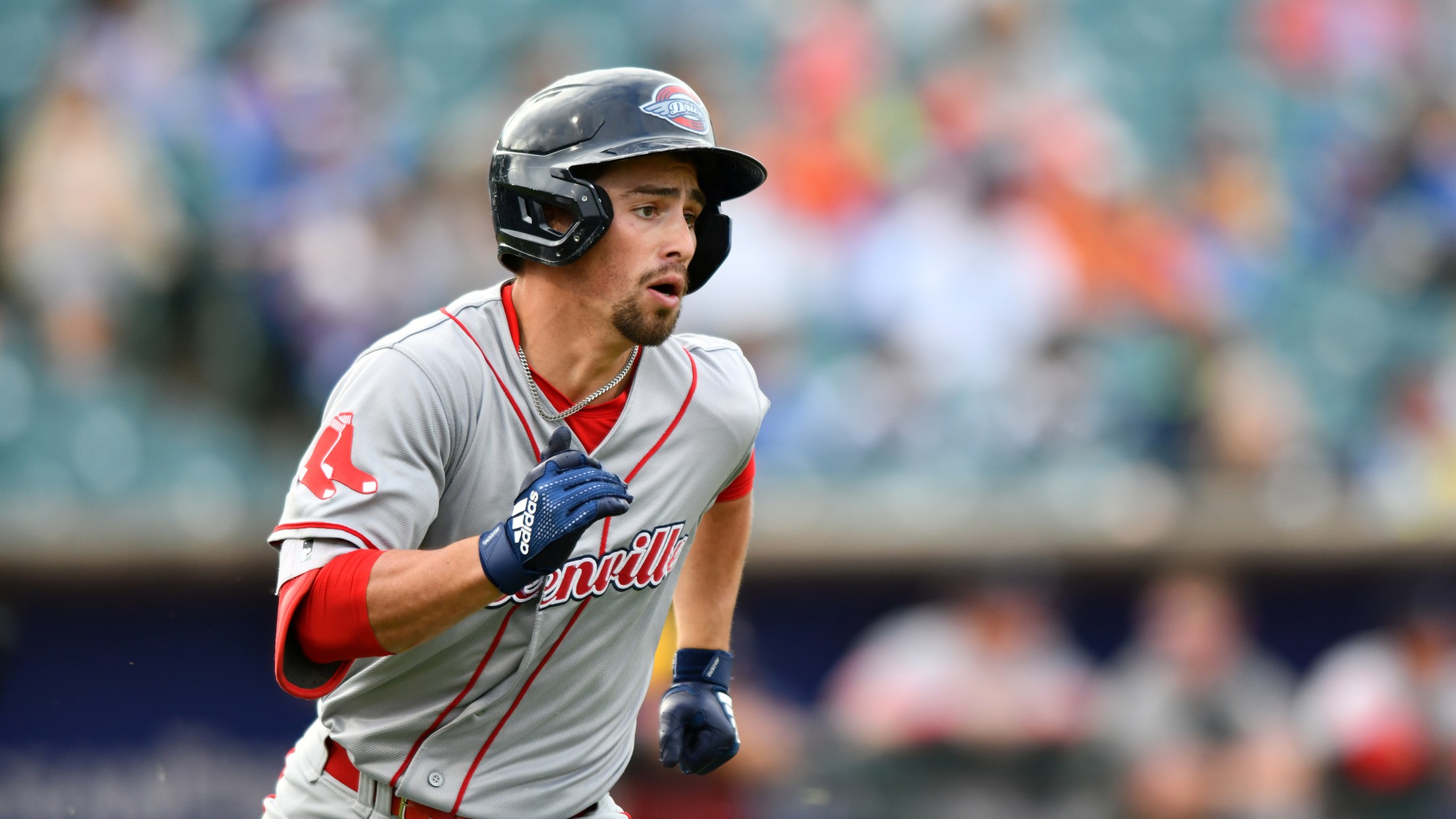 The Drive -- a franchise that has served as a Red Sox affiliate since 2005 -- entered the 2022 season without a cycle in its record books. As the year nears its final weeks, the team will now be able to add not one, but two entries. Red Sox outfield
Gossett throws first Wind Surge no-hitter
In quest back to the Majors, righty seals history on 120th pitch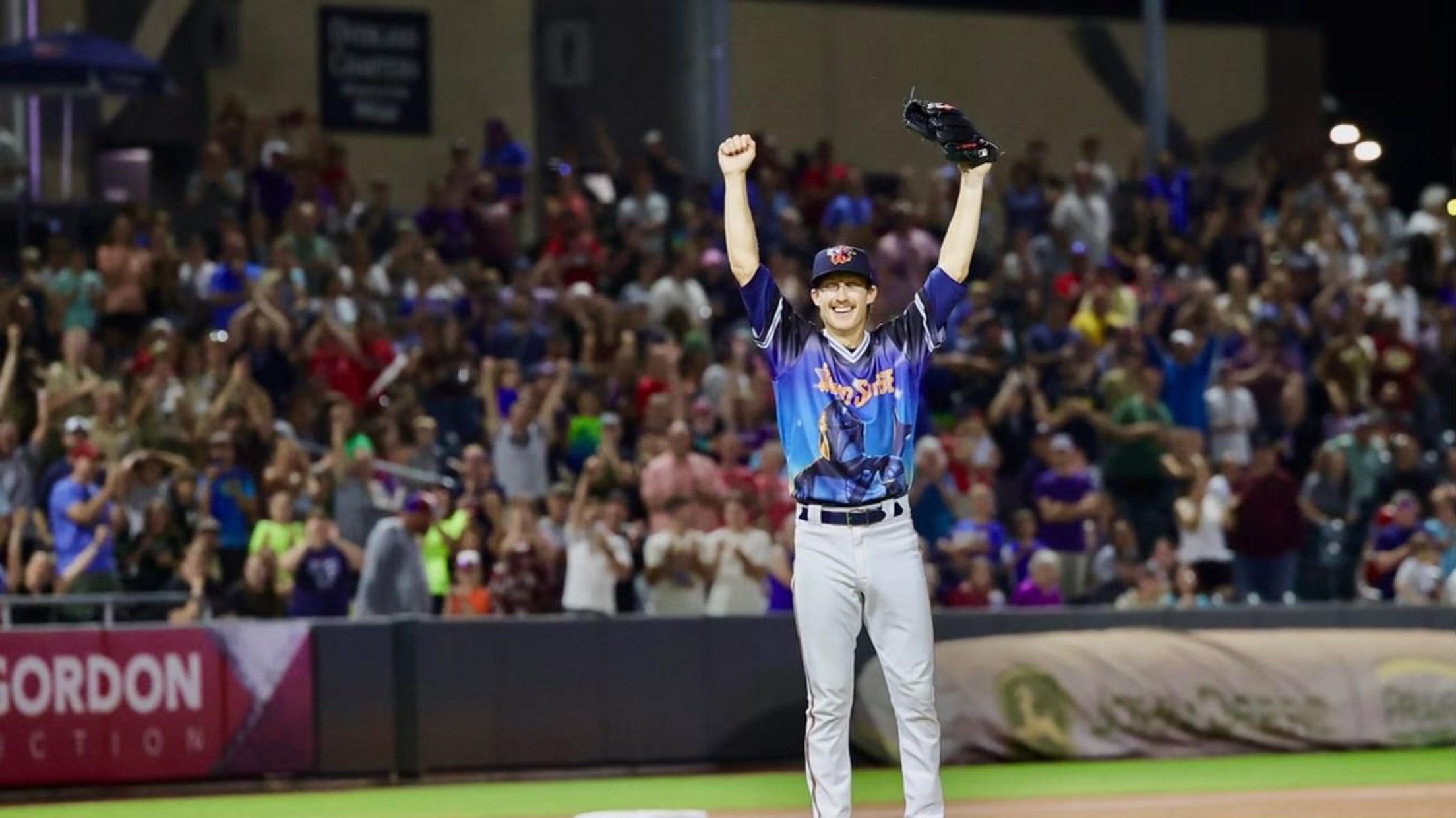 Daniel Gossett, unlike his Double-A teammates, is working his way back up to the top. And in the four years since throwing his most recent Major League pitch, the 29-year-old has come to learn that few things in the sport are guaranteed. But for at least one night, Gossett could
Dixon plates nine during second career cycle
Padres infielder homers in fourth straight during feat for Missions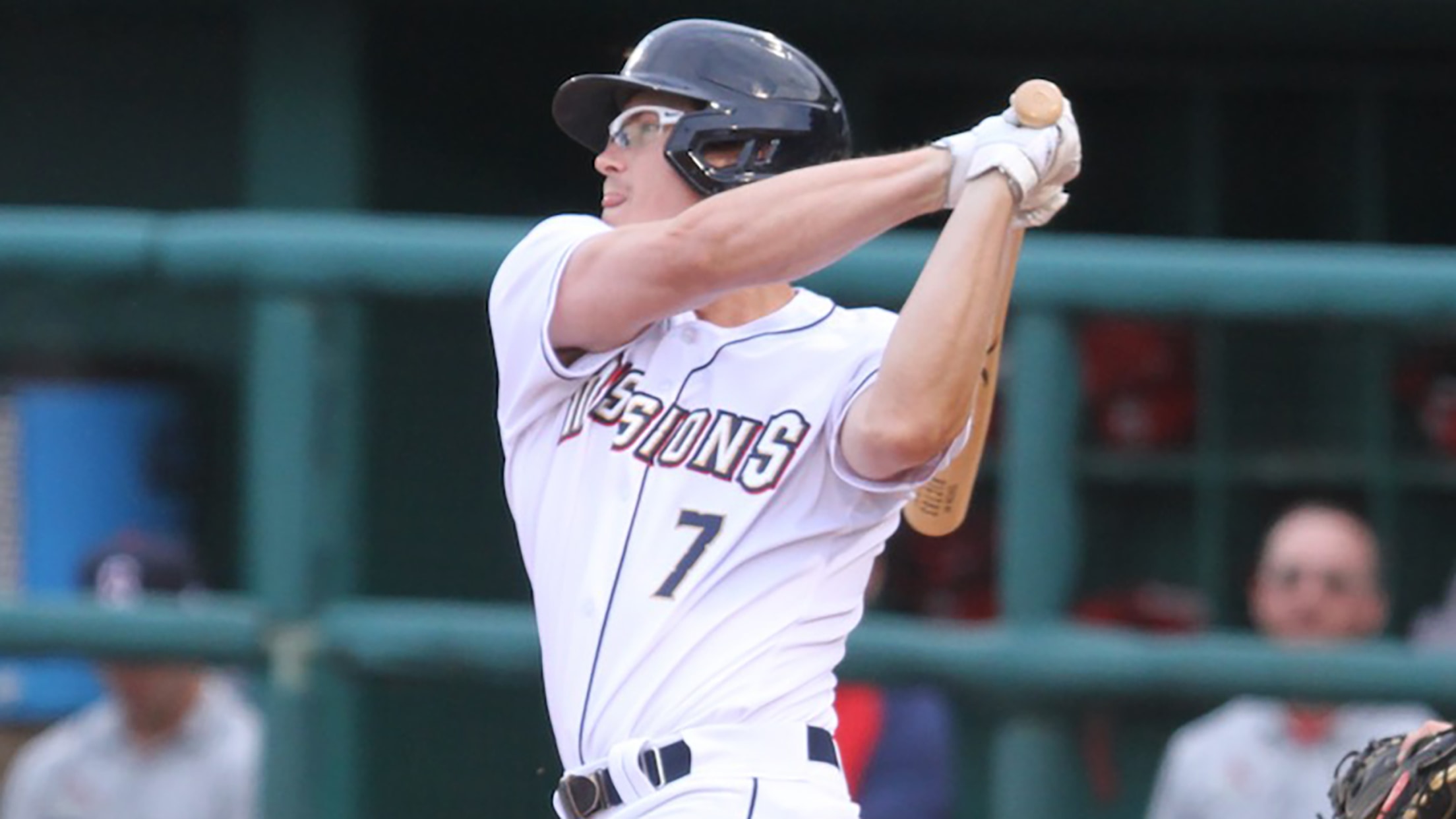 Go ahead and feel free to file this under, "Things you probably won't ever see again." Brandon Dixon didn't just hit for the cycle for the second time in his career Wednesday. The Padres farmhand needed just five innings to complete the milestone while homering in his fourth straight game.
Dunedin quartet team up for no-hitter
Churchill slams the door on the game, first week in pro ball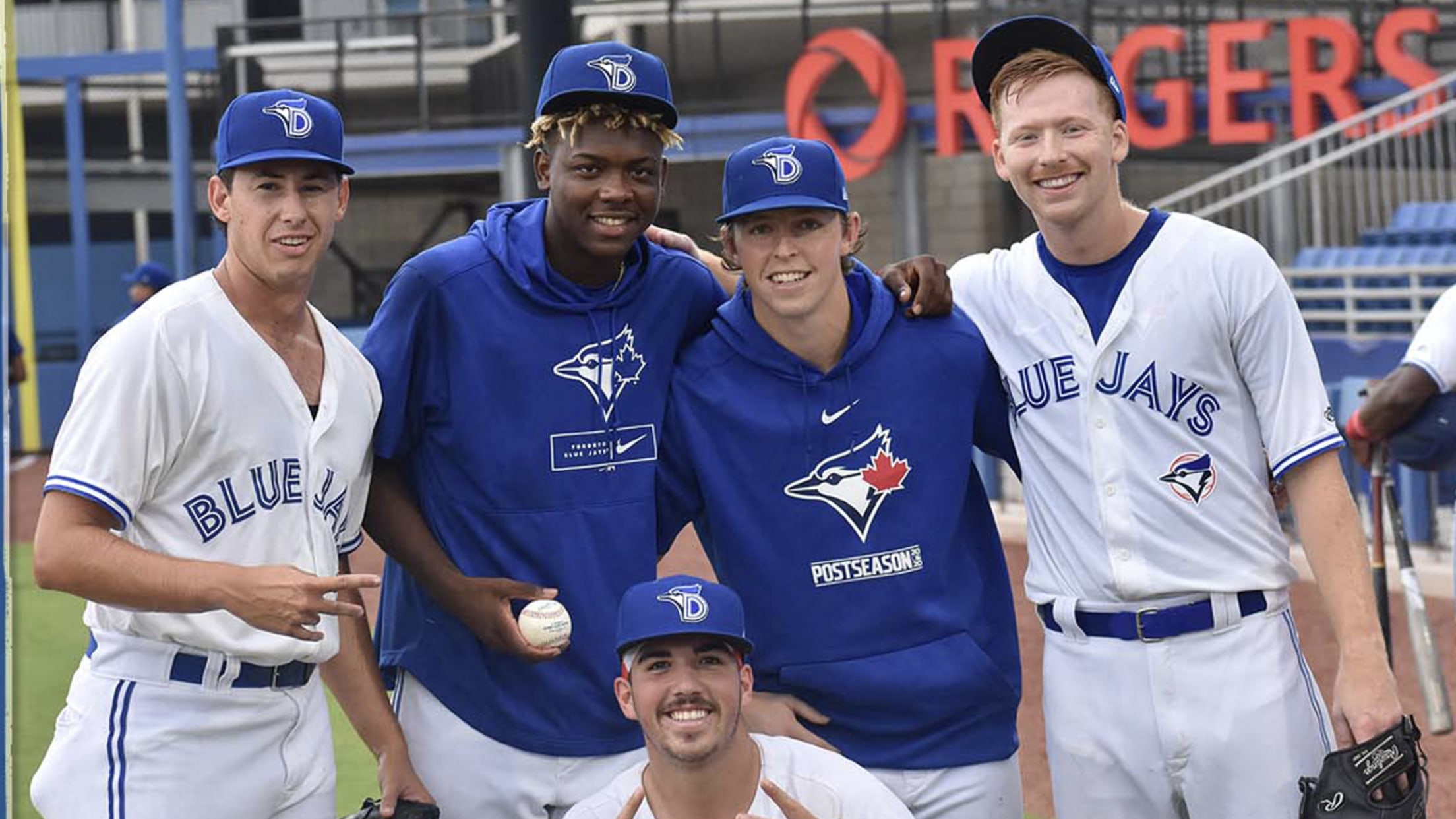 Ian Churchill concluded his first week in professional baseball with an achievement most players never get to claim. Churchill, Toronto's 10th-round pick in last month's Draft, tossed a perfect ninth inning on Sunday to secure a combined no-hitter for Single-A Dunedin, who beat the Tampa, 5-0.
Hickory's Englert, McDowell combine on no-no
The second time this year the Rangers' affiliate completed the feat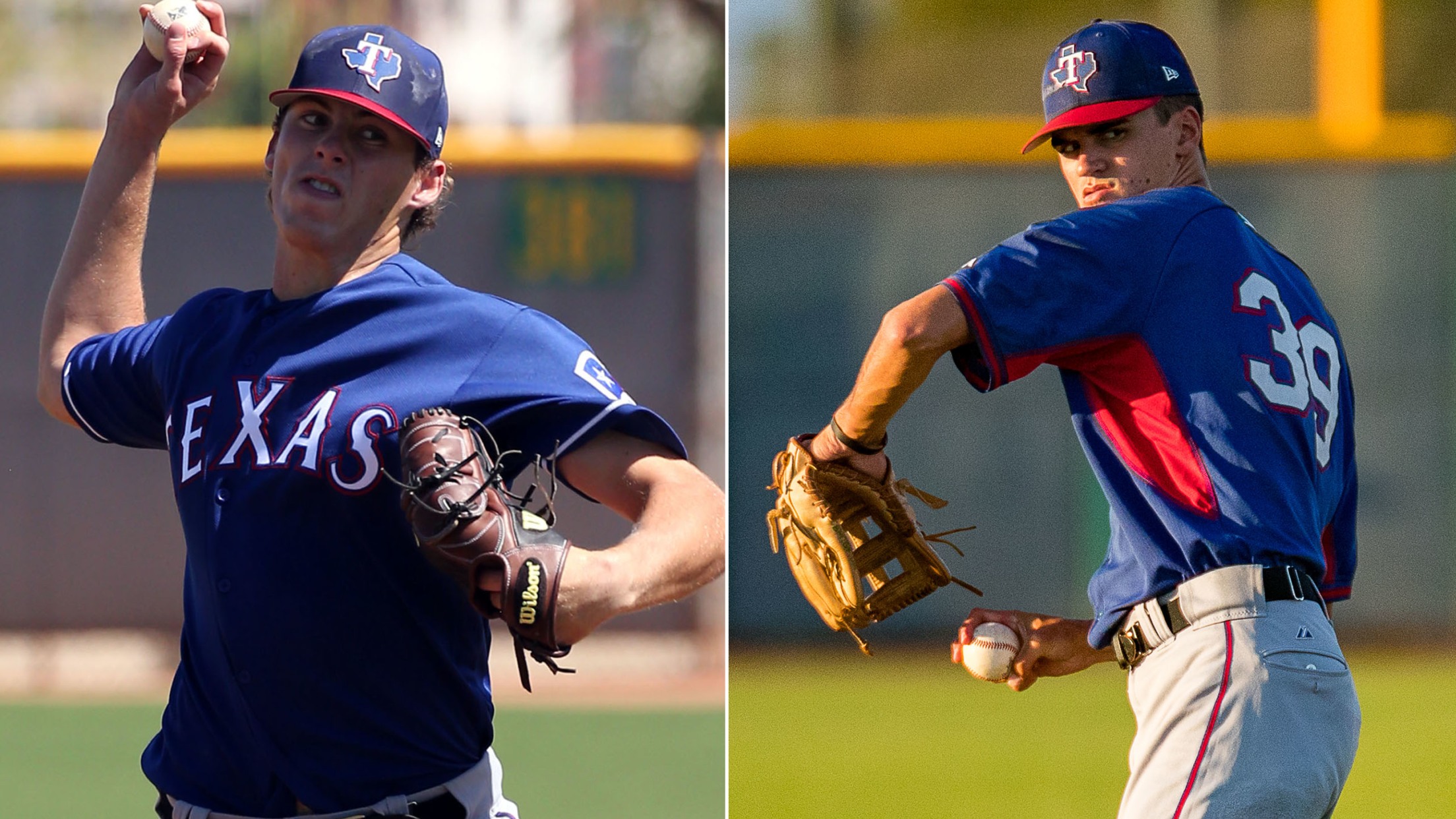 High-A Hickory made history almost exactly a month to the day from when it completed the franchise's first no-hitter in nearly a decade. The club didn't wait nearly as long to throw one again. Mason Englert and Theo McDowell combined to toss the second no-hitter of the season as Hickory
Cards' Redmond tallies historic 'homer cycle' 
Springfield slugger hits milestones with four dingers and 11 RBIs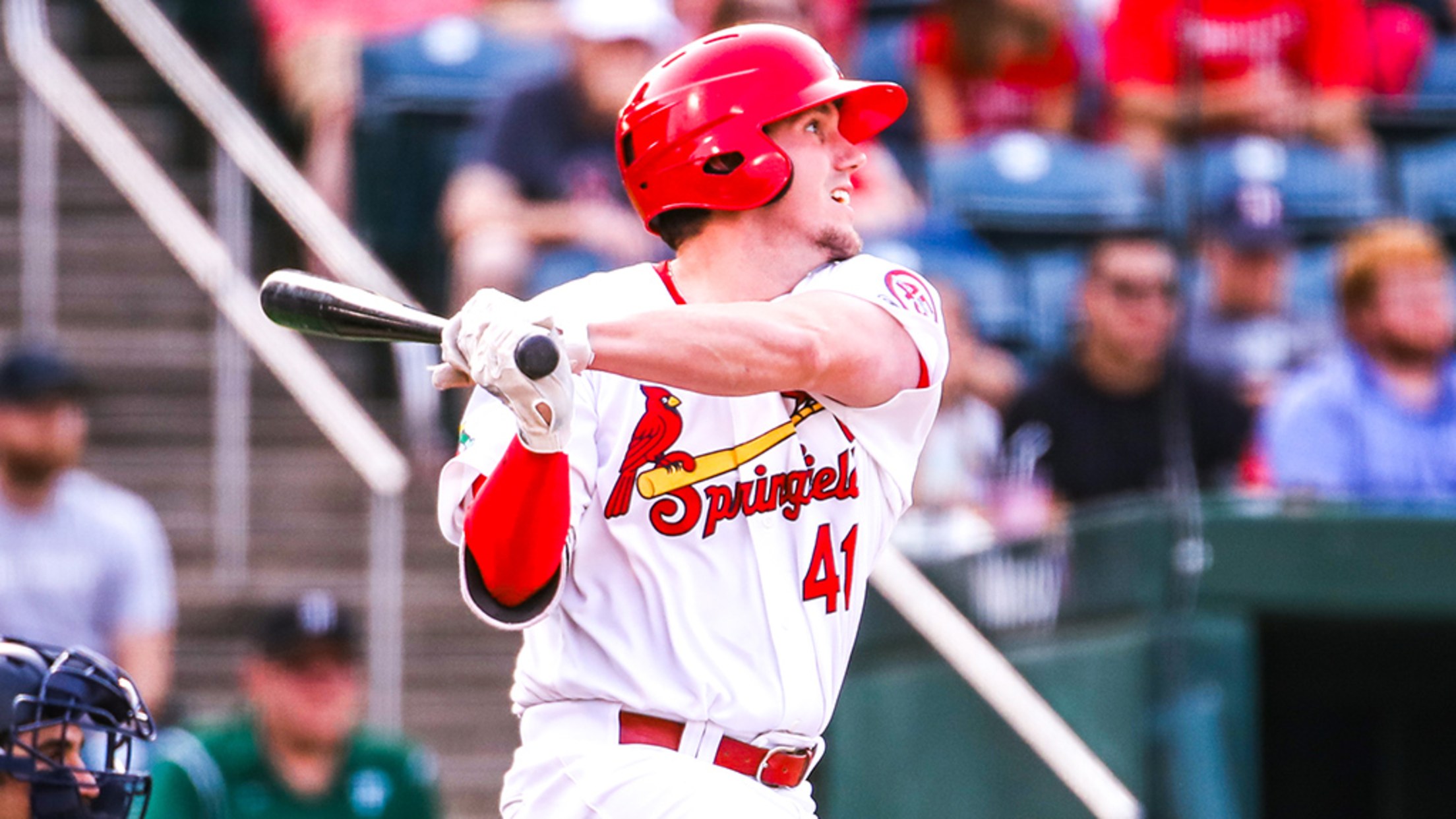 On an 88-degree night in Amarillo, Texas, in front of 5,134 at HODGETOWN Stadium, Chandler Redmond mashed his way into baseball lore. The Cardinals infield prospect barreled up a solo, two-run, three-run and grand slam homer to complete the rarest milestone in baseball history -- the "home run cycle." "It's
Salt Lake's Harrison finishes off first cycle
Angels outfielder equals career highs with five hits, five RBIs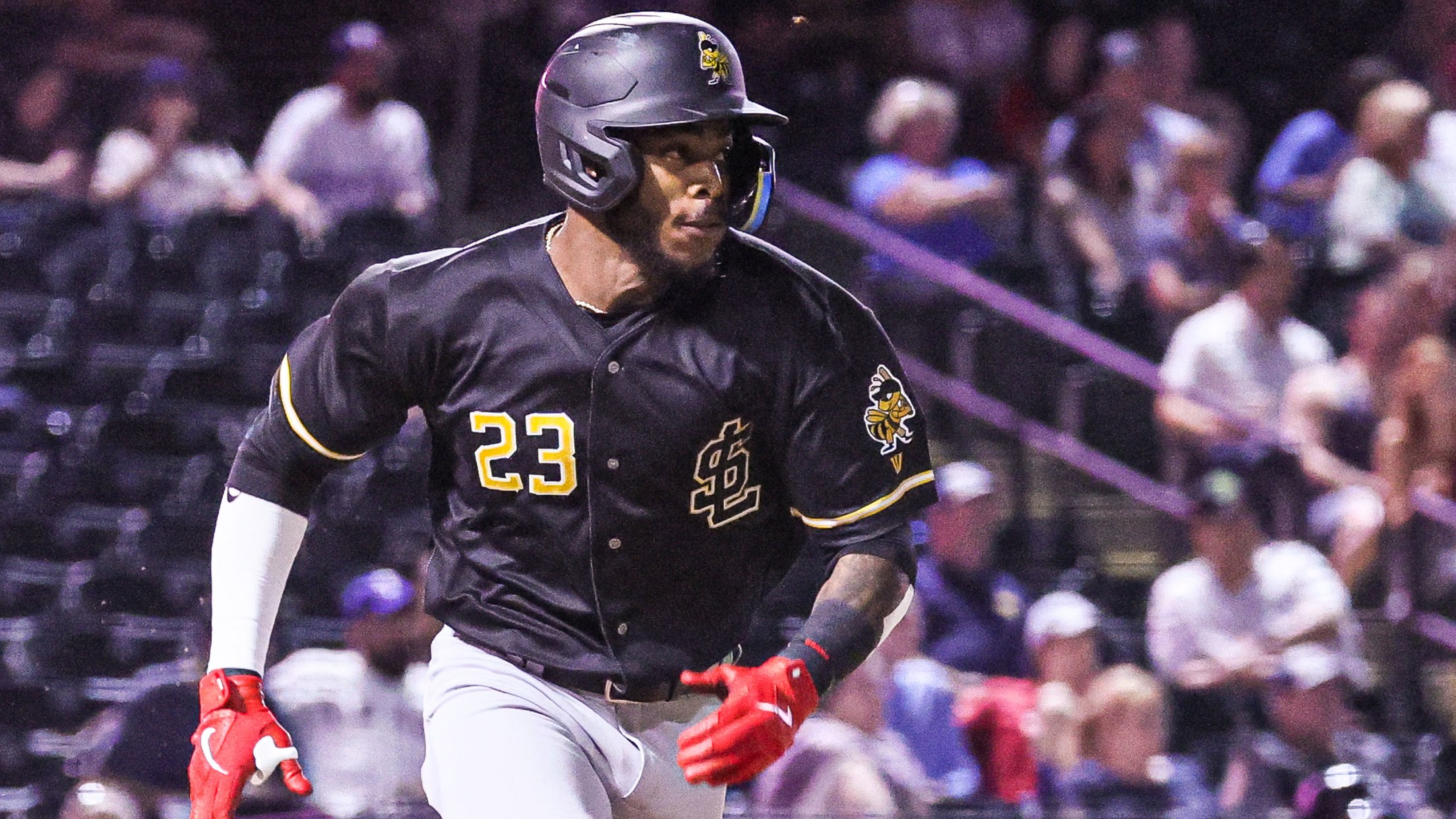 Apparently hitting for the cycle wasn't enough for Monte Harrison. An inning after completing the milestone, the Angels outfielder added a second double for good measure to equal a career high with five hits as Triple-A Salt Lake rolled past Reno, 11-4, at Greater Nevada Field. Harrison's cycle was the
Rosario completes Patriots' first affiliated cycle
Yankees outfield prospect ties career high with four hits, four RBIs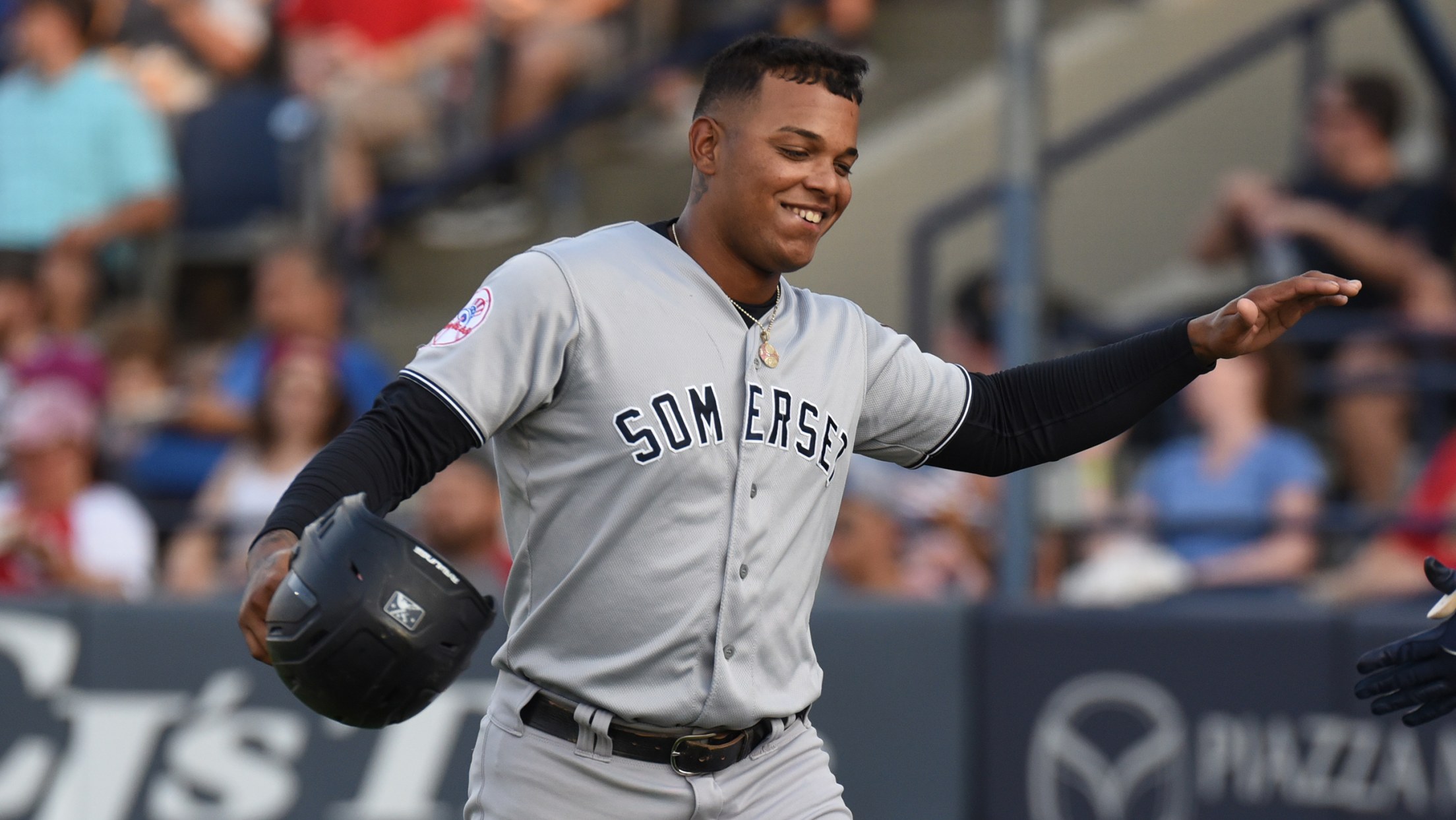 The Yankees-Red Sox rivalry extends to the Minors, and having played for both organizations, Jeisson Rosario was the ideal player to spice things up. Facing his former team, the Yankees outfield prospect hit for the cycle during Double-A Somerset's 12-11 loss to Portland on Sunday afternoon at Hadlock Field. It
Hickory hurlers combine for 10-inning no-no
Quartet of Crawdads toss franchise's first no-hitter since 2013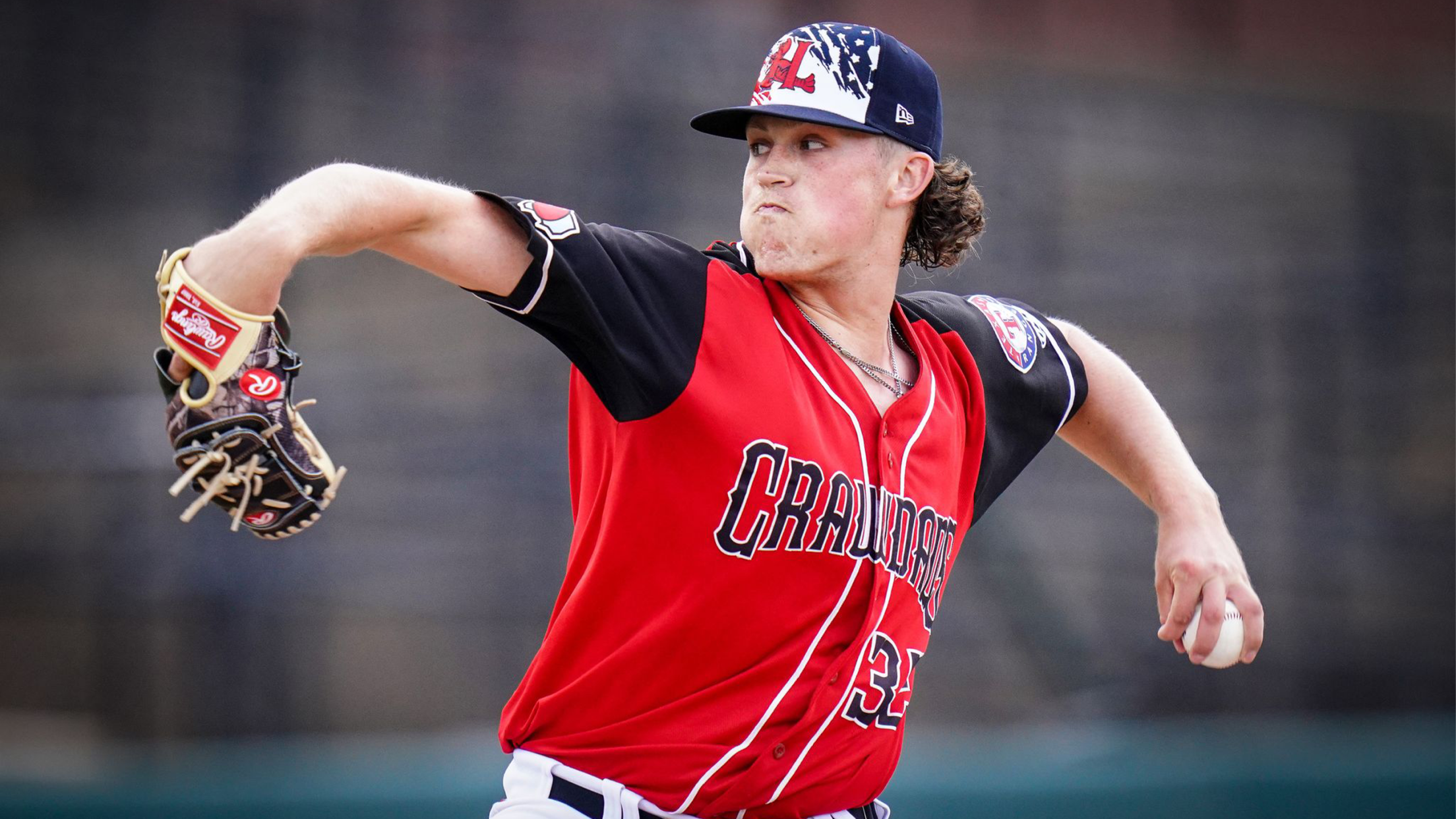 It took an extra frame, but High-A Hickory made history for the first time in nearly a decade. After breaking through with four runs in the 10th inning, the last of four Crawdads pitchers closed the door on a no-hitter in Hickory's 4-0 victory against Bowling Green on Saturday night.
Mateo takes flight for Down East
Rangers prospect goes deep three times, collects seven RBIs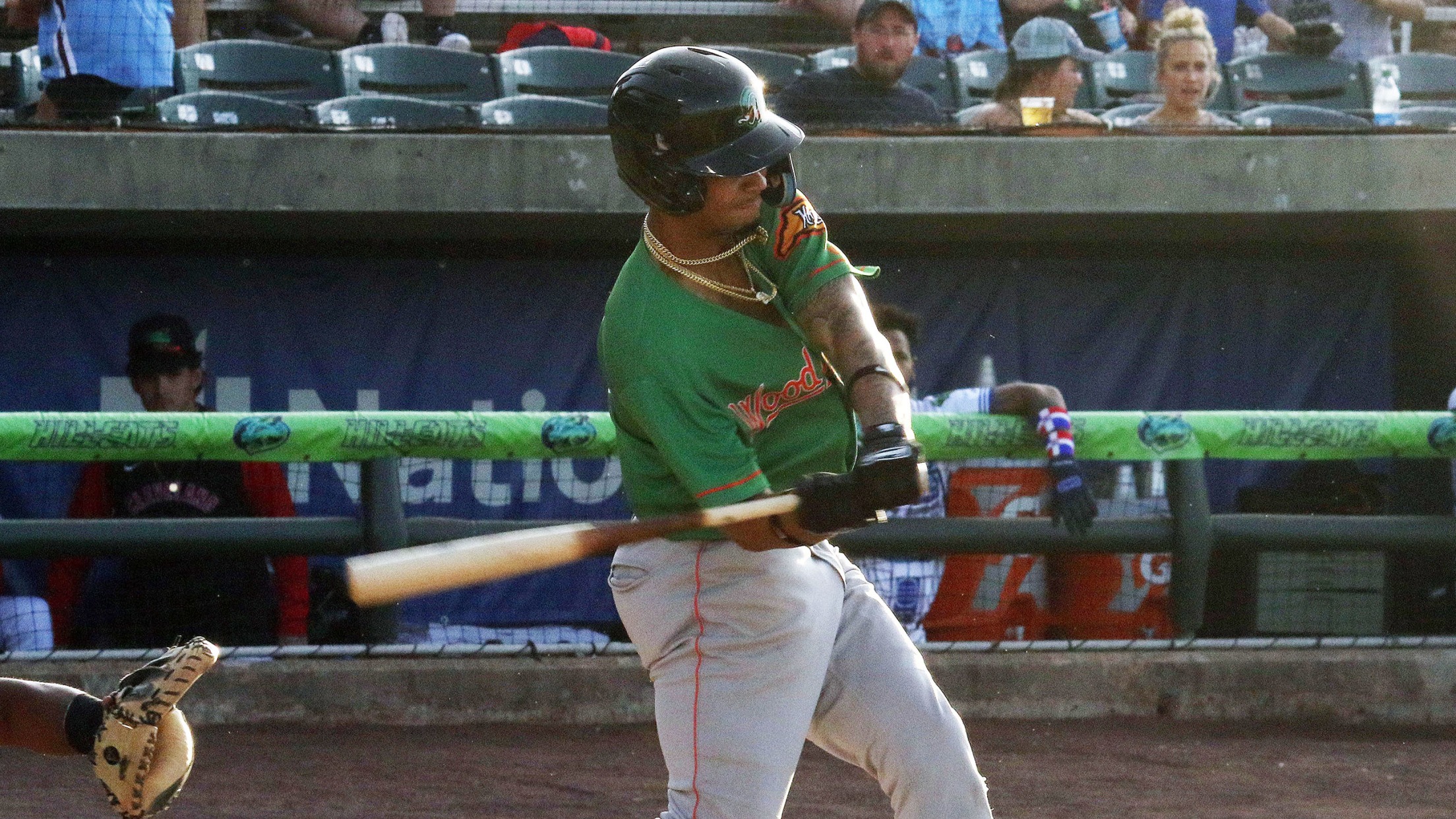 Daniel Mateo may not be a household name in the Rangers system, but he's starting to make a name for himself. Mateo homered three times and finished 4-for-6 with a career-high seven RBIs in Single-A Down East's 13-1 win over Fayetteville on Saturday night.
O'Keefe hits 3 homers, delivers walk-off single
Veteran catcher lifts Triple-A Tacoma to third walk-off in four days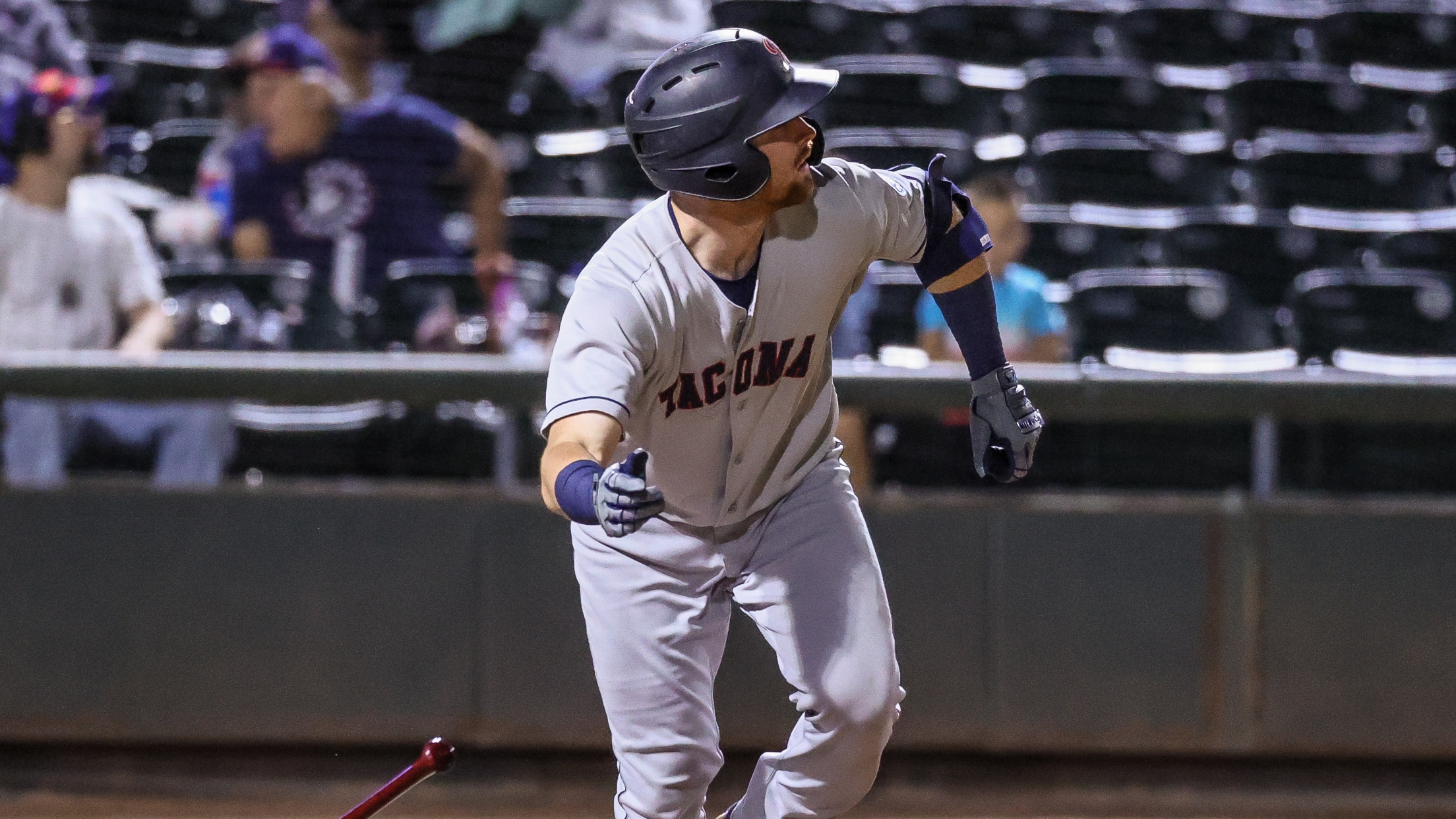 Stepping up to the plate in the bottom of the 10th inning on Saturday, Brian O'Keefe had a chance at rarefied air. Armed with three home runs and bidding for a historic fourth, he instead settled for a solid consolation prize -- a walk-off single to lift the Triple-A Tacoma
'I love the Lake Elsinore Storm': Mayor calls no-hitter
Hawkins, Mundo produce first no-no in Storm history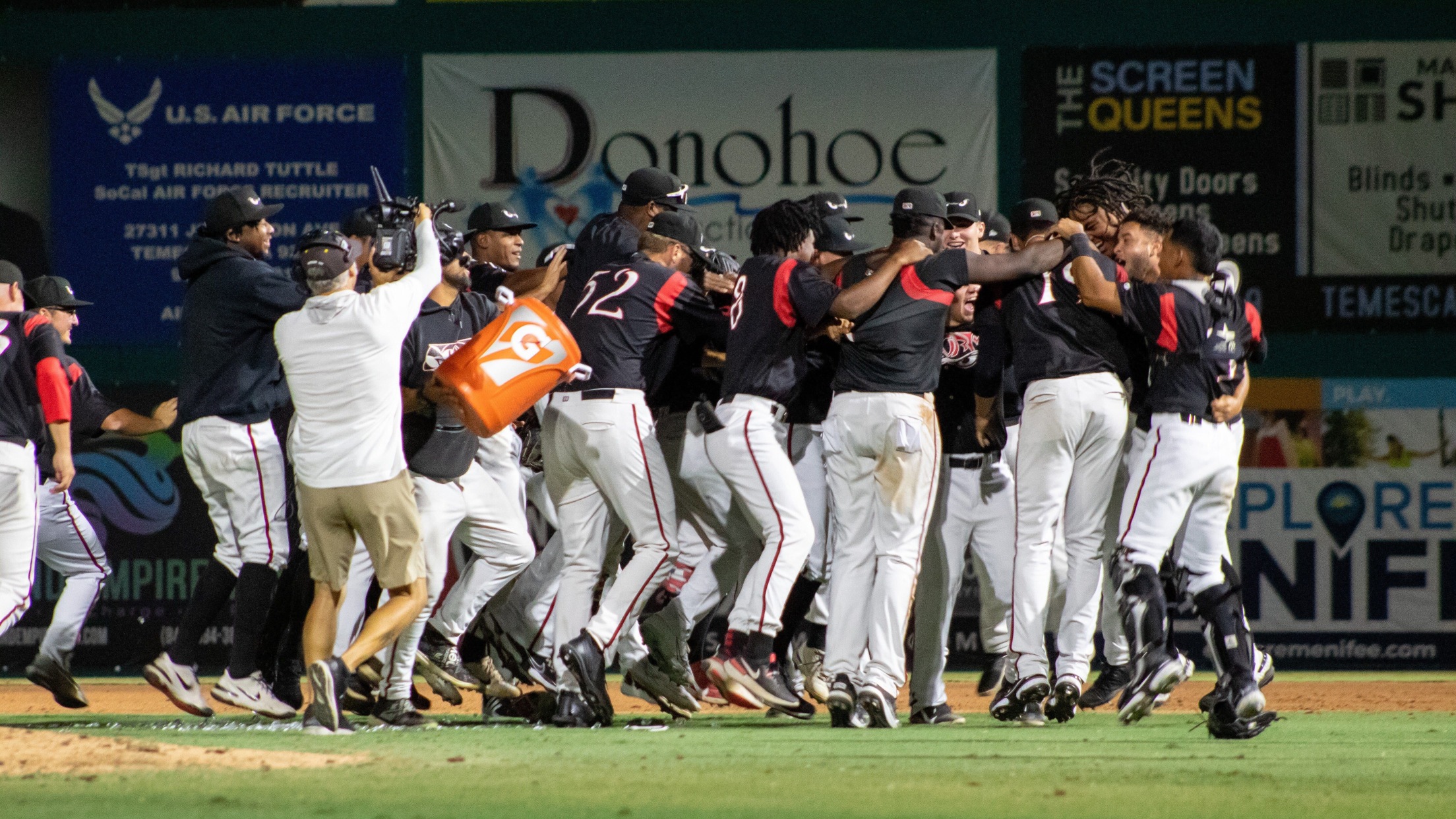 It took the San Diego Padres over 50 years and over 8,000 games to throw their first no-hitter. For the broadcaster of one of their Minor League affiliates, he witnessed the milestone in Game 1. Tim Sheridan isn't the usual broadcaster for the Single-A Lake Elsinore Storm. He's actually the
McDonald hits homer trifecta for Lansing
A's prospect first to go yard three times for Lugnuts since 2001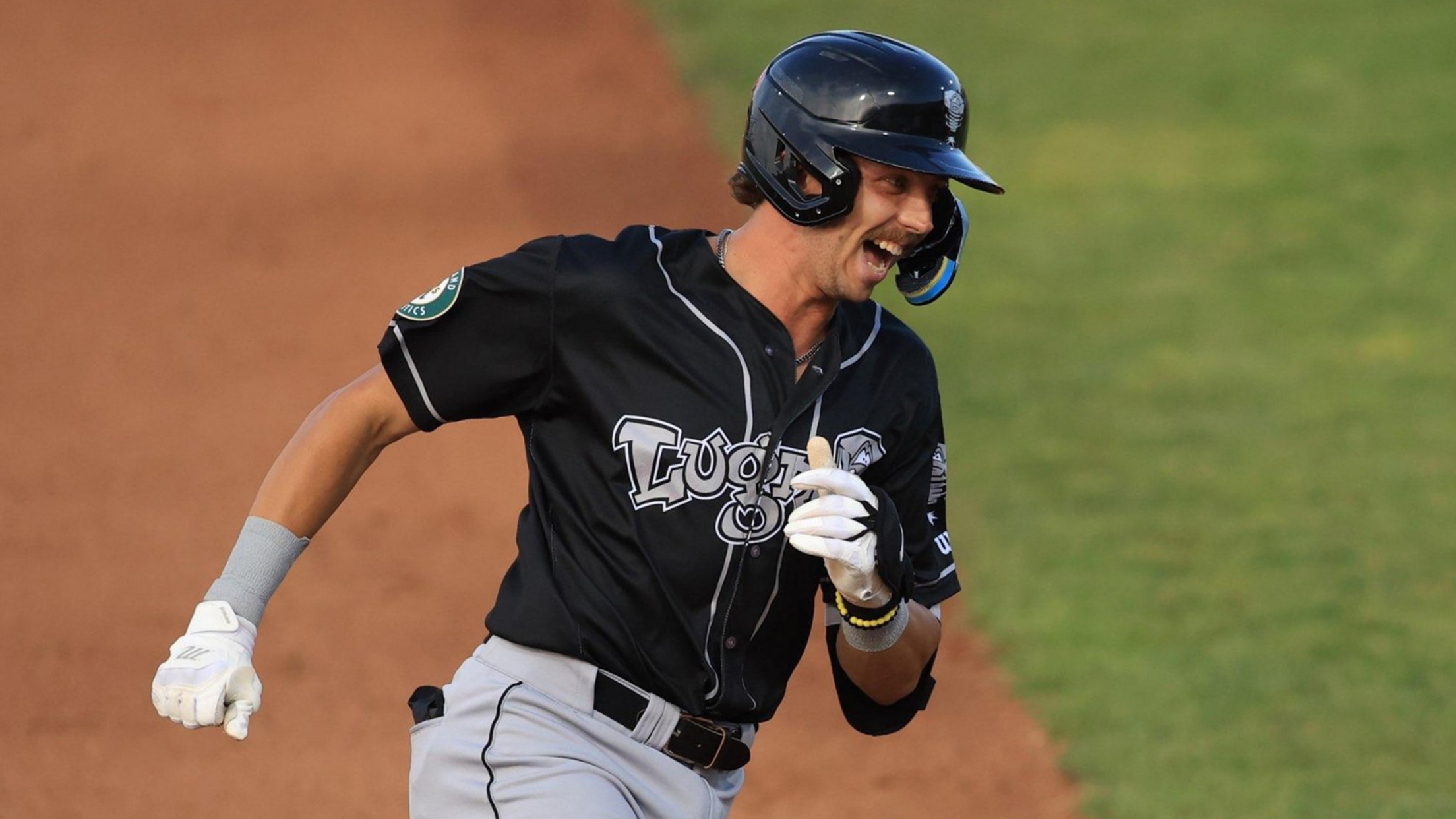 It took Jared McDonald 61 at-bats to hit his first three homers of 2022, plus an additional 63 to hit another. Then came Thursday, when he nearly doubled his home run output in a matter of five innings. The Oakland catching prospect went deep in his first three at-bats and