Soderstrom homerin' away again for Aviators
Top-ranked A's prospect swats two taters in Margaritaville threads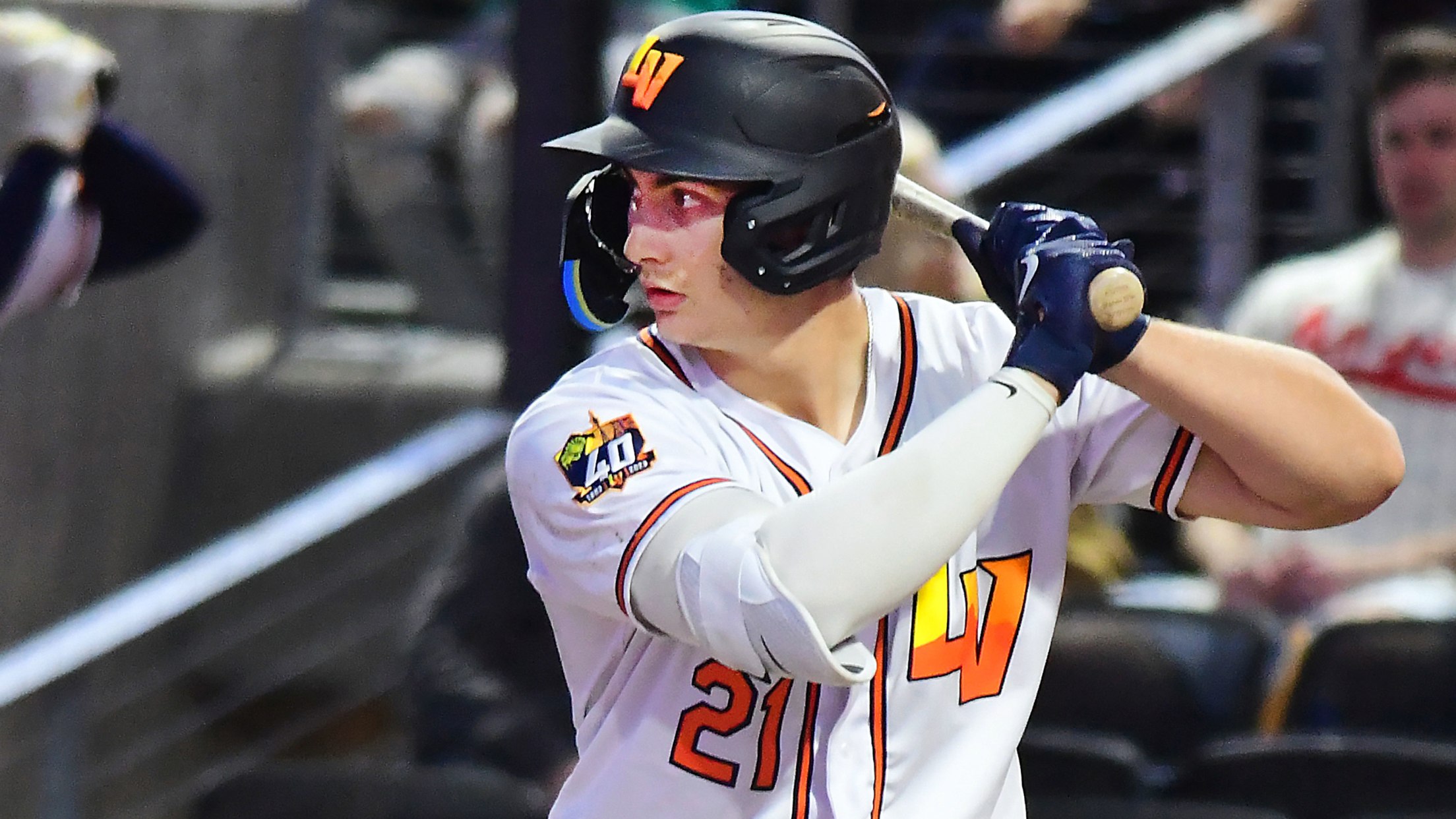 Welcome to Margaritaville, where it's always 5 o'clock, the jerseys (and vibes) are crisp and apparently, Tyler Soderstrom is launching baseballs into orbit. The top-ranked Athletics prospect was homerin' away again in an 11-8 Aviators victory on Saturday at Las Vegas Ballpark, as the club gave a nod to the
Gelof has the best hand in Vegas' 22-run deluge
No. 3 Athletics prospect notches first multihomer outing of season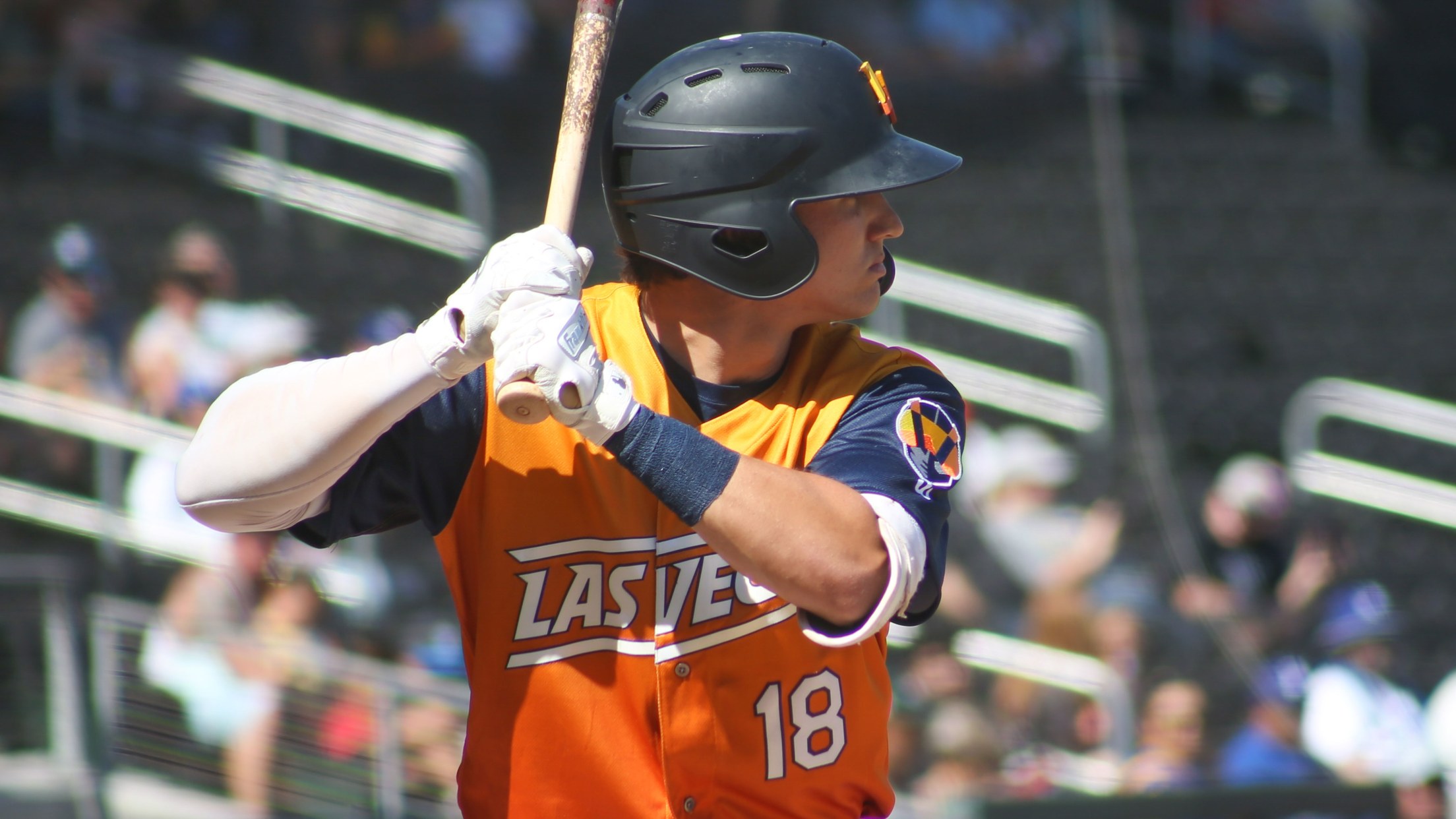 The hits came early, often and with considerable sizzle for Triple-A Las Vegas during a 22-run deluge Wednesday afternoon in Salt Lake City. The most prolific afternoon belonged to No. 3 Athletics prospect Zack Gelof, who reached base in all six of his plate appearances and amassed his first multihomer
Miller lights up radar gun in 5 near-perfect frames
No. 3 A's prospect racks up 11 strikeouts for Triple-A Las Vegas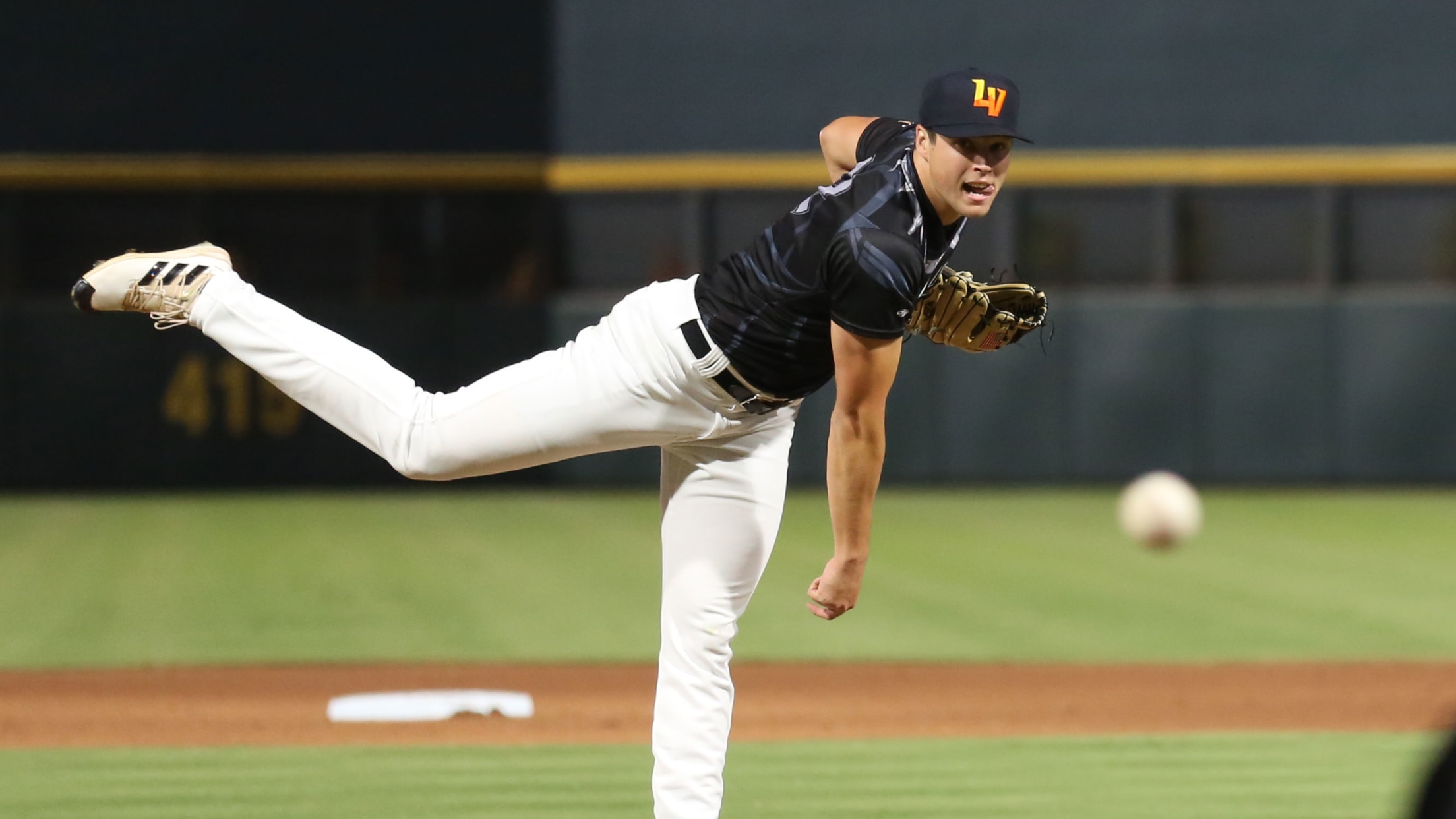 Mason Miller has always been known as a strikeout pitcher. The No. 3 prospect in the Athletics' organization, Miller trotted out to the mound Friday night already owning a 16 K/9 rate in his Minor League career. That wasn't enough for the right-hander, though, as he looked like an even
The Road to The Show™: Lawrence Butler
Club's No. 10 prospect put himself on the big league radar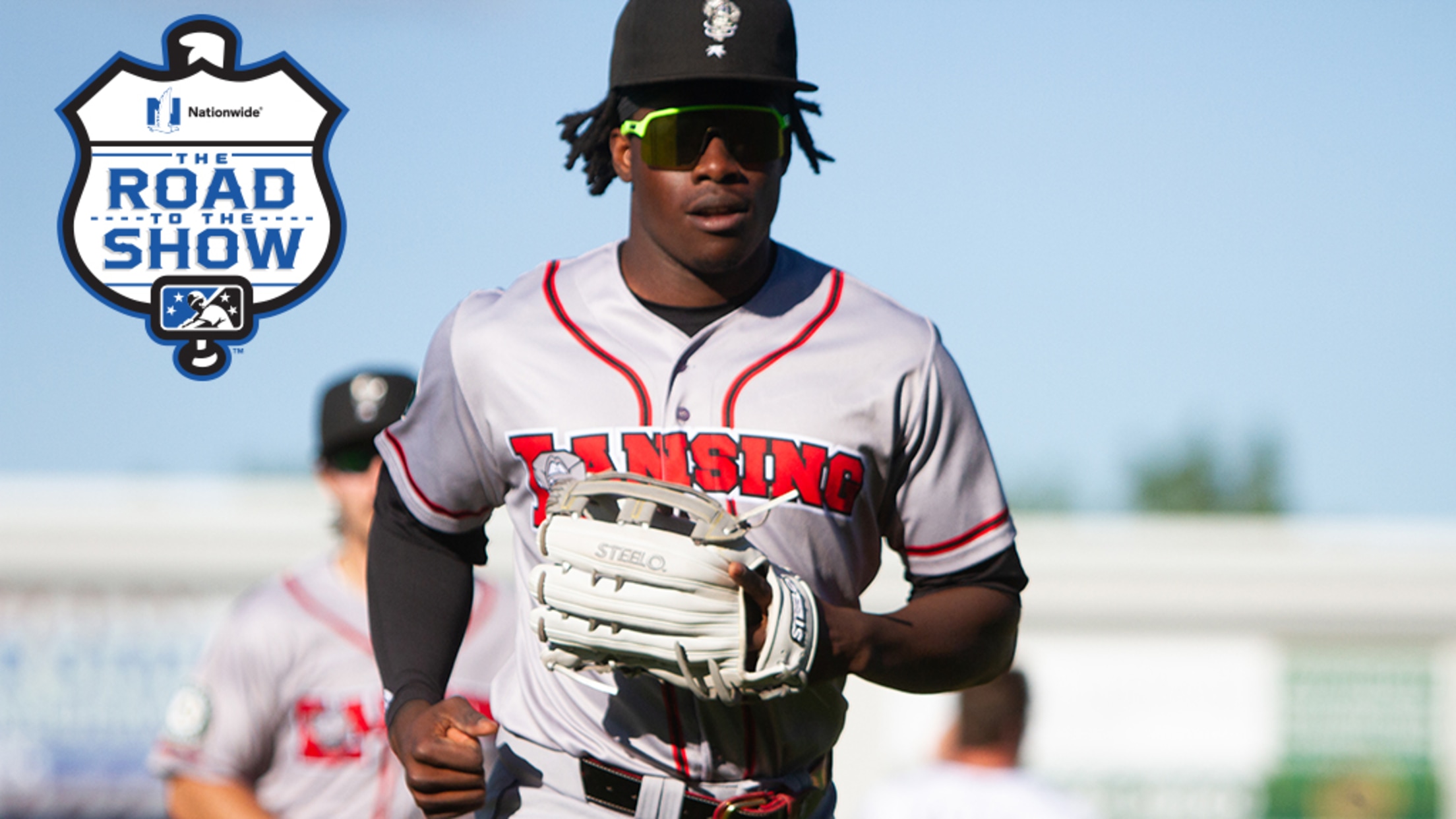 Each week, MiLB.com profiles an elite prospect by chronicling the steps he's taken toward achieving his Major League dream. Here's a look at No. 10 A's prospect Lawrence Butler. For more stories about players on The Road to The Show, click here. Few prospects have boosted their stock in the
Prospect Primer: American League West
Great Britain's newly crowned royalty working way to Emerald City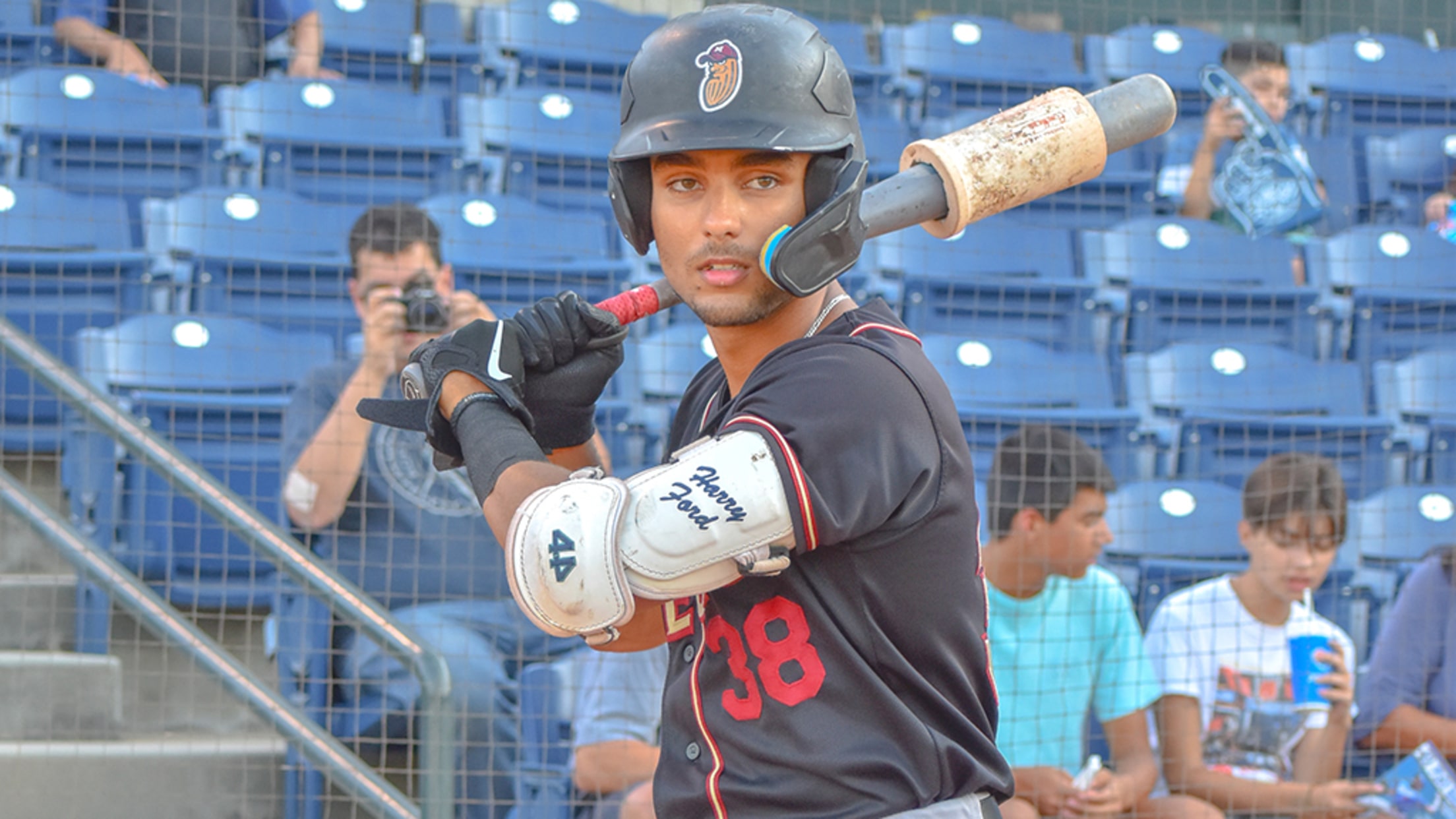 Some prospects are on the verge of stardom, others are entering a crucial phase of their development and others are getting their first tastes of full-season ball. As the 2023 season approaches, MiLB.com goes through each MLB division to take a look at the most intriguing prospects. Other Prospect Primers:
The Show Before the Show: Episode 392
Broadcaster Doskow discusses jump from Triple-A to Majors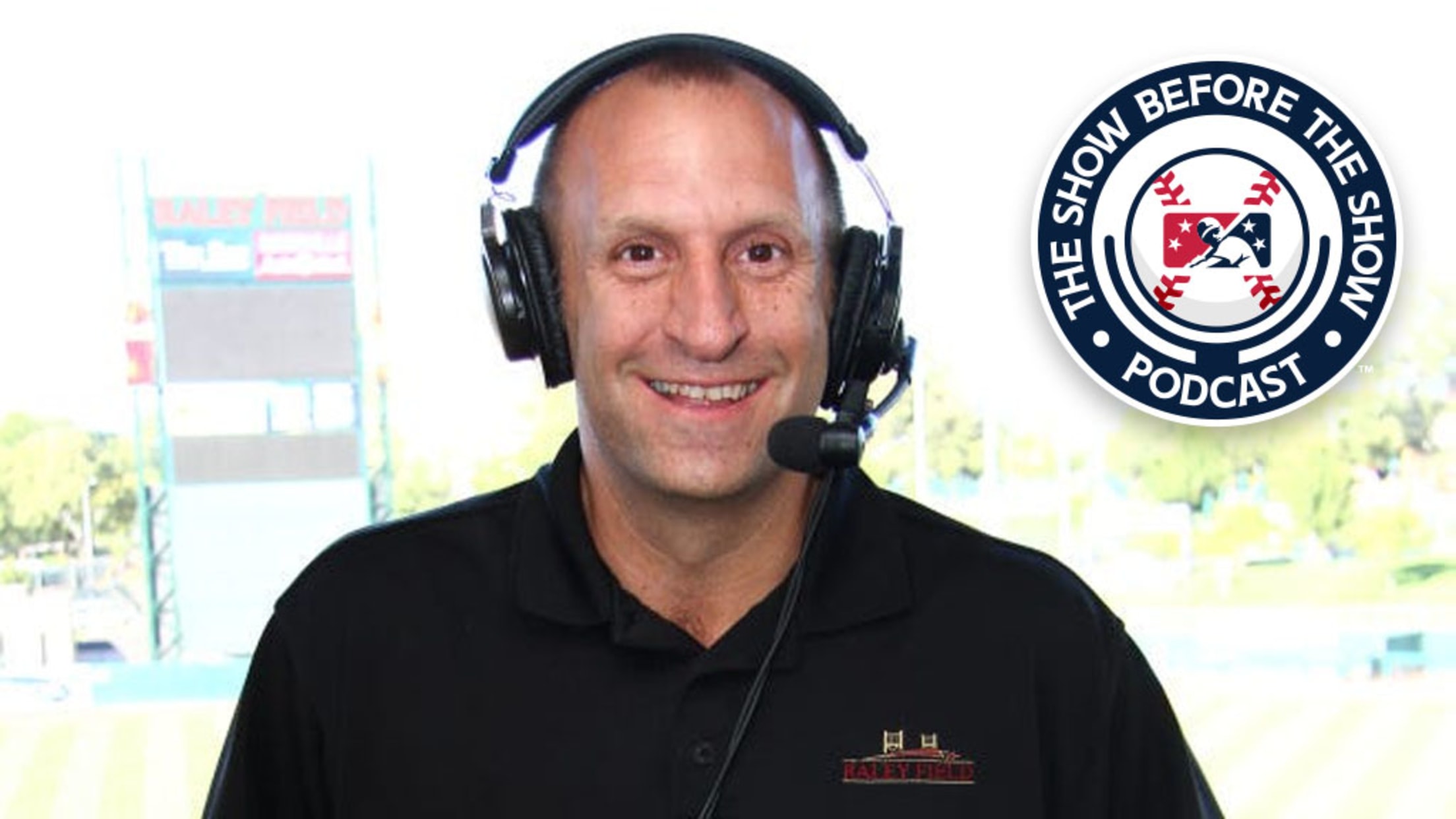 Check out the latest episodes of The Show Before the Show, MiLB.com's official podcast. Like the podcast? Subscribe, rate and review on Apple Podcasts. The podcast is also available via Spotify, Stitcher and other podcast-listening apps. Send questions or feedback to [email protected], and follow hosts Tyler Maun (@TylerMaun), Sam Dykstra
Try and catch up: Langeliers, Soderstrom star for A's
Power-packed backstops, pitching depth highlight club's All-Stars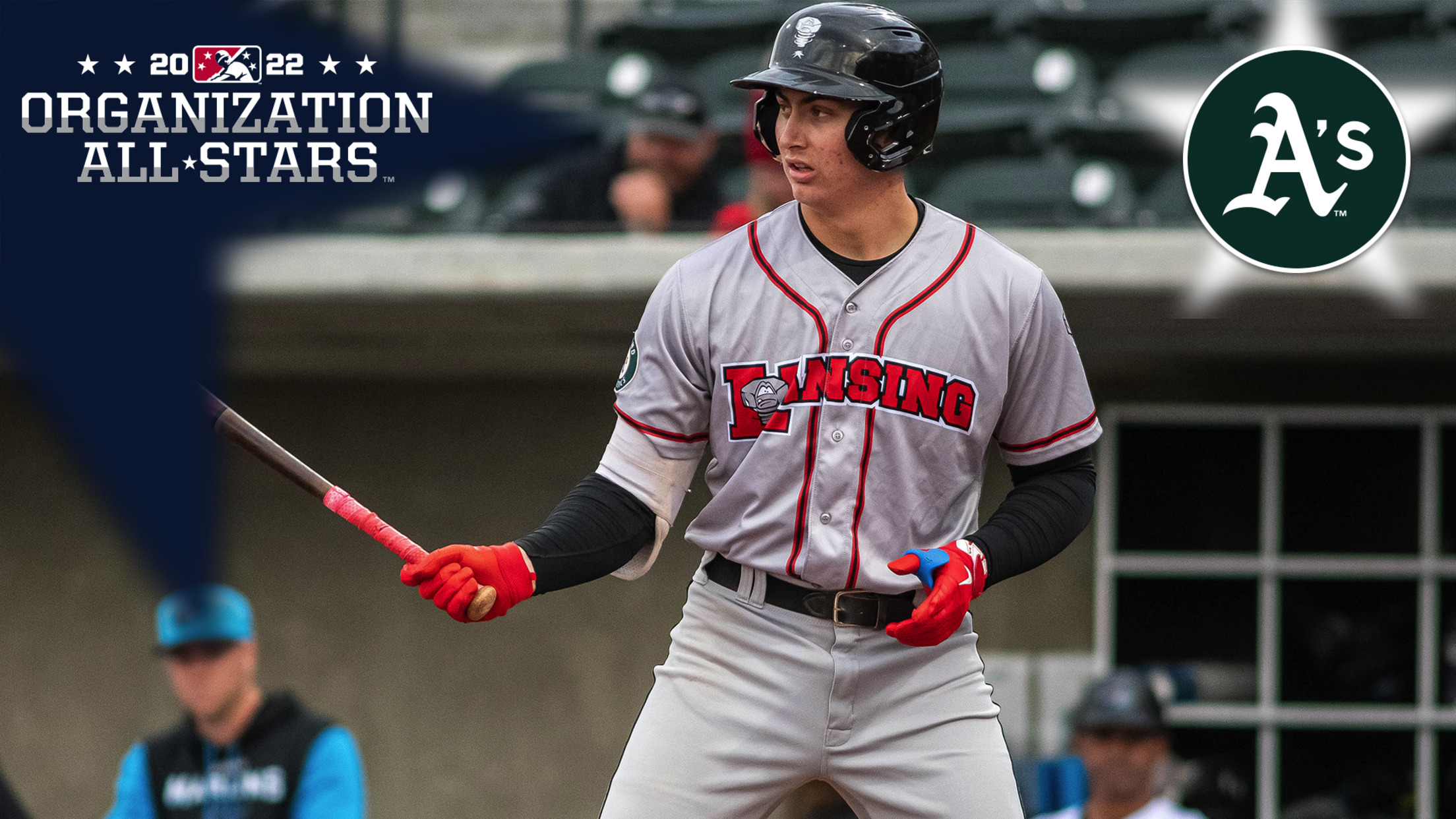 Each offseason, MiLB.com goes position by position across each organization and honors the players -- regardless of age or prospect status -- who had the best seasons in each farm system. Next up in our 2022 Organization All-Stars series are the Oakland Athletics.
Smith notches cycle in career night for Las Vegas
Oakland infielder collects 5 hits, homers twice in PCL slugfest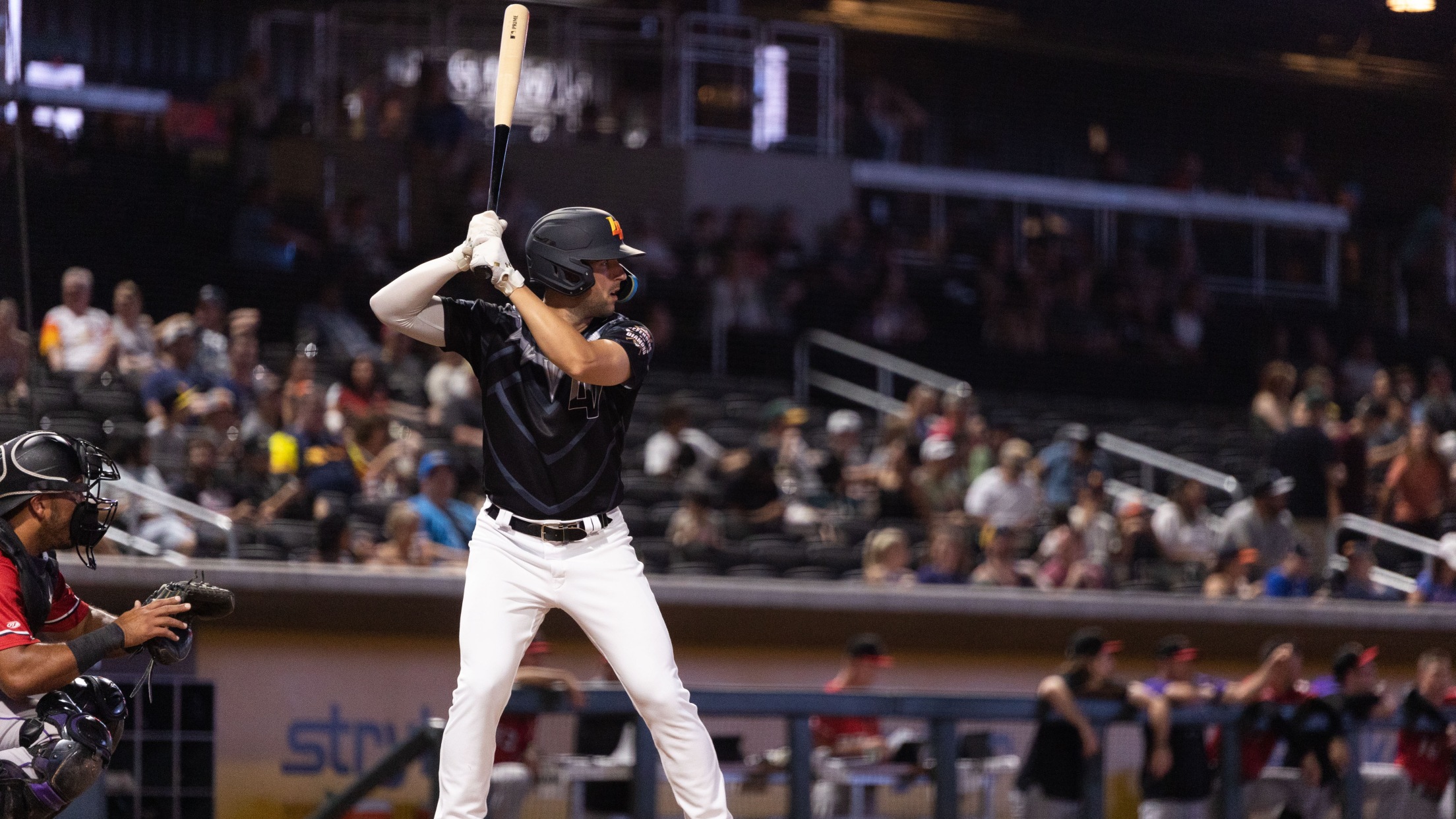 Kevin Smith wanted the third home run, something he had never done in a game as a pro. But leading off the bottom of the ninth with his team trailing by two, he knew the right play was to just put the ball in play. As it turned out, that
Lugnuts bend but don't crack in no-no
Lansing allows run, but holds on for club's third no-hitter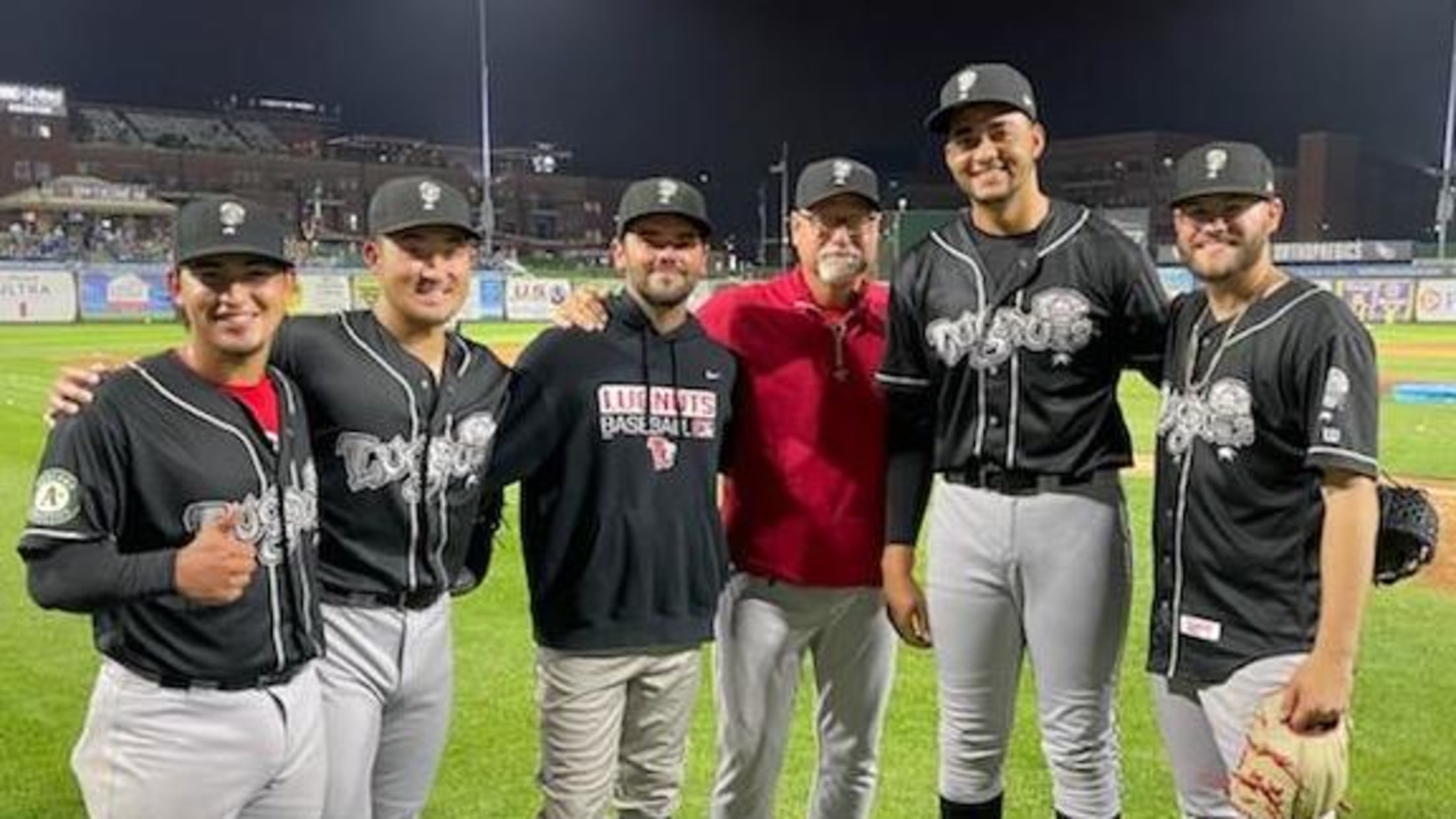 The last time the High-A Lansing Lugnuts, then a Single-A affiliate, threw a no-hitter, they ultimately lost the game. It nearly happened again. Despite combining for seven walks and allowing a run, four Lansing pitchers teamed up for the third no-hitter in franchise history, with the Athletics affiliate hanging on
Prospect Q&A: A's outfielder Clarke
Oakland's No. 11 prospect discusses search for consistency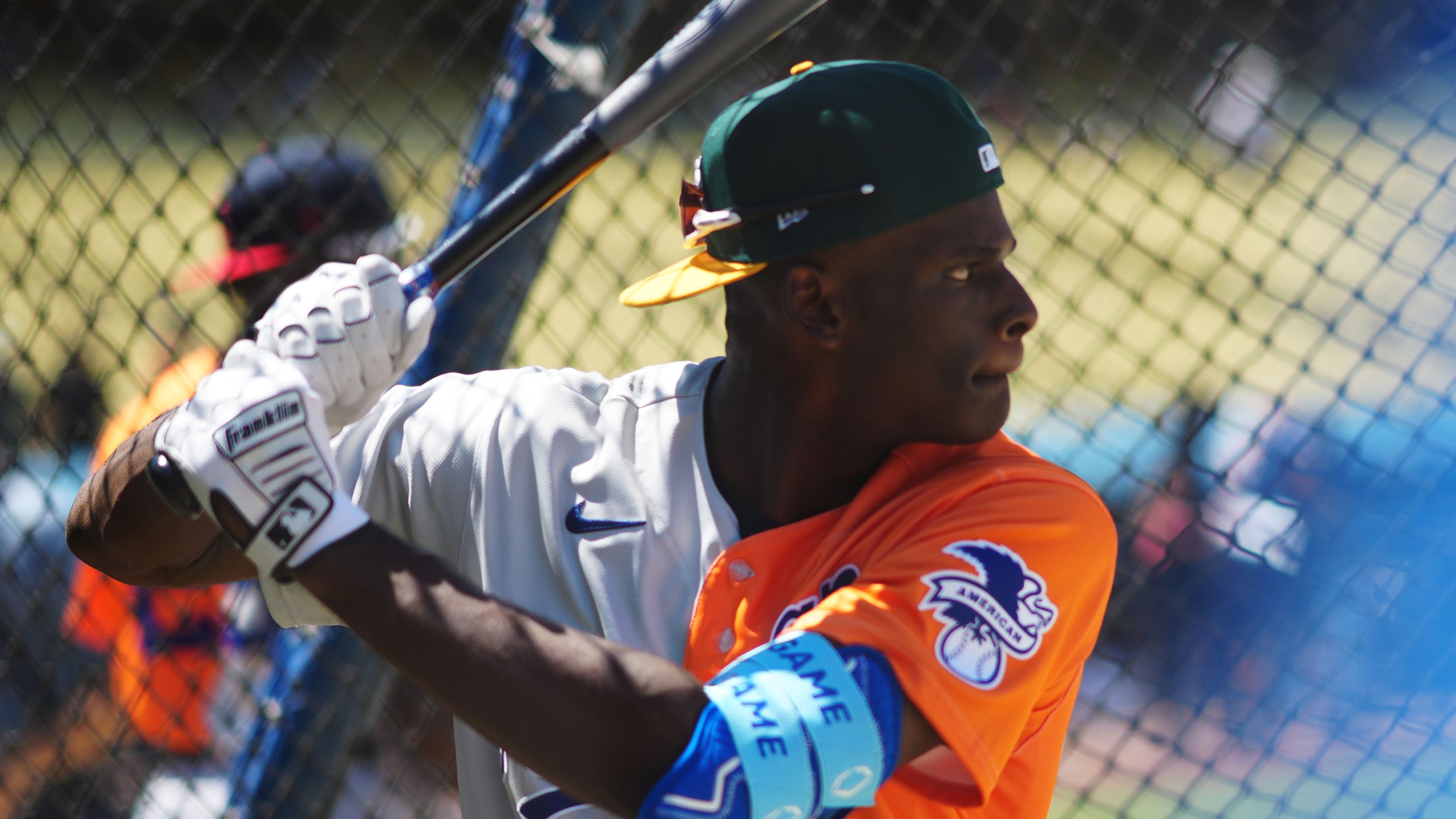 In just a short time in professional baseball, Denzel Clarke has done incredible things to make his name jump off the page. Earlier this month, the A's No. 11 prospect became the first player in professional baseball history to hit an inside-the-park homer in consecutive games for High-A Lansing. This
The Road to The Show™: A's infielder Gelof
No. 79 overall prospect among fastest-moving Minor Leaguers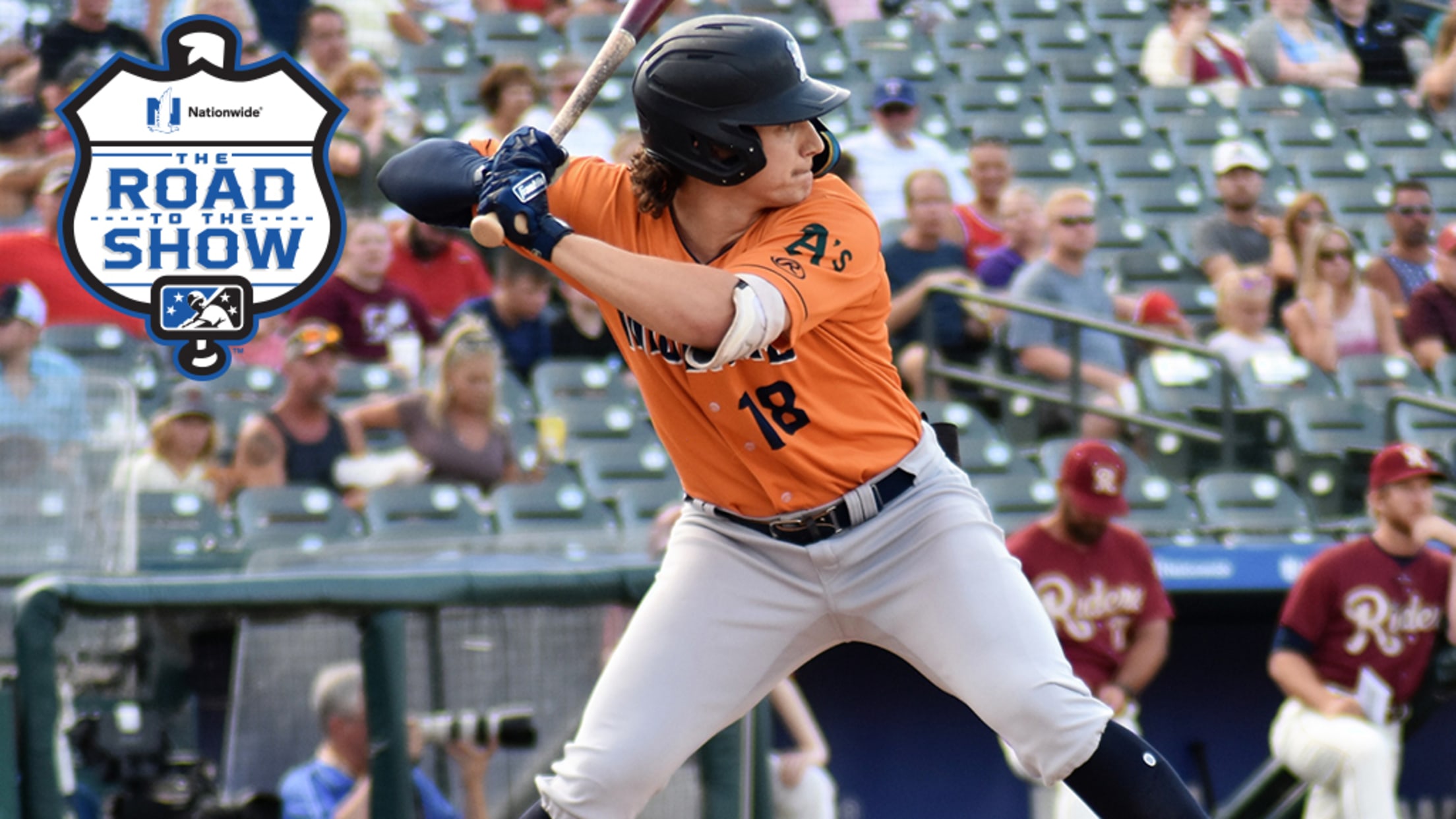 Each week, MiLB.com profiles an elite prospect by chronicling the steps he's taken toward achieving his Major League dream. Here's a look at A's No. 4 prospect Zack Gelof. For more stories about players on The Road to The Show, click here. It's really difficult to slow down Zack Gelof.
McDonald hits homer trifecta for Lansing
A's prospect first to go yard three times for Lugnuts since 2001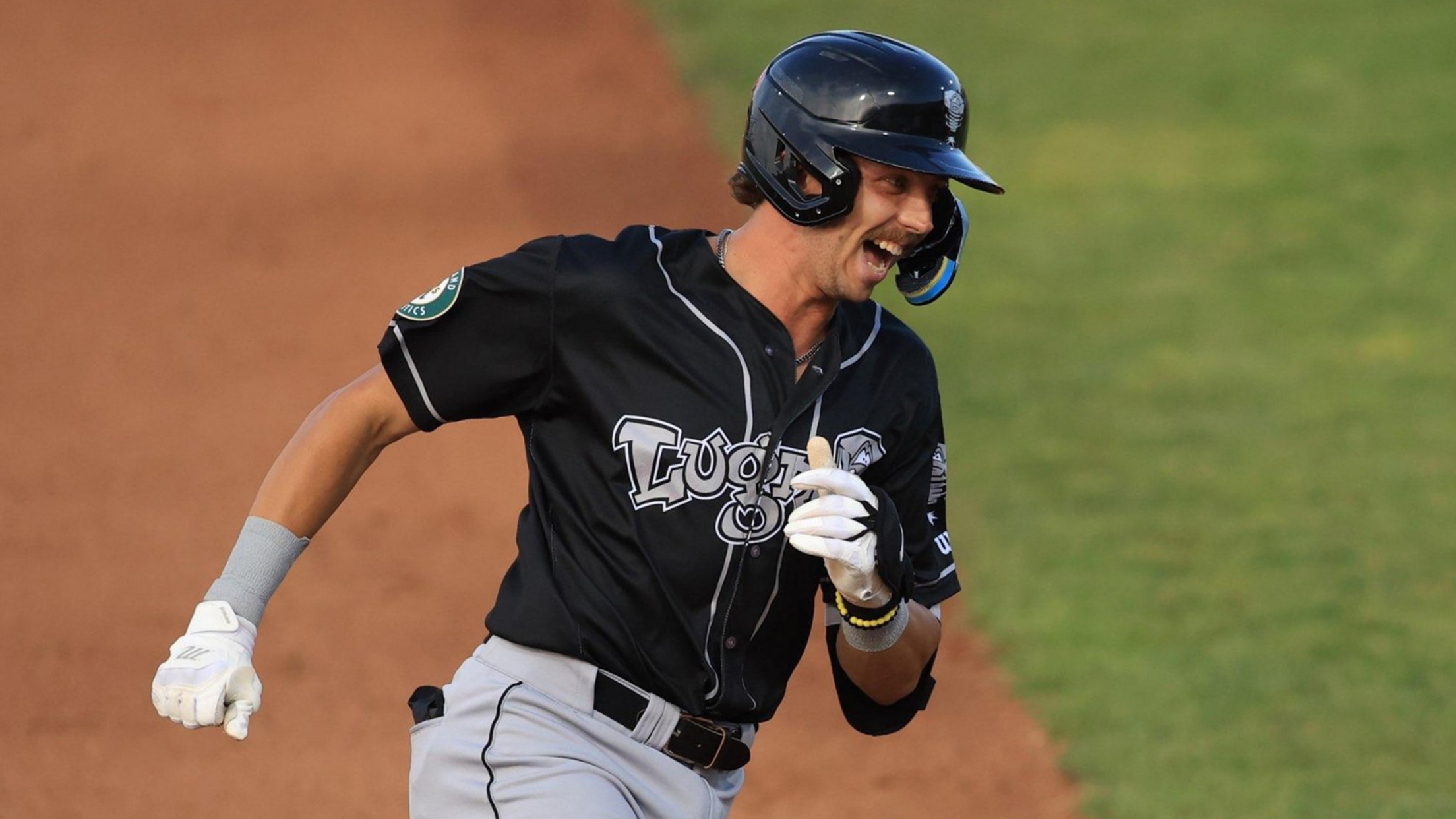 It took Jared McDonald 61 at-bats to hit his first three homers of 2022, plus an additional 63 to hit another. Then came Thursday, when he nearly doubled his home run output in a matter of five innings. The Oakland catching prospect went deep in his first three at-bats and
Breakout candidate: A's shortstop Puason
Oakland's No. 10 prospect found success on balls in play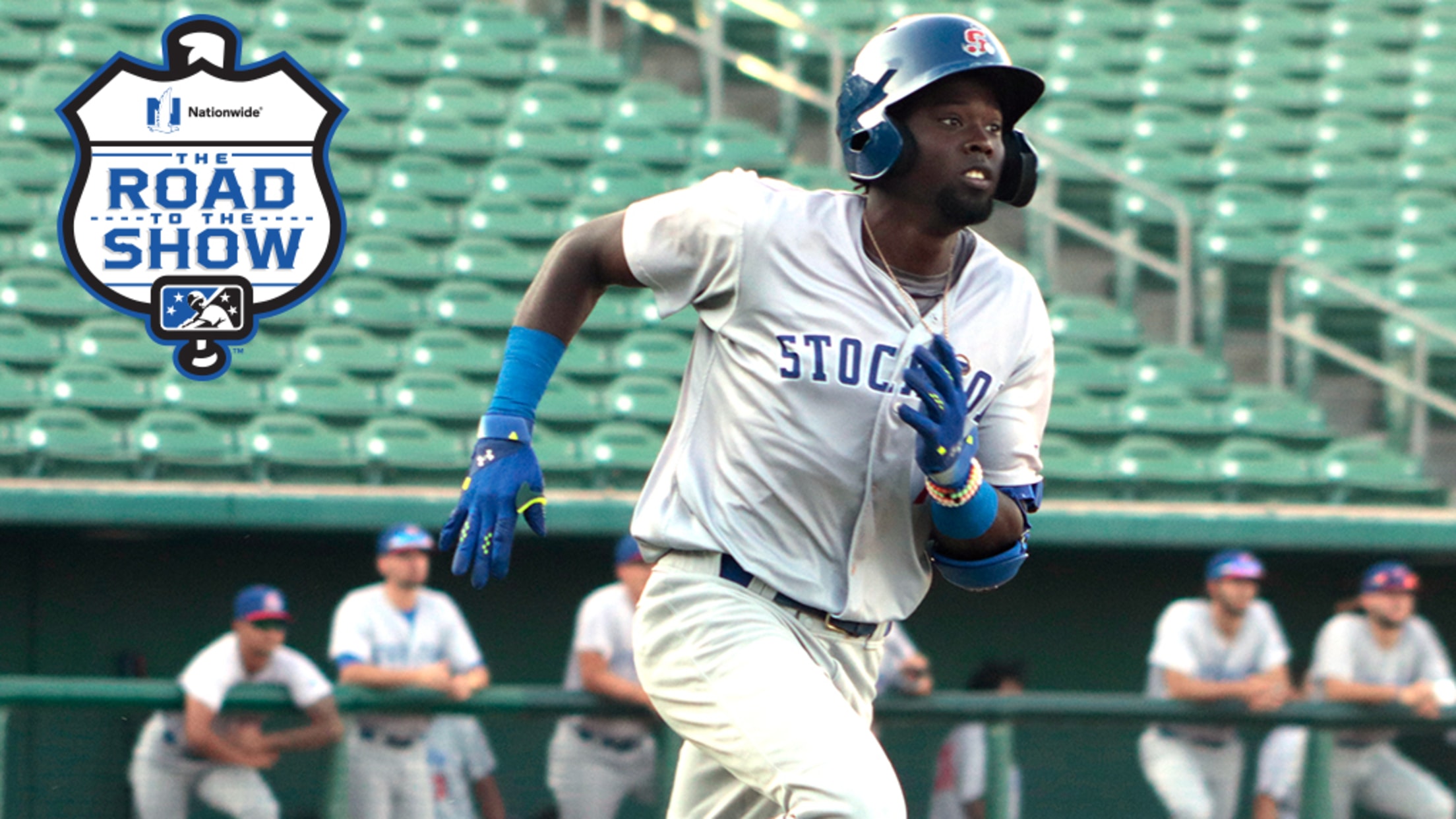 MiLB.com's Breakout Candidate series spotlights players who could garner some serious attention in 2022. Here's a look at A's No. 10 prospect Robert Puason. Robert Puason may never shed his lofty expectations, but he showed enough in his difficult debut season to offer hope of him one day becoming a
Soderstrom leads next wave of talent to Oakland
Breakout campaigns at all levels give system a solid foundation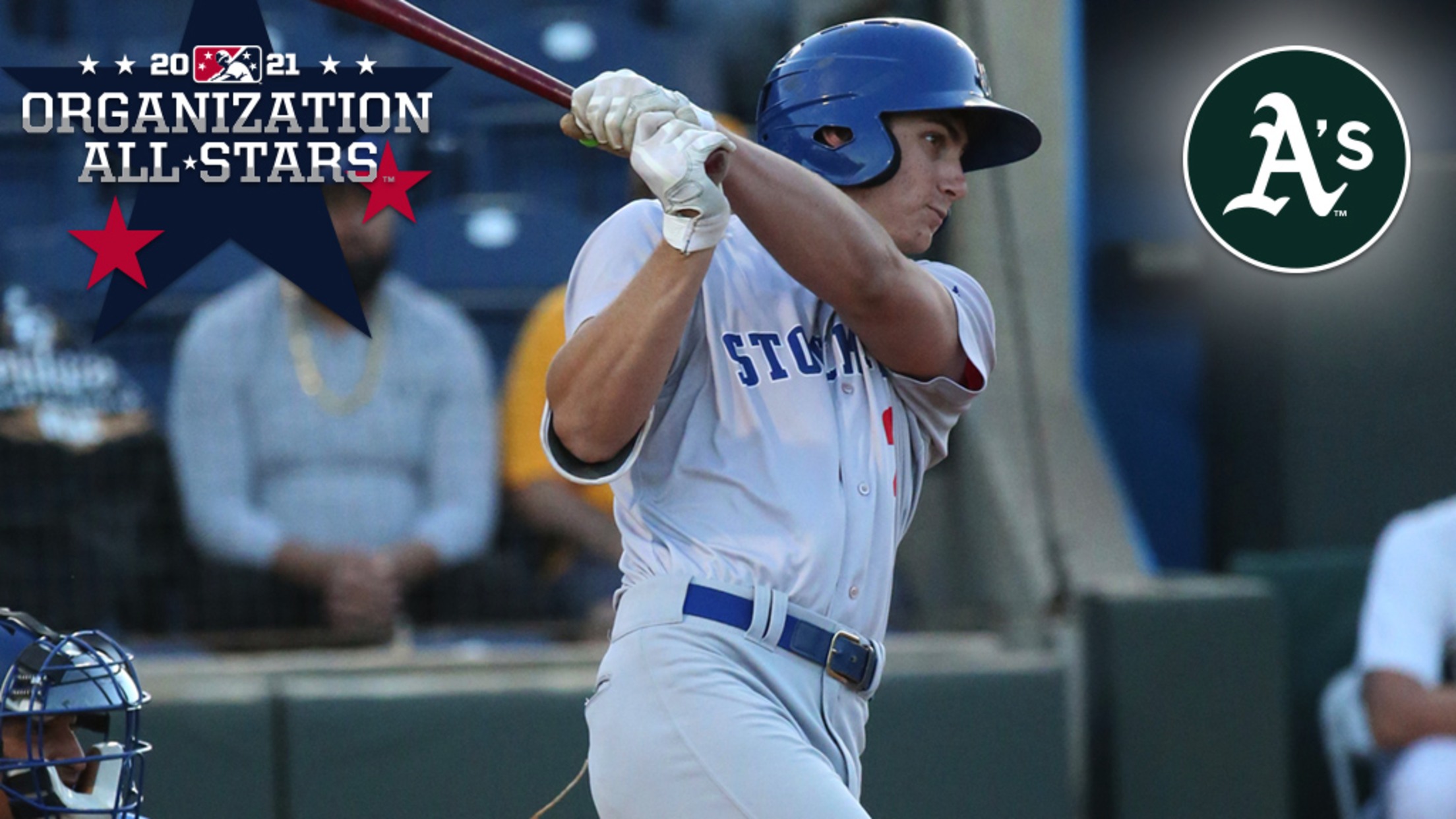 Each offseason, MiLB.com goes position by position across each system and honors the players -- regardless of age or prospect status -- who had the best seasons in their organization. Click here to locate your favorite club. After failing to reach the playoffs for the first time since 2017, the
Lugnuts make most of 'Tool Time' celebration
Lansing club salutes long-running sitcom with local connection
Nostalgia never goes out of style. Ask any millennial with an internet connection, and they'll probably admit that their emotions were toyed with this week at the sight of an old friend from Nickelodeon reassuring them that they should be proud of all that they've done in life. The High-A
Scouting report: A's prospect Tyler Soderstrom
'Beast' of a backstop already making waves in Low-A Stockton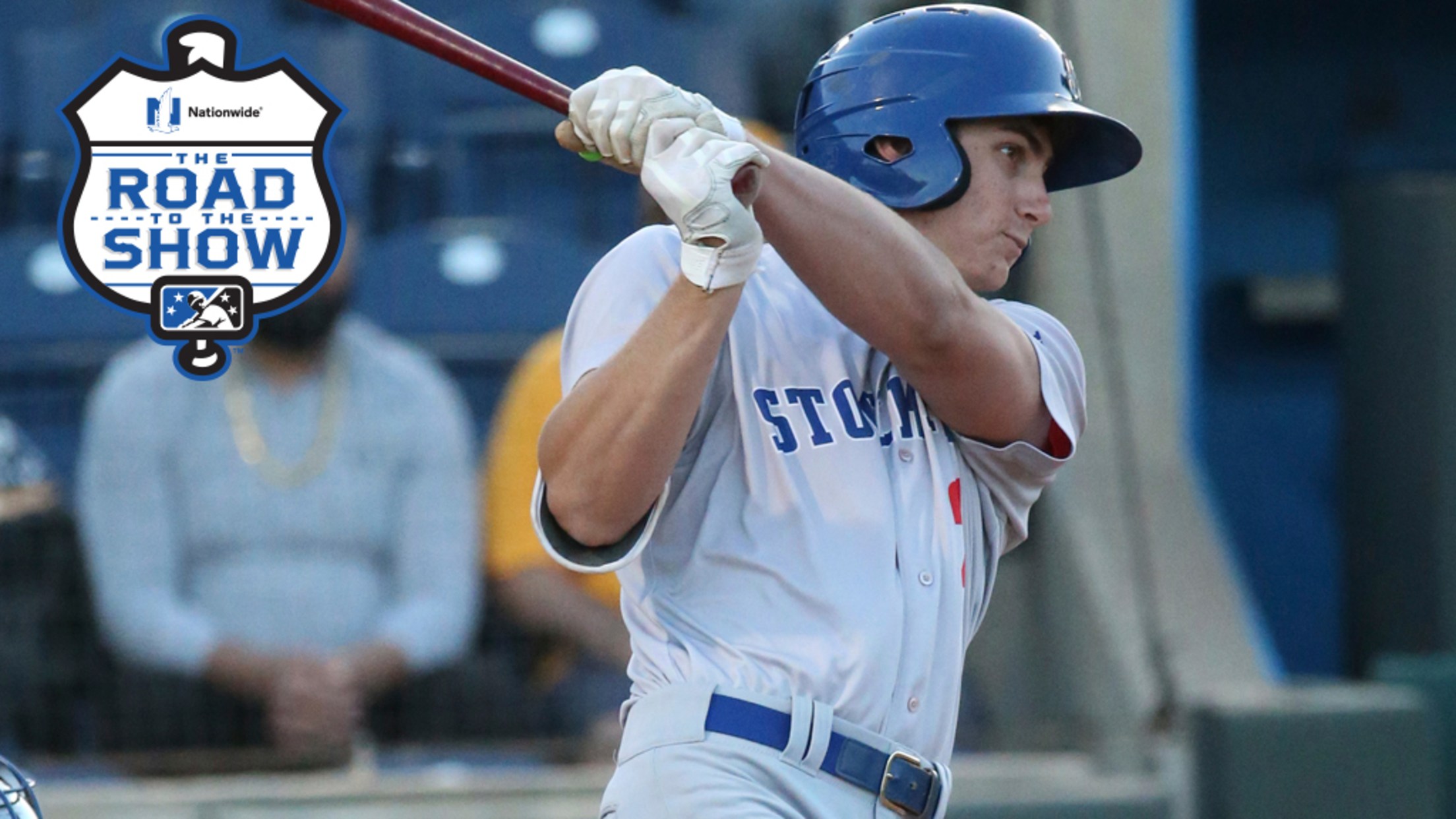 MiLB.com's Scouting Report series spotlights players who are just starting their professional careers, focusing on what the experts are projecting for these young phenoms. Here's a look at top-ranked A's prospect Tyler Soderstrom. For more player journeys on The Road to The Show, click here. The A's seem to have
2021 Prospect Projections: AL West rookies
How Astros, Halos, M's, A's, Rangers prospects could fare in 2021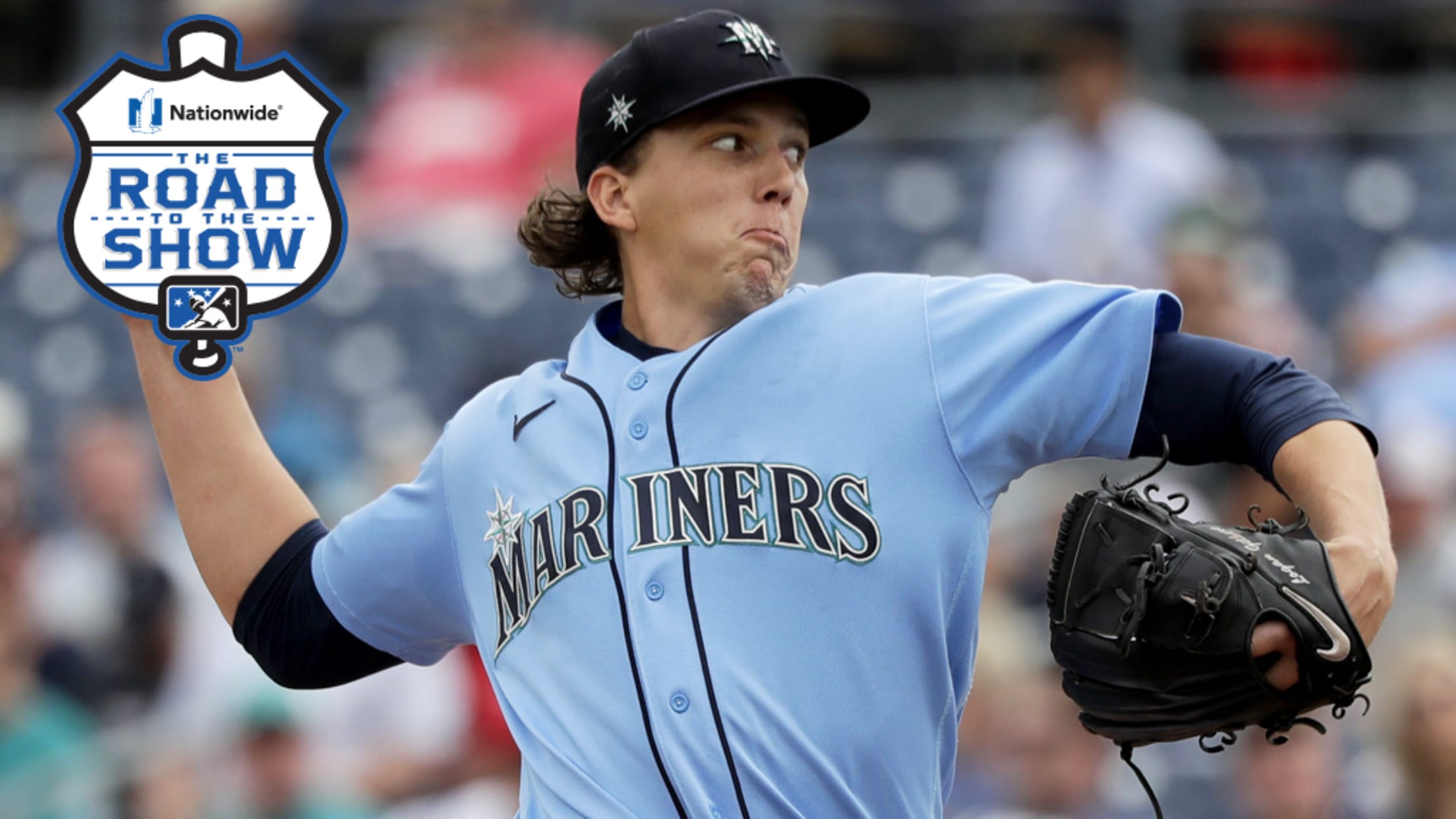 This is the fifth in a six-part Toolshed series that uses FanGraphs' Steamer 600 projections to look at how prospects would fare over a full Major League season in 2021. The system bases its forecast on 600 plate appearances for position players, 450 plate appearances for catchers, 200 innings for
Rangers land backstop Heim in veteran swap
Catching prospect heads to Texas with Davis, Andrus on the move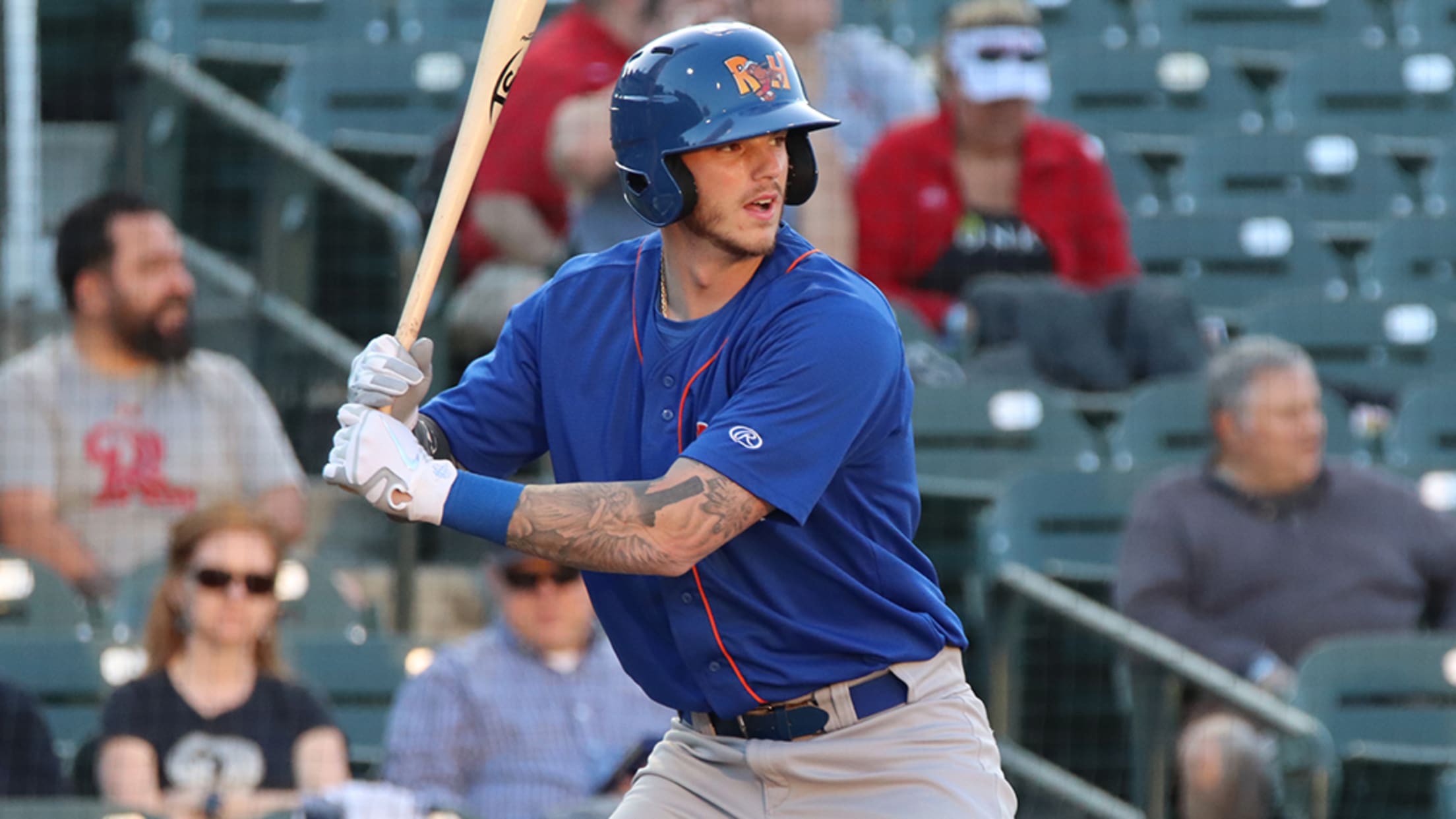 While Khris Davis and Elvis Andrus headlined the exchange of veteran mainstays between the Athletics and Rangers on Saturday, Texas also scored a catching prospect as part of the five-player trade. Jonah Heim, who entered the weekend as the Athletics' ninth-ranked prospect, headed to Texas, joining a catching stable that
State of the System: Oakland A's
Puk, Puason help strike balance as club looks to remain contenders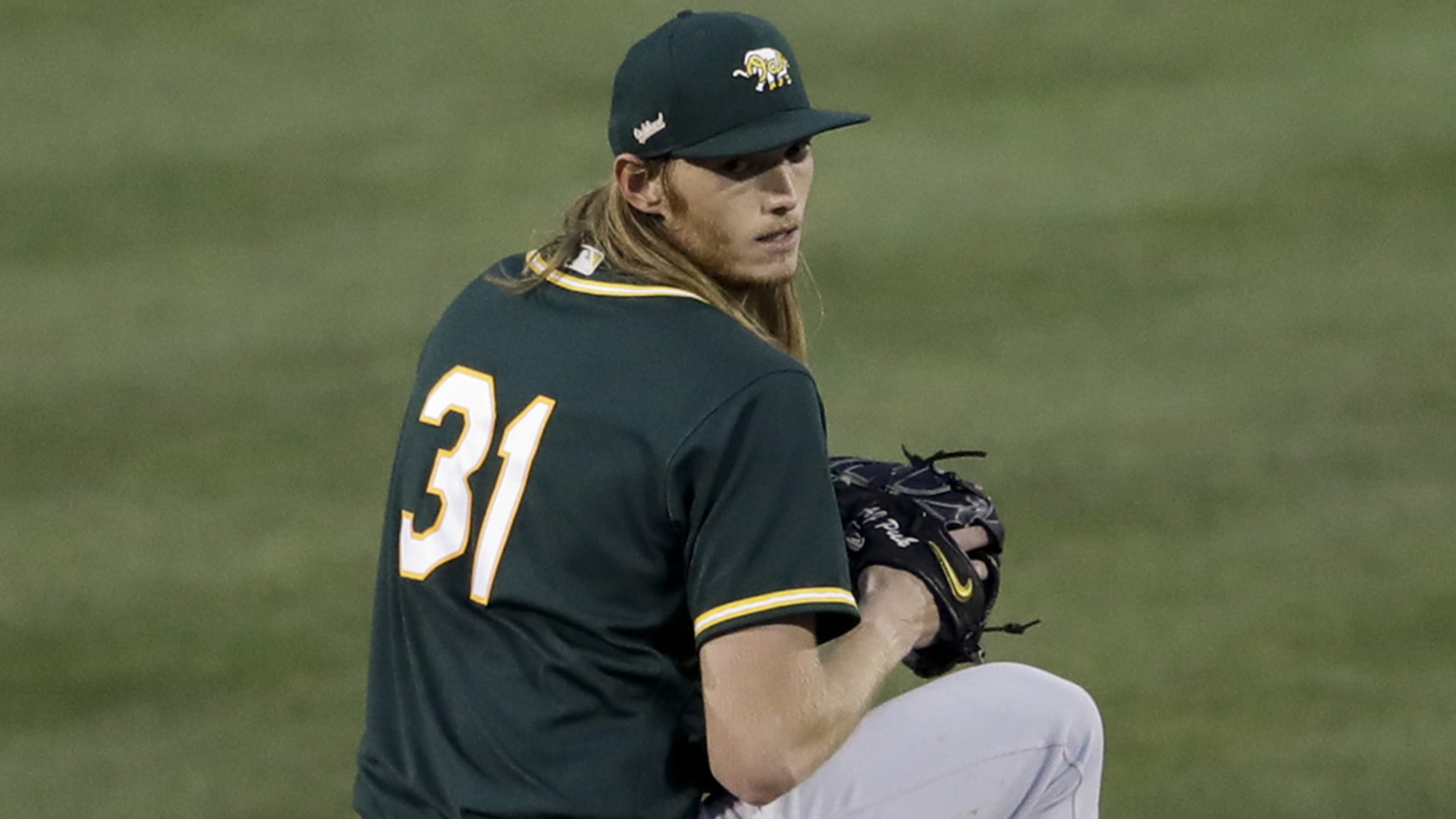 Starting in October and running through the end of the year, MiLB.com's State of the System series will evaluate the strengths and weaknesses of each Major League organization, highlights prospects who've made the biggest strides in 2020 and offers a peek at 2021. So much was different during the 60-game
The Show Before the Show: Episode 284
A's prospect Deichmann previews potential 40-man addition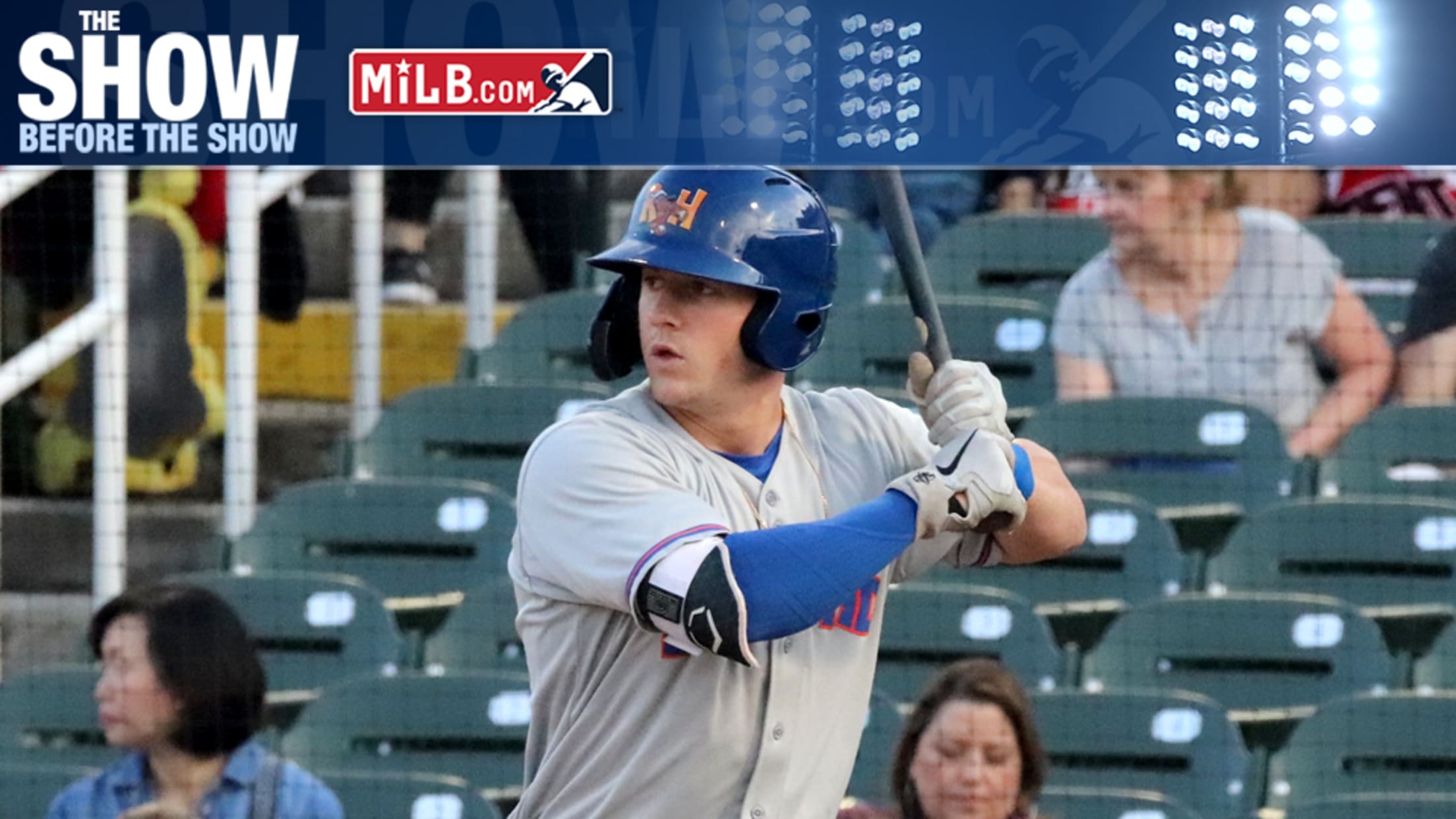 Check out the latest episode of The Show Before the Show, MiLB.com's official podcast. A segment rundown is listed below, in case you want to skip to a particular section. Like the podcast? Subscribe, rate and review "Minor League Baseball podcast" on iTunes. The podcast is also available via Spotify,
A's Puk to undergo shoulder surgery
No. 59 overall prospect was shut down earlier this week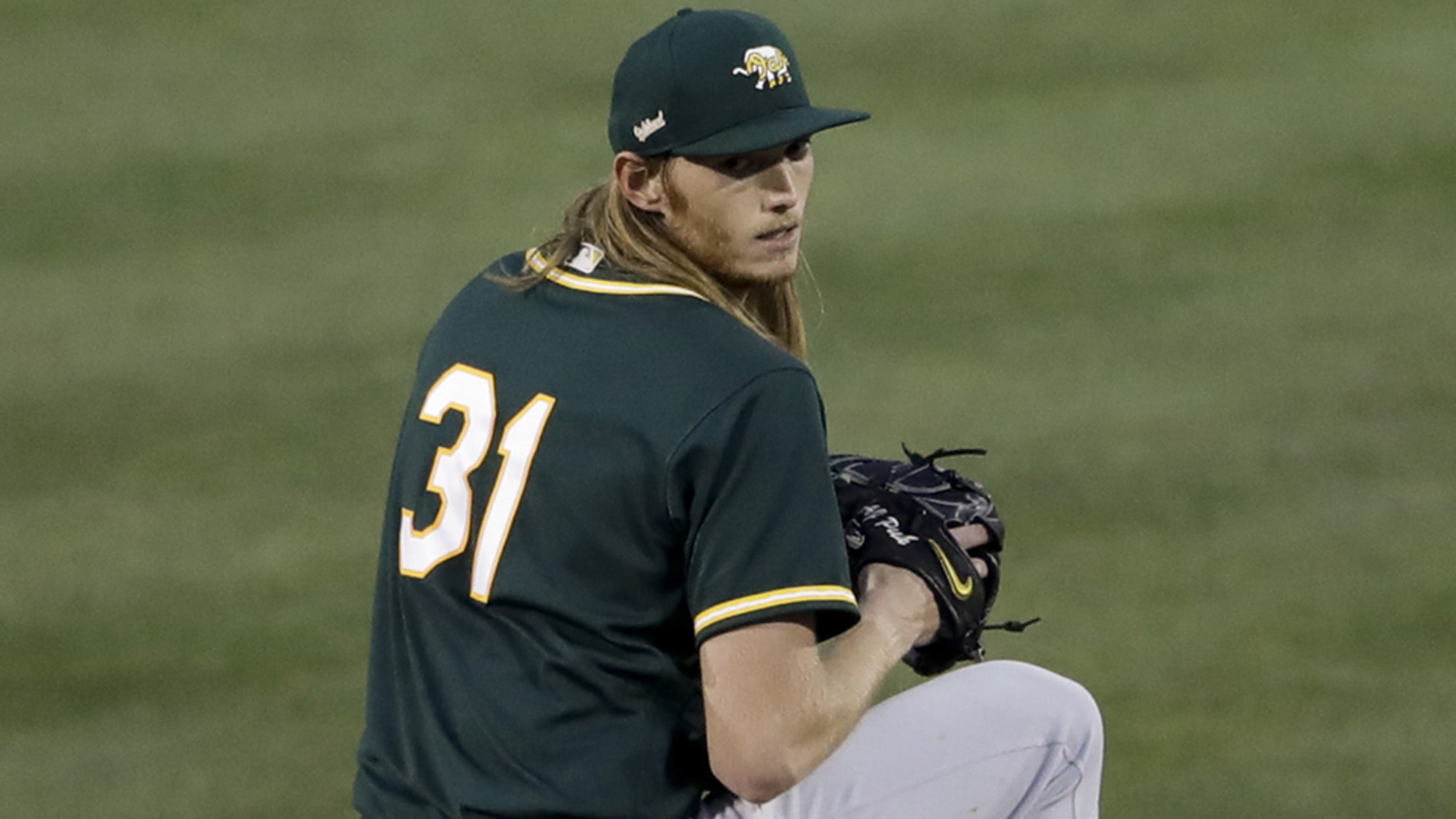 Left-hander A.J. Puk's season is over before it ever began. The top A's prospect will undergo shoulder surgery next week, manager Bob Melvin announced before Friday night's game at Texas.
Puk shut down with shoulder soreness
Oakland's top pitching prospect was on road back to the Majors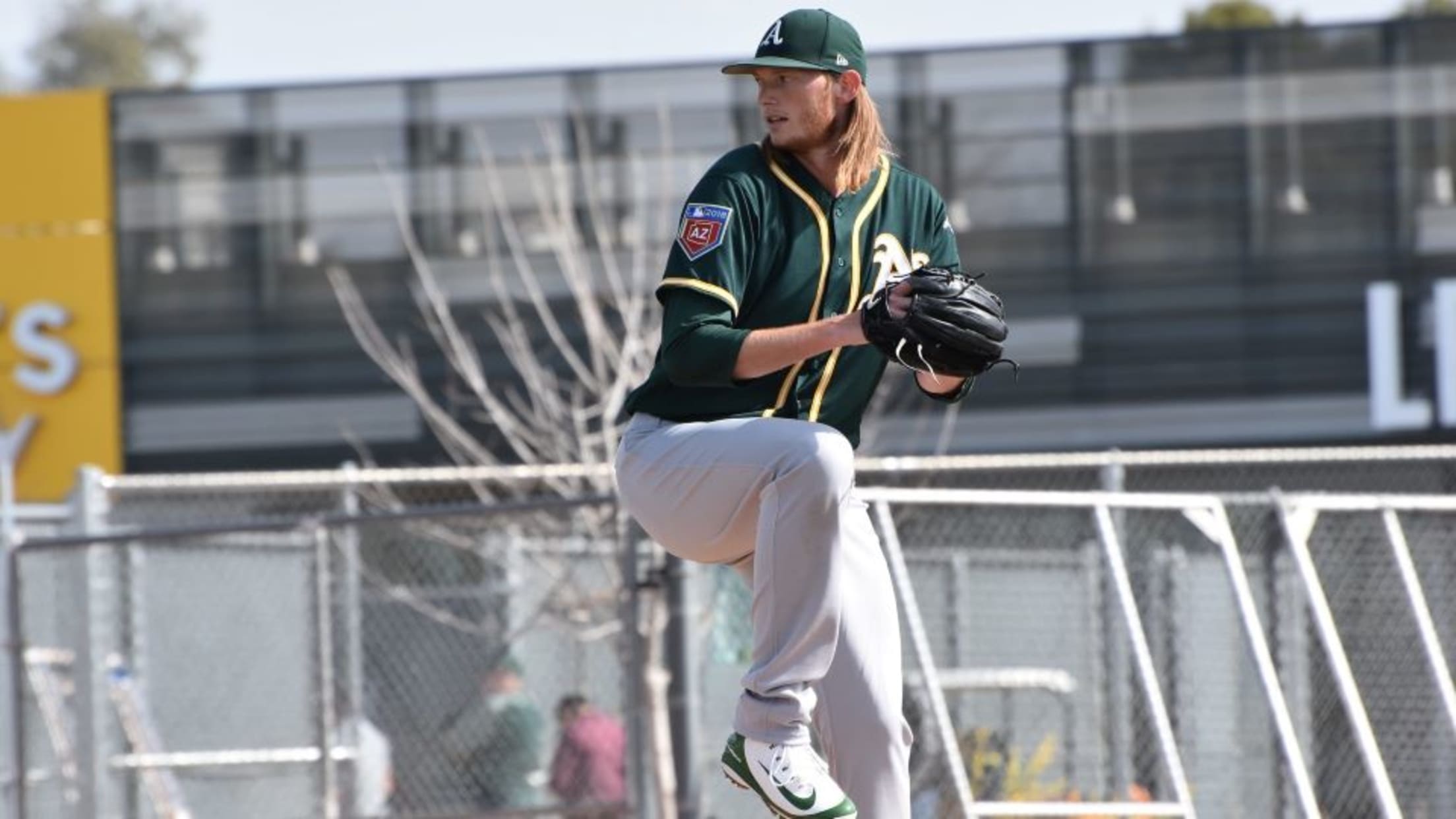 A.J. Puk was slated to be a key component of Oakland's march toward the 2020 postseason. That expectation has gotten slimmer with each passing day. On the Injured List since July 20, the newly crowned top A's prospect has suffered another apparent setback in his recovery from a left shoulder
Murphy rewriting report card for Athletics
Top Oakland prospect goes yard as part of three-RBI performance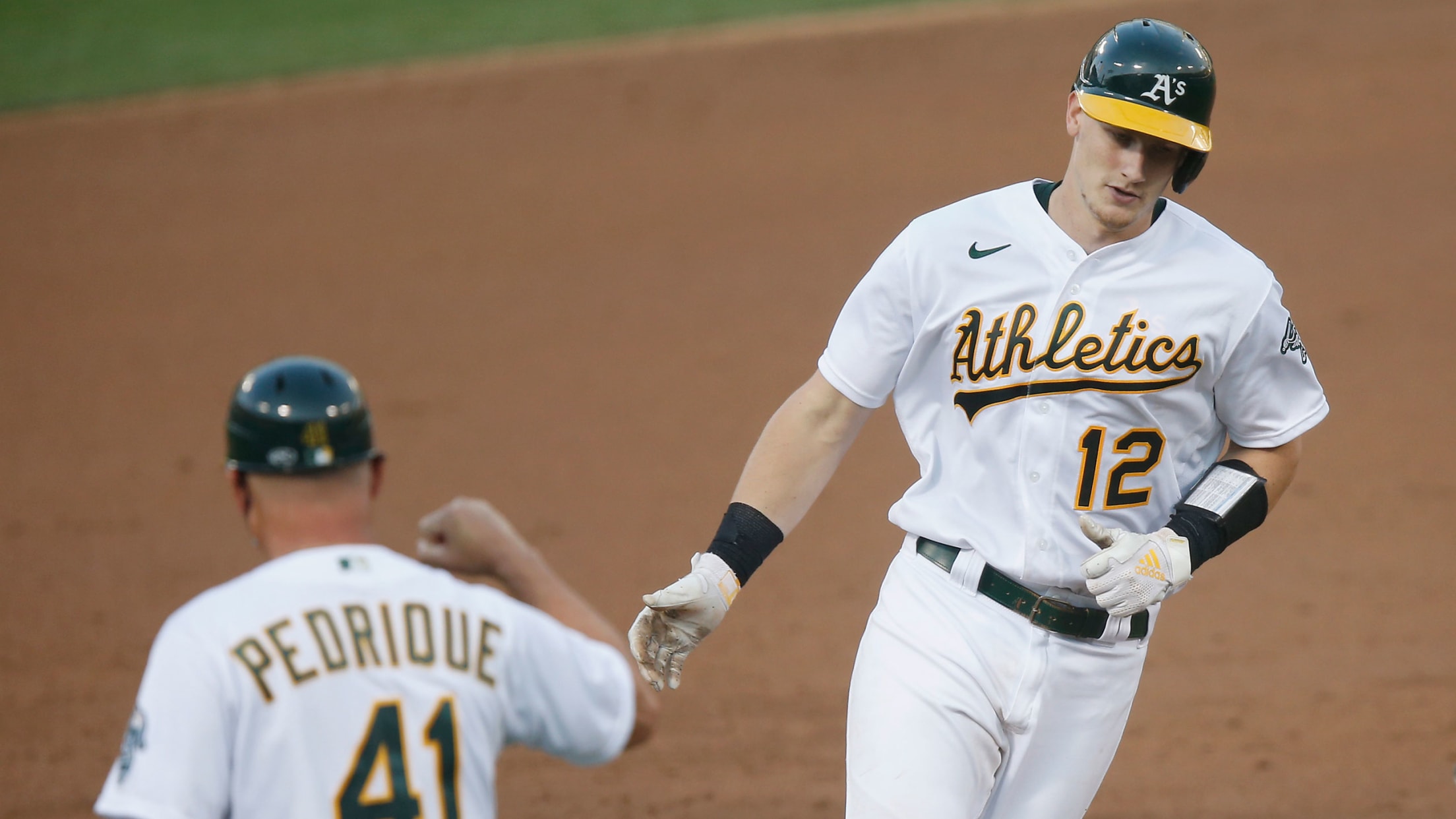 Sean Murphy entered Monday night on the verge of losing his status as a prospect. He made sure to celebrate that graduation in style. The now-former top A's prospect homered for a second straight game, singled and drove in a season-high three runs to help down the Astros, 6-0, at
A's Luzardo tosses 6 1/3 scoreless innings
No. 13 overall prospect fans seven in longest outing as a pro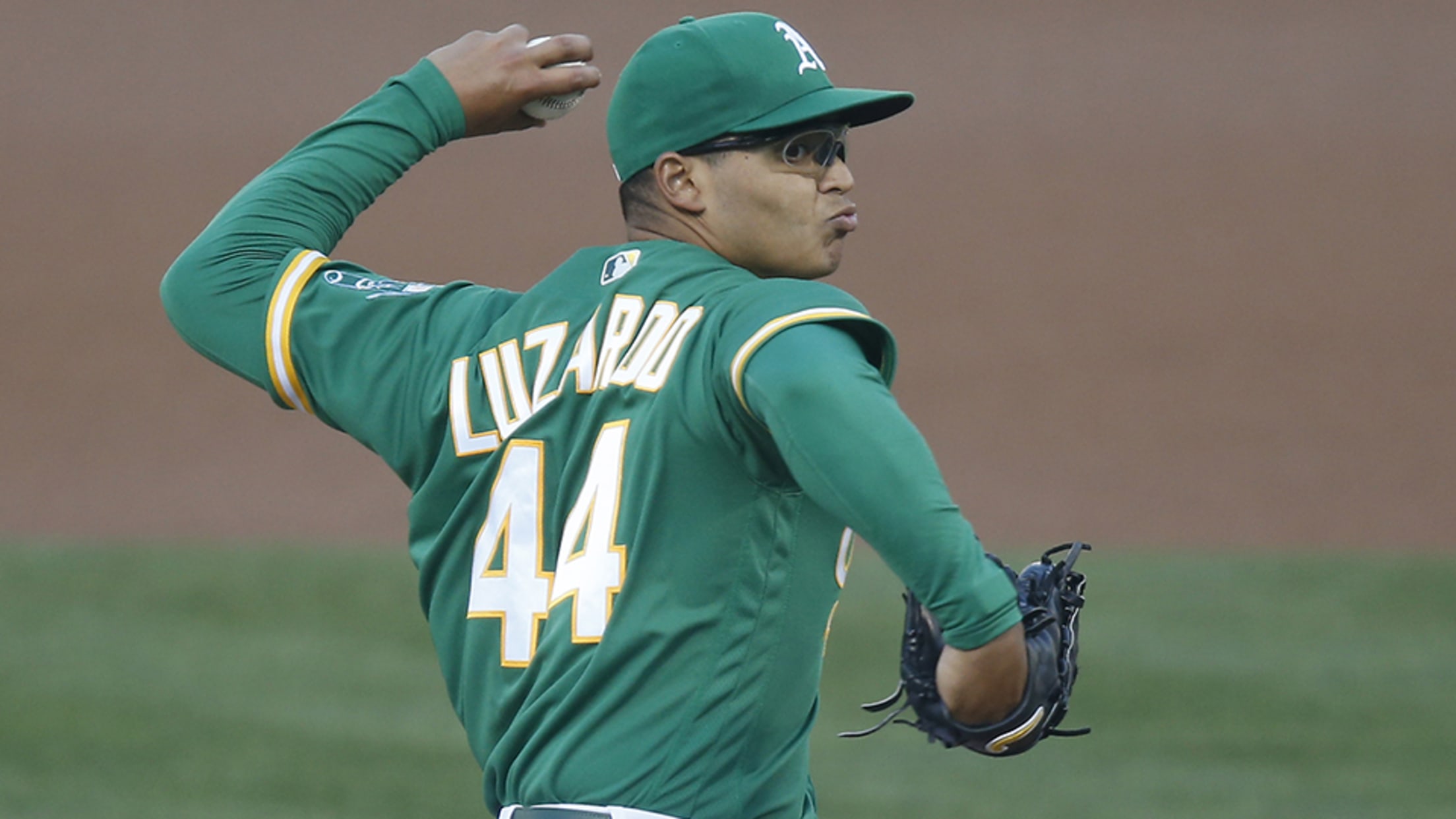 Jesus Luzardo entered Wednesday's start against the D-backs determined to prove that what he's shown through his professional career to this point is just the tip of the iceberg -- that he's got another gear he can tap. Mission accomplished. MLB Pipeline's No. 13 overall prospect showcased exactly that as
San Jose beats odds, historic rivalry to welcome A's
Giants, Athletics, affiliate come together on alternate training site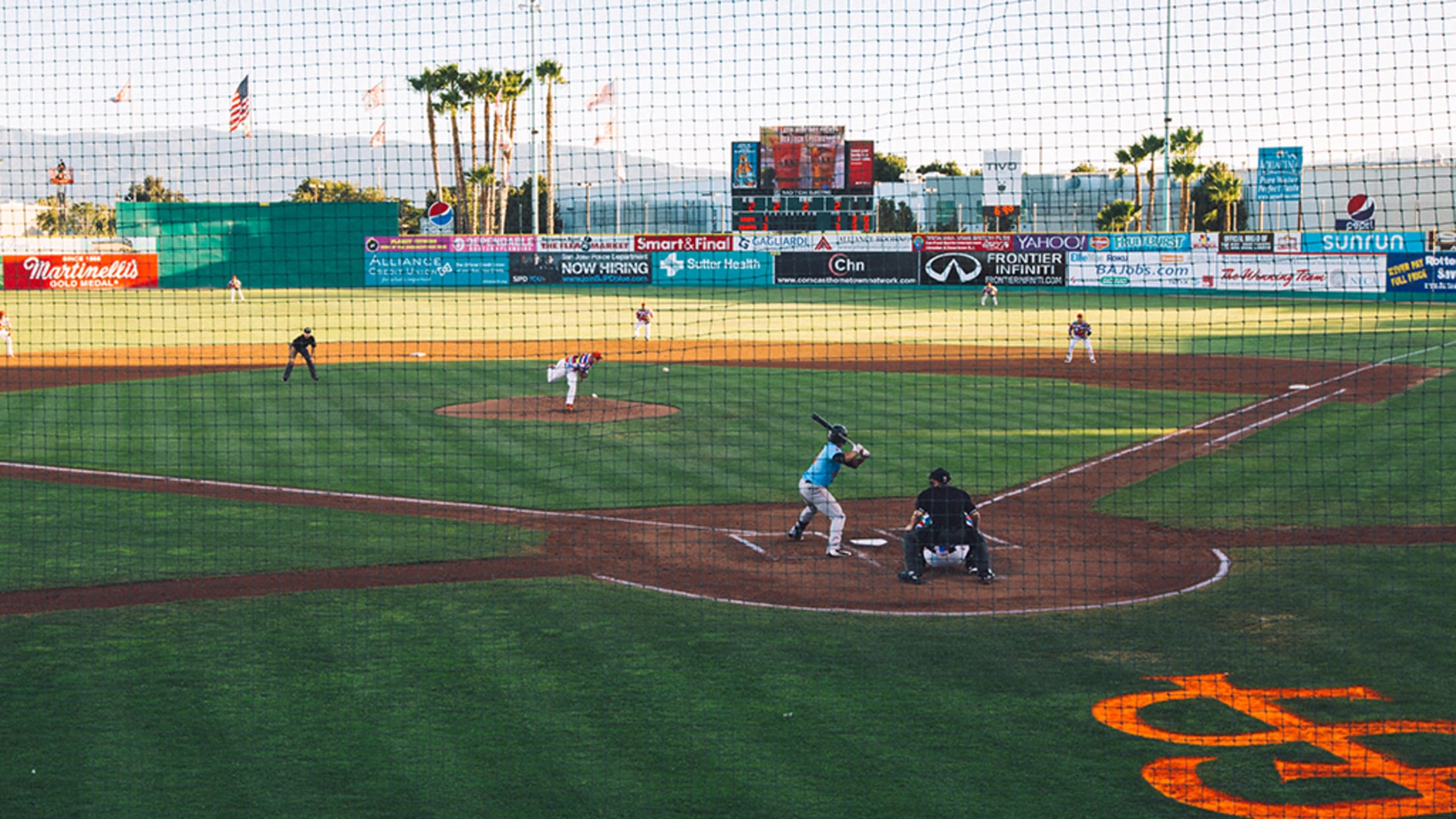 Rivalries bring emotion, tension and drama, providing backdrops for some of the most memorable moments in sports. But in the shadow of a global pandemic, two ordinarily adversarial organizations have banded together to add a new dimension to their storied rivalry: partnership.