Mujica posts seven zeros for Montgomery
Rays prospect lowers ERA to 2.69 in 78-pitch, three-hit outing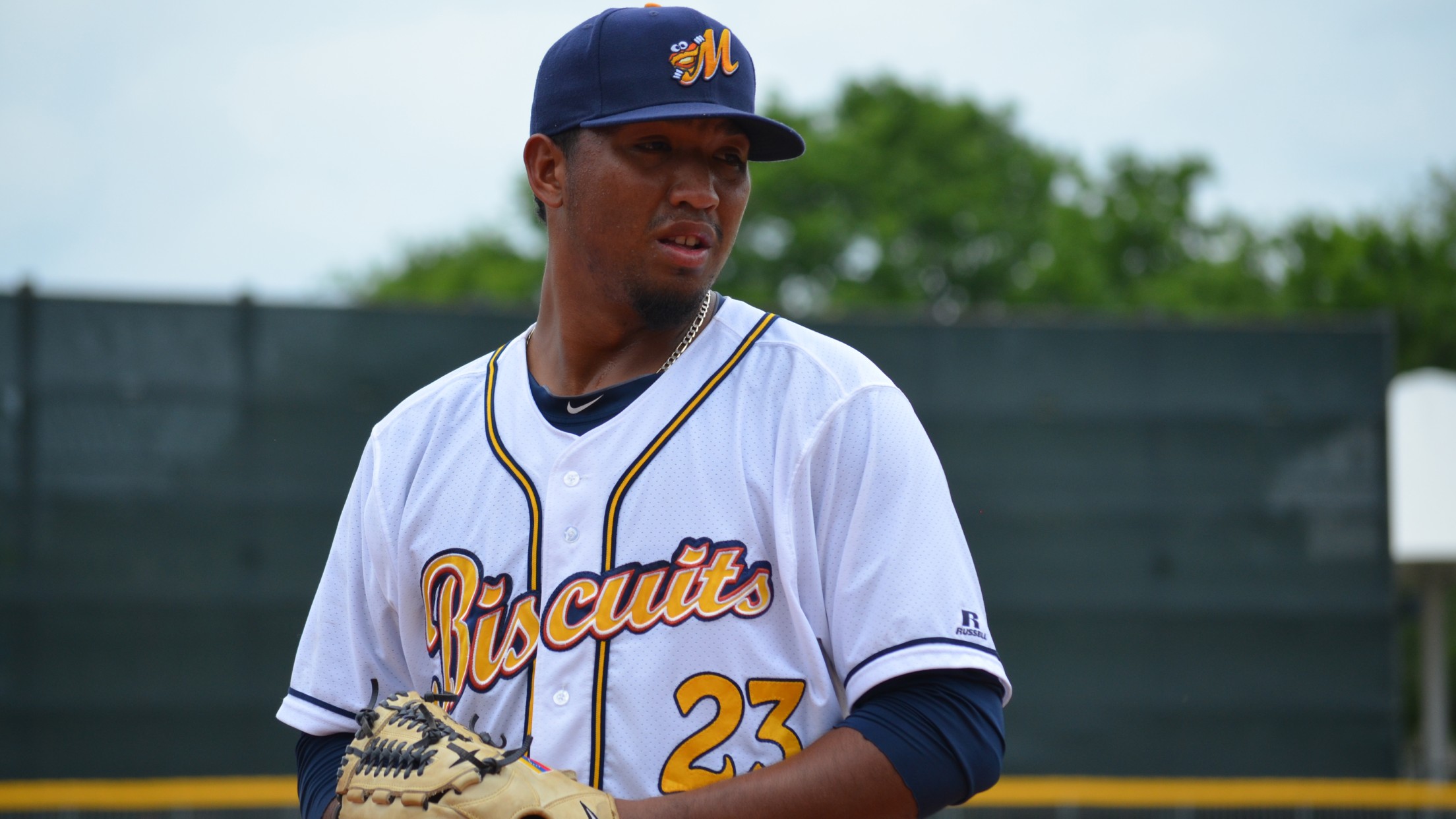 Jose Mujica has pitched at least six innings in 10 of 15 starts for Double-A Montgomery. (Shane Earnest)
Every starting rotation needs an innings-eater and that's exactly the role that José Mujica, Double-A Montgomery's youngest player, is growing into. The 20-year-old Rays prospect allowed three hits and a walk in seven innings to lead the Biscuits over Mississippi, 11-0, on Saturday at Trustmark Park. 
Every starting rotation needs an innings-eater and that's exactly the role that José Mujica, Double-A Montgomery's youngest player, is growing into.
The 20-year-old Rays prospect allowed three hits and a walk in seven innings to lead the Biscuits over Mississippi, 11-0, on Saturday at Trustmark Park.
"It's refreshing to see. He's a kid who believes in his stuff and attacks hitters," Montgomery manager Brady Williams said. "He's not going to change how he pitches. He'll continue to go at guys with his best stuff and if they hit him, they hit him and if they don't, he'll do what he did tonight and go seven innings and win his team the game."
Mujica needed only 78 pitches, and if the circumstances were a little different, the native of Valencia, Venezuela, may have gone the distance.
Gameday box score
"He could have kept going, but given that the All-Star break is coming we wanted to get the bullpen some work," Williams said. "For a 20-year-old kid, to do what he's doing is fun to watch because he goes out there and throws strikes and competes."
Mujica (6-4), who struck out three on the evening, got through the first two innings on 19 pitches. He allowed back-to-back singles to start the third before he retired 14 in a row.
"What's been so impressive about him is that nothing fazes him," Williams added. "He just gets back to work and focused on getting outs and getting better as the game went on. That helps him get stronger for his next outing. He trusts his stuff, he knows where it's going and pitches to contact so he has the chance to go seven to nine innings every time out."
Jared James' two-out single to center ended Mujica's run, but the 6-foot-2, 235-pounder ended the inning on the next pitch by inducing his eighth groundout of the game.
"His fastball location is very good," the Montgomery manager said. "He knows what side of the plate is open for him to throw to. He throws his changeup and slider when he needs to, but he works off his fastball the majority of the time, and when he's locating his heater he's hard to hit."
Mujica, who made two starts with Class A Advanced Charlotte before being promoted on April 16, ranks second in the Southern League with 84 innings pitched. The right-hander is also sixth on the circuit in ERA (2.69) and fourth in WHIP (0.98).
"The hitters know they're going to have a hard time working an at-bat because he's going to go right at you," Williams said. "He's not going to pitch behind or go ball one, so they need to be ready to go right away and that makes it difficult to hit at times. That's been Jose's M.O. since he's been up here, get strike one, stay ahead and then let his stuff play off of that."
Kyle Bird and Kyle Winkler each recorded 1-2-3 innings to complete the shutout.
Montgomery left fielder Nathan Lukes hit his first Double-A homer and drove in four runs.
"That was big for Nathan," Williams said. "He's been swinging the bat well all season and he finally broke out tonight in a big part of the game. He's had some tough luck of late, so hopefully this gets him going into the second part of the season.
Michael Leboff is a contributor to MiLB.com.