Then and now: Texas League 
One of the oldest active circuits navigated its way to Double-A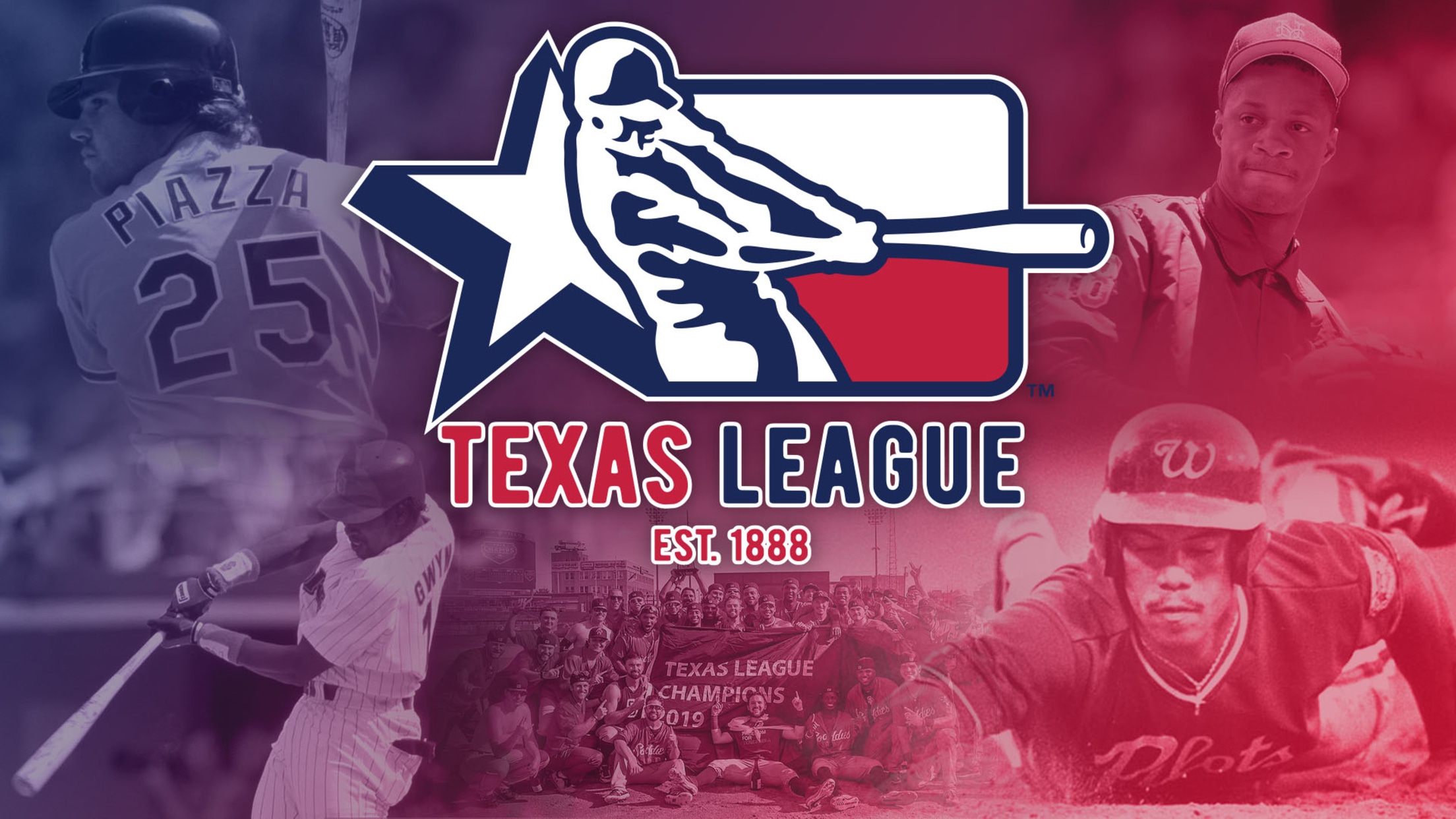 Following Major League Baseball's announcement that historical league names are returning to the Minors in 2022, MiLB.com provides a refresher on each of the 11 circuits from Triple-A, Double-A, High-A and Single-A -- including past champions, famous alumni and more.
Following Major League Baseball's announcement that historical league names are returning to the Minors in 2022, MiLB.com provides a refresher on each of the 11 circuits from Triple-A, Double-A, High-A and Single-A -- including past champions, famous alumni and more.
From ONEOK to HODGETOWN, the future stars are big and bright deep in the heart of the Double-A Texas League, where "Half Pint" stood tall, El Sid reigned supreme and Tyrone Horne hit for a different kind of cycle.
Texas League
Established in 1888, known in 2021 as the Double-A Central
North Division
Arkansas Travelers: Seattle Mariners, Dickey-Stephens Park – North Little Rock, AR
Northwest Arkansas Naturals: Kansas City Royals, Arvest Ballpark – Springdale, AR
Springfield Cardinals: Springfield Cardinals, Hammons Field – Springfield, MO
Tulsa Drillers: Los Angeles Dodgers, ONEOK Field – Tulsa, OK
Wichita Wind Surge: Minnesota Twins, Riverfront Stadium – Wichita, KS
South Division
Amarillo Sod Poodles: Arizona D-backs, HODGETOWN – Amarillo, TX (Ballpark Guide)
Corpus Christi Hooks: Houston Astros, Whataburger Field – Corpus Christi, TX
Frisco RoughRiders: Texas Rangers, Riders Field – Frisco, TX (Ballpark Guide)
Midland RockHounds: Oakland A's, Momentum Bank Ballpark – Midland, TX (Ballpark Guide)
San Antonio Missions: San Diego Padres, Nelson W. Wolff Municipal Stadium – San Antonio, TX
2021 champion: Northwest Arkansas Naturals (Double-A Central champion)
Most championships, all-time: Houston Buffaloes (16)
Most championships, Double-A: San Antonio Missions (10)
Most championships, current teams: San Antonio Missions (10)
Tulsa hit paydirt by picking up the Drillers' moniker in the late '70s: https://t.co/m6gBMp4PRa

— Minor League Baseball (@MiLB) February 18, 2022
Did you know? On July 27, 1998, Arkansas outfielder Tyrone Horne accomplished a feat that has yet to be matched in the professional ranks. Horne "homered for the cycle" -- collecting a solo shot, two-run homer, three-run homer and grand slam in the same 13-4 victory in San Antonio. He finished the season as the league's MVP with 37 total homers and even participated in the All-Star game and won the league's Home Run Derby in Little Rock the night after his legendary feat. … It took nearly 100 years before a pitcher claimed the Triple Crown in the Texas League. Sid Fernandez was the first to lead the circuit in wins, ERA and strikeouts while pitching for San Antonio in 1983. Oddly enough, the feat was replicated three years later by Shreveport's George Ferran – during the same year Fernandez pitched his way toward a World Series title with the Mets.
OTD in 1998: Tyrone Horne hit for the only HOME RUN CYCLE in pro ball history!

➡️ https://t.co/LIN6tVywoZ pic.twitter.com/J8GhWfERmb

— Minor League Baseball (@MiLB) July 27, 2019
Notable alumni: Tris Speaker, Dizzy Dean, Hal Newhouser, Hank Greenberg, Al Rosen, Duke Snider, Willie McCovey, Brooks Robinson, Joe Morgan, Bobby Grich, Dennis Eckersley, Frank Tanana, Lee Smith, Darryl Strawberry, Tony Gwynn, Roberto Alomar, Mike Piazza, Ivan Rodriguez, Pedro Martinez, Eric Gagne, George Springer and Matt Chapman.
Formed in 1888, the Texas League underwent many changes before settling into its role as one of Minor League Baseball's main Double-A leagues in 1946. The league lasted just four years after its initial formation, returning as the Texas Association in 1895, the Texas-Southern League in 1896 and then back to the Texas League in 1897.
The circuit became a Class D league in 1902 after Minor League classifications were redefined in 1901. The league climbed through the classification ranks up to Class A1 in 1936 before returning to Double-A in 1946 after remaining idle for three years during World War II.
The Texas League has boasted an impressive collection of talent through its over 100-plus years of history. Many notable Hall of Famers showed their early promise in the Texas League, including Joe Morgan's standout 1964 season for the San Antonio Missions, which led the club to name him the best player in franchise history in 2020.
August 13, 1964, Joe Morgan's seventh inning bases loaded home run gave the San Antonio Bullets a come from behind a 5-2 victory over the Tulsa Oilers in Texas League action. https://t.co/11pPm3IJE2 pic.twitter.com/hDabu2lAfD

— Phil S. Dixon (@NegroLeagueMan) August 14, 2020
In recent years, the collection of talent has been even more abundant, allowing fans to get glimpses of some of the brightest future stars in baseball. Despite its name, only the teams in the South Division of the league are actually located in Texas while the others are spread across Kansas, Arkansas, Oklahoma and Missouri. But its history is still rich in the Lone Star state.
The Fort Worth club, branded the Cats when Rogers Hornsby managed the team during the same year he was inducted into the Hall of Fame in 1942, was a circuit staple for more than 70 years. And Austin native Charlie Gorin cemented his local legend status with a no-hitter to decide the Texas League title for his hometown club in 1959 – though Frank Howard's early promotion to the Dodgers in the midst of a legendary season might have made life a little easier.
Thank you Wichita for an amazing inaugural season. We are so proud of this city, and so proud of this team. ❤️⚾️

April 8, 2022 can't come soon enough. pic.twitter.com/YfmfeKmJSm

— Wichita Wind Surge (@WindSurgeICT) September 25, 2021
What's new: In 2021, the Double-A Central returned all eight of its Texas League teams and added two more: the San Antonio Missions (which returned after a one-year stint at Triple-A) and the Wichita Wind Surge. Wichita was supposed to become the Triple-A affiliate for the Marlins in 2020, but following the realignment of the Minor Leagues, the Wind Surge became the Double-A affiliate for the Minnesota Twins.
What's familiar: Prior to last year's realignment, the eight teams on the circuit had remained unchanged since 2008. While the Wind Surge was newly created in 2020, the city of Wichita was very familiar with the Texas League. The Wichita Wranglers were the Double-A affiliate of the Padres from 1987 to 1994 and the Royals affiliate from 1995 to 2007 before relocating to Springdale, Arkansas, as the Northwest Arkansas Naturals.
For longer than there has been baseball, there have been Arkansas travelers. And for about as long as there's been baseball in Arkansas, there have been the @ARTravs. https://t.co/c7qwH8A7eO

— Minor League Baseball (@MiLB) July 26, 2020
For the record: Standing at 5-foot-6, Gene Rye was nicknamed "Half Pint" when he played for Waco in 1930. But there was nothing small about what he accomplished in a game against Beaumont on Aug. 6, clubbing three homers in just one inning. … El Sid wasn't around the night El Paso played Beaumont at Dudley Field in 1983. On April 30, the Diablos defeated the Golden Gators, 35-21, in the highest-scoring game in league history. The teams combined for 56 hits, 53 RBIs, eight homers and 10 doubles while committing nine errors. … Dan Collier became the fourth player in Minor League history to homer in seven consecutive games while playing in his final professional season with Tulsa in 1997. … Ken Guettler was the only player to ever lead their respective league in homers in eight different seasons. He pulled off the same feat in the Texas League in 1956 when he cracked a Texas League-record 62 long balls while leading the circuit with 143 RBIs and 115 runs scored. … Yankees legend Bob Turley racked up a legendary strikeout count with San Antonio in 1951. Turley struck out 22 batters in a 16-inning game against Tulsa and combined with Vinegar Bend Mizell in a record 31-strikeout game against Houston in September.
Who hit 3 HRs in 1 inning? First to do it was Gene Rye of Waco #Cubs @milb Texas League vs Beaumont Exporters at Katy Park in #OTD 1930. Rye had cup-o-coffee w @redsox in '31, but 0 HRs in 39 ABs. His @sabr bio https://t.co/RkD6f0BbEX pic.twitter.com/9pCY3B5CeI

— SABR BioProject (@SABRbioproject) August 6, 2019
Ben's Biz Memory – Watching Didi "Frenchy" Conn in action on "Grease Night"
"Full disclosure: I've never seen Grease. So, I actually went into this with some ignorance. But, it's kind of a mixed bag when you have celebrities show up to ballparks. But she just came out in the pink jacket that she actually wore in the movie, danced, shimmied, played it up for the crowd and just had such an upbeat and optimistic and just fun spirit that she just immediately got everyone so on board with her being there, with Grease night in general. And there was a huge line for autographs afterwards. But, to sum it up, I don't think I've ever seen a more enthusiastic and just endearing first pitch thrown by anyone than Didi Conn -- 'Frenchy.' Wearing her old jacket. The pink ladies. Wearing the actual jacket they wore in the film and really hamming it up for the crowd throwing a first pitch. It was just delightful."
The most fun and joyful first pitch I've ever seen: Didi "Frenchy" Conn throwing to @JoseTrevino5 on @RidersBaseball 4/21 "Grease Night." pic.twitter.com/SMbkRq7p1k

— Benjamin Hill (@bensbiz) April 28, 2017
What to look for in 2022: Northwest Arkansas rolled its way to the Double-A Central title on the backs of stellar seasons by three of Kansas City's top prospects: Witt Jr., Pratto and Melendez. All three moved from Double-A to Triple-A to end the year and are expected to have an impact at the Major League level this year. That will leave some roster spots in the Texas League up for grabs. MLB Pipeline's No. 3 overall prospect Julio Rodriguez should join fellow Mariners' prospects George Kirby and Emerson Hancock, two of the best right-handers in the Minors, at Arkansas. The Padres' Robert Hassell III, Royals' Asa Lacy, Cardinals' Jordan Walker and D-backs' Blake Walston are other Top 100 prospects that should hit the Texas League at some point this season.
Nick Trujillo is a contributor to MiLB.com.