The more things change: Enduring affiliations
Amid time of transition, a look at the Minors' longest partnerships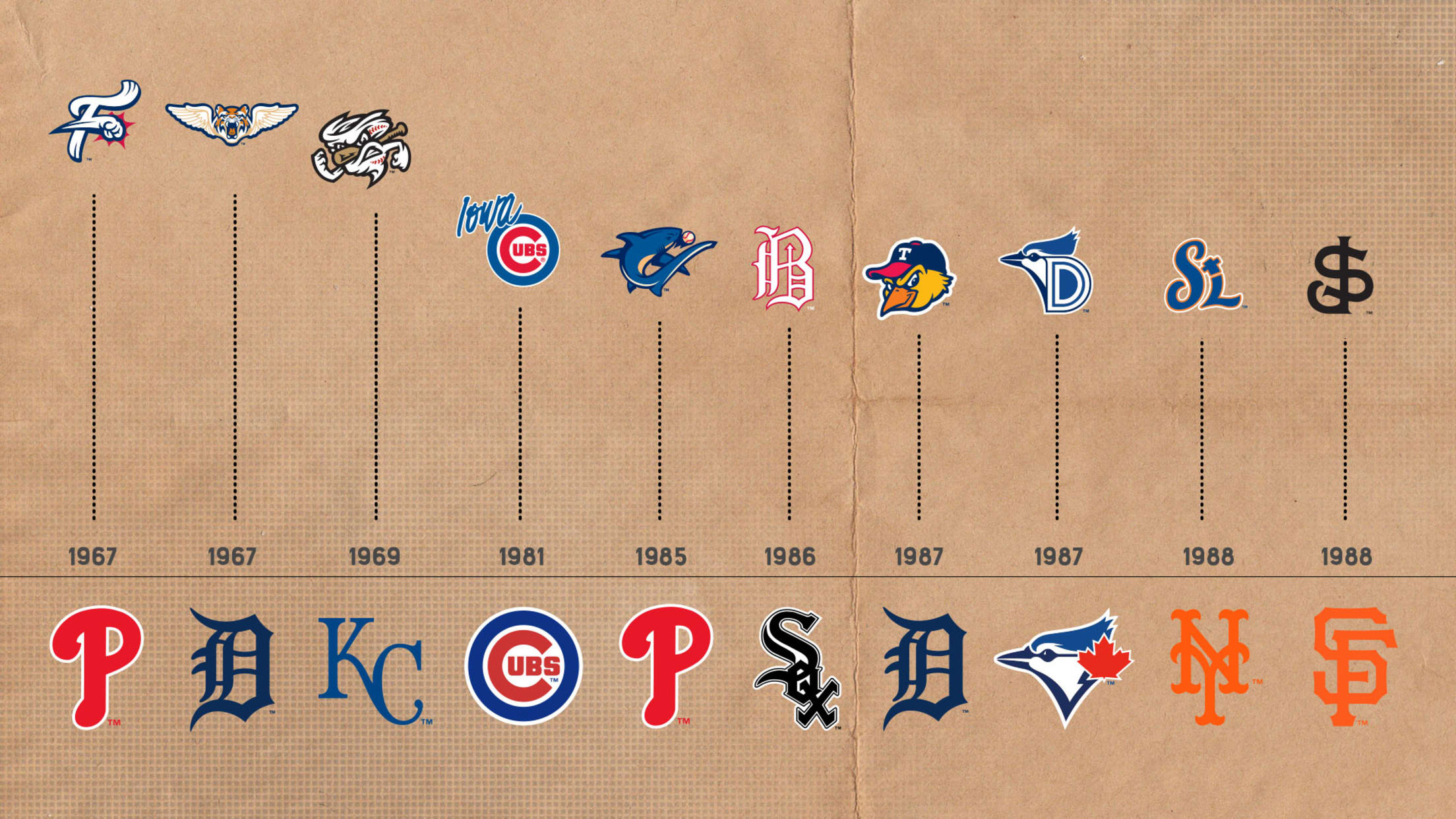 This coming season marks the beginning of a radically different era of Minor League Baseball: 120 teams are now part of the landscape, comprised of 11 new leagues competing across four levels of play. Minor League Baseball has always been defined by change, of course, as shifting affiliations, locations and
This coming season marks the beginning of a radically different era of Minor League Baseball: 120 teams are now part of the landscape, comprised of 11 new leagues competing across four levels of play.
Minor League Baseball has always been defined by change, of course, as shifting affiliations, locations and names are commonplace. But even by these well-established standards of constant flux, the 2021 season is one of historic transition. Nonetheless, hallmarks of consistency can still be found. This article, an update of a similar piece from 2014, highlights the 10 longest affiliations between a Minor League team and its parent Major League club. To be included on this list, the team in question must have remained in the same city throughout the entirety of the affiliation.
These relationships are all poised to continue well into the future, as every Minor League team has entered into a 10-year professional development license with its parent club that begins in 2021.
Reading Fightin Phils (Double-A Northeast), Double-A affiliate of the Philadelphia Phillies since 1967
Stadium: FirstEnergy Stadium, built in 1951
Three Notable Alumni: Mike Schmidt, Ryne Sandberg, Ryan Howard
Eleven of the 12 teams in the Double-A Northeast previously competed in the Double-A Eastern League; the lone new club is the Somerset Patriots (previously independent), who have replaced the Trenton Thunder (now in the MLB Draft League) as a New York Yankees affiliate. All 11 of these pre-existing clubs have retained their prior affiliate, and several of these relationships date back 25 years or more. Leading the pack are the Reading Fightin Phils, who have aligned themselves with the Philadelphia Phillies since 1967. The Phillies bought the Reading franchise in 2008, so this relationship is likely to remain intact for many years -- perhaps many decades -- to come.
Lakeland Flying Tigers (Low-A Southeast), affiliate of the Detroit Tigers since 1967
Stadium: Joker Marchant Stadium, built in 1963
Three Notable Alumni: John Smoltz, Lou Whitaker, Justin Verlander
All 10 of the Low-A Southeast's clubs previously operated in the Florida State League. Most of them are owned by their Major League affiliate and play in the same stadiums that are used by the big league club for Spring Training. It, therefore, is a more stable league than most, and nowhere is this stability more evident than in Lakeland. After four decades in which they were known simply as the Tigers, Lakeland changed its name to the Flying Tigers in 2007 in honor of the pilot training school that was once located where Joker Marchant Stadium now stands. Joker Marchant was extensively renovated in 2017 -- forcing the Flying Tigers to spend the season at nearby Henley Field -- ensuring that it will continue to host Spring Training and Minor League Baseball for many years to come. From 1990 through 2020 the Florida State League was classified as a Class A Advanced League. It is now Low-A.
Omaha Storm Chasers (Triple-A East), Triple-A affiliate of the Kansas City Royals since 1969
Stadiums: Rosenblatt Stadium (1969-2010); Werner Park (2011-present)
Three Notable Alumni: George Brett, Frank White, Salvador Pérez
In 2011, after 42 seasons in which it was known as the Royals, Omaha's Pacific Coast League franchise changed its name to the Storm Chasers and moved to a stadium outside of Omaha city limits (Werner Park is located in neighboring Sarpy County). The team's affiliation with Kansas City remains the longest in Triple-A by a wide margin, as the relationship is now in its sixth decade. The Storm Chasers are now the western-most franchise within the sprawling 20-team league that is the Triple-A East.
Iowa Cubs (Triple-A East), Triple-A affiliate of the Chicago Cubs since 1981
Stadium: Sec Taylor Stadium (1981-91); Principal Park (1992-present)
Three Notable Alumni: Greg Maddux, Joe Carter, Mark Grace
Iowa is entering its 41st season as a Cubs affiliate and 44th season as a Chicago affiliate, as this Des Moines-based entity was a White Sox farm club from 1976-80. From 1969-'81 the team was known as "The Oaks" (a name adopted during their short time as an Oakland affiliate); they took on the Cubs moniker in 1982. Formerly a Pacific Coast League entity, the I-Cubs will now compete in the Triple-A East's Midwest Division. They remain the only Triple-A team in the state of Iowa.
Clearwater Threshers (Low-A Southeast), affiliate of the Philadelphia Phillies since 1985
Stadiums: Jack Russell Memorial Stadium (1985-2003); Spectrum Field (2004-present)
Three Notable Alumni: Cole Hamels, Chase Utley, Ryan Howard
The Threshers are an amalgamation of the top two teams on this list. Like Reading, they are a Phillies affiliate; like Lakeland, they compete in the Low-A Southeast. For the first 19 seasons of their existence, Clearwater was known simply as the Phillies. The move to Philadelphia's new Spring Training home of Spectrum Field inspired a name change -- since 2004, the club has been known as the Threshers. They are one of six teams in the Low-A Southeast's West Division.
Birmingham Barons (Double-A South), Double-A affiliate of the Chicago White Sox since 1986
Stadiums: Rickwood Field (1986-87); Hoover Metropolitan Stadium (1988-2012); Regions Park (2013-present)
Three Notable Alumni: Michael Jordan, Tim Anderson, Frank Thomas
The Double-A South is a close approximation of what had been the Southern League, as all eight teams were previously part of that circuit. Birmingham had fielded a team in the Southern League in every season since 1981, while the Barons name can be traced nearly 100 years prior to that. The team's affiliation with the White Sox began in 1986, back when the team still played at Rickwood Field. That facility, built in 1910, still hosts the Barons for one game each season as part of the annual Rickwood Classic.
Toledo Mud Hens (Triple-A East), Triple-A affiliate of the Detroit Tigers since 1987
Stadiums: Ned Skeldon Stadium (1987-2001); Fifth Third Field (2002-present)
Three Notable Alumni: Curtis Granderson, Mike Hessman, Max Scherzer
The Detroit system is comprised of longstanding relationships. In addition to Toledo and the aforementioned Lakeland Flying Tigers, it also includes the Double-A Erie SeaWolves (2001) and High-A West Michigan Whitecaps (1997). The Mud Hens were previously part of the International League, whose 14 members are now part of the 20-team Triple-A East. Their affiliation with Detroit is now entering its 35th season. Among the Mud Hens' most notable players during this era was all-time Minor League home run leader Mike Hessman, who hit 184 dingers over two stints in Toledo.
Dunedin Blue Jays (Low-A Southeast), affiliate of the Toronto Blue Jays since 1987
Stadiums: Grant Field (1987-89); TD Ballpark (1990-present)
Three Notable Alumni: Dave Stieb, Vladimir Guerrero Jr., Jeff Kent
The first Florida State League iteration of the Dunedin Blue Jays played in 1978 and 1979. The team returned in 1987 and has been a stalwart of the Toronto system ever since. The "D-Jays" play in TD Ballpark, which serves as Toronto's Spring Training home as well. The ballpark underwent a major renovation in 2019, which resulted in the team having to spend the season at Clearwater's Jack Russell Stadium (among a variety of other locales). In 2021 and beyond, Dunedin will serve as Toronto's Low-A affiliate.
St. Lucie Mets (Low-A Southeast), affiliate of the New York Mets since 1988
Stadium: Clover Park (1988 - present)
Three Notable Alumni: Edgardo Alfonzo, David Wright, Jacob deGrom
Sensing a pattern here? The St. Lucie Mets are the fourth (and final) team on this list that had previously operated in the Florida State League while playing at their parent club's Spring Training facility. That facility opened in 1988 as Thomas J. White Stadium and later was known as Tradition Field, First Data Field and Digital Domain Park before arriving at its current Clover Park moniker in 2020. As with Lakeland and Dunedin, the ballpark has undergone extensive renovations and seems poised to host Spring Training and Minor League Baseball for many years to come.
San Jose Giants (Low-A West), affiliate of the San Francisco Giants since 1988
Stadium: Excite Ballpark (opened in 1942)
Three Notable Alumni: Tim Lincecum, Buster Posey, Madison Bumgarner
With the exception of the (formerly Triple-A) Fresno Grizzlies, all of the teams in the Low-A West used to be a part of the California League. The team that is now the San Jose Giants began operating in 1979, with the San Francisco affiliation beginning nine years later. It is the longest-running partnership in the Low-A West by a wide margin, with the runner-up being the Lake Elsinore Storm and the San Diego Padres (affiliated since 2001). Built in 1942 and originally called Municipal Stadium, Excite Ballpark is the oldest ballpark in the league.