The Road to The Show™: Nate Pearson
Young hurler has inched closer to leaving Jays nest for the bigs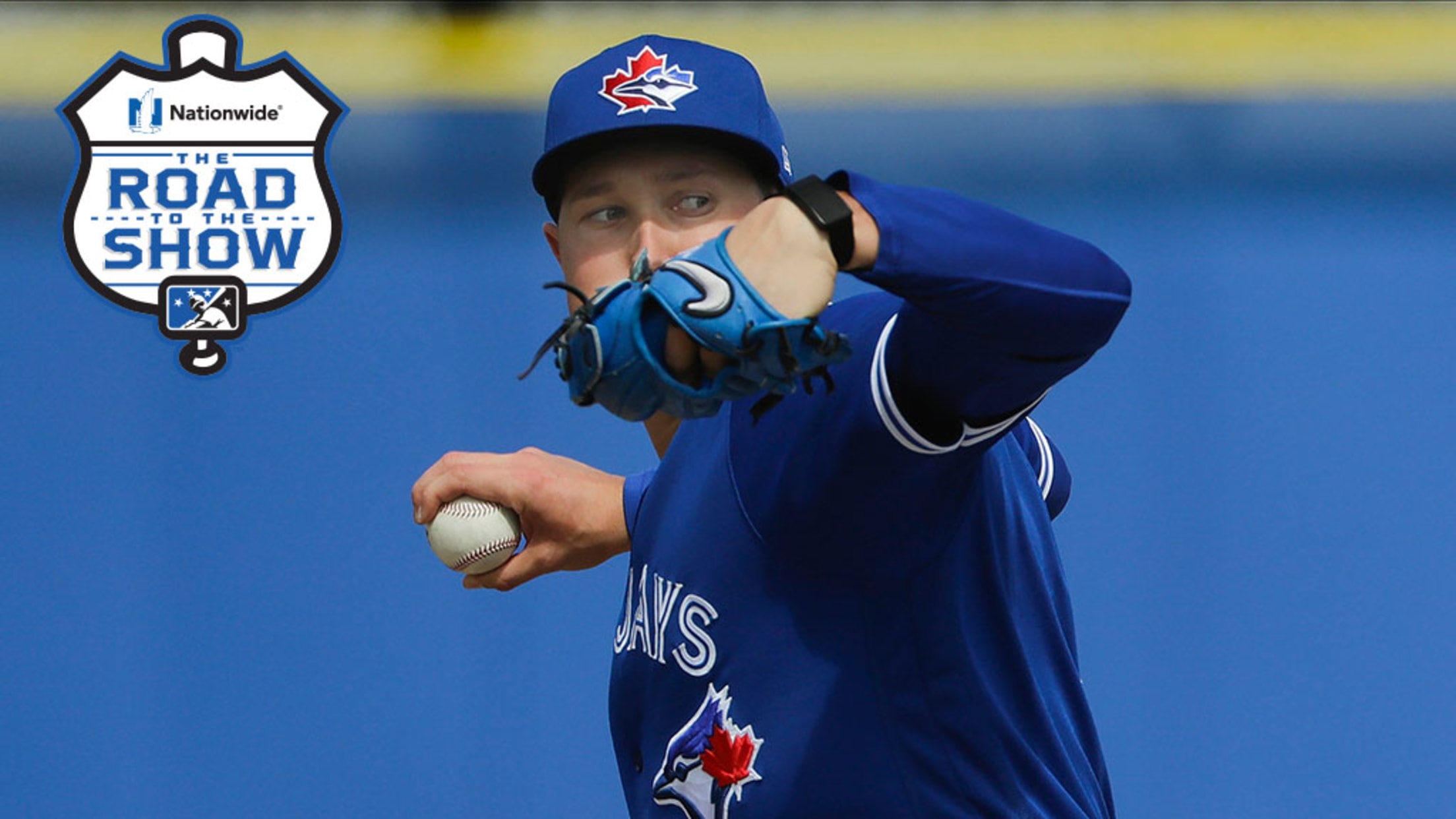 Nate Pearson's dominance since his professional debut in 2017 has the right-hander on the expressway to the Majors. (AP)
Each week, MiLB.com profiles an elite prospect by chronicling the steps he's taken to reach the brink of realizing his Major League dream. Here's a look at Jays right-hander Nate Pearson. Toronto's top prospect is a prime example why wins and losses are a devalued statistic to many, particularly in
Each week, MiLB.com profiles an elite prospect by chronicling the steps he's taken to reach the brink of realizing his Major League dream. Here's a look at Jays right-hander Nate Pearson.
Toronto's top prospect is a prime example why wins and losses are a devalued statistic to many, particularly in the Minor Leagues, where development reigns supreme. The Jays have brought along their prized hurler conservatively since selecting him 28th overall in the 2017 Draft, although they loosened the reins considerably last year.
In three seasons as a professional, Pearson is 5-5 through 34 starts, but peel back one layer and it's easy to see why he's MLB.com's No. 8 overall prospect. The 23-year-old sports a 2.19 ERA, 0.87 WHIP and has held opponents to a .173 average since debuting in 2017. He's yielded 75 hits over 123 1/3 innings and boasts an extraordinary 146-to-32 strikeout-to-walk ratio.
2017 (Rookie-level Bluefield, Class A Short Season Vancouver)
In the case of Pearson, a first impression proved to be anything but deceiving. The College of Central Florida product pitched a scoreless inning in his lone outing in the Appalachian League and was quickly promoted to the Pacific Northwest. Pearson proved virtually untouchable for the Canadians, yielding three hits and two walks while fanning 19 in 16 scoreless innings. He surrendered a pair of runs across three frames in his final start of the season, pushing his ERA to 0.95 in seven Northwest League starts and 0.90 overall.
2018 (Class A Advanced Dunedin)
The sizzle and expectations for Pearson were heightened in what was supposed to be his first full Minor League season. Buoyed by his dominance the previous summer, Toronto pushed the Odessa, Florida, native past Class A Lansing to the Florida State League. Unfortunately, 2018 proved to be over before it even began. He opened the season on the disabled list with an oblique injury before making his debut a month late, on May 7. Facing Bradenton, Pearson saw his campaign end after 1 2/3 innings and 34 pitches when a line drive fractured his right arm.
The organization expected him to miss four to six weeks, but he did not see game action again until suiting up for Surprise in the Arizona Fall League. Pearson had a 6.20 ERA in six starts for the Saguaros and averaged more than a strikeout per inning, whiffing 23 in 20 1/3 frames.
2019 (Class A Advanced Dunedin, Double-A New Hampshire, Triple-A Buffalo)
The lack of developmental time a year earlier proved to be no issue for Pearson. Returning to the FSL to begin the season, the opposition was no match for his 80-grade fastball and developing secondary pitches. He gave up two runs in six starts for Dunedin, highlighted by a career-best 10-strikeout performance in his penultimate outing in Florida.
The Jays were cautious with Pearson as he moved up to the Eastern League in early May, and while he was no longer unhittable, he was plenty good enough. Despite winning one of five decisions with the Fisher Cats, Pearson posted a 2.59 ERA and 0.99 WHIP with 69 punchouts over 62 2/3 innings in 16 starts.
He earned a spot in the All-Star Futures Game along the way, and the rest of the baseball world witnessed what Toronto already knew. Pearson tossed a 1-2-3 inning facing Top-100 prospects Joey Bart, Cristian Pache and Gavin Lux, throwing four pitches that came through at a blistering 101 mph. His Double-A stint reached a zenith on July 24 when he struck out eight while holding Harrisburg hitless over 5 2/3 innings.
Pearson moved up to Triple-A three weeks later and debuted with a flourish when he allowed three hits over a career-high seven scoreless frames for the Bisons. His strong three-start cameo in the International League put a capper on a 2019 campaign that saw him go 5-4 with a 2.30 ERA and 119 strikeouts in 101 2/3 innings. Held to a strict pitch count for much of the season, Pearson surpassed six innings four times in 25 starts, but he allowed four or fewer hits 21 times and held opponents to a .176 average.
The flamethrower was undoubtedly headed back to Buffalo to begin 2020, but not before he turned heads and made an impact in Grapefruit League action. Pearson compiled a 1.29 ERA and whiffed 11 over seven innings, spanning four appearances -- including one start -- this spring.
Michael Avallone is a writer for MiLB.com. Follow him on Twitter @MavalloneMiLB.