The Road to The Show™: Oneil Cruz
Pirates slugger standing tall on his journey to the Majors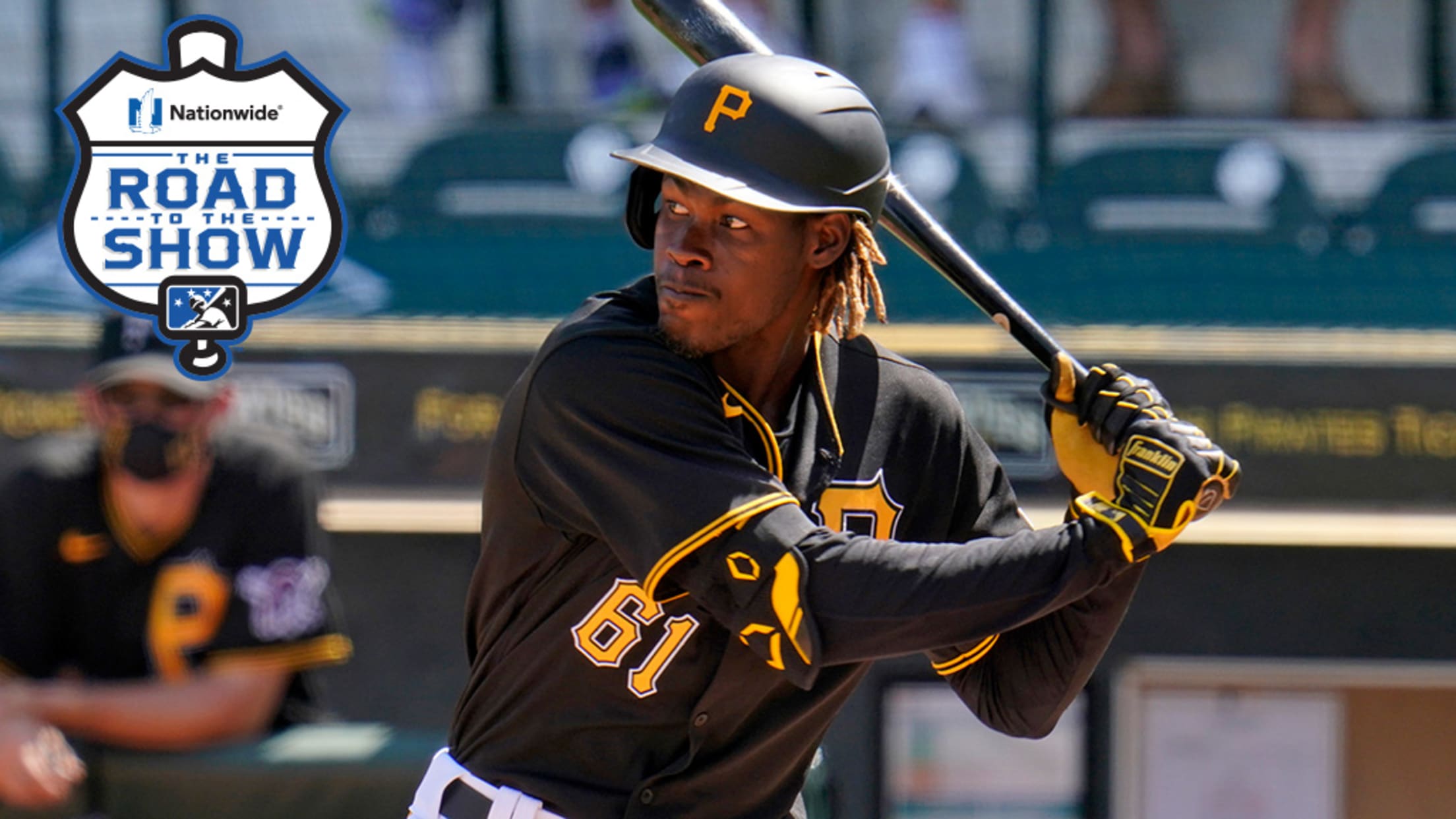 Standing 6-foot-7, Oneil Cruz has the size and power to become one of the game's next big sluggers. (Gene J. Puskar/AP)
Each week, MiLB.com profiles an elite prospect by chronicling the steps he's taken to reach the brink of realizing his Major League dream. Here's a look at Pittsburgh Pirates prospect Oneil Cruz. For more player journeys on The Road to The Show click here. The Pirates look forward to the
Each week, MiLB.com profiles an elite prospect by chronicling the steps he's taken to reach the brink of realizing his Major League dream. Here's a look at Pittsburgh Pirates prospect Oneil Cruz. For more player journeys on The Road to The Show click here.
The Pirates look forward to the day when Oneil Cruz will tower over the competition. Physically, Pittsburgh's fourth-ranked prospect already does.
Oneil Cruz absolutely destroyed that baseball. 😱#LetsGoBucs pic.twitter.com/XibjPf9F0d

— Pirates (@Pirates) March 1, 2020
Standing 6-foot-7, the Nizao, Dominican Republic native signed as an international free agent with the Dodgers in 2015 at the age of 16. He began his professional career the next year, playing for the Dodgers' Dominican Summer League squad before moving stateside the next season. Los Angeles thought enough of his talents to have him bypass Rookie-level and short-season competition, instead assigning him to Class A Great Lakes in the Midwest League as an 18-year-old. Pittsburgh kept him on the same course after acquiring him in a midseason trade for reliever Tony Watson.
Cruz returned to Class A West Virginia in 2018 and spent the entire season in the South Atlantic League. He moved up to Class A Advanced and then Double-A during an injury-plagued, albeit successful 2019 campaign. All told, MLB.com's No. 64 overall prospect has put together a .274/.335/.435 slash line in 336 Minor League games.
2016 (Rookie-level Dominican Summer League)
Standing 6-foot-4 at the time, the projection power scouts foresaw began to manifest itself during Cruz's first taste of pro ball. Competing that summer as a 17-year-old, he amassed 23 extra-base hits without the benefit of a home run and batted .294/.367/.444 in 55 games.
Perhaps even more impressive was the relatively strong defense Cruz displayed. Playing on the oftentimes hard and sunbaked fields of the Dominican Republic, he showcased a strong arm and an ability to make plays from both the hot corner and shortstop despite his bulk.
The Dodgers are often aggressive with their handling of young, international prospects. Cruz was no exception.
2017 (Class A Great Lakes, Class A West Virginia)
Like many foreign-born players, Cruz struggled in his first year competing in the United States, although he showed promise and progress. Los Angeles had the 18-year-old jump all the way to the Midwest League, where his inexperience showed early on. Cruz ended April with a .133/.189/.169 slash line while striking out in nearly 40 percent of his at-bats. His struggles, however, were short-lived.
Cruz turned his season around quickly, batting .286 in May and June while cutting his whiff rate nearly in half. Although his numbers took a dip in July, he erupted for a career-high five-hit night -- homering, doubling and driving in three runs in one of his final games as a member of the Dodgers.
"He has a lot of power, crazy power," former Great Lakes manager Jeremy Rodriguez told MiLB.com. "When he tries to hit home runs, it doesn't really work out for him. When he tries a low line drive or just make solid contact, that's when the ball jumps off the bat. [Loons hitting coach Jair Fernandez] has been doing a really good job during batting practice and staying on him to make sure he stays within himself and not trying to do too much."
Cruz was traded to the Bucs 10 days later, but struggled down the stretch with West Virginia. He finished his first season in the States hitting .237/.297/.350 with 10 homers, 60 runs and 44 RBIs in what remains a personal-best 105 games.
2018 (Class A West Virginia)
The lessons Cruz learned in first full-season campaign bore fruit in 2018. Returning to the Sally League and playing exclusively at shortstop, the 19-year-old turned in his finest season as a professional. Cruz overcame another slow start with a torrid May, highlighted by a four-hit, three-double performance on May 10. That performance came during a 14-game hitting streak and a stretch where he hit safely in 19-of-21 games.
"It's power to all fields," former West Virginia manager Wyatt Toregas told MiLB.com. "I've seen him hit balls the other way that are hit further than a lot of righties can pull 'em. He's got raw power. I mean, his singles are impressive. He has the speed tool to go with it, so he doesn't have to hit the ball good to get a hit. He's got a lot of good things on his side, but he can hit a home run to any part of the yard, anywhere he goes.
"It's the most power I've seen since my big league time."
Cruz entered the All-Star break batting .303/.363/.516 with 29 extra-base hits and 39 RBIs, punctuated by a scorching June. He was rewarded with South Atlantic League Player of the Month honors after compiling a .375/.420/.606 slash line. A lukewarm second half did little to damper an otherwise breakout year for Cruz, who batted .286/.343/.488 with career highs in several offensive categories, including RBIs (59), extra-base hits (46) and homers (14).
He ended 2018 as the fourth-ranked Pirates prospect and was named the league's Most Outstanding MLB Prospect as well as a SAL All-Star.
2019 (Rookie-level Gulf Coast League, Class A Advanced Bradenton, Double-A Altoona)
Cruz's award-winning 2018 put him on the prospects-to-watch list and earned him a non-roster invitation to big league camp in the spring. The 20-year-old acquitted himself well in limited action, homering twice in nine Grapefruit League at-bats. Cruz's blend of size, projectability and inconsistency wasn't lost on the organization.
"Cruz is a fun one to keep watching grow, two steps forward, two steps back," former Pirates farm director Larry Broadway told MLB.com in 2019. "He's never going to be a straight trajectory, linear growth pattern. It's going to be really exciting sometimes and other times, it's going to be really frustrating."
Promoted to the Class A Advanced Florida State League to begin the season, Cruz got off to a hot start with Bradenton but missed 10 days with "lower body discomfort." He returned to action April 23, but went 3-for-16 with seven strikeouts, a walk and no RBIs before he was placed on the injured list with a right-foot fracture. The injury kept Cruz out of action for nearly two months.
A three-game rehab stint in the Rookie-level Gulf Coast League precipitated his return to Bradenton, at which point Cruz caught fire. Over his ensuing 24 games spanning 94 at-bats, he batted .330/.364/.596 with 12 extra-base hits -- including six roundtrippers -- and 13 RBIs. Cruz was rewarded with a promotion to Altoona, where he debuted with a two-double effort July 30. He treaded water in his first 13 Double-A games before breaking out with a four-hit night on Aug. 13.
Overall, Cruz batted .298/.356/.475 with 34 RBIs and 27 extra-base hits in 73 games. He participated with Peoria in the Arizona Fall League with minimal success, hitting 190 in 14 contests.
While 2020 proved to be difficult for everyone, for Cruz, it went far beyond the COVID-19 pandemic. A strong start could have vaulted him to Triple-A and the precipice of the big leagues. Instead, he settled for a spot in Pittsburgh's 60-man player pool and a home at the club's alternate training site in Altoona. However, tragedy struck in September when Cruz was at the center of a car accident in the Dominican Republic that killed three people. He was uninjured and has not faced criminal charges.
Cruz entered his third consecutive big league Spring Training in February, but he has not enjoyed much success. Through 13 Grapefruit League games, the 21-year-old went 1-for-23 with six strikeouts and two walks. After spending a month in Double-A to close out 2019, Cruz is expected to begin the 2021 campaign with Triple-A Indianapolis.
Michael Avallone is a writer for MiLB.com. Follow him on Twitter @MavalloneMiLB.