The Road to The Show™: Simeon Woods Richardson
Maturing right-hander preparing to lead on Jays farm and beyond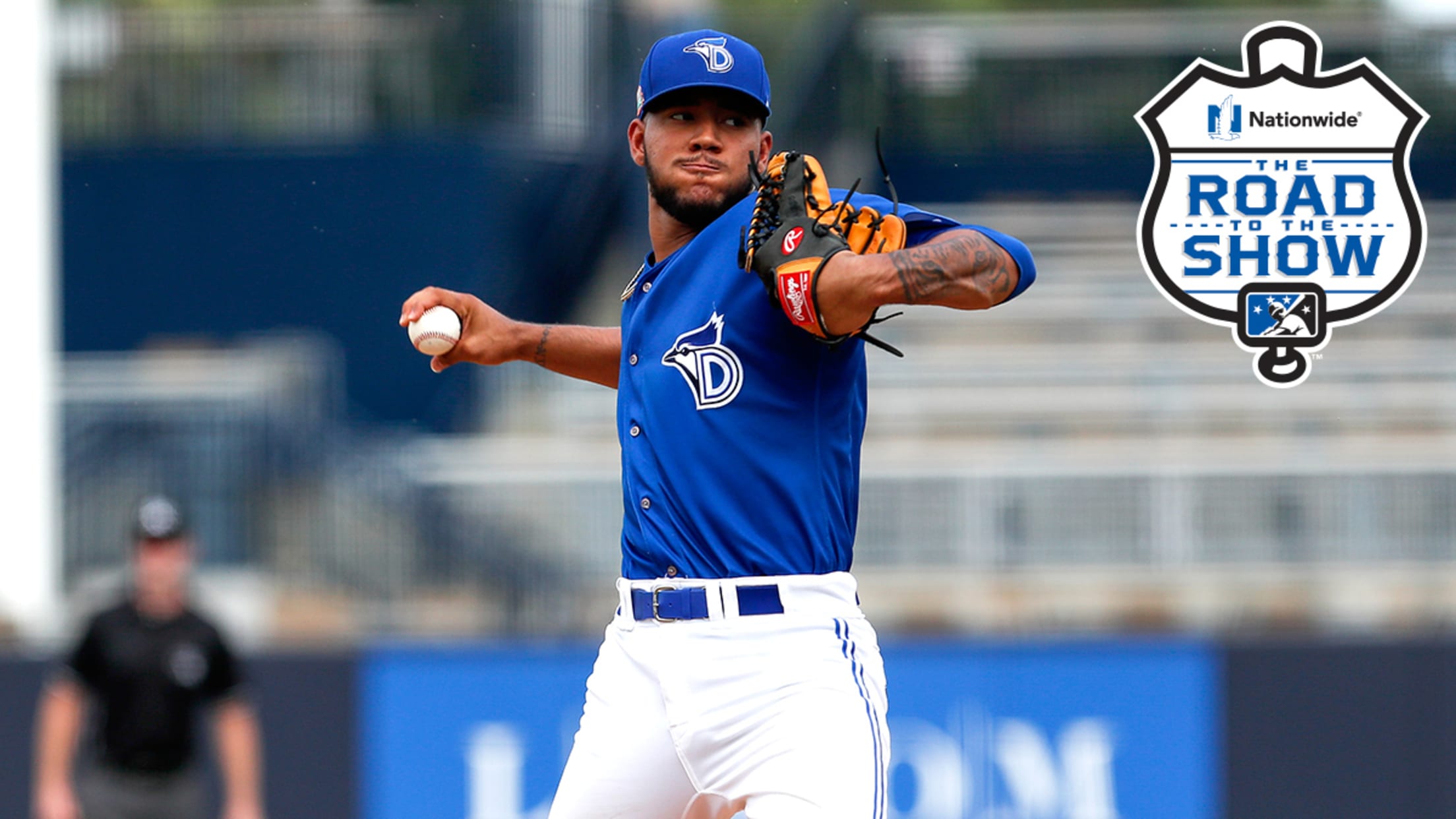 Simeon Woods Richardson, who spent last year at Toronto's alternate site, will look to top his longest career start of 5 1/3 frames. (Mark LoMoglio/MiLB.com)
Each week, MiLB.com profiles an elite prospect by chronicling the steps he's taken to reach the brink of realizing his Major League dream. Here's a look at Toronto Blue Jays right-hander Simeon Woods Richardson. For more player journeys on The Road to The Show, click here. Heading into the 2018
Each week, MiLB.com profiles an elite prospect by chronicling the steps he's taken to reach the brink of realizing his Major League dream. Here's a look at Toronto Blue Jays right-hander Simeon Woods Richardson. For more player journeys on The Road to The Show, click here.
Heading into the 2018 First-Year Player Draft, many viewed Simeon Woods Richardson as a fringe early-rounder whose future was likely to be in the bullpen – should he reach the Major Leagues.
After climbing the ladder with one organization, only to be traded to another, the 20-year-old enters the 2021 season ranked as the No. 87 prospect in baseball with front-of-the-rotation promise in a franchise well positioned for the future.
Woods Richardson has been listed at 6-foot-3, 210 pounds since he was selected by the Mets in 2018. Pro scouts who saw the Blue Jays' fourth-ranked prospect pitch as an 18-year-old in 2019 called him fearless, recalling that he pitched with more maturity than expected for a player his age.
"It's the way I carry myself," Woods Richardson told MLB.com during summer camp in 2020. "My mom has always told me I've been mature for my age, and I've always carried myself that way. I've always been the little big brother. I know I have that chip on my shoulder. Let me show you what this young buck can do."
The right-hander sits in the mid-90s with a fastball that possesses very late and explosive life, a cutter, a curveball that sometimes profiles as more of a slurve and a well-sold downer changeup. With fewer than 130 professional innings under his belt headed into the pandemic-shortened season, scouts noted some more consistent mechanics and pitch location will put him into a Major League rotation someday.
Woods Richardson isn't likely to make an impact in The Show this year, he certainly could come close to the doorstep. His improvement is marked by the Draft Day view of the 160th-ranked Draft prospect taken at No. 48 overall.
Here's a look at No. 4 prospect Simeon Woods Richardson (via @BlueJays).

He could very much be A Thing later this season. pic.twitter.com/cZXjryAgkm

— Keegan Matheson (@KeeganMatheson) February 19, 2021
2018 (Rookie-level Gulf Coast League, Rookie-level Kingsport)
The native of Sugar Land, Texas, was selected by the Mets out of high school in the second round. It took an above-slot deal of $1.85 million with New York to forgo his commitment to the University of Texas, but the Mets were aggressive with the then-17-year-old.
Woods Richardson made five appearances -- including two starts -- in the Gulf Coast League, yielding two unearned runs on nine hits and four walks while striking out 13 in 11 1/3 innings. He was sprung from the complex in late August and struck out five over three perfect innings in his Kingsport debut against Bristol on Aug. 22.
In his only other Appalachian League start, the righty surrendered three runs on six hits with six punchouts in three frames.
2019 (Class A Columbia, Class A Advanced Dunedin)
Woods Richardson ranked as the Mets' No. 7 prospect at the start of the 2019 season, and he was the seventh-youngest player in full-season ball when the year began. He was assigned to a Columbia team that also featured Ronny Mauricio, Mark Vientos, Shervyen Newton and Thomas Szapucki, all of whom were top-10 prospects in the club's system at the time.
In 20 starts for the Fireflies, Woods Richardson posted a 3-8 record with a 4.25 ERA and .256 average against. He struck out 97 batters in 78 1/3 innings (11.15 K/9) and held a 1.21 WHIP. His best start in Columbia came the first time he went five innings as a professional, when he didn't allow a hit while fanning eight against Rome on June 3.
By the end of July, Woods Richardson earned a promotion to the Florida State League. But he wound up in Dunedin instead of St. Lucie.
Woods Richardson was driving to St. Lucie with his family when he got word from then-general manager Brodie Van Wagenen that he'd been traded to the Blue Jays along with lefty Anthony Kay in a deal that brought All-Star right-hander Marcus Stroman to New York.
"I love that they were there with me, instead of by myself, because I had all of my stuff. It played out perfectly, for them to just turn back around and drive to Dunedin," Woods Richardson told MiLB.com in August 2019. "I said, 'Hey, this is nothing bad, but I just got traded.' And they're like, 'To who?' I said, 'The Blue Jays.' They said, 'That's not necessarily a bad thing. You were in the Marcus Stroman trade, so take it as a great honor.'
"So that's something that I look at the bright side of. Like, hey, the trade isn't a bad thing -- it's actually a great thing. It's a new opportunity for something else. This is what I've been given so far."
At the time of the trade, Kay was the bigger name due to his masterful performance in the Eastern League, Futures Game and an eventual stint with Triple-A Syracuse. But scouts noted at the time that Woods Richardson probably had the higher ceiling.
In six Dunedin starts, Woods Richardson's strikeout rate dipped -- to 9.21 – but his ERA went with it, as he compiled a 2.54 ERA with a .182 average against. He made two scoreless starts and did not allow more than three runs in an outing.
To date, Woods Richardson has not surpassed 5 1/3 innings in a pro start yet.
"He's got a great fastball, and to be able to throw strikes at a young age, at a high level in professional baseball... And when I say 'high level,' ... at 18, 19 years old, the Florida State League is a relatively high level," Blue Jays pitching coordinator Jeff Ware told MiLB.com in 2019. "We're looking forward to seeing him grow, learn how to pitch, understand professional routine and things like that -- understanding his pitch data, getting our staff to understand his pitch data, so they can work together and he can be the best pitcher he can possibly be."
A deep mix of homegrown talent and aggressiveness on the free-agent market have positioned the Blue Jays to contend for the American League East crown in 2021. But Woods Richardson represents a small contingent of potential impact players who came to the team in a trade.
After consecutive trips to the American League Championship Series, the Blue Jays quickly rebuilt a roster that returned to the 2020 postseason while maintaining one of the top farm systems in baseball. When team president Mark Shapiro and general manager Ross Atkins came from Cleveland following the 2015 season, the club was led by veterans nearing free agency. By the time Toronto returned to the postseason in 2020, nobody from the 2016 roster was still on the team.
Stroman was a key figure on the 2015 and '16 ALCS teams and remained one of Toronto's best players in the years that followed. But much like Josh Donaldson, Edwin Encarnacion and Jose Bautista before him, the time came for Stroman to be moved out of Toronto. After underwhelming returns in trades involving Donaldson, J.A. Happ and Aaron Sanchez, Atkins and Shapiro capitalized on Stroman's final year of team control and traded the right-hander to the Mets at the 2019 deadline.
While Woods Richardson and Kay had minimal impact on the 2020 postseason run – Kay pitched to a 0.1 bWAR with a 5.14 ERA in 21 innings during the pandemic-shortened season while Woods-Richardson stayed at the team's alternate site in Rochester – the duo still likely represents the best prospect return of the Shapiro-Atkins era.
Woods Richardson is one of three players on the Blue Jays' Top 30 prospects list who was not signed or drafted by the club. Right-hander Julian Merryweather (No. 21) and infielder Samad Taylor (No. 30) came from Cleveland in separate deals for Donaldson in 2018 and reliever Joe Smith in 2017. Merryweather was also the Indians' fifth-round Draft pick under the Shapiro-Atkins regime in 2014.
The Blue Jays reported to their extended-stay temporary home in Dunedin last week. Woods Richardson earned the invite to his first big league Spring Training – Kay and Merryweather are on the active roster.
Woods Richardson has the best chance to be the Blue Jays' top pitching prospect by year's end and there's still more in the proverbial tank behind him. No. 10 overall prospect Nate Pearson should spend the season in the Majors while fifth-ranked Alek Manoah and No. 10 Adam Kloffenstein comprise the next competitive group of right-handers.
Gerard Gilberto is a contributor to MiLB.com. Follow him on Twitter @GerardGilberto._