The Road to The Show™: Rangers' Carter
No. 59 prospect evolves from Draft mystery to scouting coup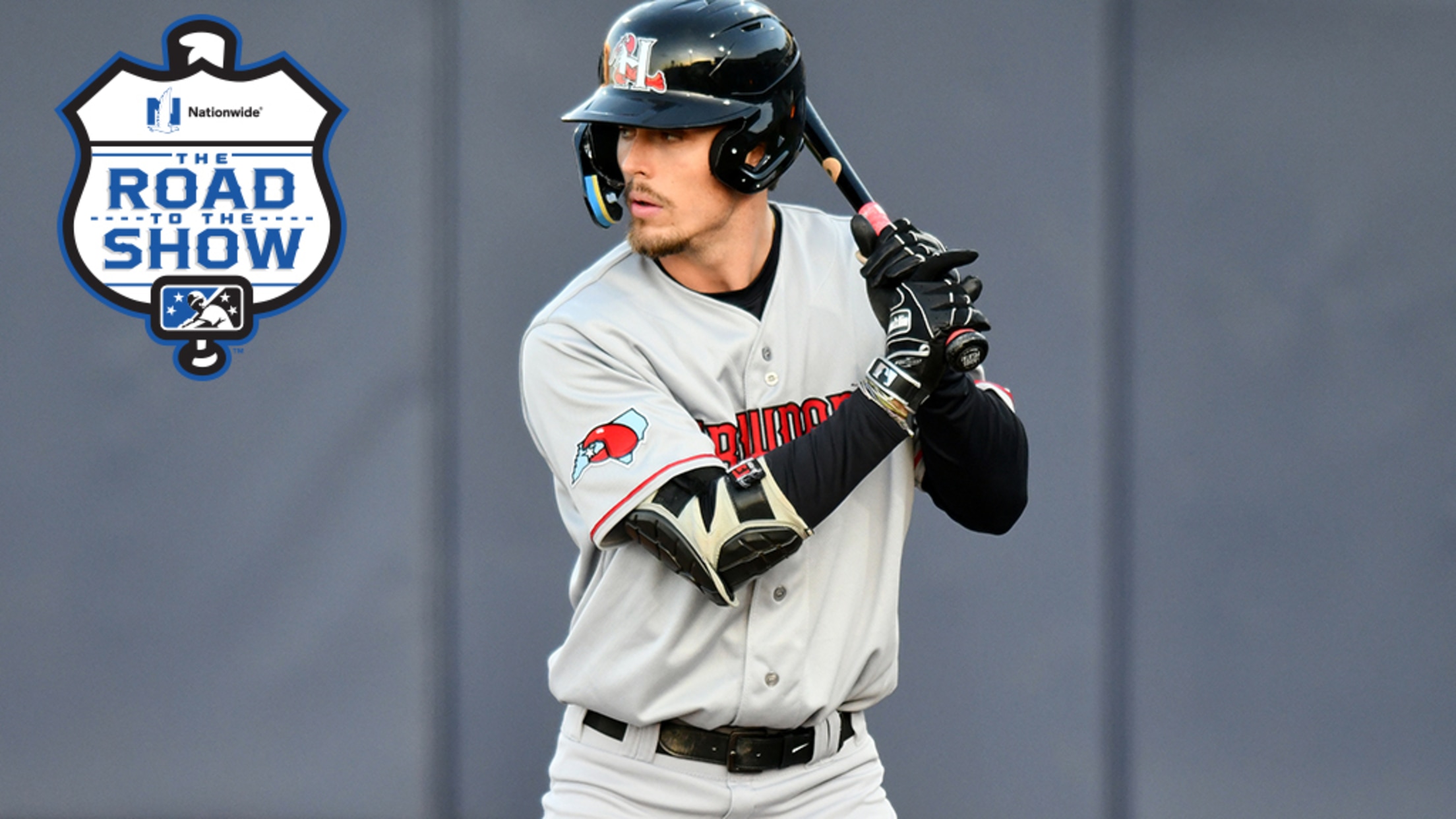 Despite not appearing in most pre-Draft prospect rankings, Evan Carter was selected with the No. 50 overall pick in 2020. (Ken Inness/MiLB.com)
Each week, MiLB.com profiles an elite prospect by chronicling the steps he's taken toward achieving his Major League dream. Here's a look at third-ranked Rangers prospect Evan Carter. For more stories about players on The Road to The Show, click here. There aren't many ways to better illustrate a scouting
Each week, MiLB.com profiles an elite prospect by chronicling the steps he's taken toward achieving his Major League dream. Here's a look at third-ranked Rangers prospect Evan Carter. For more stories about players on The Road to The Show, click here.
There aren't many ways to better illustrate a scouting success than the emergence of a player who drew minimal attention from other clubs. For the Rangers, Evan Carter represents a major win for that particular department.
Carter was barely on the radar for most Major League clubs entering the 2020 Draft. He played in only three games during his senior year at Elizabethton High School in Tennessee before the pandemic, did not participate in any national showcases and was not listed among any major publication's pre-Draft rankings.
In what was already to be a shortened, five-round Draft, most, including Carter himself, expected him to go unselected and honor his commitment to play at Duke. But the Rangers' area scout, Derrick Tucker, convinced the club of what he saw to be five-tool potential. And it was Tucker's recommendation that persuaded the Rangers to raise eyebrows across the industry and select the lanky outfielder with the No. 50 overall pick.
"I know I have always flown under the radar," Carter told reporters after the Draft. "I never went to the Perfect Game camps or anything like that. I know wherever I show up, I'm there to compete and I'm there to be the best. I definitely let my actions speak for themselves on the field."
It didn't take long for Carter to go from the greatest mystery of his Draft class to MLB Pipeline's No. 59 overall prospect. In parts of two seasons with Single-A Down East and High-A Hickory, he has accumulated a .276 overall average and .864 OPS with 50 extra-base hits while drawing walks in more than 15 percent of his plate appearances.
The Rangers have been quick to challenge their third-ranked prospect since he began his professional career. But in the history they established with him as an amateur, the club could tell he was advanced, especially for his age.
Carter was his high school's valedictorian, and one of the three games he actually played during his senior year was the last that Kip Fagg, the Rangers' senior director of amateur scouting, got to see in person before the pandemic shutdown.
"He's an unbelievable kid," Fagg told reporters after the Draft, mentioning the Royals and Pirates as other teams that kept tabs on Carter in high school. "We saw him last summer. We saw him in the fall. … It's incredible. He's a five-tool player. We feel like we beat a lot of teams."
After Texas lured him from his Duke commitment with a $1.25 million bonus, Carter was a standout at the club's instructional camp that fall.
"Right now, it's an opportunity to let him play," Rangers assistant general Mike Daly told MLB.com that November. "He has more walks than strikeouts in 40 plate appearances and he's done some damage. He can hit with future power, he can run, he can play center field. He's also smart, competitive and super young for his Draft class. He's been eye-opening. It's been an absolute pleasure to watch him play."
Even as an amateur, Carter's discerning eye and advanced approach were his most enviable traits. At 6-foot-4, there was a thought that he would naturally be able to add raw power to what was a very quick bat, and he was rather swift of foot for his size. His speed and arm strength also made him a natural center fielder with a real chance to stick at the position.
The first challenge the Rangers presented came with an assignment to the Wood Ducks, where he'd be the youngest player in the circuit on Opening Day. Carter looked a bit overmatched in the first month of the season with Down East, but he turned a corner and collected 11 hits in 37 at-bats (.297) with a .957 OPS through 11 games in June.
Little bit of Evan Carter (Rangers' No. 9 prospect) BP. Texas' 2020 second rounder missed a lot of the 2021 season with a stress fracture in his back. pic.twitter.com/3rycUcKQMh

— kennedi landry (@kennlandry) March 3, 2022
He was not able to capitalize on the turnaround, however, due to a season-ending stress fracture in his back.
Even with such a small sample, there were plenty of evaluators who remained impressed by Carter's first Minor League action. Even before the breakout in June, Carter showcased his excellent feel for the zone and ability to recognize pitches and finished with more walks (34) than strikeouts (28) and games played (32).
"I got hurt and that's not what you want to see," Carter told MLB.com this spring. "But there's good in everything. I believe God's got a plan for me. I learned a lot of stuff here in rehab and being around the facility throughout the season, I wouldn't have otherwise. There's a positive to everything. ... I was always super grateful to have the team that I did have."
With his first season derailed by injury, it would have been appropriate to return Carter to Down East this season. But the Rangers challenged him with an aggressive assignment to Hickory.
"It was a big jump, honestly, in my opinion," Carter told the Johnson City Press in June. "The pitchers are a lot older than me and a lot more experienced. … That jump from Single-A to High-A in pitching is one of the bigger ones. You have to adjust back. It forces you to be better. In the end, I think it's a good thing."
Carter is currently on the seven-day injured list with a left knee bruise, which is where he spent his 20th birthday on Monday. But prior to going down with the injury last week, he showed that unique blend of skills that has made him one of the game's best prospects.
In his first 94 games, Carter batted .288/.388/.485 with 11 homers, 18 doubles and 10 triples while driving in 64 runs, scoring 75 times and going 24-for-36 on stolen base attempts. He wasn't as masterful in his ability to draw free passes, but his 13.3 percent walk rate was still among the best for South Atlantic League regulars.
The questions about what looked like a second-round reach for the Rangers seem to have been answered. Carter has shown a maturity and ability to handle advanced competition and could challenge for a spot at Triple-A as soon as next season.