The three M's power Grizzlies late, beat Ports 9-4 
Martin (HR, 3 RBI), Mendez (3B, 2 RBI) and Messinger (3B, RBI) supply late offense for Fresno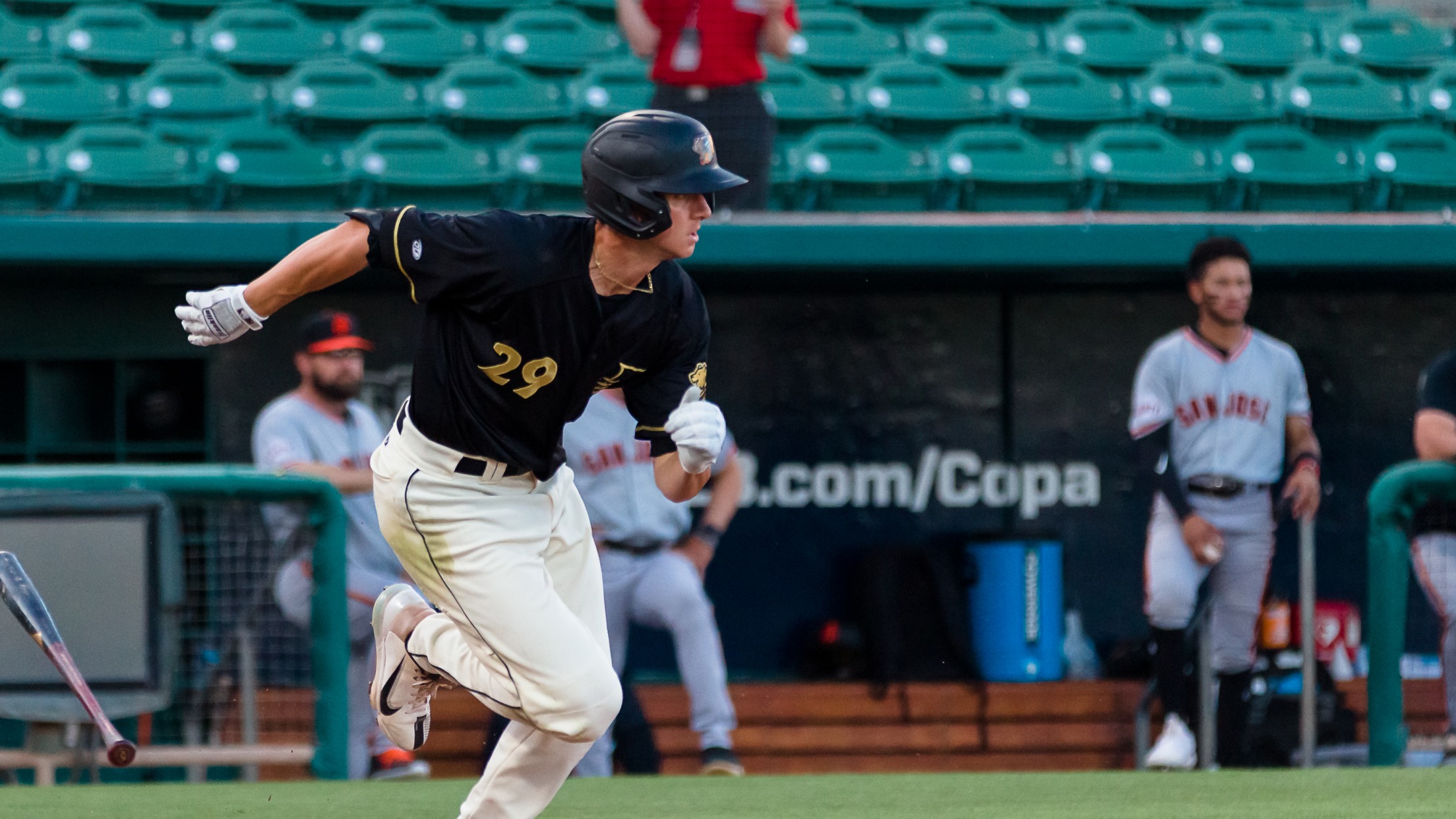 Stockton, CA (Saturday, May 6) – The Fresno Grizzlies (13-13) secured their second consecutive win, rallying past the Stockton Ports (6-20) 9-4 Saturday evening from Banner Island Ballpark. Fresno improved to 24-5 (2-3 this year) all-time at the venue and enjoyed their third comeback claws victory in the seventh inning
Stockton, CA (Saturday, May 6) – The Fresno Grizzlies (13-13) secured their second consecutive win, rallying past the Stockton Ports (6-20) 9-4 Saturday evening from Banner Island Ballpark. Fresno improved to 24-5 (2-3 this year) all-time at the venue and enjoyed their third comeback claws victory in the seventh inning or later.
The Grizzlies roared ahead early from a throwing error in the second. Fresno moved to 10-1 when scoring first this season. The Ports regained control in the bottom half of the inning from a bases-loaded walk and force out. Stockton added a run in the sixth on a solo shot from Colby Thomas. Despite the deficit, the Grizzlies bit back late with eight runs over their final three frames.
In the seventh, Fresno notched a quartet of runs after the first four batters reached base safely. Jesus Bugarin and Robby Martin mustered infield singles before waltzing home on a Luis Mendez two-RBI triple. It was his first triple of the year. Mendez scored a batter later when Skyler Messinger laced a triple, his first of the season. Messinger plated the final run of the frame from an EJ Andrews sacrifice fly.
The Grizzlies extended their lead in the eighth when Robby Martin powered a three-run moonshot to right-center field. Martin's first longball of 2023 made it 8-3. In the ninth, Ryan Ritter poked a single to make any Stockton comeback out of reach. The Ports tallied one run in the ninth with T.J. Schofield-Sam as the recipient.
Fresno righty Connor Staine worked five innings of two-run ball. Staine retired the final 11 batters he faced. Felix Ramires (1-0) received the triumph while a trio of relievers followed him. Davis Palermo struck out a pair of batters. Stockton southpaw James Gonzalez hurled six innings, allowing four hits, one run (unearned) on one walk while fanning seven. Aaron Cohn (0-2) suffered the setback. The Grizzlies can split the series tomorrow afternoon from Banner Island Ballpark.
Tonight's article was written by ChatGPT
Top Performers: Fresno Grizzlies (Colorado Rockies)
RF Robby Martin (2-4, HR, 3 RBI, 2 R, BB)
DH Luis Mendez (2-4, 3B, 2 RBI, R)
CF Jesus Bugarin (2-4, 3 R, BB)
1B/3B Skyler Messinger (1-4, 3B, RBI, R)
Top Performers: Stockton Ports (Oakland Athletics)
1B T.J. Schofield-Sam (2-4, 2B, 2 R)
LF Colby Thomas (1-3, HR, RBI, R, BB)
LHP James Gonzalez (6.0 IP, 4 H, 1 R, 0 ER, 1 BB, 7 K)
On Deck:
Sunday, May 7 @ Stockton Ports, Fresno RHP Gabriel Barbosa (0-3, 11.02) vs. Stockton RHP Dheygler Gimenez (1-0, 4.50), 2:09 pm PT
ON THAT FRES-NOTE:
The leadoff batter reached base safely in five straight innings for Fresno (4-8). In the first three frames, the leadoff batter was erased on the next play (double play, fielder's choice, pickoff). In the final two innings, the leadoff batter scored a run.