Toolshed: 40-man roster protection preview
A system-by-system rundown of ranked Rule 5-eligible prospects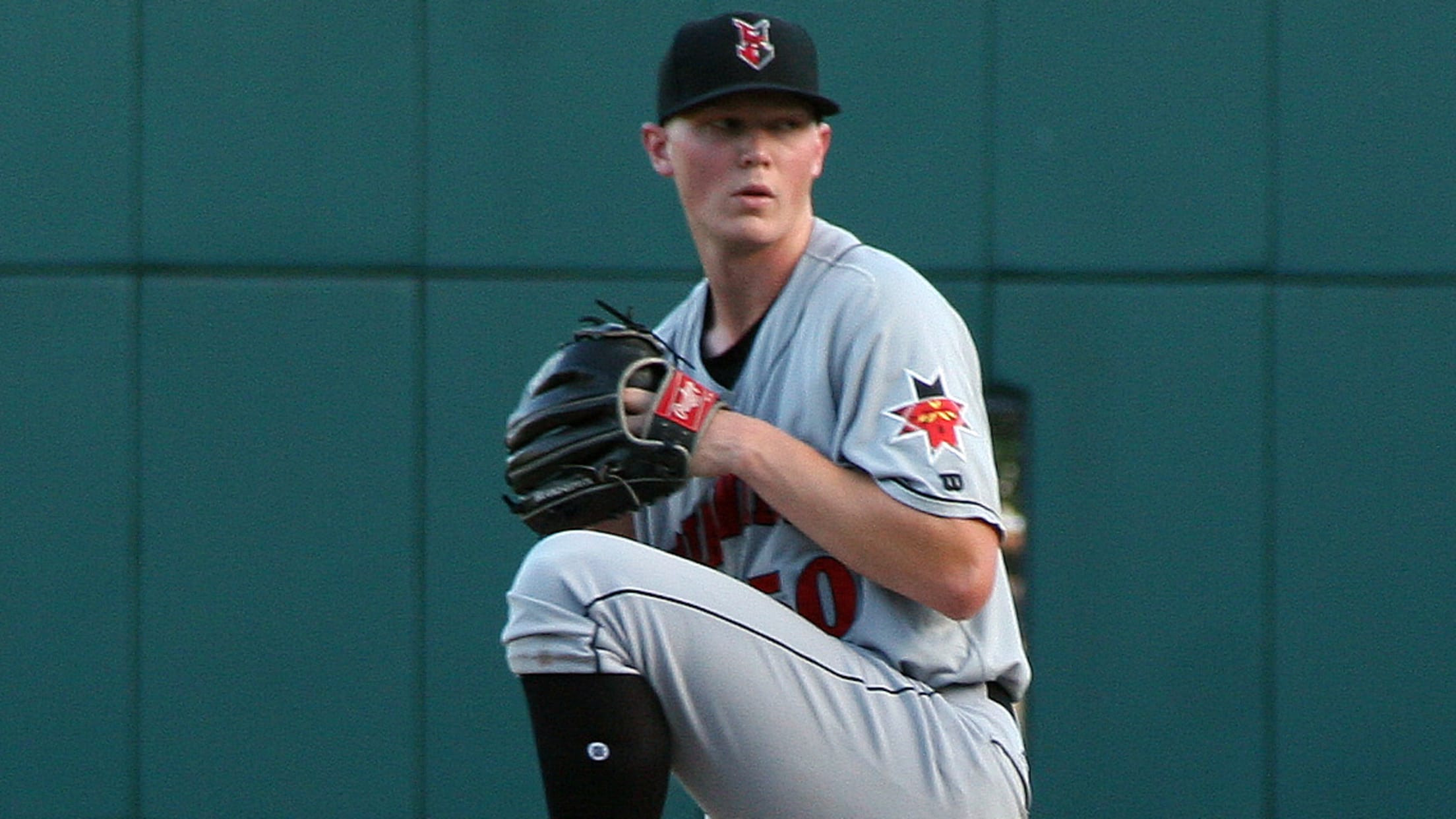 Mitch Keller was a second-round pick in 2014, making him Rule 5-eligible this offseason. (Joe Santry/Columbus Clippers)
With a single transaction, a bunch of prospects are about to take big steps in their careers, while others will be left to await their fate.Next Tuesday, Nov. 20, brings the deadline in which organizations must protect eligible players from the Rule 5 Draft by adding them to their 40-man
With a single transaction, a bunch of prospects are about to take big steps in their careers, while others will be left to await their fate.
Next Tuesday, Nov. 20, brings the deadline in which organizations must protect eligible players from the Rule 5 Draft by adding them to their 40-man rosters. Eligible players are those who signed or were drafted when they were 18 or younger and have been in pro ball for five years, or those who signed or were drafted when they were 19 or older and have been in pro ball for four years.
Organizations, of course, can only add as many prospects as they have openings on their 40-man roster. Any others left exposed who have the above eligibility could be taken in the upcoming Rule 5 Draft, to be held Dec. 13 at the Winter Meetings in Las Vegas. Getting picked there means they'd have a chance to stick for a full season in the Major Leagues with their new club.
But before we get too far down the Rule 5 rabbit hole, we have to know what the Draft pool will look like this year. This Toolshed runs down each Rule 5-eligible prospect ranked among the top 30 in each farm system by MLB.com, along with the protection outlook of each organization. (Note: It's likely prospects outside the top 30 will be protected as well, but to limit the scope of the column, they weren't considered here.) Included in parentheses next to the team name are the amount of 40-man roster spots currently filled by that club. Note that these counts aren't final -- clubs are likely to wheel and deal over the weekend and into next week to create 40-man space ahead of the deadline at 8 p.m. ET on Tuesday.
Top-100
16. Mitch Keller
25. Dylan Cease
33. Jesús Sánchez
39. Keibert Ruiz
64. Adonis Medina
67. Franklin Perez
69. Michael Chavis
Outlook: Don't kid yourselves, all of these guys will be protected.
Arizona Diamondbacks (35)
7. Marcus Wilson
11. Taylor Clarke
14. Emilio Vargas
20. Kevin Cron
22. Alex Young
23. Cody Reed
Outlook: The D-backs have the spots open to protect quite a few of these prospects, even if there's a lack of blue-chip names. Clarke is the most Major League-ready of the bunch after tossing 152 innings at Triple-A Reno this season. The same could be said of Cron, who hit .309 with 22 homers and a .921 at the Minors' top level, but he also went unprotected last year and isn't getting any younger as a first baseman who is turning 26 in February. He's more of a Rule 5 option for anyone needing right-handed thump. (Arizona has that on the 40-man already with Paul Goldschmidt and Christian Walker.) Vargas may have pitched his way into a spot with 170 strikeouts in 143 2/3 innings last season, and Wilson has the speed to work now as an outfielder off a Major League bench, so perhaps Arizona will protect him as well even though he's yet to play above Class A Advanced.
Atlanta Braves (36)
20. Huascar Ynoa
21. Patrick Weigel
22. Travis Demeritte
27. Alex Jackson
28. Josh Graham
29. Jacob Webb
Outlook: It was all-hands-on-deck in Atlanta in the second half, so most of the top prospects who could help the big club got added to the 40-man and 25-man during the season. Still, the Braves have a few open spots and aren't in the business of letting go of young talent this easily. Weigel is coming off Tommy John surgery in 2017 but is likely to be protected because a few teams wouldn't mind taking a chance on rehabbing his upper-90s fastball. The most interesting case might be Jackson, the sixth overall pick in the 2014 Draft whom the Braves picked up from the Mariners in a November deal two years ago. Jackson's power potential is real, and he's made some gains as a catcher. But he was a below-average hitter at both Double-A and Triple-A, and there might be enough there for a Rule 5 selection. At the other end of the spectrum, Webb was an 18th-round pick out of an NAIA school in 2014 but worked his way up to being a closer at Gwinnett. He's an arm that should help a big club at some point in 2019, after going unprotected last year.
Baltimore Orioles (40)
6. Dillon Tate
29. Luis Gonzalez
Outlook: If you can believe it, the Orioles' 40-man is already stocked, so it'll take a few moves to clear space for Rule 5 protection. They'll do that for Tate, who they picked up from the Yankees for Zach Britton at the trade deadline. The 24-year-old right-hander can show three above-average pitches, and whether it's as a starter or reliever in the long term, that's the type of stuff Baltimore needs as part of its rebuild. Gonzalez, who was originally signed by Philadelphia in February 2010, is a less likely addition, though he did strike out 85 batters in 70 2/3 innings combined as a reliever at Double-A and Triple-A. Entering 2018, he hadn't pitched above Class A Advanced over his first seven seasons in the Minors.
Boston Red Sox (34)
1. Michael Chavis
7. Darwinzon Hernandez
10. Josh Ockimey
15. Travis Lakins
21. Jhonathan Diaz
23. Roldani Baldwin
27. Roniel Raudes
30. Denyi Reyes
Outlook: The newly crowned champs have some fairly easy decisions here beyond just Chavis. With a plus-plus fastball and above-average slider, Hernandez has a case for possessing the best stuff among Red Sox farmhands. Even if his control woes mean he eventually ends up in a bullpen, his arm is one Boston won't risk losing. Same goes for an actual reliever in Lakins, who arguably could have been called up in the second half after posting a 2.32 ERA with 57 strikeouts and 18 walks in 54 1/3 innings at the top two levels of Boston's farm. Diaz and Reyes were honored as Red Sox Organization All-Stars for their stellar seasons in the lower Minors but without killer stuff or upper-level experience, they might not be Rule 5 bait. (Reyes' stellar control might give him the advantage if there's a close call.) Ockimey might be the most interesting call here. He's coming off a career-best 20 homer season between Double-A and Triple-A, and he gets on base at a solid rate. But the hit tool leaves much to be desired, and he's first-base only defensively. Even if Steve Pearce leaves to free agency, the Sox already have Mitch Moreland and Sam Travis occupying the cold corner. If Boston does protect Ockimey, it'll be for the thunder in his bat from the left side.
Chicago Cubs (40)
8. Justin Steele
17. Trevor Clifton
25. Erling Moreno
28. Jason Vosler
Outlook: Even with a loaded-up 40-man, the Cubs figure to find a spot at least for Steele, who has the potential for two above-average pitches in his fastball and curve after undergoing Tommy John surgery in August 2017. Clifton and Vosler also deserve heavy consideration after putting together respectable seasons at Double-A and Triple-A. Vosler, in particular, continued to show increased power with 23 homers at the two stops. Moreno hasn't pitched above Class A yet, nor has he surpassed 75 innings in a season, despite working as a starter.
Chicago White Sox (35)
3. Dylan Cease
19. Kodi Medeiros
20. Jordan Stephens
22. Seby Zavala
26. Spencer Adams
Outlook: It would've taken a real disaster in 2018 for Cease to evade protection. Instead, he was one of the Minors' best pitchers and should be the first name the South Siders write down in their Rule 5 protection message to the league. Medeiros also seems like a likely add after he was picked up from the Brewers for Joakim Soria over the summer. The Sox will have to figure out if he's going to be a starter or reliever down the road due to his control woes and arm angle, but they didn't acquire him for some other club to determine that. Stephens and Adams both spent considerable time at Triple-A in 2018 and would provide easy Major League depth to the rotation next spring. Then again, Chicago could have given both a look in September, as they did with Michael Kopech, and chose not to. Zavala is a bat-first catcher who floundered at Triple-A over 48 games. He's not the most well-regarded backstop in the system at the upper Minors -- that's Zack Collins -- so he might even be in a backup role if/when he returns to Charlotte. If he isn't protected, he'll get a few looks in the Rule 5 Draft, where teams often seek bench help behind the plate.
Cincinnati Reds (38)
13. Jimmy Herget
22. Michael Beltre
25. Nick Longhi
Outlook: One of the Reds farm's strengths is its youth; at 23, Nick Senzel is the oldest prospect ranked among Cincy's top eight. So there's far less of a roster crunch here. Still, expect Herget to find a spot on the 40-man, thanks to his mid-to-upper-90s fastball and above-average slider that work well out of the bullpen. Beltre's speed and on-base skills could give him a look after a mini breakout in 2018. Longhi went unprotected and unpicked last year and did little to help his case with a .619 OPS at the Minors' two upper levels. He also missed time with a left wrist injury.
Cleveland Indians (35)
7. Bobby Bradley
8. Sam Hentges
21. Oscar Gonzalez
30. Tyler Krieger
Outlook: Bradley's power potential once made him a top 100 prospect, but concerns about his hit tool and defense have dropped him back both overall and with Cleveland. Still, no reason to overthink things. A 22-year-old first baseman who hit 27 homers at Double-A and Triple-A will be protected. After Tommy John surgery, Hentges looked healthy in 2018 and showed enough with two above-average pitches at Class A Advanced Lynchburg to put himself in the driver's seat for a spot. Gonzalez keeps showing solid power and a good arm but played all of 2018 at Class A, while Krieger lacks the standout tools or results that would push for a 40-man spot.
Colorado Rockies (37)
9. Sam Hilliard
10. Ryan Castellani
17. Justin Lawrence
19. Breiling Eusebio
23. Roberto Ramos
25. Brian Mundell
27. Dom Nuñez
Outlook: This is the definition of a roster crunch. If Colorado is just looking to get to 40, those first three prospects would fill out the roster nicely. Hilliard has shown average ability in all five tools and has only helped his stock with a nice AFL campaign. Castellani didn't show the results in his second Double-A season, but with two above-average pitches, the Rockies can't much afford to let him get away so easily. Lawrence is a groundball monster with a plus-plus fastball out of the bullpen to boot. If the organization decides to make even more space, it could be for Nunez's glovework behind the plate or Ramos' power after he hit 32 homers across two levels.
Detroit Tigers (38)
3. Franklin Perez
19. Jose Azocar
24. Tyler Alexander
29. Derek Hill
Outlook: Pay no mind to the fact that Perez pitched only 19 1/3 innings due to a lat strain and a right shoulder injury. Any rebuilding club would love to stash him, and the Tigers will make sure that doesn't happen. The rest are much bigger question marks. Azocar made some improvements offensively after going unprotected in 2017 but was still a below-average hitter in the Florida State League. He'll need his speed and plus-plus arm to push him over here. Alexander has struggled once again at the upper levels and looks more like an organizational arm, though his four-pitch mix and impressive control could be enough to save him for now. The Tigers would have loved if Hill could be more than a speed demon and plus outfielder in center, but the bat is still much too light to provide value. The potential and overall package might still be too enticing for Detroit to see its 2014 first-rounder go anywhere, especially while it revs up a rebuild.
Houston Astros (34)
12. Rogelio Armenteros
15. Garrett Stubbs
17. Riley Ferrell
23. Jonathan Arauz
24. Trent Thornton
Outlook: Honestly, given the roster situation and the prospects involved, it's tough to see how the Astros don't protect all four after they spent most of 2018 with Triple-A Fresno. Armenteros still has a good chance to start and probably should have featured in the Majors at some point this season after fanning 134 in 118 innings. Stubbs won't fill Houston's opening behind the plate as a starter, but after hitting .310 with an .836 OPS while showing a good glove and arm, he's ready to at least be a solid backup. Ferrell might have some control issues, but his fastball and slider should work in a Major League bullpen. Thornton has worked as a starter but moved to the bullpen in the Fall League, where he struck out 20 and walked four in 15 2/3 innings thanks to three above-average pitches. Arauz might have the longest shot after struggling immensely at Class A Advanced (.167 average, .511 OPS in 71 games). The other four would get hard looks elsewhere if left unprotected, but it shouldn't come to that.
Kansas City Royals (37)
11. Josh Staumont
26. Scott Blewett
28. D.J. Burt
29. Foster Griffin
30. Ofreidy Gomez
Outlook: The Royals took Griffin and Blewett in the first and second rounds of the 2014 Draft, respectively, and got Staumont in the second round a year later. Despite that level of investment, it's not a guarantee all three get protected, or selected for that matter. Staumont's 70-grade heater and plus curve have long made scouts salivate, but his severe control issues finally moved him to the bullpen full-time in 2018 as he struck out 103 and walked 52 in 74 1/3 innings at Triple-A. Still, he's got a high relief ceiling and should get added. Blewett and Griffin lack the standout stuff and both posted ERAs north of 4.75 at Double-A this past season. Burt showed speed (32 steals), discipline (59 walks) and versatility (playing four positions) to prove his credentials but had to repeat Class A Advanced to do so.
Los Angeles Angels (38)
8. Jose Suarez
10. Luis Rengifo
15. Leonardo Rivas
18. Luis Pena
28. Joe Gatto
Outlook: The Halos got aggressive with Suarez in his age-20 season, pushing him to Triple-A Salt Lake, where he made 17 starts. There's no doubt he'll get a positive call Tuesday, if not earlier. Rengifo followed a similar path and finished with a .299 average, .851 OPS and 41 steals while playing both middle-infield spots at three different levels. That should be enough to get him on the 40-man. It'd take a couple openings on the roster to fit any of the remaining three, but perhaps Rivas (who ranked second in the Midwest League with 84 walks) has the best chance to make it worth the Angels' while.
Los Angeles Dodgers (38)
2. Keibert Ruiz
10. Yadier Álvarez
13. Edwin Ríos
19. Drew Jackson
21. Matt Beaty
24. Cristian Santana
29. Andrew Sopko
Outlook: This is what the cross-section of a loaded Major League roster and a loaded Minor League system looks like. The Dodgers only have two openings, and one for sure is going to Ruiz. The Dodgers could be willing to depart with Yasmani Grandal because they know Ruiz and Will Smith aren't far behind in the pipeline, and they'll do what they can to keep it that way. Alvarez may have slipped out of top-100 status, but with a plus-plus fastball and good slider, he's still good to let slip by, even if he's more likely a reliever because of control issues at Double-A. If LA does clear up space, Jackson is a plus runner who hit 15 homers and shows good defense at the middle-infield spots with some center field in his profile as well. Rios has been a good hitter everywhere he's played but might have to stick at first base. A sleeper could be Sopko, who really improved his control and finished with a 3.52 ERA, 121 strikeouts and 27 walks in 117 2/3 innings at Class A Advanced and Double-A.
Miami Marlins (35)
2. Monte Harrison
6. Jorge Guzman
9. Isan Díaz
17. Jordan Yamamoto
18. Christopher Torres
26. Brayan Hernandez
30. McKenzie Mills
Outlook: Harrison, Guzman and Diaz were acquired as potential cornerstones of Miami's rebuild last offseason, and while none of the trio is considered a top-100 prospect now, they're still too good individually for the Marlins to leave them to Rule 5 chance. Yamamoto has likely played his way into that role as well, even though he's been somewhat uneven in the Arizona Fall League. That would leave one spot, barring other moves, and out of any club featured here, Miami might have the most interest in keeping at least one spot open for a Rule 5 move (or moves) of its own come December.
Milwaukee Brewers (37)
10. Jake Gatewood
13. Trey Supak
15. Troy Stokes Jr.
17. Cody Ponce
28. Carlos Herrera
Outlook: There are few gimmes here with each of the five ranked prospects lacking standout tools or results that would make a 40-man spot a slam dunk. Of the bunch, Supak likely enjoyed the best 2018, having put up a 2.48 ERA and 1.13 WHIP with 123 strikeout in 137 2/3 innings at Class A Advanced and Double-A. Adding an arm that shows an above-average fastball and curve could be helpful to a club that is willing to get creative with its pitchers, as it showed in the postseason. Gatewood has decent power but is light on the hit tool. Stokes has good speed and power but hit just .233 with 147 strikeouts at Double-A. Ponce showed better results as a reliever than a starter at Double-A but wasn't quite dominant enough out of the bullpen to make him a must-add. Milwaukee's choices Tuesday will be telling about what they value in their prospects as an organization, given the choices it has.
Minnesota Twins (36)
4. Nick Gordon
13. LaMonte Wade Jr
15. Luis Arraez
16. Lewin Diaz
22. Tyler Jay
Outlook: At the end of the 2016 season, Gordon and Jay were the top two prospects in the Twins system, having been taken in the first round in 2014 and 2015, respectively. Since then, each has fallen out of the top 100, but it'd be a surprise if they're not protected. Gordon still provides good defense at either infield spot up the middle, and plenty both in and out of the organization believe in his bat, though he did struggle as a 22-year-old at Triple-A. Jay is a more complicated case, having officially moved to the bullpen full-time last year. After injuries limited him in 2017, the 24-year-old southpaw put up a 4.22 ERA with opponents hitting .310 against him in 59 2/3 innings at Double-A. His fastball and slider still grade as above-average, and there's some hope a dominant reliever is in there somewhere. But this is a tougher call than anyone would have imagined when he went sixth overall four years ago. Outside the big two, Arraez showed a promising hit tool with a .310 average and only 44 strikeouts in 108 games at Class A Advanced and Double-A, while Wade was a fairly well-rounded fourth-outfield type at the upper levels. The Twins aren't wanting for internal options here.
New York Mets (38)
19. Luis Carpio
21. David Thompson
25. Ali Sanchez
27. Patrick Mazeika
Outlook: New management will have its first tough calls Tuesday with this group, even if it's not a particularly inspiring list. Sanchez is the type of glove-first, glove-second, glove-third type of catcher that can be popular on Rule 5 day, and the Mets might protect him for that reason alone. Carpio also relies on his glove to provide value at the middle-infield spots, but he did surprise some with 12 homers at Class A Advanced St. Lucie. Mazeika is also interesting in that he has consistently posted high OBPs since leaving Stetson in 2015, and even when that stat was relatively low at Double-A in 2018 (.328), he still walked more (39) than he struck out. Sanchez is the only real threat to be taken, however, and could end up the only one protected from this group.
New York Yankees (38)
22. Erik Swanson
29. Dermis Garcia
Outlook: Some of the players the Yankees have traded away in recent years have been with a 40-man roster crunch in mind, and that appears again here with only two spots open and perhaps even fewer coming should they try to be big players on the free-agent market. Still, Swanson is a possibility after posting a 3.86 ERA with 78 strikeouts and only 14 walks in 72 1/3 innings at Triple-A last season, numbers that helped him climb into the team's top-30 rankings. His plus fastball and average slider and changeup give him the mix to start and provide depth for the Bronx pipeline. Garcia has some good power potential, even for a corner infielder, but is too far away after completing his first full season in 2018.
Oakland Athletics (34)
9. James Kaprielian
12. Richie Martin
15. Grant Holmes
27. James Naile
30. Skye Bolt
Outlook: Injuries, injuries, injuries. Kaprielian and Holmes would be no-doubters and maybe already on the 40-man if not for injuries -- Tommy John and shoulder problems for the former, right rotator cuff for the latter. When healthy, their stuff is too good to ignore, so it's more likely than not that the A's protect them Tuesday to ensure they're the ones following their returns to the mound. Elsewhere, Martin showed he's more than a quick, solid-fielding shortstop by hitting .300 with an .807 OPS at Double-A in 2018, helping his 40-man chances big-time along the way. Bolt has helped his case too with an interesting mix of power and speed, which he also brought to the Arizona Fall League the last couple weeks. Naile is a groundball machine but one that posted just a 4.71 ERA at Triple-A. He might not have missed enough bats to complete his push to Oakland by Tuesday.
Philadelphia Phillies (34)
3. Adonis Medina
11. Arquimedes Gamboa
12. Daniel Brito
16. Jose Gomez
27. Tom Eshelman
Outlook: Like the Yankees, the Phillies figure to be big players in free agency, so it remains an outside chance that all 40 spots will be filled early next week. Medina will be added no matter what as the club's top pitching prospect not named Sixto Sanchez. Gamboa, Brito and Gomez all might be too light-hitting and too far away to necessitate 40-man protection right now. Gamboa does have plus tools in his speed, arm and glove to lean on to build his case. Eshelman was once a darling to everyone who loved control freaks and was an International League All-Star in 2017 before taking a step back this season, as evidenced by his 5.84 ERA and 1.67 WHIP in 140 1/3 innings. If the Phillies believe they can get him back to pre-2018 levels, they'll protect him. If they leave him open to the Rule 5 Draft, then it'll say plenty about how far he's fallen in the eyes of those closest to him.
Pittsburgh Pirates (37)
1. Mitch Keller
5. Cole Tucker
13. Jason Martin
19. Gage Hinsz
24. Brandon Waddell
28. Domingo Robles
Outlook: The Pirates' list of 40-man protectees have likely had Keller and Tucker written in ink for some time now. From there, it gets sketchy. Martin went unprotected and unpicked last year and was then moved from Houston to Pittsburgh in the Gerrit Cole trade. He dominated at Double-A but fell off at Triple-A, making many wonder which is closer to his actual ability. Waddell posted pedestrian numbers in an extended run at Triple-A, and all three of his pitches are average. There's value in his depth, but his ceiling is limited. Robles only just cracked Class A Advanced at the end of the season and doesn't possess the plus pitch that could possibly play up in a Major League bullpen if a team took a Rule 5 chance on him. Hinsz missed the entire season due to heart surgery. It's possible the Bucs go outside the top 30 to protect players, but don't be surprised if Keller and Tucker are the only names that come up Tuesday.
San Diego Padres (40)
5. Chris Paddack
12. Anderson Espinoza
25. Austin Allen
28. Edward Olivares
29. Pedro Avila
Outlook: On the surface, it looks like the Padres don't have space for more players on the 40-man, but they'll definitely make some space for this year's Starting Pitcher MiLBY winner, a former top-100 prospect returning to health and a catcher who hit .290 with 22 homers at Double-A (i.e., Paddack, Espinoza and Allen, respectively). It goes without saying that most Padres prospects would rank higher elsewhere, but that's especially so with the multi-tooled Olivares and Avila, who has two above-average off-speed pitches in his curve and change. You don't think of rebuilding clubs losing players in the Rule 5 Draft -- especially not one that picked up four players in the 2016 edition.
San Francisco Giants (35)
8. Sandro Fabian
11. Logan Webb
18. Juan De Paula
19. Melvin Adon
23. Jordan Johnson
27. Tyler Herb
28. C.J. Hinojosa
30. Sam Coonrod
Outlook: A big group here, though not as big as the one to follow and none with an extremely high ceiling. Adon has been one of the darlings of the AFL, routinely hitting triple digits while transitioning from starter to reliever. He'll likely be protected with the hope he can move quickly out of the bullpen. De Paula was picked up from the Yankees, and while he's only got one Class A start under his belt, San Francisco likely won't risk letting him be a rental by letting him go unprotected so quickly. Fabian has the potential to be a positive offensive performer in time, but he just posted the lowest wRC+ (56) among California League qualifiers. Webb held his own in his fully healthy return from Tommy John surgery, showing a mid-90s fastball that could be enough to get him on the 40-man. Johnson and Herb posted pedestrian numbers at Triple-A, while Coonrod pitched only 11 2/3 innings in his return from elbow surgery. It won't be easy decisions for new general manager Farhan Zaidi come Tuesday.
Seattle Mariners (33)
5. Braden Bishop
14. Art Warren
20. Ian Miller
23. Anthony Jimenez
24. Luis Liberato
26. Ronald Rosario
27. Chuck Taylor
28. Anthony Misiewicz
29. Darin Gillies
30. Joseph Rosa
Outlook: Jerry Dipoto loves his transactions, and he'll get to make quite a few early next week with a third of his top-30 list eligible for this year's Rule 5 Draft and in need of 40-man protection. Among those firmly in contention are Bishop (an outfielder whose speed and defense could play in the Majors right now), Warren (who possesses a plus-plus fastball out of the bullpen), Miller (who stole 33 bases this season at Double-A), Liberato (a plus runner with a good arm in the outfield and some pop) and Misiewicz (who has a plus curve and held his own in the AFL). It's a long list, but it's not a deep one. No. 18 prospect Rob Whalen is also eligible for the Rule 5 Draft but was outrighted off the 40-man roster in September, making him a non-candidate for this column's purposes.
St. Louis Cardinals (38)
4. Ryan Helsley
11. Max Schrock
13. Génesis Cabrera
14. Junior Fernandez
20. Ramón Urías
23. Wadye Ynfante
Outlook: There'd be some easy calls here, if not for the little space currently open on St. Louis' roster. Helsley is definitely getting added after posting a 1.15 WHIP and striking out 82 in 70 1/3 innings across three levels, and Schrock looked destined to be protected, thanks to his offensive history (even if it did take a step back at Triple-A this season). But Cabrera, who came over from Tampa Bay at the deadline, will get full consideration, and he's even reportedly making a move to the bullpen in winter ball, where his above-average fastball and slider can really work well. Fernandez is all gas, but his own move to relief could push his way to St. Louis. Don't sleep on Urias either after the 24-year-old made a solid impression after signing out of the Mexican League. No matter what, it's likely the Cards make room for more than just two names come Tuesday.
Tampa Bay Rays (40)
4. Jesús Sánchez
17. Joe McCarthy
29. Ian Gibaut
Outlook: The Rays will definitely make space for Sanchez in the hopes that he'll someday feature heavily in the Tampa Bay lineup. McCarthy also showed off good offensive potential by hitting .269/.377/.513 with eight homers at Triple-A but was limited to only 47 games there. His Arizona Fall League was also cut short by a right-hand fracture, so it's a legitimate wonder whether injuries will hurt his 40-man case as well. Gibaut possesses two plus pitches in his fastball and change, was an IL All-Star as a reliever and finished with 76 strikeouts in 56 innings at Triple-A. It'd be a slight upset if all three don't hear good news next week.
Texas Rangers (33)
6. Taylor Hearn
17. Pedro Gonzalez
22. Scott Heineman
30. Edgar Arredondo
Outlook: This number will bump up to 34 when the signing of Jeff Mathis becomes official, but even then, there are more openings here than interesting prospects to fill them. That said, it's certainly possible all four here move to the 40-man. Hearn is a definite addition after striking out 140 batters and showing a plus-plus fastball in 129 innings at Double-A in both the Texas and Pittsburgh systems. Heineman is the closest of the bunch after proving to be a slightly above-average bat at Triple-A while playing three outfield spots. Gonzalez has the higher ceiling with four potential above-average tools, but the 21-year-old only played Class A in 2018, posting an OBP below .300 along the way. Arredondo moved into the top-30 ranks after posting a 3.71 ERA and 1.19 WHIP in 104 1/3 innings at Class A Advanced and Double-A, but he lacks the immediate stuff to push for a Major League spot, making him little threat to go in the Rule 5 Draft.
Toronto Blue Jays (36)
11. Hector Perez
24. Forrest Wall
27. Jordan Romano
Outlook: The Jays certainly have big names in their system, but none of them are here. Perez will definitely be protected after he came over from the Astros in the Roberto Osuna deal, having finished the season at Double-A while showing three above-average pitches in his fastball, slider and curve. Romano went unprotected last year, but after being named an Eastern League end-of-season All-Star, he might be ready for a roster addition this time around. Wall just arrived from the Rockies in the deal for reliever Seunghwan Oh, and his speed (38 steals) could get him into protection territory.
Washington Nationals (35)
13. Telmito Agustin
17. James Bourque
23. Luis Reyes
24. Tomas Alastre
25. José Marmolejos
29. Drew Ward
Outlook: The Nats have a few open spots, but expect only a few of these names to fill them. Agustin likely showed enough with the bat, hitting .302/.368/.454 at Class A Advanced, to justify being the highest-ranked prospect protected this time around. He's primarily a corner outfielder, though, so he'll need to keep that up if he wants to keep his expected spot on the 40-man for long. Bourque put up the dominant numbers (1.70 ERA, 76 strikeouts, .176 average-against in 53 innings at Class A Advanced and Double-A) that a relief prospect needs to get added, not to mention he did so while showing a plus fastball and curve. Reyes and Alastre, on the other hand, looked too far away on the mound, and Marmolejos and Ward are two bat-first position players who likely didn't hit enough to make themselves Rule 5 bait.
Sam Dykstra is a reporter for MiLB.com. Follow and interact with him on Twitter, @SamDykstraMiLB.