Toolshed: Astros' Whitley ready, standing by
Top prospect preparing for potential MLB role after 2019 bumps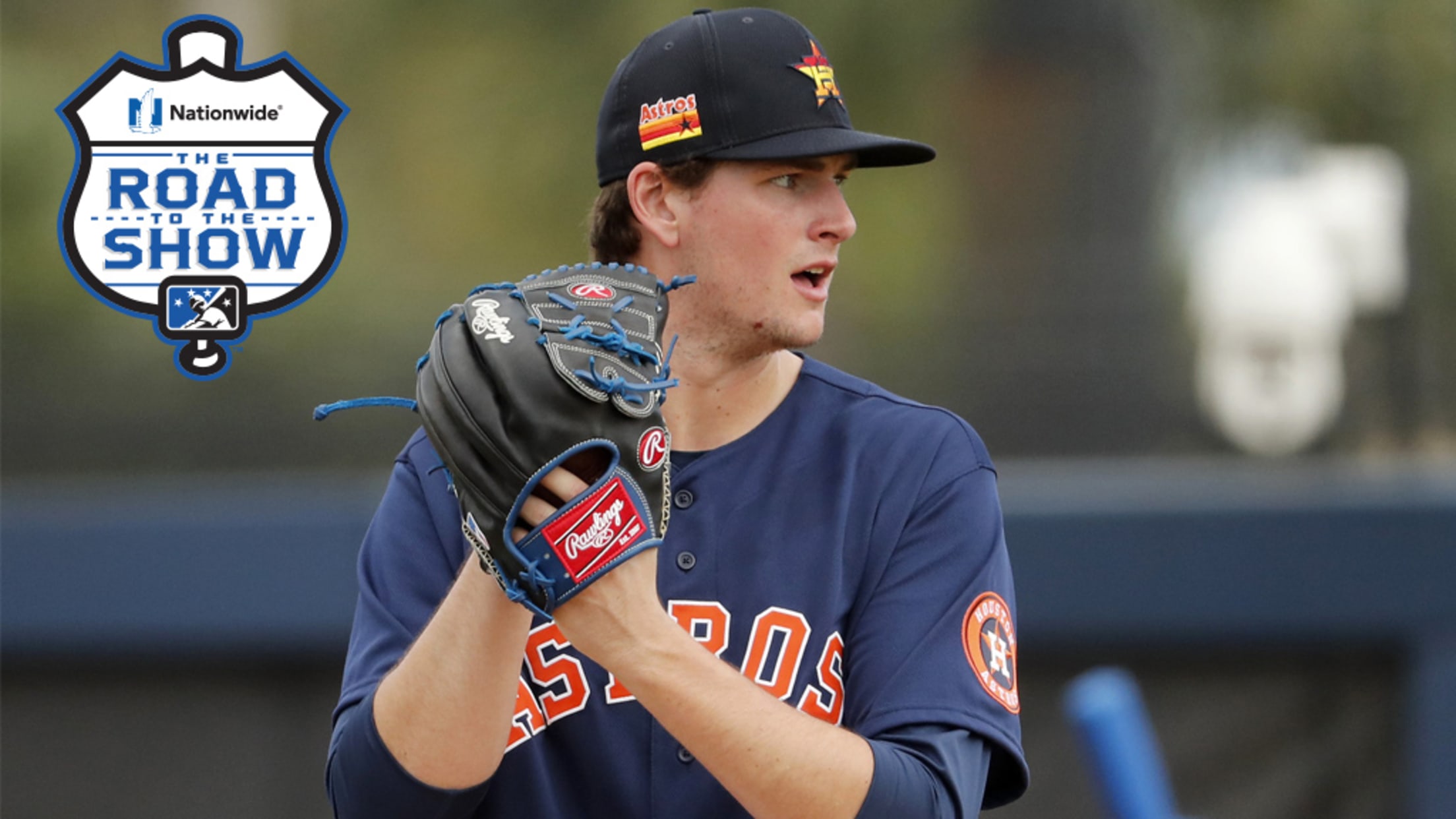 Forrest Whitley made four relief appearances for the Astros in Grapefruit League play this spring. (Jeff Roberson/AP)
Prior to Wednesday, the last time Forrest Whitley stepped on the mound at Houston's Minute Maid Park was March 25, 2019 in a late-spring exhibition game against the Pirates. That three-inning outing was meant to provide the Astros faithful with a promising glimpse of the future. A lot has happened
Prior to Wednesday, the last time Forrest Whitley stepped on the mound at Houston's Minute Maid Park was March 25, 2019 in a late-spring exhibition game against the Pirates. That three-inning outing was meant to provide the Astros faithful with a promising glimpse of the future. A lot has happened since then -- both for the 6-foot-7 right-hander and the world at large.
So when Whitley toed the Major League rubber for the first time in almost 16 months Wednesday for a live batting practice session, his focus was much more on the present. It'll remain there until he's allowed to make his real Major League debut, perhaps as early as this summer.
"In this type of situation where we're normally in the middle of a season post-All-Star break, every ball that I throw, everything that I do, every move that I make, I know is being watched and is important," Whitley said. "It's go time. I treated that [25]-pitch live BP like it was Game 7 of the World Series. I think that's how I should treat everything going forward."
"There's a part of me that tingles when I hear that," said Astros Triple-A pitching coach Drew French, who has been working with Whitley at the club's secondary workout site at the University of Houston. "I know the juice isn't going to be the same [here], but that's a mind-set. That's a challenge to yourself. That's internal. Athletes have to have at least part of them with that drive."
By all indications, Whitley's session against Major League hitters was a successful, if short one. He faced Garrett Stubbs, Myles Straw and Kyle Tucker, using his full assortment of weapons. The Astros' top prospect specifically mentioned he was able to find the zone with his fastball, curveball and slider and that the command of his changeup was where he wanted it to be as well. He was able to end the at-bat against Tucker, in particular, with an outside offering that left the left-handed slugger spinning and corkscrewing in the box.
Here's Whitley getting Tucker to swing and miss pic.twitter.com/5RH7CEHpN4

— Brian McTaggart (@brianmctaggart) July 8, 2020
The Houston brass took close notice.
"That's the best I've seen him," said Astros manager Dusty Baker. "He told me he's been working. I was very impressed with him."
Normally, it would be important to urge caution over any 22-year-old's small outing on the big stage, given his youth and lack of experience. But the delay to the season caused by the coronavirus pandemic and the cancellation of the Minor League season put outings like Whitley's on Wednesday under even a bigger microscope. A bad outing -- caused by a lack of command or loss of the sharpness of his stuff -- could be reason enough for him to head back to the University of Houston or Corpus Christi, where the Astros will move their secondary site later this month. A good one keeps him on the list for a potential in-season callup. Whitley's Game 7 comments underscore that importance before this weird 60-game season even begins.
"I urged them to come over here and throw strikes," Baker said. "This is batting practice for us, but strike practice for them. I was very impressed. I was pleasantly surprised because the other day I was over there, I didn't see the command that I saw today."
"This was absolutely a really big step forward for me, much bigger than the previous steps in the last couple years," Whitley added. "I'm very, very happy with it."
Whitley's and Baker's comments illustrate just how much of a process the 2016 first-rounder has gone through between Minute Maid mound visits.
The 2019 season was meant to mark Whitley's arrival on the Major League scene. He entered the campaign as MLB.com's top right-handed pitching prospect, boasting four plus pitches in his arsenal -- a mid-90s fastball, a curveball, a slider and a change. Having worked at Double-A the previous two seasons, he was assigned to Triple-A Round Rock to begin his third full season, and if he could take the stuff that helped him lead the Arizona Fall League in strikeouts to the Minors' highest level, it wasn't expected to be long before he would have joined Justin Verlander and Gerrit Cole in the 2019 Major League rotation.
That never came to pass. Whitley allowed four earned runs or more in six of his eight Round Rock appearances and only completed five innings once in that span. After being tagged for a season-high seven earned runs over only two innings on May 23, his ERA stood at 12.21. His stuff was good enough to strike out 29 in 24 1/3 frames to that point, but he also walked 14 and allowed nine home runs over the same span. The Astros claimed shoulder issues were partly to blame and put Whitley on the injured list, but the prized righty spent the next two months trying to rework his mechanics to iron out his command issues. Rehab stints in the Rookie-level Gulf Coast League and with Class A Advanced Fayetteville followed, and Whitley ended the season back with Double-A Corpus Christi, where he posted a 5.56 ERA with 36 K's and 19 walks in 22 2/3 innings.
The AFL again provided a much-needed bounceback, both in terms of command and results. Whitley led the prospect-laden circuit in strikeouts once more -- this time fanning 32 in 25 innings -- and also managed to post a 2.88 ERA and a 1.24 WHIP while issuing only nine free passes.
That light at the end of the tunnel gave the organization and the pitcher hope that his future remained bright. They just needed to figure out a way to make the AFL results stick and maybe get Whitley back to what made him such a top prospect in the first place. In the spring, the right-hander worked with French, Major League pitching coach Brent Strom, pitching coordinator Bill Murphy and bullpen coach Joshua Miller to regain his past glory. As a group, they decided to look back at old Whitley video, going as far back as his high-school tapes to see what put him in the best positions back then, only to see things warp over time to bring on the rougher results of 2019.
"One of the [things that worked] was he had an arm action that was kind of a plunge," French said. "It was very similar to Verlander. He had tilt in the shoulders when his hands broke and that morphed into 2019, where everything was flat and parallel to the ground. He didn't look comfortable. He looked stuck. He looked robotic. We wanted him to have freedom. Freedom to move, freedom to be an athlete. That would be the biggest thing going forward.
"Ultimately, getting him to the right place at the right time to maximize his pitch mix because we know the guy is absolutely capable of dominating at the Major League level."
Whitley was still a work in progress over the spring. He made four Grapefruit League appearances as a non-roster invitee with mixed results -- again striking out batters at a solid clip (seven strikeouts in six innings) but also giving up a humbling five earned runs in the small sample.
When Major League Baseball shut down Spring Training in March due to the pandemic, Whitley headed from West Palm Beach, Florida, back home to the San Antonio area with a lot on his mind. His coaches had shown him what had worked in the past, what they hoped he would return to in the future. Meanwhile in the present, he was without game action to prove himself. That forced him into more of a contemplative mode, which he now says he's grateful for in an odd sense.
"I was a fan of it in a backwards way because it gave me an opportunity to have an offseason, go into Spring Training, see how things did and take some time to reflect on that," Whitley said of the summer break. "I was able to reflect off my Spring Training. It wasn't bad, but I was able to tweak things here and there. Now I think I'm in a spot where every time I toe the rubber I have as much confidence as I could possibly have."
One of the biggest tweaks -- his diet. Whitley had previously made it a goal to arrive at Spring Training on the heavier side, hoping the added weight could help make him more durable over the rigors of an entire season. But during his time of contemplation, he also realized he couldn't be as athletic as he needed to be with the additional pounds. His highest weight in camp was 236. When he was measured Wednesday, he was down to 203, thanks to a quarantine diet consisting of a snack in the morning, a big meal in the afternoon, another late-night snack and plenty of hydration.
"Being 30 pounds lighter than I was in Spring Training has definitely allowed me to move my body more effectively and efficiently," Whitley said. "I'm just basically getting my pelvis down the mound a lot quicker than I was the last couple years, so I think that ultimately is leading to a better outcome out of my hand."
Before Whitley could show off what his new physique meant for his time on the mound, he still had Baker doing double-takes in the Minute Maid clubhouse.
"He's looking skinny," said the manager. "I told him that. You got to eat sometimes. You got to eat a little bit."
"Yeah, he was giving me a little bit of [grief] for it, saying I've got no butt," Whitley said. "I'm working on it, man. I understand I look a little thin like a rail right now, but it's all for the better of my career in my opinion and I think there's going to be a lot more benefits from it."
Having gotten Wednesday's live BP out of the way, Whitley will be back on a usual progression back at the University of Houston campus, according to French. He's scheduled for a bullpen session Friday and then will face batters again two or three days after that, extending out to two innings or 35 to 40 pitches. Even if he's not doing those workouts with the big club, Whitley's appearances will continue to be monitored closely to see whether he can keep this newfound command rolling over longer stints. Plus, Baker, Strom and general manager James Click have already made appearances to see members of the 60-man player pool at the secondary site. Even if the University of Houston features a turf field that's a far cry from the top level, Major League eyes will still be around.
"If you can't get yourself motivated around the Major League manager, the Major League pitching coach and the general manager," said French, "then you probably need to be somewhere else."
For now, Whitley has ticked all the right boxes with the right people. As things stand, the Astros have two rotation stalwarts in Verlander and Zack Greinke. Lance McCullers Jr. seems prepared to return healthy and claim the third spot, and Jose Urquidy, Josh James, Bryan Abreu, Austin Pruitt and Framber Valdez are just some of the others expected to compete for the final two spots. (Urquidy and James have yet to officially report to camp.) That might seem like a loaded group for a club many expect to claim another AL West title, but a commanding Whitley with his top-notch arsenal could be tough to keep away, if these changes do click in for good.
"I was impressed with his focus and his concentration," Baker said. "I talked to him the other day. He really wants to make this team sooner rather than later. Who knows the way things are going in this short season, so we'll see."
Whitley's place in the pecking order will be determined by every turn he takes on the mound -- in a bullpen, in a live BP or even in an actual Major League game. To him, they're all Game 7.
"Everything I've gone through for the last four or five years and the entirety of my professional career has definitely shaped somebody I wouldn't have envisioned back in 2015, 2016," he said. "I think it's for the better, and it's still getting better. I'm really happy with where I'm at mentally, physically, and I just hope to keep that going."
Sam Dykstra is a reporter for MiLB.com. Follow and interact with him on Twitter, @SamDykstraMiLB.