Toolshed: Mets' Allan back in Brooklyn
Righty returns to MCU Park one year after playoff perfection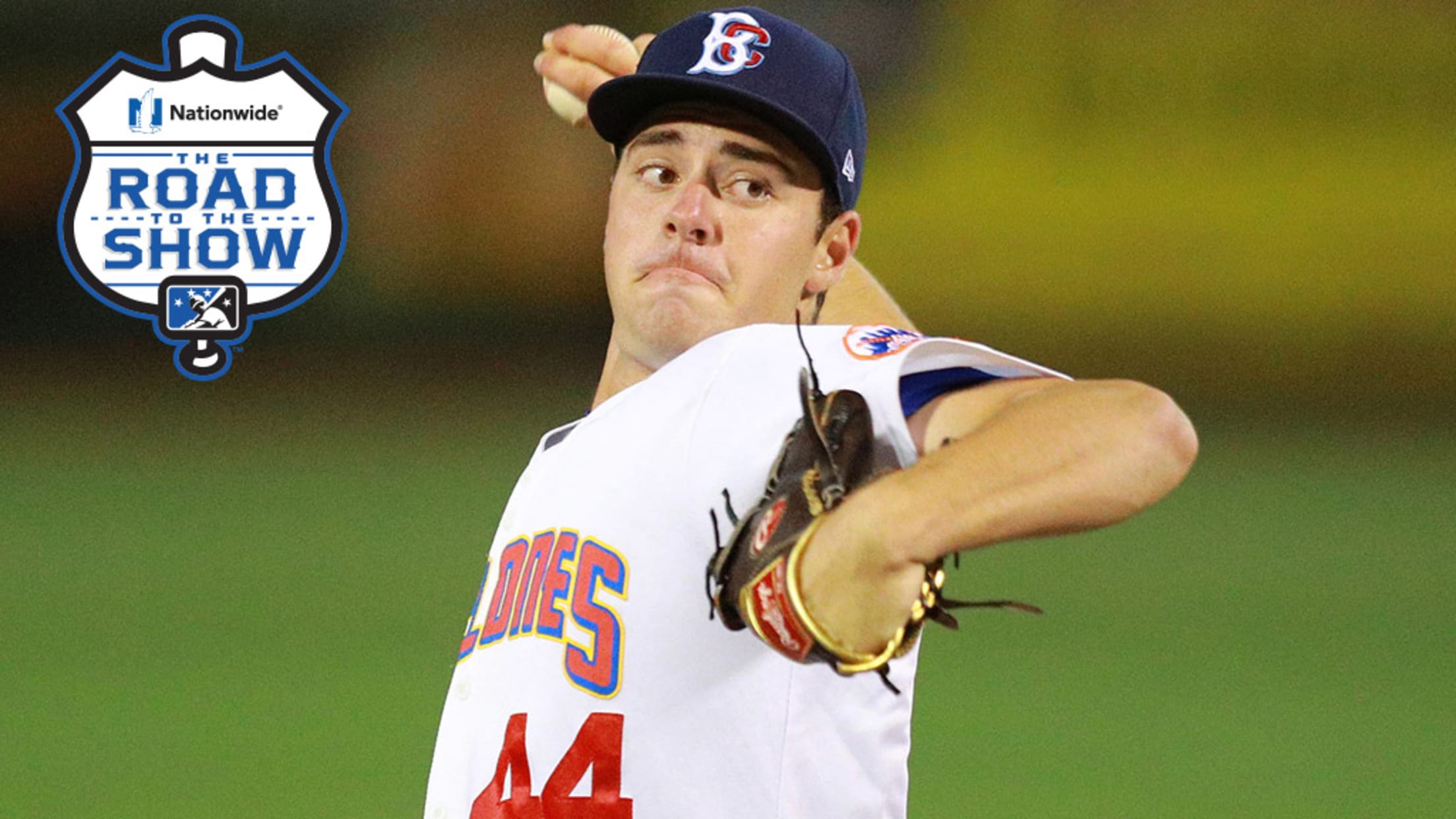 Matthew Allan retired all 15 batters he faced during the 2019 New York-Penn League postseason. (Gordon Donovan/MiLB.com)
Maybe he hasn't been around long enough to settle a debate on whether Di Fara or L&B Spumoni Gardens serves the best pizza. He may not have yet developed his own power ranking on each of the borough's neighborhoods. Heck, because of pandemic-related closures, he hasn't even gotten to ride
Maybe he hasn't been around long enough to settle a debate on whether Di Fara or L&B Spumoni Gardens serves the best pizza. He may not have yet developed his own power ranking on each of the borough's neighborhoods. Heck, because of pandemic-related closures, he hasn't even gotten to ride Coney Island's Wonder Wheel or Cyclone this summer.
But every day at the alternate site at MCU Park, Mets No. 5 prospect Matthew Allan gets to punch holes in his Brooklyn card. Those holes of experience continue along the way back to the team hotel on the Belt Parkway and the BQE.
"I definitely was a little bit more used to the traffic this time around," Allan said. "The biggest thing is I'm a little bit more familiar and comfortable with the pace of the city."
"This time around" is important in this context because this isn't the right-hander's first trip to the Big Apple and Kings County, in particular. In gaining familiarity in 2019 and building on that this year, Allan is getting ever closer to that elusive title of full-on New Yorker.
Mid-September in Brooklyn already signals a special time in the 2019 third-rounder's very young professional career. After signing the Florida high school pitcher for $2.5 million in a bit of an early-round coup, the Mets assigned Allan to the Rookie-level Gulf Coast League out of the chute, allowing him to make five appearances on the stateside complex circuit. The then-18-year-old, who boasts two plus pitches in his low- to mid-90s fastball and impressive curve, allowed only one earned run and struck out 11 over 8 1/3 innings -- showing both the results and stuff to give the organization the confidence he could handle a move to Class A Short Season Brooklyn in time for the New York-Penn League playoffs.
Allan suffered through a humbling start in his Cyclones debut (two earned runs on five hits in two innings) and was moved to the Brooklyn bullpen for the playoff series against Hudson Valley and Lowell. He was, in a word, perfect in the role. Allan retired all 15 batters he faced that postseason, including the nine in the Championship Series clincher against the Spinners on Sept. 10 at MCU Park. The 6-foot-3 right-hander took the ball in the midst of a 2-2 game and held the score there in the fourth, fifth and sixth frames, allowing Brooklyn to claim a win late after RBIs by Antoine Duplantis and Yoel Romero in the seventh. He threw 24 pitches, 20 for strikes. Four pitches from pure perfection.
"Honestly, I think the first thing I remember was I was being really hit-or-miss in the bullpen," Allan said of the game that locked in Brooklyn's first outright league title in its history. "I do remember joking with a couple of my teammates that I was just kind of all over the place in the bullpen and then seemed to just kind of start spawning up in the game. But I mean, my team, they were working the whole night. They were busting their tail the whole night to put up runs against a very, very talented Lowell team. And so for me, it felt like it was my responsibility. ... . I wanted to take the torch and do my job, do the job that I was set out to do and pass it on to the next guy. I think that's why we were so successful in the playoffs."
It was the second championship of the 2019 calendar year for Allan, who helped Seminole High School capture a Class 9A state title in the spring. (Perhaps playing to a theme, he was perfect then as well with a perfect game as the Seminole starter in the district semis.) But to start a professional career with zeros across the board on his playoff resume and a ring to boot, that brought a slightly different feeling, one the hurler has carried with him in his return to Brooklyn as a member of the Mets' 60-man player pool.
"For me, especially coming back, it's brought so many memories," Allan said. "But it's also brought a lot of confidence because I do remember my last outing here. I do remember what it felt like getting all nine guys out. I do remember winning the championship, all really positive things. And so I try to take that, and every start, bring that positive and competitive mind-set, just like I did here. Just like how I thought, I'm going to pass the torch to the next guy. Even though there's no fans in the stands, and it's a little bit of a different atmosphere. I still take the same competitiveness, the same positivity and swagger and everything like I did then."
Allan's addition to the player pool was a late one, relatively speaking, coming on Aug. 15.
The right-hander was in the midst of his first Spring Training when things shut down in mid-March, forcing him to head home to the Orlando area from Port St. Lucie. He spent the early period throwing a few times a week before, in consultation with Mets staff, started upping that slowly to include bullpen work. A few weeks before New York was prepared to get Summer Camp going and select an initial version of the 60-man, Allan used connections to get in touch with catcher and fellow Mets Minor Leaguer Patrick Mazeika, who was working out at his alma mater Stetson with another famous alum: Jacob deGrom. The main attraction of the workouts was facing actual batters in live BP sessions, considering Allan had been spending part of his days throwing to his brother in the street. But like anyone trying to make his way to Queens, Allan couldn't help but take notes of everything he saw from the two-time Cy Young winner.
"Definitely noticed the focus and intent that he takes towards everything that he does," Allan said of deGrom. "In catch play, you can see it when he hits his guy in the chest. When he goes into his bullpen, he's trying to locate his pitches. He's trying to get himself into that competitive mind-set as best as he can. I think for me, it was just incredible to see how much how much he focus he has going into it. He doesn't have to be throwing 100 miles an hour in his bullpen. But he's focusing on hitting his spots, executing his pitches. And for me, that's something that I'm continually learning now. Every time that you play catch, every time you step on the mound, you don't have to be throwing as hard as you possibly can. You can still get a lot of really positive things out of it while cruising at 70 percent, if your focus is 100 percent."
Allan carried those lessons into July and August, even as others in baseball got going at Major League parks or alternate sites. The organization originally told him it planned on going veteran-heavy in its player pool to make sure those working out of Brooklyn were the ones most ready to get the call, if needed, in the shortened 60-game season. That tact changed on Aug. 15, when the Mets officially added Allan to the player pool. He wasn't alone that week. No. 2 prospect Francisco Alvarez was added the same day. Top prospect Ronny Mauricio came one day later. On Aug. 27, fourth-ranked Brett Baty received his summons to Brooklyn. Within two weeks, four of the club's five top prospects were at Coney Island, and the fifth of that group in Andrés Giménez was already on the Major League roster.
All of a sudden, MCU Park -- a Minor League park in normal times -- took on more player-development flavor.
With no Minor League season, the topic of player development has been a difficult subject in 2020, even for those lucky enough to get in reps at the alternate sites. Minor League games have been replaced by what, from the outside, can look like monotonous routines -- facing the same hitters or pitchers in the same ballpark over and over until the season is over. Allan, however, contends that being thrown into the alternate site may have pressed the fast-forward button on his development. At a time when he would have likely started his first full season at Class A Columbia and may have finished it at Class A Advanced St. Lucie had all gone well, he's spending his days in 2020 facing hitters with Double-A and Triple-A experience. Even said, monotony plays a role. Under the Mets system, Allan, who has been up to four "innings" in recent workouts, only faces a lineup consisting of four or five hitters who turn over constantly. Instead of facing a Greenville hitter for the second time this month, he's facing a fellow Mets batter for maybe the fourth time in a day or even eighth time in a week.
"If I throw him an 0-0 changeup for a ball, that still can be effective, because he knew that I throw three fastballs the previous three at bats," Allan said of his thought process. "And so having that ability to adjust, I think it really is just going to be so helpful. I would normally face the guy only two times in six innings or whatever it is. Now I'm facing this guy four times in four innings. It really gets you to think outside the box. You have to be creative, but it also gets you to make pitches. You can't leave fastballs over the plate. Even the mistakes are lessons because they're going to hit the mistakes harder and farther."
In that way, perhaps the biggest development of Allan's return to Brooklyn has been the evolution of his changeup. While evaluators believed the pitch could have solid potential during Allan's high-school and early pro days, it was clearly his third-best offering, well behind the fastball and breaking ball. By forcing himself to get more creative with his pitches at the alternate site, Allan believes his changeup has taken off to the point at which he's as confident in it as his other two offerings. What used to be a pitch he threw in the high-80s or low-90s -- a "slow fastball" he called it -- now has much better separation at about 10 to 12 mph off his heater. Beyond velocity, he's also developed the pitch so it breaks much more sharply and vertically to the point at which it's more difficult for even veteran hitters to pick it up out of his hand.
"The more that it blends with your fastball, the higher chance they have of seeing that, 'Oh, wait, this isn't his fastball, let's play back a little bit and let's put a good swing on it,'" he said. "If you can have it look like your fastball for as long as possible and then have it drop off the table, that's kind of what you're looking for. So I think all of that together has really, really been helpful."
Allan using a developed changeup against Triple-A hitters is a new sight in prospectdom. Allan dominating on a New York City mound very much is not. Not after last year. Not after this time at the alternate site. That latest work has been behind closed doors, however. Someday soon, the rest of New York could get used to seeing a pitcher who's already getting quite comfortable in the Big Apple.
"I got off the flight and I was going to my hotel to quarantine here in Brooklyn and I went past Citi Field," Allan said. "And it's like, you know what? You're that much closer now. You're closer than you were in quarantine [in Florida] and Spring Training. Closer than you were in Brooklyn the first time and trickle all the way down to high school and all that. For me, it just builds more of a hunger, builds more of a desire to continue to work and see my hard work pay off."
Sam Dykstra is a reporter for MiLB.com. Follow and interact with him on Twitter, @SamDykstraMiLB.