Toolshed: Recent noteworthy EL seasons
Guerrero's .400 chase, several Reading sluggers stood out in 2010s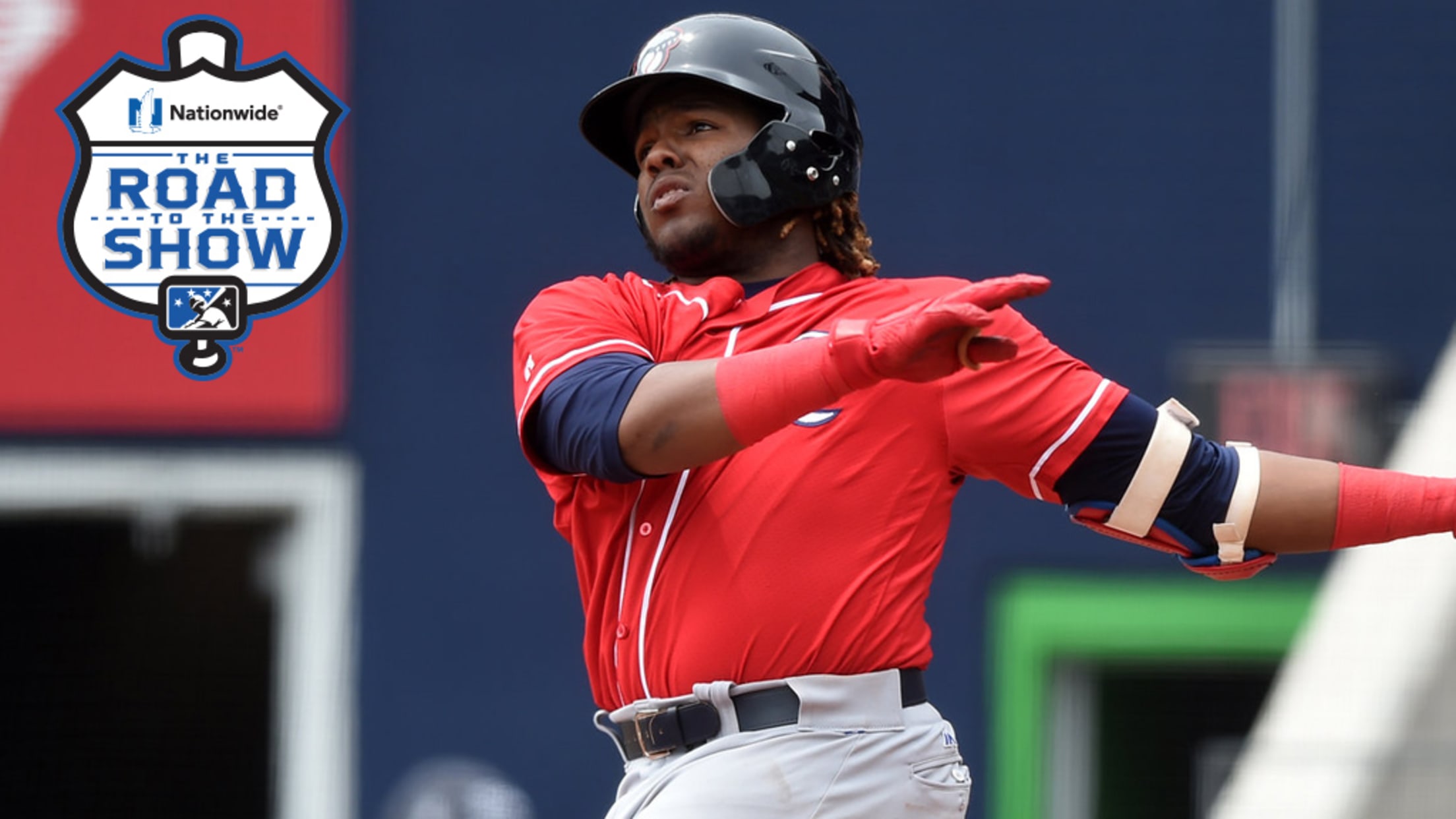 Vladimir Guerrero Jr. was the only Eastern League batter in the 2010s to get more than 50 plate appearances and bat at least .400. (Kevin Pataky/MiLB.com)
This space started honoring the short-season leagues after their respective campaigns were delayed in June. Now following the cancellation of all Minor League Baseball in 2020, we're turning it into an appreciation of the full-season circuits as well. So Toolshed is revisiting the 10 most notable individual seasons put together
This space started honoring the short-season leagues after their respective campaigns were delayed in June. Now following the cancellation of all Minor League Baseball in 2020, we're turning it into an appreciation of the full-season circuits as well.
So Toolshed is revisiting the 10 most notable individual seasons put together across the 10 Triple-A, Double-A, Class A Advanced and Class A leagues from the last decade (2010-19). Previous editions covered the New York-Penn League, Northwest League, Appalachian League, Pioneer League, International League and Pacific Coast League. This column focuses on the Double-A Eastern League.
10. Domonic Brown, Reading, 2010: Let's start with a cautionary tale. Brown opened the decade as one of the most promising prospects in baseball, and his reputation only grew based on what he was able to do in the Eastern League back in 2010. At age 22, the right-handed slugger put up a .318/.391/.602 line with 15 homers and 12 stolen bases over 65 games with the R-Phils, making him a real contender for a 30-30 season had he been with Reading all season. Instead, he got an appropriate bump to Triple-A Lehigh Valley on June 25, leaving some to wonder what he could have done in a longer stretch. As it stood, Brown's .602 slugging percentage ranked seventh among the 1,124 players with at least 250 EL plate appearances in a single season during the 2010s, and his .993 OPS placed eighth. Even though Brown played in a hitter-friendly environment in Reading -- and he won't be the last slugger from there on this list -- his road splits (.294/.361/.565) showed he enjoyed more than home cooking. After this performance, Brown became a consensus top-five prospect going into 2011, the year of his Major League debut. Unfortunately, he never fully clicked at the top level. Brown was a National League All-Star in 2013 but didn't post an OPS above .725 in any of his other five seasons with the Phils. He played in the Mexican League in 2019 after getting looks in the Blue Jays and Rockies systems.
9. Trey Mancini, Bowie, 2015: Before the unfortunate colon cancer diagnosis that has kept him out of baseball in 2020, Mancini was the face of the Orioles. The corner outfielder had been a solid hitter since his official rookie year in 2017 and established himself as a Major League threat with a 35-homer campaign last year. So it's funny to look back and remember a time when he was simply a 2013 senior sign out of Notre Dame trying to find his place in the Baltimore system. He truly broke through during the 2015 season. After opening up with Class A Advanced Frederick, Mancini won the Eastern League batting title with a .359 average and also led the circuit with a .586 slugging percentage over 84 games with the Baysox. His 182 hits between both levels led the entire Minors as well, and his 21 home runs were the most by an Orioles farmhand. As such, Mancini climbed from No. 23 in the Baltimore prospect ranks at the start of the 2015 season to No. 12 by its end, and in retrospect, he beat even those heightened expectations.
8. Matt Manning, Erie, 2019: The headline of Erie's season last year was the talent the club boasted on the mound: Casey Mize, Tarik Skubal, Alex Faedo among others. None of them were as successful for as long at the Double-A level as Manning, who was named the EL Pitcher of the Year. MLB.com's No. 24 overall prospect finished with a 2.56 ERA, an 0.98 WHIP and 148 strikeouts over 133 2/3 innings; each of those first three stats stood among the EL's top three qualifiers in 2019. Manning's 2.53 FIP was not only best last season, but it also ranked second among 280 league qualifiers for the entire decade. The 6-foot-6 right-hander might have gotten the bump to Triple-A Toledo at some point in 2019 in another system, but the rebuilding Tigers took a slower road with their second-best pitching prospect, allowing Manning to put up one of the EL's more dominant pitching performances of the decade. Manning remains in line for a potential 2020 debut as the Tigers try to figure out their rotation of the future.
7. Brad Peacock, Harrisburg, 2011: All you need to know about what Peacock -- a 41st-round pick in 2006 -- achieved in his second season in the Eastern League is that he wasn't even a top-10 Nationals prospect coming into 2011 and he entered the next season as the No. 75 overall prospect. OK, that's not all you need to know. It also helps to know that the right-hander struck out 129 batters in 98 2/3 innings while posting a crazy-low 2.01 ERA, an 0.86 WHIP and a .177 average against. The latter two numbers were best among Eastern League pitchers with at least 90 innings in a single season during the 2010s, as was his 34.3 percent K rate. In fact, he was the only hurler in that category to fan more than 30 percent of the batters he faced. Peacock was named the EL Pitcher of the Year despite getting promoted on July 14, and he carried that dominance to a September Major League debut. Peacock, who is currently sidelined with shoulder soreness, has developed into a veteran swingman for the Astros and won a World Series ring with the club in 2017.
6. Mookie Betts, Portland, 2014: Betts, a 2011 fifth-rounder out of a Tennessee high school, broke out in 2013. He solidified that position in 2014. Ranked as the No. 62 overall prospect entering that season, Betts did not disappoint in his move to Portland, showing off an impressive hit tool with good speed and improving power. He batted .355 and produced a .443 OBP and .551 slugging percentage over his 54 games with the Sea Dogs. That average still stands as Betts' highest with a full-season club, just beating the .346 he put up for the Red Sox in 2018. It certainly helped that he showed off incredible strike-zone discipline. His rate of 1.8 walks per strikeouts was the highest among Eastern Leaguers with at least 250 plate appearances in the 2010s. As mentioned in the IL list, Portland was also where Betts first got professional looks in the outfield as he made the transition from second base, sowing the seeds that led to four Gold Gloves in Boston.
5. Pete Alonso, Binghamton, 2018: Forget what you know of Alonso now, which is to say erase last year's NL Rookie of the Year honors and his rookie home run record. Go back two years instead and try to remember the right-handed slugger's status going into 2018. Alonso was a Mets' 2016 second-round pick out of the University of Florida, but because of a broken hand in 2017, he had yet to establish himself as a capable slugger for a full season. (As a right-handed-hitting and -fielding first baseman, a lot of his prospect stock was tied up in his ability to show power for an extended period of time.) That changed quickly with the Rumble Ponies. Alonso hit .408/.505/.776 with seven homers in 21 games in April 2018. That was his hottest stretch by far, but he still finished with a .314/.440/.573 line over 65 games with Binghamton before getting a well-earned callup to Triple-A Las Vegas on June 16. He belted 15 long balls over that span en route to his 36 total by season's end and the Joe Bauman Home Run Award as the Minor League leader. Alonso was one of six Eastern Leaguers to post at least a 1.000 OPS over a minimum of 250 plate appearances, and of the half-dozen, he's easily had the best Major League career so far, helping him in these rankings.
4. Darin Ruf, Reading, 2012: If this was "Recent noteworthy EL months," Ruf would be in the No. 1 spot with a bullet. The right-handed slugger lofted 20 homers over 31 games in August 2012 alone. He also produced a .371/.451/.931 line in the season's final full month and had more extra-base hits (25) than strikeouts (24). Those 20 dingers pushed him to the Minor League lead, and like a few others on this list, his 38 homers helped him capture the 2012 Joe Bauman Home Run Award, narrowly beating out Wil Myers' 37. Ruf's tally tied him with Rhys Hoskins (who's coming up on this list) for the second-highest in the Eastern League in the decade, and it also helped push him to the Majors for his debut on Sept. 14, 2012. His 180 wRC+ stood the rest of the way as the highest mark by an Eastern League qualifier in the 2010s. Ruf appeared in parts of the next four seasons for the Phillies, but never caught on for good. He took his talents to South Korea playing for the Samsung Lions in the KBO in 2017-19 before signing with the Giants this offseason and making their 30-man roster to begin the shortened 2020 campaign.
3. Matthew Boyd, New Hampshire, 2015: Right now, Boyd is about as dependable a starting pitcher as the Tigers can claim in their Major League rotation. In 2015, he was as dominant a starter as the Eastern League saw in the entire decade of the 2010s. Seriously, Boyd made 12 starts for New Hampshire and eventually led EL starters (minimum 70 innings) with a 1.10 ERA, 0.77 WHIP and .153 average-against. Boyd struck out 70 batters and walked only 18 over 73 2/3 innings and thrived on generating a ton of soft contact. Even though most of it came through the air, he allowed only three homers in his time with the Fisher Cats. Boyd moved up to Triple-A Buffalo in mid-June, made his Major League debut on June 27 and was traded to the Tigers a month later in the deal that sent David Price to Toronto.
2. Dylan Cozens/Rhys Hoskins, Reading, 2016: Sure, this is cheating a little bit. The whole point of this column is to point out individual seasons. But these two Fightin Phils sluggers were basically joined at the hip for the duration of the 2016 season, and pairing them together allows us to sneak another name into the rankings. Cozens and Hoskins formed a two-man Joe Bauman Home Run Award race as teammates four years ago, and while it's been Hoskins who's enjoyed the more notable career since, it was Cozens who actually came out on top with 40 long balls to Hoskins' 38. For context, no one else in the Eastern League hit more than 26 that season, and Cozens' 40 were one shy of the EL record of 41 set by Ken Strong (1930) and Rick Lancelotti (1979). That said, Hoskins may have been the better overall hitter with a higher average, OBP and OPS and significantly lower strikeout rate. Reading's hitter-friendly park at FirstEnergy Stadium definitely played a role in the slugfest. Twenty-nine of Cozens' 40 taters came at home, where he slugged .744 compared to .441 on the road, and Hoskins clubbed 25 of his 38 in Reading as well. Even so, there were 10 Reading teams to play in similar conditions in the decade, and including Ruf's 2012 squad, none of those featured as powerful a duo as Cozens and Hoskins.
1. Vladimir Guerrero Jr., New Hampshire, 2018: Come on. Like there could be anyone else in the top spot. Guerrero batted .402 over 266 plate appearances two seasons ago, setting off a race to become the first qualified Minors' .400 hitter since Aaron Pointer in 1967. It, of course, didn't happen. (That was covered in the International League version of this column.) But after Guerrero moved up to Triple-A Buffalo on July 31, there was still a lot of hope because of what he accomplished with the Fisher Cats. His .402 average was the highest by an EL hitter in the decade (minimum 250 plate appearances), trouncing Matt Rizzotti (.361) in second from 2010 with Reading. His .671 slugging percentage, 1.120 OPS and 203 wRC+ also topped the league in the 2010s, and his .449 OBP placed second. The right-handed slugger crushed 14 homers in 61 games for New Hampshire -- including one that landed at the hotel just outside Northeast Delta Dental Stadium -- and struck out only 27 times in the same span. All of this came when he was just 19 years old. In fact, only three players got at least 250 plate appearances in the Eastern League at that age: Guerrero, Manny Machado (2012) and Luis Garcia (2019). The other two weren't nearly as dominant as Guerrero. Then again, no one in the Eastern League in the 2010s, regardless of age, was either.
Sam Dykstra is a reporter for MiLB.com. Follow and interact with him on Twitter, @SamDykstraMiLB.