Toolshed: Recent noteworthy FSL seasons
Isabel's homer record, Moore's big K year stood out in 2010s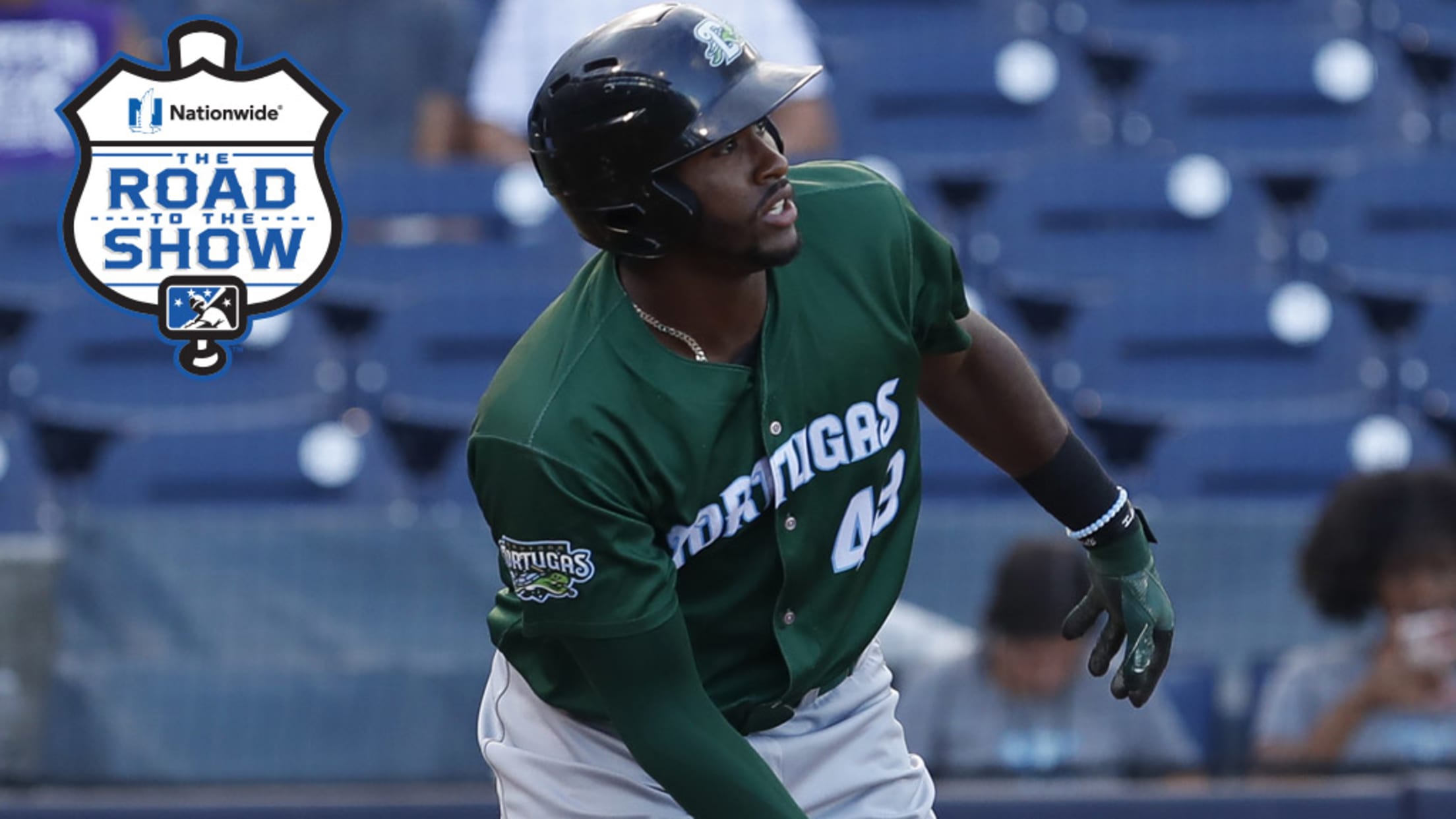 Ibandel Isabel's 35 homers were nine more than any other Florida State Leaguer hit in a single season last decade. (Mark LoMoglio/Tampa Tarpons)
This space started honoring the short-season leagues after their respective campaigns were delayed in June. Now, following the cancellation of all Minor League Baseball in 2020, we're turning it into an appreciation of the full-season circuits as well. So Toolshed is revisiting the 10 most notable individual seasons put together
This space started honoring the short-season leagues after their respective campaigns were delayed in June. Now, following the cancellation of all Minor League Baseball in 2020, we're turning it into an appreciation of the full-season circuits as well.
So Toolshed is revisiting the 10 most notable individual seasons put together across the 10 Triple-A, Double-A, Class A Advanced and Class A leagues from the last decade (2010-19). Previous editions covered the New York-Penn League, Northwest League, Appalachian League, Pioneer League, International League, Pacific Coast League, Eastern League, Southern League, Texas League, California League and Carolina League. This column focuses on the Class A Advanced Florida State League.
10. Vladimir Guerrero Jr., Dunedin, 2017/Wander Franco, Charlotte, 2019: Cheating, schmeating. The two best 18-year-olds to sweep through the FSL deserve spots on this list, and they might as well share one. Guerrero and Franco are two of three 18-year-olds to get 200 plate appearances on the Class A Advanced circuit in the last decade and both were well above-average hitters, despite their youth. Guerrero batted .333/.450/.494 in 48 games, which resulted in a 179 wRC+ that would look good for any hitter anywhere at any age. Franco's numbers were a little lower overall (.339/.408/.464, 157 wRC+) in 52 games for the Stone Crabs, but the switch-hitting shortstop deserves credit for putting up those numbers while striking out half the time Guerrero did (6.7 percent vs. 13.4 percent). These performances, both of which followed midseason promotions from Class A clubs, convinced evaluators that both were top-three overall prospects. Guerrero entered 2018 as MLB Pipeline's No. 3 overall prospect behind only Shohei Ohtani and Ronald Acuña Jr., while Franco went into this year as the game's top Minor League talent. The FSL can be a real test for hitters, and those who pass the test at such a young age are rewarded appropriately.
9. Christin Stewart, Lakeland, 2016: Stewart was the standout position player prospect in the Tigers system during its down period in the middle of the decade and the start to his first full season with Lakeland was a big reason. The left-handed slugger posted a .264/.403/.534 line in 104 games for the Flying Tigers. That equated to a .936 OPS and a 174 wRC+, both of which were tops among FSL qualifiers in the 2010s. He also led the league that season with 22 homers and ranked second with 74 walks, despite moving up to Double-A Erie at the end of July. In fact, Stewart was the only FSL hitter to collect at least 20 homers and 70 walks in a season over the last decade. The 2015 first-rounder's power-and-patience combo hasn't quite carried to the Majors, where he has a .229/.304/.383 line in three seasons.
8. Christian Yelich, Jupiter, 2012: Then in the Marlins system, the 2010 23rd overall pick already had his bonafides established coming into the 2012 campaign as MLB Pipeline's No. 35 overall prospect. He kicked that into a higher gear with his FSL performance. The left-handed slugger hit .330/.404/.519 with 12 homers and 20 stolen bases in 106 games with Jupiter, making him one of only two qualifiers to produce a .300/.400/.500 slash line in the circuit last decade (Brandon Lowe was the other). Yelich could have jumped to Double-A at age 20 based on those numbers, if not for a June concussion that held him back. Instead, the future NL MVP was able to show off the hit, power and run tools that would make him one of the game's most exciting talents. Indeed, MLB Pipeline moved him up to the No. 13 spot ahead of the 2013 season, the last time he was ranked as a prospect.
7. José Fernández, Jupiter, 2012: A moment to remember the good times. Fernández arrived on Jupiter's roster in late June 2012, coming off a strong start to his first full season at Class A Greensboro (1.59 ERA, 99 strikeouts over 79 innings). Considering the right-hander was only 19, it would have been reasonable to assume there would be some bumps at the higher level, even in a pitchers' league like the FSL. There were some early bumps, with Fernández allowing seven earned runs in his first two starts, but he didn't give up more than two earned runs in any of his nine remaining outings with the Hammerheads. The Cuba native finished with a 1.96 ERA and a 1.00 WHIP with 59 strikeouts and 17 walks over 55 innings on the circuit, numbers that helped him capture the 2012 MiLBY as Starting Pitcher of the Year. What solidifies his place on this list is the fact that Fernández dominated so well at Class A Advanced that the Marlins deemed him ready for the Majors right from the get-go the following season. The aggression paid off with the 2013 NL Rookie of the Year award, and Fernández remained on track to be one of the Majors' best starting pitchers when he died tragically in September 2016.
6. Nick Castellanos, Lakeland, 2012: Only one Florida State Leaguer hit above .400 and got at least 200 plate appearances in a season last decade. No surprise, given how difficult it is to hit .400 anywhere. It wasn't Guerrero or Franco. It was Castellanos, who produced a .405 average in 55 games for Lakeland in 2012 before getting bumped to Double-A Erie in June. Never mind .400, no other FSL hitter to receive 200 plate appearances batted above .362 during the 2010s. Castellanos ranked second among that group with a .461 OBP and third with a 1.014 OPS. (It's worth noting he was the beneficiary of a .486 BABIP, meaning almost half of the balls he put in play fell in for hits.) Ranked as the No. 51 overall prospect heading into 2012, the right-handed slugger always had believers in his bat. Like today, there were questions about his defense when he was coming up as a third baseman. However, this season in the FSL convinced evaluators his bat provided plenty of value, and he climbed to the No. 21 overall spot going into 2013. It took some time, but Castellanos has played up to that promise the past two seasons -- as his four-year, $64-million deal with the Reds attests.
5. Miguel Sanó, Fort Myers, 2013: Only one FSL batter slugged above .600 over 200 plate appearances in the 2010s. Only one FSL batter had an wRC+ above 200 over 200 plate appearances in the 2010s. It shouldn't be a terrible surprise that the corresponding Venn diagram is entirely Sanó. The Twins corner infielder was known as a big bopper going into the 2013 season, but he took that a new level with the Miracle by collecting 33 extra-base hits (including 16 homers), slugging .655 and finishing with a 203 wRC+ in 56 games in the FSL prior to a mid-June promotion. He also batted .330 and posted a .424 OBP and a 1.079 OPS over that span. That last statistic was tops in the league during the decade among players with 200 plate appearances. Sanó entered the 2014 season as the No. 4 overall prospect because of the first half he put up in Fort Myers while turning 20, although that quickly took a dive once he missed that entire campaign due to Tommy John surgery. The hit tool came crashing to earth at the upper levels, but Sanó's power has continued to shine at every step. The 2017 AL All-Star has gone deep 43 times in 143 games over the past two seasons.
4. Joe Ryan, Charlotte, 2019: As a senior signee out of the seventh round of the 2018 Draft, there was a good case to be made that Ryan should have opened his first full season at Class A Advanced in the first place. Following a promotion from Class A Bowling Green on May 13, the Rays right-hander certainly looked like he more than belonged in the FSL. Ryan recorded 112 strikeouts and issued only 12 walks over 82 2/3 innings with the Stone Crabs. He posted a 1.42 ERA, 1.69 FIP, 0.71 WHIP and 35.9 percent K rate -- all of which were tops in the Florida State League during the 2010s among pitchers with at least 70 innings. What's more, seven of the 13 earned runs he surrendered came in his first three starts. In a 12-start stretch from May 31-Aug. 7, he sported an 0.80 ERA with 93 strikeouts and nine walks over 67 2/3 innings. Ryan threw a majority of low- to mid-90s fastballs that worked especially well up in the zone against Class A Advanced hitters, and because of the numbers and the stuff, he remains the No. 9 prospect in a deep Rays system.
3. Tyler Glasnow, Bradenton, 2014: During rougher times earlier in his Major League career, it was easy to forget just how dominant a Minor League pitcher Glasnow was. Now it's a lot more believable, but it's astonishing all the same. His best single season with one team likely came with the Marauders six years ago. Glasnow's 1.74 ERA over 124 1/3 innings ended up being the lowest mark of the decade by a qualified pitcher, while his 31.9 percent K rate placed third and his 2.63 FIP eighth. Walks were a problem -- his 11.6 percent BB rate placed among the 10 highest -- but Glasnow's fastball-curveball mix kept FSL foes constantly on edge. He was named a MiLBY winner as Starting Pitcher of the Year and ended the season as the No. 16 overall prospect, three years after he went in the fifth round as a 6-foot-8 pitcher with plenty of projection. Following some rough times in Pittsburgh, Glasnow has found his footing with Tampa Bay following a July 2018 trade and remains a big part of the rotation that should make the Rays World Series contenders in the fall.
2. Matt Moore, Charlotte, 2010: Moore was one of the best pitching prospects of the first half of the decade, and his 2010 season went a long way toward cementing that status. He spent the entire first year of the decade with Charlotte and ran up a strikeout total for the ages. His 208 K's over 144 2/3 innings not only led the FSL for the decade, but were the most racked up with any individual Minor League team over a single season in the 2010s. Those 208 punchouts also were the most the FSL had seen since Michael Cosgrove fanned 231 for Cocoa in 1971. The 6-foot-3 left-hander, who sported a plus fastball and a curveball that allowed him to carve up Minor League lineups, experienced some control issues that led to a 3.36 ERA and 1.18 WHIP over 144 2/3 innings -- good numbers to be sure, but not quite the level of dominance expected from a pitcher who fanned an FSL-best 34.8 percent of batters. Following another 200-plus strikeout season in 2011, Moore became the top overall prospect entering 2012 ahead of even Bryce Harper and Mike Trout. That potential didn't work out in the Majors due to control and injury woes, and Moore has spent the 2020 season in Japan.
1. Ibandel Isabel, Daytona, 2018: Over the past decade, the game has been trending toward power, and that truly caught up to the Florida State League two years ago in the form of Isabel. The native of the Dominican Republic started that season in the Dodgers system, but was moved to the Reds in a minor mid-April deal that sent right-hander Ariel Hernández the other way. Isabel came from Class A Advanced Rancho Cucamonga in the California League -- a hitters' haven -- to the pitcher-friendly FSL in a move that should have served as a shock to his slugging system. It very much did not. He set the FSL record with 35 homers in 105 games with the Tortugas that summer, breaking the previous mark of 33 set by Sanford's Edward Levy in 1950 and tied by Miami's James Fuller in 1971. Despite the uptick in pop, Isabel wasn't exactly a product of his era. No other Florida State League slugger hit more than 26 homers during a season in the 2010s. As to be expected, Isabel also led the circuit for the decade with a .566 slugging percentage and ranked sixth among qualifiers with a .900 OPS. Also as expected, he didn't hit much for average (.258) and struck out in 36.2 percent of his plate appearances, the fifth-highest K rate among FSL batters last decade. Still, any type of power is a nice surprise in this league, and for one season, Isabel gave Sunshine State fans that tool in spades.
Sam Dykstra is a reporter for MiLB.com. Follow and interact with him on Twitter, @SamDykstraMiLB.