Toolshed: Traded prospects, one year later
Looking at D-backs' Widener, many Marlins moved last offseason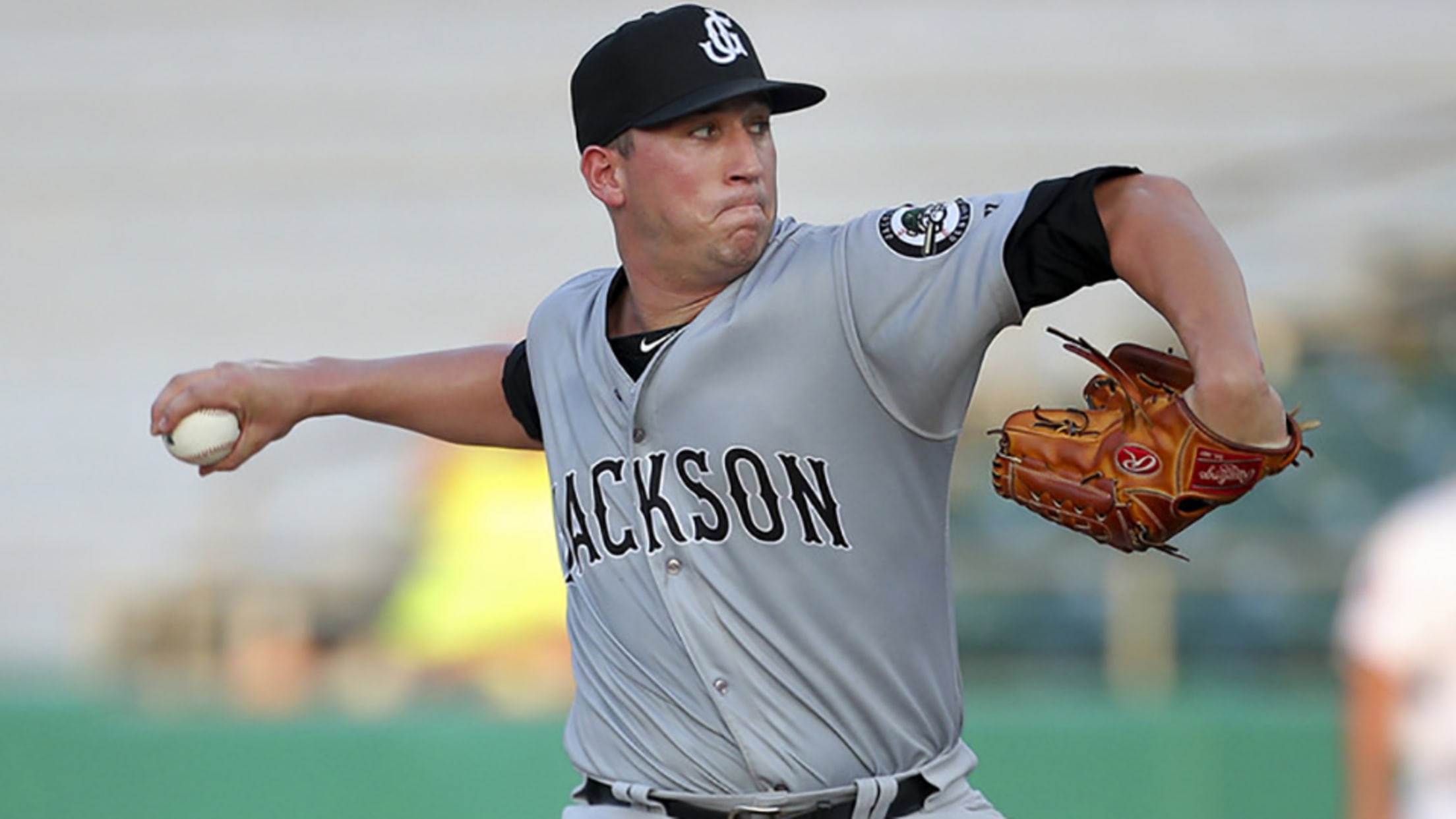 Taylor Widener wasn't the most famous prospect traded last offseason, but he tops the list now. (Danny Parker/MiLB.com)
Madison Bumgarner. J.T. Realmuto. Corey Kluber. James Paxton.There are some big names being bandied about in the trade rumor mill as the 2018-19 professional baseball offseason kicks into high gear. In all likelihood, a few organizations will make franchise-altering moves in the weeks and months ahead, and it won't just
Madison Bumgarner. J.T. Realmuto. Corey Kluber. James Paxton.
There are some big names being bandied about in the trade rumor mill as the 2018-19 professional baseball offseason kicks into high gear. In all likelihood, a few organizations will make franchise-altering moves in the weeks and months ahead, and it won't just be the Major League rosters that are affected. Prospects across all levels of the Minors will switch sides, bolstering farm systems and providing hope for the future.
For the prospects dealt last offseason, that future is a little closer than when they first changed uniforms. In some ways, their stories are reminders that as much as we judge trades in the moment, the true winners of each deal might not be known for years to come. The look of trades can grow and change over time, and so should our evaluations of them.
With that in mind, this week's Toolshed preps for the 2018-19 offseason by reviewing the year that was for the prospects dealt around this time last year and evaluating if they improved, maintained or hurt their prospect stocks this season. Only players with prospect eligibility remaining were considered here. Prospects such as Lewis Brinson, Joey Wendle or Colin Moran who lost that eligibility during the season do not factor into the equation.

Stock up
Taylor Widener:
At No. 97, Widener is the only one of MLB.com's
Top-100 Prospects
to appear here, so it might feel like a long ways off from the time he was ranked as the No. 14 Yankees prospect when he moved to the D-backs last February in a three-team deal also involving the Rays. But the 2016 12th-rounder was dominant this season at Double-A Jackson, where he finished second in the Minors with 176 strikeouts in 137 1/3 innings. He sported a 2.75 ERA and a 1.03 WHIP in that span, both of which ranked among the top two in the Southern League. Widener sports two above-average pitches in his fastball and slider and shows enough of a changeup to keep his future in the rotation. Not a bad season and progress for a right-hander who only made 14 starts in 57 appearances during his college days at South Carolina from 2014-16.
Enyel De Los Santos:
At the time, this was a good "let my surplus fill your need" trade. The Padres had a hole at shortstop. They filled it by acquiring Freddy Galvis from the Phillies and giving up a pitching prospect (of which they had several) in the process. The 22-year-old right-hander, who was considered San Diego's No. 13 prospect that December, was coming off consecutive 100-plus-inning seasons, but truly broke out in 2018. The ninth-ranked Phillies prospect finished second in the International League with a 2.63 ERA and third with a 1.16 WHIP over 126 2/3 innings with Triple-A Lehigh Valley, having his contract purchased in July along the way. De Los Santos made seven appearances (two starts) for the big club and should enter the spring as a potential bottom-of-the-rotation option alongside
Nick Pivetta
,
Zach Eflin
,
Ranger Suárez
and others. He's got the mid-90s fastball to make it work, and if he can build off his above-average changeup and OK breaking pitches, he'll bring an even better return for Galvis, a free agent after just one season in San Diego.
Nick Neidert: The new Marlins leadership said last winter it was targeting pitching as part of its rebuild, and there's a case that Neidert could be the club's big success story in that regard when all is said and done. Neidert, who came over with two others on this list in December for Dee Gordon, finished with a 3.24 ERA and a 1.13 WHIP with 154 strikeouts and only 31 walks in 152 2/3 innings, all with Double-A Jacksonville. His 25.2 percent strikeout rate was his highest over a full season, thanks to a plus changeup and the development of breaking pitches alongside a low-90s fastball. His stuff might not be as flashy as Sandy Alcantara's, but as Southern League batters will attest, Neidert's combination of stuff and plus control makes him look like a Major League starter. He's Miami's No. 4 prospect after opening the season ranked 10th, and the club will need more success stories like his in the years to come, including Neidert's continued development at Triple-A in 2019.
Jordan Yamamoto: We're having a bit of a run on Marlins prospects. (They were very active last offseason, as everyone will recall.) Yamamoto wasn't the most notable prospect the Fish picked up from the Brewers for All-Star outfielder (and potential National League MVP) Christian Yelich in January. He wasn't even the third most notable prospect included in the deal. In fact, Yamamoto might have felt like a throw-in alongside Brinson, Isan Díaz and Monte Harrison. But he's proven to be more than that, jumping to the No. 17 spot in Miami's top-30 rankings after a breakout 2018. The 22-year-old right-hander was limited to only 68 2/3 innings due to a right shoulder impingement to open the season but finished with a 1.83 ERA, a 0.83 WHIP and 85 strikeouts in 13 starts across three levels. He's making up for those lost frames in the Arizona Fall League, where he has a 2.08 ERA and 27 strikeouts in 26 innings. Without a true plus pitch at 6 feet tall, Yamamoto may not look the part of a dominant starter. But he's got good control, and all three of his pitches could be at least average, giving him options against the tougher competition he'll face at the upper levels. Pretty good for a pitcher Marlins fans had to Google the most when the Yelich deal went down.
Jose Devers: Like Yamamoto, Devers was far from the headlining prospect when he moved from the Yankees to the Marlins for Giancarlo Stanton. That'll happen when the other major prospect is a triple-digit-throwing hurler like Jorge Guzman. Devers is still far from a household name, but he's building steam after Miami threw him in the deep end by sending him to Class A Greensboro at age 18. The Dominican Republic native held his own somewhat, hitting .273 with 13 steals in 85 games, but finished with a below-average 87 wRC+. He still provides impressive value defensively with his glove, arm and range at shortstop and second base. Consider this a foundational year because Devers (all 6 feet, 155 pounds of him) will need to add at least some power to find his way to Miami. But he didn't completely sink when pushed -- and remained strong in his defensive and speed tools -- truly a promising sign.
Robert Dugger: The 18th-round pick in 2016 was a reliever in college and through his first year-and-a-half in the Mariners system. After joining Neidert in the Gordon trade, he's Miami's No. 23 prospect, wholly because of his work as a starter. Dugger finished with a 3.40 ERA, a 1.21 WHIP and 141 strikeouts in 150 2/3 innings between Class A Advanced Jupiter and Double-A Jacksonville. He trailed only Neidert for the organizational lead in Minor League K's. He works with four pitches, enough for a starter, but with none of them grading out as plus, his future role isn't quite solidified. The fact that starting remains an option is a testament to Dugger's first season with the Fish, and his second system should give him every chance to stick in future rotations.

Stock about the same
Sandy Alcantara:
What did we know about Alcantara when he moved from the Marlins to the Cardinals in the
Marcell Ozuna
deal? We knew he could throw hard with a 70-grade fastball that regularly touched the upper-90s. We knew he had some Major League experience after getting the call from St. Louis. And we knew despite possessing three above-average pitches in his arsenal, his slightly below-average control kept him from racking up the strikeouts. In 2018, the 23-year-old right-hander pretty much stuck to the script. He was a solid Triple-A starter with a 3.89 ERA in 115 2/3 innings with New Orleans, but struck out only 88 batters in that span. He was called up to the Majors a few times, posting a 3.44 ERA while walking 23 in 34 innings in six starts. Basically, the questions about his rotation potential remain. He'll likely get more big league time to stay in a starter's role with a team willing to give him plenty of slack.
Jorge Guzman:
The Marlins boasted heavily about how Guzman had shown some of the best velocity in the entire Minors when they picked him up in the Stanton deal. Some members of the front office, including vice president of player development and scouting Gary Denbo, had worked with Guzman with the Yankees. Those Marlins fans hoping that elite velo would translate into a Top-100 spot for Guzman are still waiting, however. Skipping over Class A entirely, the 22-year-old right-hander sported a 4.03 ERA with 101 strikeouts with Class A Advanced Jupiter, but as is typical with hard throwers, his walk rate jumped from 6.8 percent with Class A Short Season Staten Island in 2017 to 14.9 percent this summer. No other pitcher with at least 90 innings at Class A Advanced posted a higher walk rate. There's a lot to like with the raw stuff, including an above-average slider, but just as many questions remain about just how far his heater will get him.
Isan Díaz:
Yes, Diaz was technically a Top-100 prospect at the time he moved from the Brewers to the Marlins, but MLB.com moved him out of there in the final preseason rankings. He remains one of the game's better second-base prospects, thanks to his above-average power (especially for the position) and good arm. The 2014 70th overall pick climbed to Triple-A at age 22 and finished with a .232/.340/.399 line, 13 homers and 14 steals in 119 games across two levels. The hit tool could improve. However, after Diaz produced a 125 wRC+ at Double-A before his promotion, he still has a chance to be at least average in that category. He has a chance to be a Major League regular in the middle of the Miami infield, but may also have to settle for a utilityman role with some left-handed power off the bench.
Zac Gallen:
Finishing up the Miami run, Gallen spent the entire season at Triple-A New Orleans as part of the Ozuna return. He finished with a 3.65 ERA, 136 strikeouts and 48 walks in 133 1/3 innings, second in the Pacific Coast League in the first two categories. Strong numbers for an offensive league, but not strong enough that Miami moved its No. 20 prospect up to the Majors. On the scouting side, Gallen doesn't have much that jumps out, with his cutter being the only part of his four-pitch mix that grades out as above-average. His control makes the whole package play up and could earn him a role in the back end of a Major League rotation, even if big leaguers stand to make much more contact against him. The UNC product remains the solid depth option for Miami that he was for St. Louis.
Bryan Reynolds:
The 2016 second-rounder out of Vanderbilt has a career line of .309/.369/.459 over three seasons in the Minors, the first two were with San Francisco before he went to Pittsburgh for Andrew McCutchen in January. His .302/.381/.438 line over 88 games this season with Double-A Altoona really wasn't that far off. The Pirates' No. 8 prospect still has the chance to be fairly average across the board offensively and that's not a knock. That level of consistency may punch his ticket to The Show. That said, it's worth wondering what the switch-hitting outfielder could have done at Double-A beyond a 128 wRC+ had he not missed much of April and May with a broken hamate bone in his left wrist.
Jason Martin:
With Colin Moran, Joe Musgrove and Michael Feliz graduated, Martin is the only player sent from the Astros to the Pirates for Gerrit Cole with prospect eligibility remaining. In truth, it was a bit of a mixed bag for Pittsburgh's No. 13 prospect in 2018. He tore it up with Altoona, hitting .325/.392/.522 with nine homers in 68 games before moving up a level on June 28. But then he fell off a cliff at Triple-A Indianapolis, with that slash line tumbling to .211/.270/.319 in 59 games and his wRC+ going from 152 down to 65. It could be as simple as a reversal in fortune with Martin's BABIP wavering in extremes from .396 with Altoona to .261 with Indy. But even then, it's worth remembering the Astros left Martin unprotected in last year's Rule 5 Draft, only to see him go unpicked. He's still not on Pittsburgh's 40-man roster, and the Bucs' decision on that front could be telling on where they stand with Martin, whose only above-average tool at present is his speed.
Nick Solak:
Like Reynolds, the 2016 second-rounder out of Louisville has been a model of consistency, even after moving from the Yanks to the Rays in February. He spent all of 2018 with Double-A Montgomery, where he set career highs with 19 homers and 21 steals while putting together a .282/.384/.450 line in line with his .297/.384/.452 numbers from 2017. With their glut of middle-infield options, the Rays have tried to move their No. 11 prospect to the outfield, getting him time in center and left. He'll be 24 for the entire 2019 season, however, so he's not on the young side of prospectdom. The Rays will love his versatility should his move to the grass stick long-term, but he might have to hit just a little bit more to carve out a long-term full-time role in Tampa Bay.
Anthony Banda:
Acquired in the same deal as Solak and Widener, it would have been fascinating to see how Banda worked into Tampa Bay's opener/long-man plans for its young staff in 2018. Instead, he made eight starts with Triple-A Durham and three appearances in the Majors before undergoing Tommy John surgery in June. When healthy, Banda shows a plus fastball and an above-average curve -- two pitches good enough to get upper-level bats to swing and miss regularly -- but he lacks enough deeper options to get through a Major League lineup three times. How he figures into Tampa Bay's plans won't be fully seen until late 2019 at the earliest when he completes rehab. Press the pause button for now.
Christopher Torres:
Injuries limited the Marlins' No. 18 prospect to only 39 games across three levels in his first season since moving over from the Mariners for Gordon. When healthy, the 20-year-old shows good speed and a strong arm from either middle-infield spot. In his short stay with Class A Greensboro, he showed improved plate discipline with 26 walks and a .389 OBP in 39 games. But with just a .256 average and .350 slugging percentage, the lightning remains away from his bat for the most part right now. The switch hitter turns 21 in February, and Miami will hope he can crack the 65-game level for the first time in the Minors next season.
Russell Wilson:
This is just a reminder that the Seahawks quarterback got traded from the Rangers to the Yankees in February. He still gives Spring Training pep talks, and yes, he still plays football only.
Stock down
Monte Harrison:
Don't get it wrong. The No. 2 prospect in the Marlins system, Harrison remains perhaps the toolsiest prospect on this list with above-average grades for his power, run, fielding and arm tools. But at the beginning of the season, he was considered MLB.com's No. 71 overall prospect and he's fallen out of the Top 100 completely because of that pesky fifth tool -- hitting. The 23-year-old outfielder led the Minors this season with 215 strikeouts, fanning 36.9 percent of the time with Double-A Jacksonville. With a .240/.316/.399 line, 19 homers and a 104 wRC+, he was still a slightly above-average hitter in the Southern League. He's shown some improvements in the Arizona Fall League, but the holes in his swing are still big enough to question whether he can reach his considerable ceiling. With the Marlins' rebuild continuing well into 2019, Harrison still has a chance to reach Miami by the summer. What kind of player he'll be when he arrives is more up for debate than it was 11 months ago.
Conner Greene:
The Cardinals picked up Greene with
Dominic Leone
for
Randal Grichuk
in January when their acquisition of Ozuna made him dispensable. At the time, Greene was coming off a rough 2016 season in which he posted a 5.29 ERA, a 1.69 WHIP and a 92/83 K/BB ratio in 132 2/3 innings at Double-A New Hampshire, but he had a few points in his favor, namely a 70-grade fastball and potential to remain a starter. Since then, he moved to the bullpen with Triple-A Memphis and put up even rougher control numbers in that role, walking 31 while fanning 26 over 39 1/3 frames in the Pacific Coast League. No longer is it even a question of whether Greene can start. It's a question of whether he'll find the zone enough to provide value in relief.
Jermaine Palacios:
Mind you,
Jake Odorizzi
was coming off a replacement-level season and had two years of arbitration left when the Rays moved him to the Twins, but it's always notable when a prospect is flipped straight up for a proven Major Leaguer. Palacios was ranked No. 27 in the Minnesota system at the time of the deal, coming off a solid 2017 season in which he batted .296/.333/.454 with 44 extra-base hits and 20 steals in 124 games between Class A Cedar Rapids and Class A Advanced Fort Myers. He would have had an uphill battle forcing his way into Tampa Bay's loaded top 30 anyway, but he did himself little favors this past season, hitting just .217/.269/.306 in 118 games at Class A Advanced Charlotte and Double-A Montgomery. The shortstop only turned 22 in July, so he's got time on his side. But Tampa Bay knew it was getting a lottery ticket in Palacios in February, and the wrong numbers have come up on that ticket so far.
Sam Dykstra is a reporter for MiLB.com. Follow and interact with him on Twitter, @SamDykstraMiLB.