Top Five: Stripers' Specialty Jersey Games
Gwinnett's best performances in alternate uniforms since 2018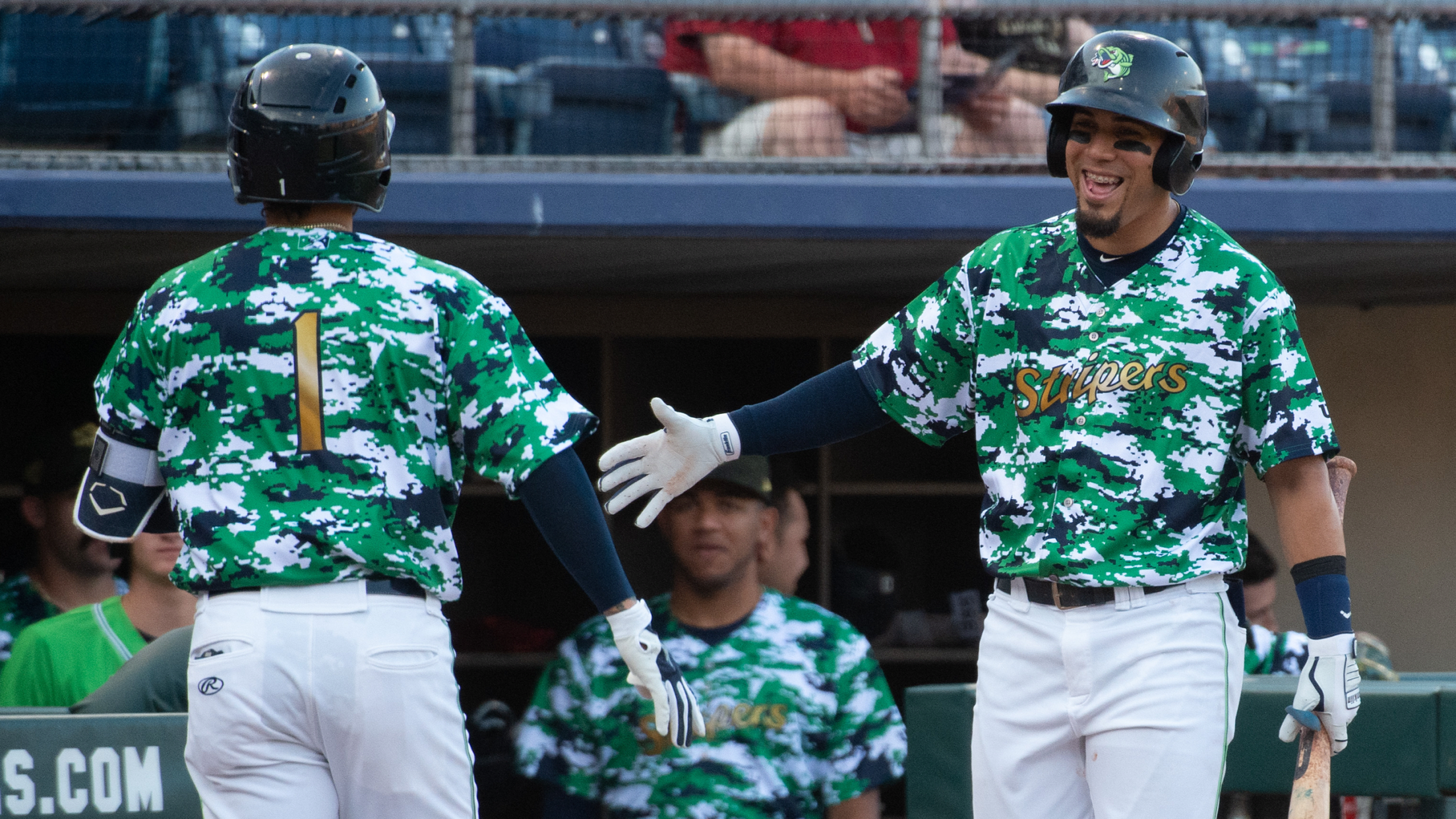 Jack Lopez (left) and Rafael Ortega (right) each homered during Gwinnett's "Salute to Armed Forces" game on May 24, 2019. (Bernie Connelly)
Over the last decade, the "specialty jersey" has emerged as one of the most highly anticipated promotions on every Minor League Baseball team's schedule. These jerseys, typically worn by a team for one game only as part of a theme night, sponsorship tie-in, or community partnership, showcase the creativity and
Over the last decade, the "specialty jersey" has emerged as one of the most highly anticipated promotions on every Minor League Baseball team's schedule.
These jerseys, typically worn by a team for one game only as part of a theme night, sponsorship tie-in, or community partnership, showcase the creativity and innovation that MiLB front offices are known for. Including nostalgic throwbacks and faux-backs, homages to local history and traditions, kitschy pop-culture references, unique or downright bizarre designs, and everything in between, specialty jerseys offer a fun break from the team's traditional garb and are often auctioned or sold to raise money for a cause.
Since the beginning of the Stripers era in 2018, Gwinnett has worn seven different specialty jerseys (not including Xolos de Gwinnett jerseys worn during Copa de la Diversión Nights), with each one hitting the auction block for charity. Had the 2020 MiLB season not been cancelled, tonight would have been "Outdoors Night" with the Stripers donning specialty Mossy Oak camouflage jerseys for a 6:05 p.m. game vs. Durham.
This week's "Top Five" ranks the specialty jerseys worn by the Stripers so far, not based on the quality of the design or the total funds raised, but on the team's overall performance while wearing them (4-3 record overall).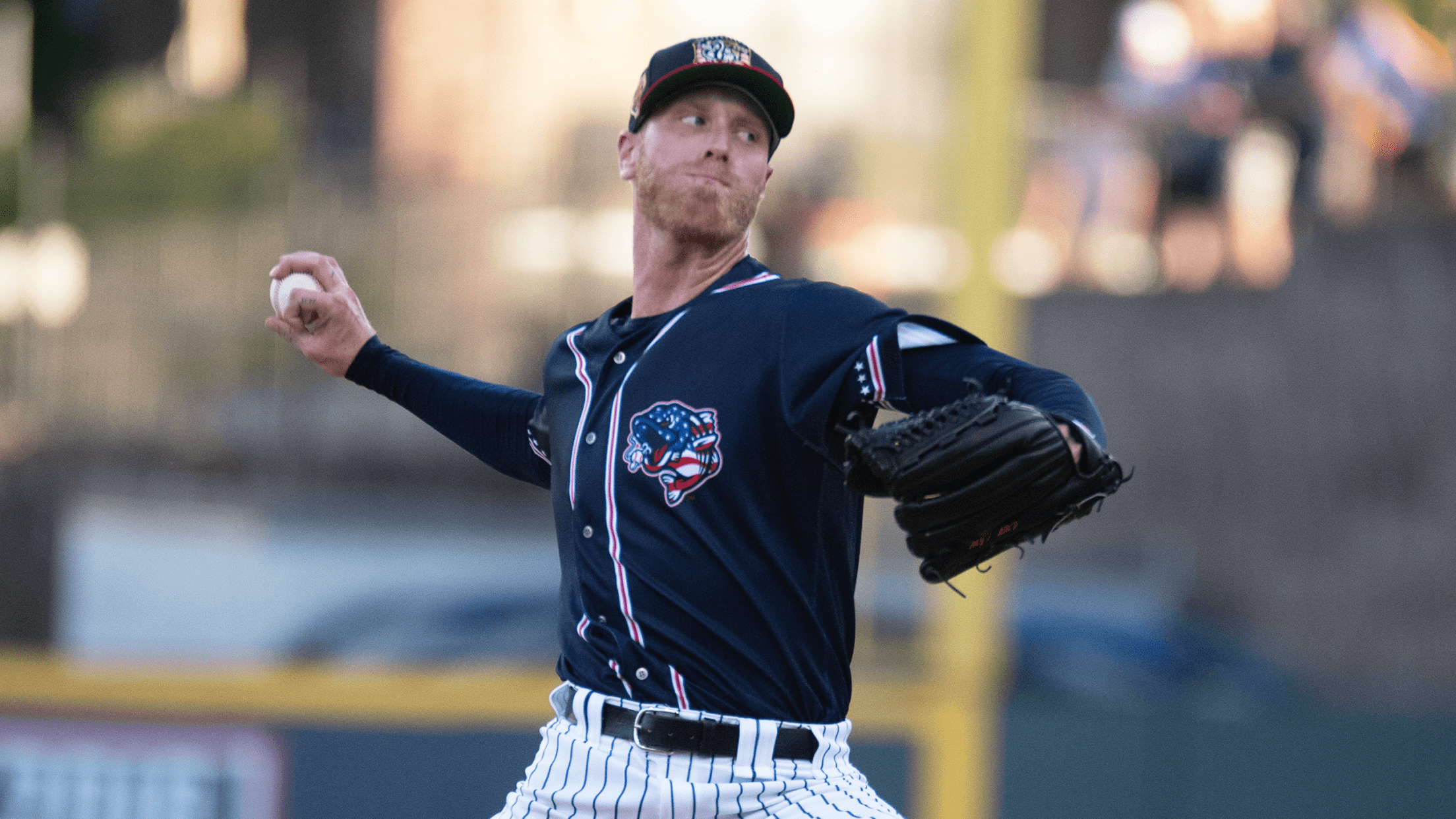 5. Independence Day Patriotic Jerseys (July 4, 2019)
Clad in red, white, and blue jerseys for an annual partnership with Operation One Voice, the Stripers hosted the rival Durham Bulls in an Independence Day nail-biter.
Making his second start with Gwinnett since being optioned to Triple-A on June 23, Mike Foltynewicz held the Bulls to three runs (two earned) on eight hits, walked two, and struck out seven over 5.0 solid innings. A two-run double by Rafael Ortega and RBI double by Jonathan Morales staked the Stripers to a 3-1 lead in the bottom of the third, but Durham tied it in the top of the fourth as former Gwinnett outfielder Emilio Bonifacio tallied an RBI single and scored on a sacrifice fly by Jake Cronenworth.
A 3-3 score held for the next four innings as Foltynewicz, Shane Carle, and Dan Winkler combined to yield just two hits. The Stripers' best opportunity to break the deadlock came in the bottom of the fourth as Pedro Florimon doubled and both Ryan LaMarre and Travis Demeritte drew walks to load the bases with two outs, but eventual International League Postseason All-Star Adam Duvall flied out to center to end the threat.
In the top of the ninth, the Bulls took the lead for good against Wes Parsons. Nathan Lukes led off with a triple and scored on a single by Cronenworth, and Joe McCarthy added a two-out RBI single for insurance. Durham closer Hunter Wood struck out two of the three batters he faced in the bottom of the ninth, sending the Stripers to a narrow 5-3 loss.
The outcome put a damper on Coolray Field's July 4 postgame fireworks, but didn't slow down the resurgence of Foltynewicz, who went 3-0 with a 2.77 ERA in five July starts with Gwinnett before returning to the Braves on August 5.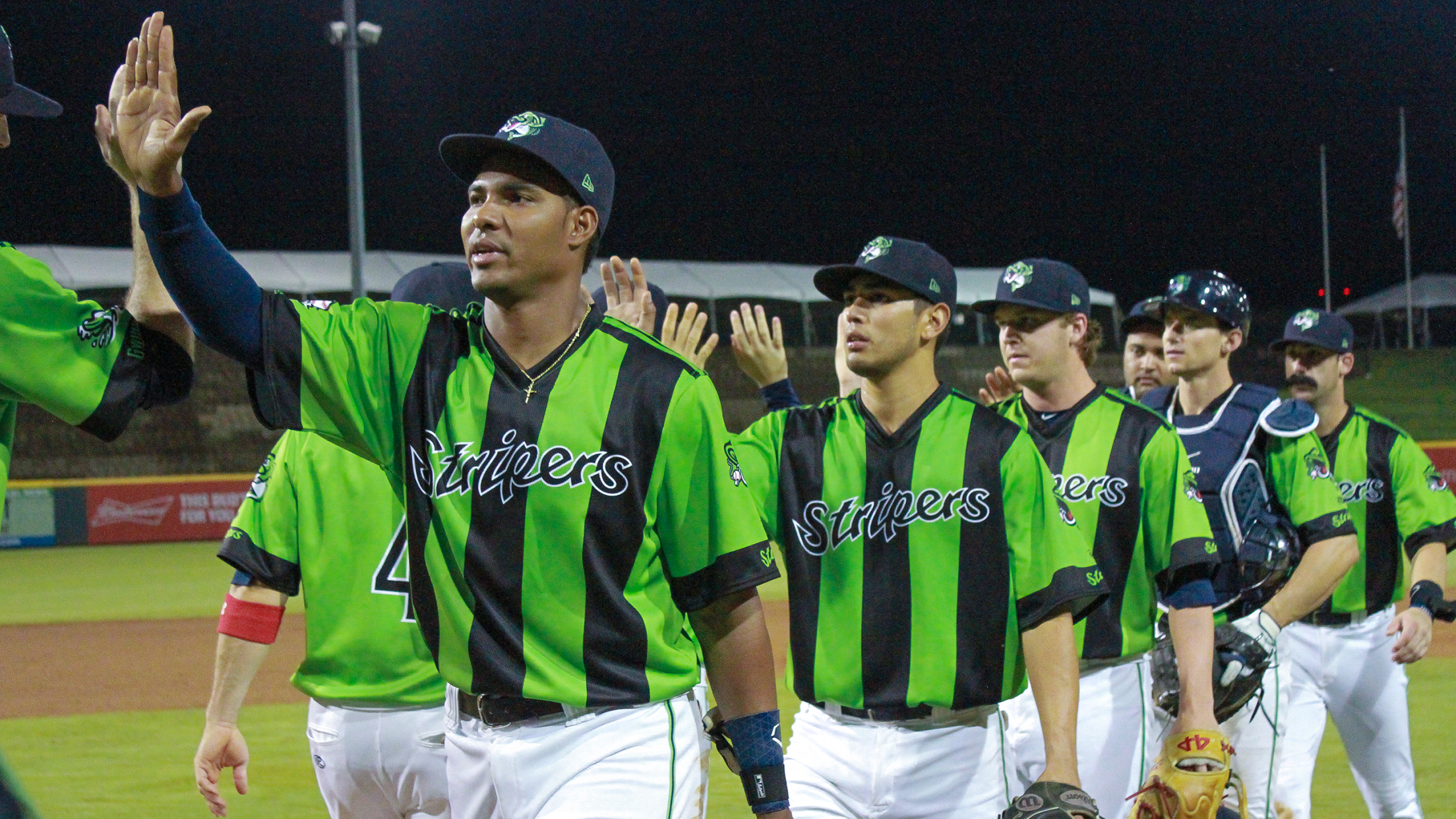 4. Atlanta United FC Night Jerseys (June 22, 2018)
The first specialty jerseys ever worn in the Stripers era were these black-and-green tributes to the kits worn by the "Five Stripes," better known as Atlanta United FC of Major League Soccer (MLS).
Having already defeated Columbus 5-1 while wearing their regular home pinstripes in game one of a doubleheader, the Stripers changed into these two-tone jerseys for the nightcap. Despite being clad in different threads, Gwinnett achieved a near-identical result, blanking the Clippers 5-0 in seven innings to sweep the twin-bill.
Parsons was tremendous in his sixth start of the season, scattering six hits and two walks over 6.1 innings while striking out five. He nearly delivered a 7.0-inning complete game shutout, but was pulled after allowing a one-out double to Mike Papi and hitting Todd Hankins with a pitch. Jacob Webb replaced Parsons and retired both batters he faced, stranding the two inherited runners and finishing off a six-hit shutout.
Offensively for the Stripers, Tyler Smith connected on a two-run homer off Columbus left-hander Adam Wilk in the bottom of the second. An inning later, Carlos Franco ripped a two-run double and Dustin Peterson capped the scoring with an RBI single. Wilk went the distance for the Clippers, but was tagged for five runs on 11 hits as he took the loss.
The outing was one of Parsons' best in his 2018 breakout campaign. The undrafted right-hander went 7-4 with a 3.27 ERA in 16 games (14 starts) with the Stripers, paving the way for his MLB debut with Atlanta on August 9. Smith's decisive homer was his fourth and final clout in his lone season with Gwinnett.
3. Atlanta Gladiators Night Jerseys (August 18, 2018)
Wearing specialty jerseys modeled after other local sports teams proved successful for the Stripers in their inaugural season. Suited up in tops patterned after the old garnet, bronze, and black sweaters worn by the Atlanta Gladiators of the East Coast Hockey League (ECHL), the Stripers put the Buffalo Bisons on ice with a 5-1 triumph.
This game is best remembered for the dominant return of Touki Toussaint. Ranked Atlanta's No. 7 prospect by MLB.com at the time, Toussaint had just come back to Gwinnett following a sparkling Major League debut with the Braves on August 13 vs. Miami (win, 6.0 IP, 2 H, 1 ER, 2 BB, 4 SO). In his sixth start with the Stripers, he improved to 3-0 and lowered his ERA to 1.93 with his fourth quality start, setting a Triple-A career high with nine strikeouts over 6.0 five-hit, one-run innings.
After giving up an RBI double to Anthony Alford that put Buffalo ahead 1-0 in the first inning, Toussaint settled in to retire the next eight batters he faced through the third. He held the Bisons to three hits over his final 5.2 innings before being replaced by Chase Whitley in the seventh. Whitley and Webb combined to throw 3.0 scoreless frames in relief to finish the game.
The Stripers erased the early 1-0 deficit with two runs in the second, both coming on a two-out single by Lane Adams. The 2-1 lead stayed put until the sixth, when Peterson connected on his 10th home run of the year, a two-run smash to left off Buffalo reliever Jacob Waguespack. In the eighth, Michael Reed tacked on the final run with an RBI single.
Including this game, Toussaint went 3-0 with a 0.47 ERA and 24 strikeouts over his final three starts with the Stripers in 2018. At season's end, he was named the recipient of the Phil Niekro Award for Braves Minor League Pitcher of the Year, having gone 9-6 with a 2.38 ERA, .202 BAA, and 163 strikeouts over 24 starts between Double-A Mississippi and Gwinnett. Atlanta recalled him in September and he pitched in both the regular season (2-1, 4.03 ERA in seven games, five starts) and Postseason (1-0, 0.00 ERA in two NLDS games) for the Braves.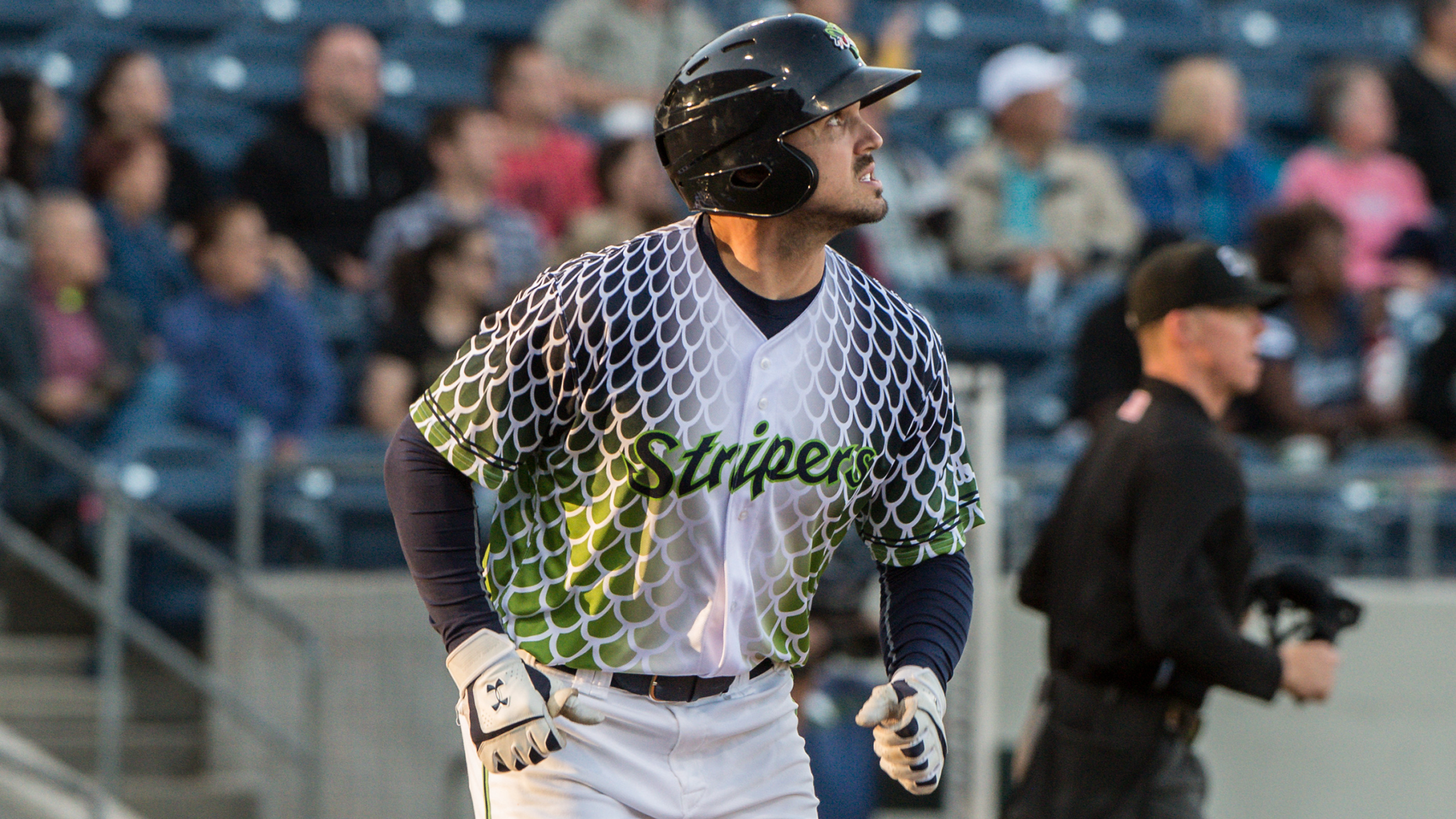 2. Outdoors Night Fish Scales Jerseys (April 26, 2019)
Toussaint was on the hill again as the Stripers wore the ultra-popular "Fish Scales" jerseys for Outdoors Night, but it was the offense that took top billing in an 8-4 drubbing of the Toledo Mud Hens.
Duvall produced the first of his three multi-homer games as a Striper with a pair of solo blasts, and Andres Blanco, Demeritte, and Austin Riley also went deep as Gwinnett tallied a five-homer night.
Trailing 3-0 on Josh Lester's first-inning home run off Toussaint, the Stripers went to work in the bottom of the first against Toledo left-hander Tyler Alexander. Blanco, the second batter of the inning, lifted a solo shot that just cleared the right-center fence for his fifth homer of the year. Duvall followed two batters later with his fourth homer of 2019, a towering bomb to center that landed just to the left of the batter's eye. After a Raffy Lopez double, Demeritte clubbed his second homer of the year, a high fly ball to right-center that gave Gwinnett a 4-3 lead.
Up 4-3 in the bottom of the third, the Stripers put the game out of reach with back-to-back solo homers from Riley and Duvall. Riley's opposite-field drive to right-center was his fourth of the year, and four pitches later Duvall cranked a solo round-tripper off the brick wall in left for his fifth of the year. It marked the second straight game that Riley and Duvall went back-to-back, as both had homered in the third inning on April 25 vs. Indianapolis.
A fourth-inning RBI single by Riley and eighth-inning sacrifice fly by Sal Giardina rounded out the scoring for the Stripers, and Toussaint scattered four runs and 11 hits over 5.0 innings for his first win of the season. Alexander served up all five Gwinnett long-balls and yielded seven runs over 4.0 innings in the loss for the Mud Hens.
Duvall, the top star of this game, would go on to set Gwinnett single-season records for homers (32), RBIs (93), slugging percentage (.602), and OPS (.966) on the way to winning an International League Postseason All-Star award. The Stripers went 24-5 (.828) in 29 games with a Duvall homer in 2019, including 3-0 in his three multi-homer games.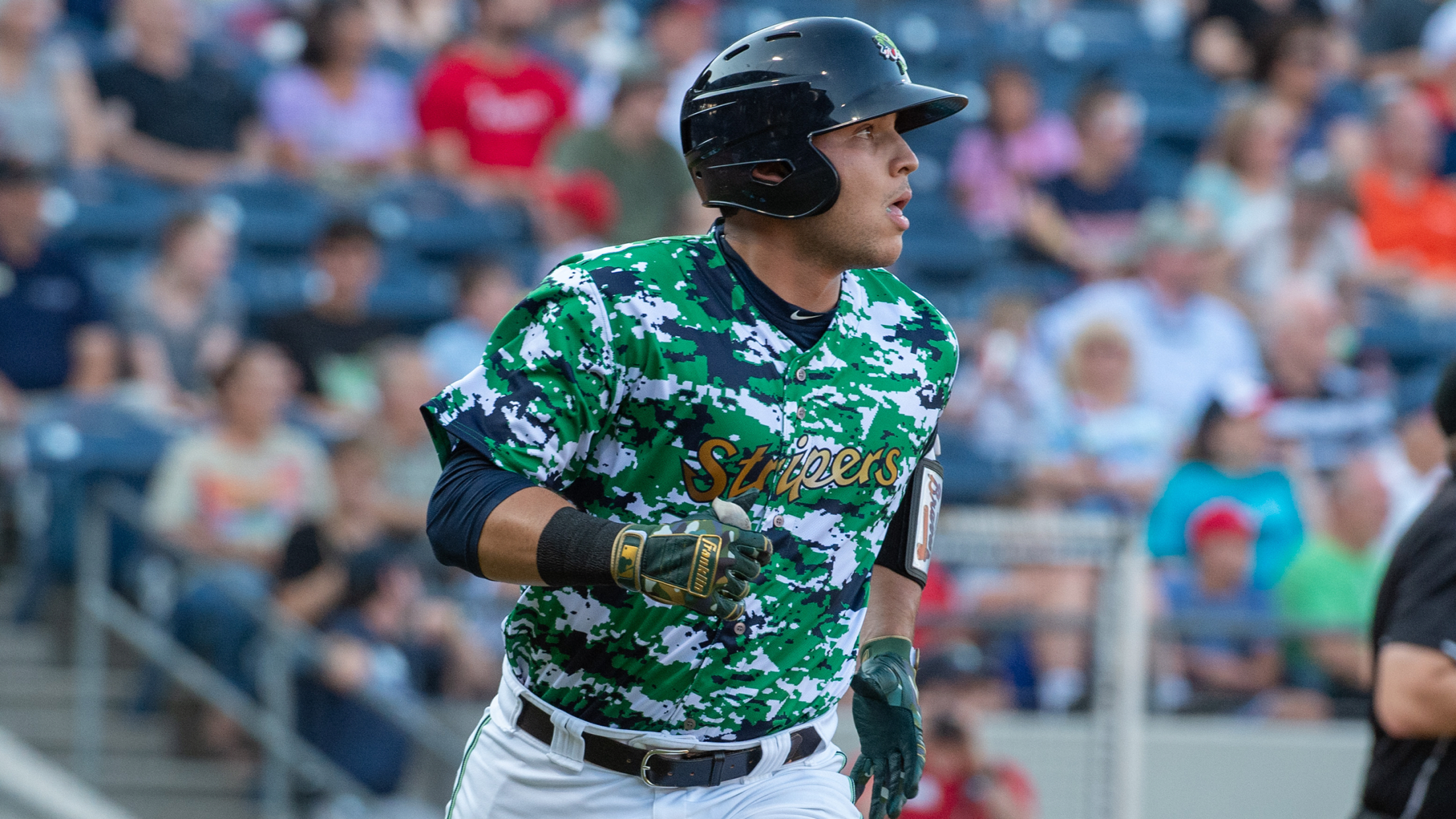 1. Salute to Armed Forces Camo Jerseys (May 24, 2019)
The Stripers might have considered adopting these camouflage jerseys full-time after a record-matching performance against Norfolk. The power-laden lineup tied a Gwinnett single-game record with six home runs in a 13-7 thrashing of the Tides.
Alex Jackson notched the first of his team-high five multi-homer efforts with two solo shots, Ortega hit the key three-run blast of Gwinnett's five-run second inning, Sean Kazmar Jr. added a two-run bomb in the third, and Jack Lopez and Demeritte chipped in solo clouts in the third and sixth. The big-fly barrage marked just the second six-homer game in Gwinnett history, first since August 28, 2011 vs. Norfolk.
Jackson opened the scoring in the second with his ninth home run of the year, a deep drive to center off Tides' southpaw Josh Rogers that connected with the top of the batter's eye. Later in the inning, with Kazmar Jr. and Luis Marte aboard, Ortega turned quickly on a Rogers two-strike offering for a three-run homer to right, his 10th of the season.
The Stripers turned a healthy 5-1 lead into an insurmountable 10-1 advantage with five more runs off Rogers in the third. Kazmar Jr. pulled a two-run homer to left for his fourth of the year, and just three pitches later, Lopez went back-to-back as he cleared the left-center fence with his second round-tripper of the season.
Norfolk scratched back to within 10-4 in the top of the fifth, but two more homers from Demeritte and Jackson in the bottom of the sixth off Tides reliever Francisco Jimenez put the finishing touches on the historic night. Demeritte reached the 10-homer plateau with a solo smash to center, and two batters later Jackson teed up his 10th homer as well with his second solo dinger, this time to left-center.
On the mound, spot starter Ben Rowen (4.0 IP, 3 H, 1 ER) was great early in a no-decision, and relievers Carle (win, 2.0 IP, 5 H, 3 ER), Thomas Burrows (1.0 IP, 4 H, 3 ER), and A.J. Minter (2.0 IP, 0 H, 0 ER, 5 SO) were able to hold off a late charge from the Tides as the Stripers won 13-7.
Jackson (28), Ortega (21), and Demeritte (20) would all go on to join Duvall (32) in the 20-homer club, marking the first time in history that four Gwinnett players hit 20-plus homers in the same season. Ortega was named Gwinnett's 2019 Player of the Year after hitting .285/.373/.524 with 58 extra-base hits, 226 total bases, 83 runs scored, 58 RBIs, 14 stolen bases, and a .898 OPS in 111 games. Jackson hit .229/.313/.533 with career highs in homers, OPS (.846) and RBIs (65) in 85 games during a season that saw him make his MLB debut with Atlanta. Demeritte, a midseason Triple-A All-Star, batted .286/.387/.558 with 50 extra-base hits, 68 runs scored, 73 RBIs, and a .944 OPS in 96 games with Gwinnett before being traded to the Detroit Tigers, where he went on to make his MLB debut.