Ultra Blowout: Gades smack Grasshoppers, win by 20
Hudson Valley hits six home runs in 22-2 victory at Greensboro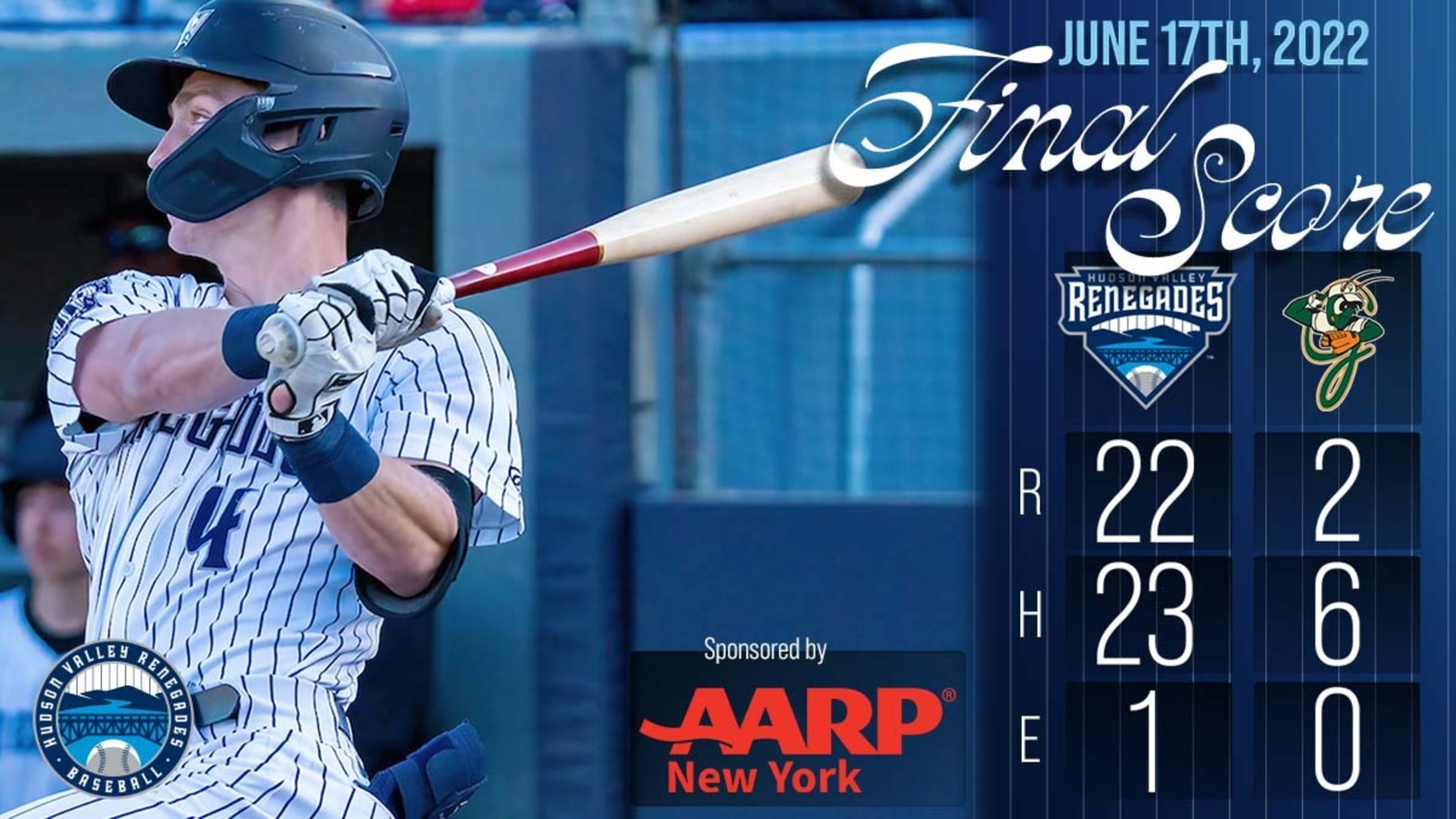 Cooper Bowman was 3-for-6 with a home run and four runs scored in Saturday's blowout of the Greensboro Grasshoppers. (Dave Janosz)
GREENSBORO, N.C. (June 17, 2022) – Six home runs and 23 hits led the Hudson Valley Renegades to a historic 22-2 blowout of the Greensboro Grasshoppers on Friday night at First National Bank Field. Everson Pereira had a record-setting day, finishing 4-for-6 with a double, two home runs and seven
GREENSBORO, N.C. (June 17, 2022) – Six home runs and 23 hits led the Hudson Valley Renegades to a historic 22-2 blowout of the Greensboro Grasshoppers on Friday night at First National Bank Field.
Everson Pereira had a record-setting day, finishing 4-for-6 with a double, two home runs and seven RBIs – the most for a Renegade player in the Yankees era. He also became the second Hudson Valley player in franchise history to hit 20 home runs in his career with the club.
Carlos Narvaez also enjoyed a big game at the plate, finishing 3-for-6 with two home runs and five RBIs. He doubled both his home run and RBI total for the season in just Friday's game alone.
The offensive explosion for the Renegades masked a stellar performance from the pitching staff. In his High-A debut, Yankees No. 8 prospect Yoendrys Gómez turned in 2.0 scoreless innings. Blas Castaño (1-5) followed with 6.0 innings of two-run ball to get his first win of the season.
Hudson Valley took the lead with five runs in the top of the first on home runs from Pereira and Narvaez, and tacked on three more in the second on a three-run homer from Anthony Seigler.
After tacking on two more in the third, the Gades piled on a five-spot in the fifth to blow the game open at 15-2. Pereira whacked his second homer of the night in the sixth, while Narvaez added his second in the eighth.
Cooper Bowman hit the sixth home run of the night, leading off the ninth against Claudio Finol, a position player pitching for the Grasshoppers.
Every player in the lineup for the Renegades recorded at least one hit, while six players had at least three hits. Five players drove in two-or-more runs, and four players scored four runs.
The 22 runs scored by the Renegades are the second-most for the team in a single game in the Portal Era (2005-Present), while the 23 hits ranks third-most in the same time period.
With the win, the Renegades have won five straight games, a new season-long.
Hudson Valley continues its series with Greensboro on Saturday night at First National Bank Field. It will be a doubleheader featuring two seven inning games. First pitch in game one is scheduled for 5:30 p.m., with coverage on the Renegades Baseball Network beginning at 5:15.