Vroom! Lowriders de Fresno drive-off on San Jose for 2nd time in three nights
Yorvis Torrealba scores on wild final play in 9th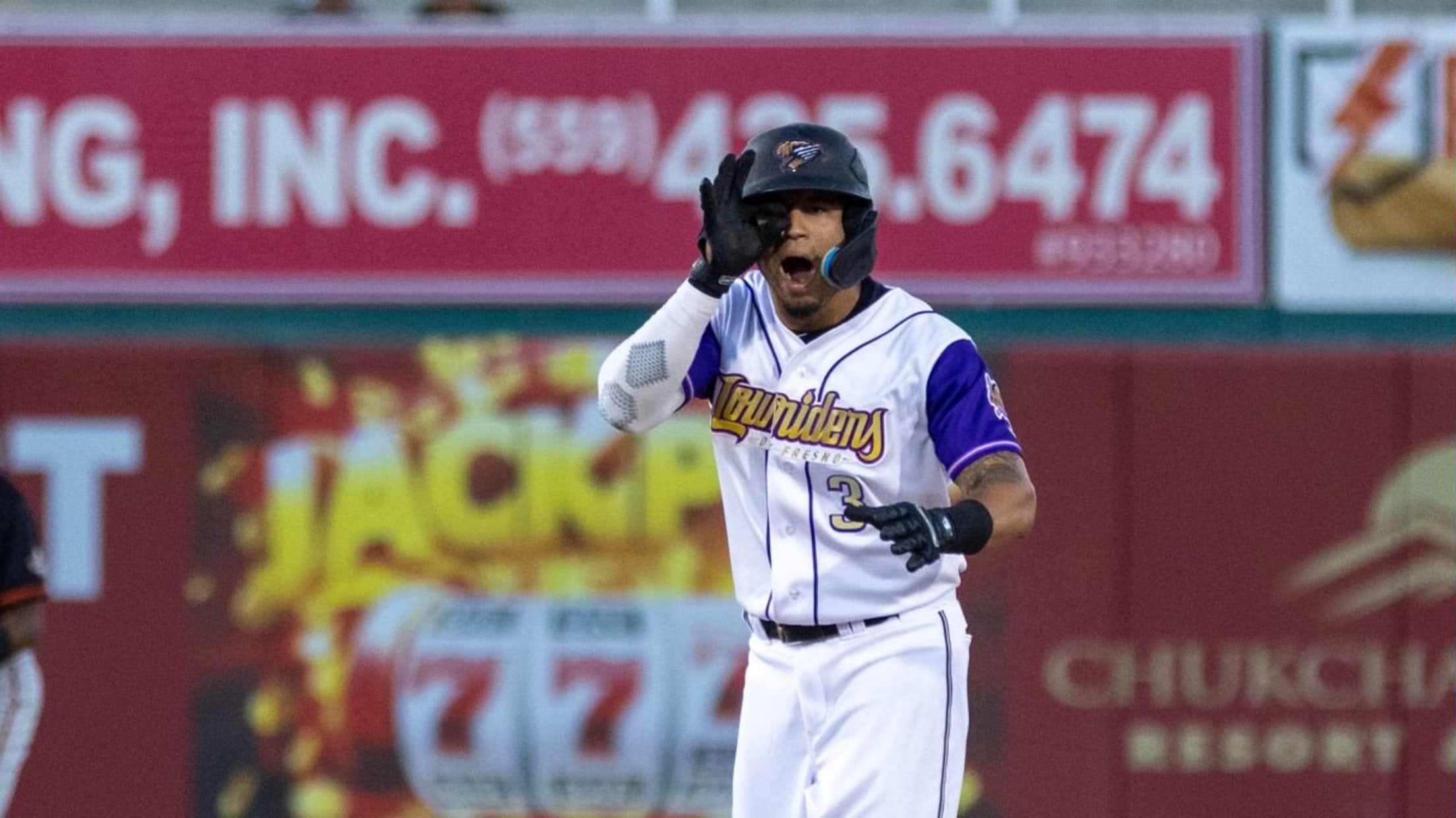 Fresno, CA (Sunday, July 10) – For the second time in three nights, the Lowriders de Fresno (51-30, 10-5) fueled a drive-off win, zooming past the San Jose Giants (46-35, 6-9) 3-2 Sunday evening from Chukchansi Park. The Lowriders enjoyed their fifth consecutive triumph and third straight comeback win against
Fresno, CA (Sunday, July 10) – For the second time in three nights, the Lowriders de Fresno (51-30, 10-5) fueled a drive-off win, zooming past the San Jose Giants (46-35, 6-9) 3-2 Sunday evening from Chukchansi Park. The Lowriders enjoyed their fifth consecutive triumph and third straight comeback win against the Giants. This season, the squads have split their 18 matchups against each other.
The clubs combined to score five runs (three earned) on 18 hits with only one going for extra-bases. San Jose grabbed an early 1-0 lead with a Victor Bericoto RBI single to right. The Giants would tally their second run on a wild pitch in the eighth. Fresno cut the deficit to 2-1 in the bottom of the eighth when Benny Montgomery lined a single to left-center, notching Juan Brito.
After a clean top of the ninth, the Lowriders looked for yet for another comeback win. Bryant Quijada started the frame with a double off the left-field wall, the only extra-base hit of the night. Then, a sacrifice bunt by Aiverson Rodriguez moved pinch-runner AJ Lewis over to third. Next, Yorvis Torrealba spanked a single to left, plating Lewis easily to tie the contest. Torrealba would then hustle to third on an EJ Andrews Jr. single to left, putting runners at the corners. Finally, up stepped Brito. The second baseman worked the count to 1-2 before trying to lay down a squeeze bunt. Brito pulled back on the pitch, which left Torrealba stuck halfway between third and home. After a throw from the catcher to the third baseman, Torrealba scampered back towards the plate and an errant toss allowed Torrealba to slide in safely with the winning run.
With the wild finish, Tyler Ahearn (4-2) relished his second straight victory in similar fashion (6-5 drive-off on Friday). Matt Mikulski (2-3) suffered the loss after permitting all three runs by Fresno. Lowriders starter Cullen Kafka did not factor in the decision after five innings of one-run ball. He allowed six hits and struck out three. Fresno improved to 10-1 in games that Kafka appears in. Luis Amoroso added two scoreless innings of relief after Kafka departed. San Jose righty Nick Sinacola twirled six shutout innings, fanning six. Both teams are off on Monday.
Top Performers: Lowriders de Fresno (Colorado Rockies)
• DH Yorvis Torrealba (3-4, RBI, Game-winning run)
• 1B Bryant Quijada (2-4, 2B)
• CF Benny Montgomery (2-4, RBI)
• Grizzlies pitching (9.0 IP, 9 H, 2 R, 2 ER, 1 BB, 5 K)
Top Performers: San Jose Giants (San Francisco Giants)
• RHP Nick Sinacola (6.0 IP, 4 H, 0 R, 0 ER, 0 BB, 6 K)
• LF Carter Williams (3-4, 2 R)
• 1B Riley Mahan (2-4)
On Deck:
Tuesday, July 12 @ Rancho Cucamonga Quakes, Fresno RHP Jarrod Cande (3-2, 2.93) vs. Rancho Cucamonga LHP Maddux Bruns (0-2, 5.16), 11:00 am PT
ON THAT FRES-NOTE:
In celebration of Minor League Baseball's Copa de la Diversion, the Grizzlies transformed into the Lowriders de Fresno for the weekend.