Whitecaps set MWL record with 24th shutout
Tigers Class A affiliate breaks 1974 mark held by Quad Cities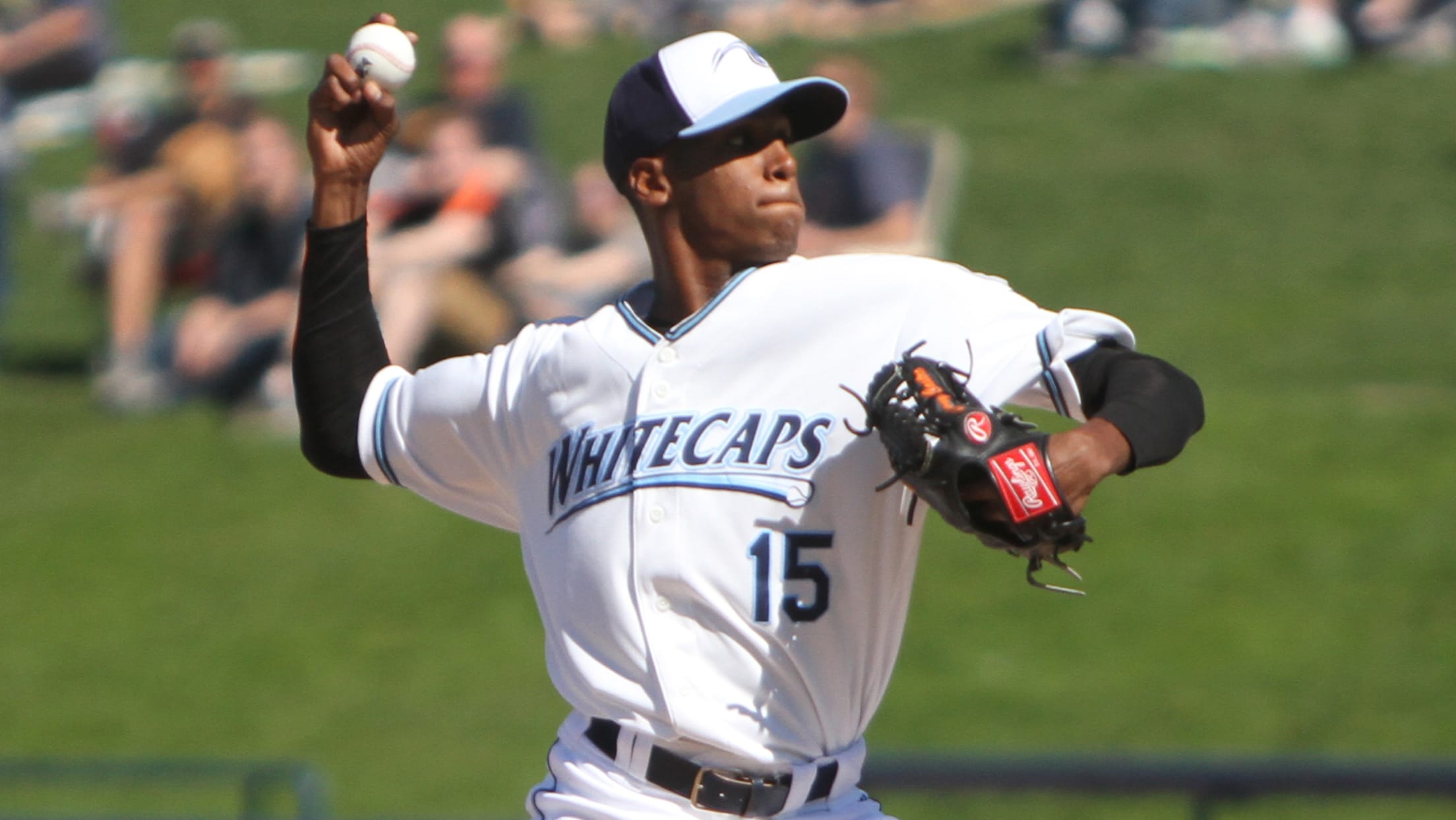 Anthony Castro is 21-14 with a 3.34 ERA in five Minor League seasons. (Emily Jones/MiLB.com)
Before the season started, Class A West Michigan pitching coach Jorge Cordova had a simple message for his staff: attack hitters low in the strike zone consistently and care for each pitcher like they were a brother. But did Cordova think those words would lead to historic success? Not until recently. "I
Before the season started, Class A West Michigan pitching coach Jorge Cordova had a simple message for his staff: attack hitters low in the strike zone consistently and care for each pitcher like they were a brother.
But did Cordova think those words would lead to historic success? Not until recently.
"I said this in April, 'For the next 150 days, I'm going to spend almost every single day with you guys. You guys are my family now,'" Cordova said. "'We're going to spend 12 to 14 hours a day together. So we're going to be a family and need to take care of each other.' But I didn't even talk about the record until about a month ago."
With the message well received, Tigers prospects Anthony Castro and Trent Szkutnik combined on the Whitecaps' 24th shutout of the season in a 6-0 win over Great Lakes on Friday night to set a new Midwest League record. West Michigan broke the mark set by the Quad Cities Angels in 1974.
"I'm very proud of every single one of my kids," Cordova said. "They follow directions, they follow everything that I've preached since the first day in April. We've promoted nine pitchers to the next level. But the idea is that we're going to go after the hitters and trust what they have -- talking about the stuff they have. Throwing the ball over the plate and letting the hitters swing the bat. And, obviously, throwing quality pitches down in the zone.
"The guys here took it to the next level and just followed the game plans, followed the work we did before every single game and that's the result."
Gameday box score
Not only do they have some history in hand, but the Whitecaps also lead the circuit with a 2.77 ERA, 1.11 WHIP and 41 saves, and are second with 1,072 strikeouts. Considering that pitchers on his staff have both pitch counts and innings limits, Cordova has been thoroughly impressed with the way they've handled getting ready each day.
"We work a lot early in the day. We go out at 2:30 in the afternoon for games at 7 and we talk about every single hitter, we talk about how we should approach and they just follow the game plan," Cordova said. "That's very important when you want to get the job done. That's important if you want to give your team a chance to win the games.
"The problem with young kids, they want to go out there and strike everybody out. But these kids, they go after the hitters and let them swing the bats with quality pitches down in the strike zone."
Castro (9-4) scattered four hits with two walks and five strikeouts over five innings in his third scoreless outing of the season. The 22-year-old right-hander sports a 2.70 ERA and 1.16 WHIP, good for fourth and seventh in the league, respectively. Over the second half of the season, Castro has 27 whiffs in 34 1/3 innings.
"Anthony Castro is obviously one of the most important kids that we have here," Cordova said. "He's had an innings limit, that's why over the last few outings over the second half he's only pitched five innings. So he can focus every outing on going five innings to give us a chance as a team. He's been amazing the last 2 1/2 months of the season."
Szkutnik fanned six over four perfect innings en route to his second save of the year. The 23-year-old has a 3.05 ERA over 28 outings, including two starts, over 76 2/3 innings. But what's stood out to Cordova is that the 2014 20th-round pick hasn't yielded an earned run in 16 straight innings since July 31.
"He was perfect today, he faced 12 hitters and got them all," Cordova said. "The problem with him in the past was that he tried to strike out a lot of people. So we talked about what he should trust and throw for strikes. He's going out there and mixing every single pitch that he has in his repertoire. He's changing speeds, locating his fastball and that's why he's been very successful his last three outings."
Beofre he was promoted on Aug. 4 to Class A Advanced Lakeland, Tigers No. 11 prospect Gregory Soto was the ace of the Whitecaps' rotation, posting a 10-1 record and 2.25 ERA, good for second in the league. Cordova admits it took plenty of work to get the 22-year-old on the right path.
"The biggest thing with him is his concentration and how to stay calm on the mound and dealing with adversity because he's a very intense kid," Cordova said. "He just wants to go at the hitters with a 100 mph fastball. We talked about how important the location was and knowing the power of his pitches. But everybody knows how good his arm is. He can throw a 95-plus fastball with the location. He understood and that was part of his success in the Midwest League. He went after hitters, he trusted what he could do and didn't try to overpower anyone."
• Get tickets to a Whitecaps game »
Taking into consideration the transient nature of the Minor Leagues, Cordova is pleased knowing that everyone's diligence has paid off.
"It was going to be tough to do it because my job as a pitching coach is to promote these guys to the next level," Cordova said. "My goal is to get them better and get them to the big leagues, not to have shutouts here in the Midwest League.
"After we got to 15, I was thinking we had a chance because the message was already there. They understood how important it was to trust, pitch like a family, how important it is to take care of each other and win the games."
Andrew Battifarano is a contributor to MiLB.com. Follow him on Twitter, @AndrewAtBatt.