Widell, Fresno on wrong side of Game 100 versus San Jose, 6-2
Ryley Widell strikes out five in Grizzlies debut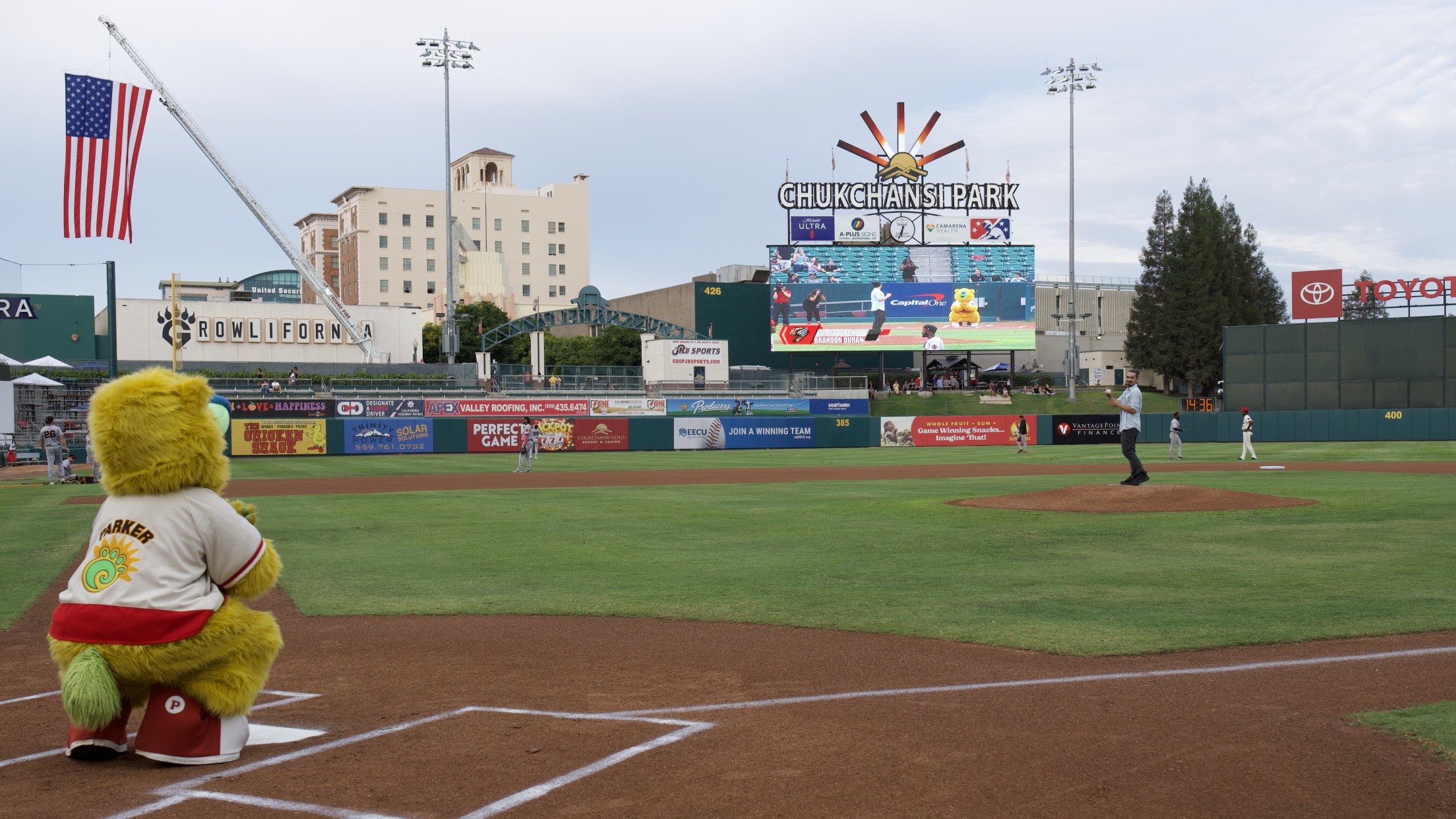 Fresno, CA (Friday, August 5) – In game 100 of the season, the Fresno Grizzlies (58-42, 17-17) faltered to the San Jose Giants (58-42, 18-16) 6-2 Friday night from Chukchansi Park. The Grizzlies dropped their second straight game 100 as a Rockies affiliate and fell to 10-8 on Fridays in
Fresno, CA (Friday, August 5) – In game 100 of the season, the Fresno Grizzlies (58-42, 17-17) faltered to the San Jose Giants (58-42, 18-16) 6-2 Friday night from Chukchansi Park. The Grizzlies dropped their second straight game 100 as a Rockies affiliate and fell to 10-8 on Fridays in 2022. Fresno and San Jose have split their 22 matchups this season with eight contests remaining.
The Giants grabbed a 1-0 lead in the top of the second when Jared Dupere smashed a solo shot to dead center. It was Dupere's third homer of the series and sixth longball of the year. In the bottom of the third, Juan Guerrero tied the contest at one when he smoked a single to left, plating Juan Brito. San Jose snatched the advantage back in the fourth when Garrett Frechette roped a two-run double to left. Fresno cut into the deficit in the fourth when EJ Andrews Jr. whacked a double and waltzed home on a Ben Sems RBI single to left. In the fifth, Grant McCray extended the Giants lead to 4-2 after mashing a tater to center field. A frame later, Yorlis Rodriguez lengthened the advantage with a double to center. In the ninth, Adrian Sugastey finished the scoring with a single to center.
For the third straight contest, the Grizzlies mustered four hits. Yanquiel Fernandez expanded his hit streak to six games with a single. Guerrero, Andrews Jr. and Sems supplied the other hits. The Giants tallied 13 hits with five of them landing for extra-bases. Four different batters notched multi-hit affairs with Frechette producing two RBI.
Fresno lefty Ryley Widell (0-1) agonized the defeat after four innings of three-run ball. He allowed six hits and struck out five in his Grizzlies debut. San Jose righty Eric Silva did not factor in the final line after permitting one run in three frames. Scott Alexander (1-0) was awarded the decision after tossing the fourth. Melvin Adon recorded a hold after punching out two in the fifth. Joe Kemlage (save, 1) wrapped up the victory with four clean innings. Kemlage did not allow a hit or run while fanning seven. The clubs continue their series tomorrow evening from Chukchansi Park.
Top Performers: Fresno Grizzlies (Colorado Rockies)
• SS Ben Sems (1-3, RBI, BB)
• RF Juan Guerrero (1-3, RBI, BB)
• CF EJ Andrews Jr. (1-4, 2B, R)
• LHP Ryley Widell (4.0 IP, 6 H, 3 R, 3 ER, 0 BB, 5 K)
Top Performers: San Jose Giants (San Francisco Giants)
• LHP Joe Kemlage (4.0 IP, 0 H, 0 R, 0 ER, 2 BB, 7 K)
• RF Jared Dupere (3-5, HR, RBI, 2 R)
• CF Grant McCray (1-4, HR, RBI, R, BB)
• C Adrian Sugastey (3-4, 2B, RBI, R, BB)
On Deck:
Saturday, August 6 vs. San Jose Giants, San Jose RHP Nick Sinacola (5-5, 3.20) vs. Fresno RHP McCade Brown (3-4, 4.91) , 6:50 pm PT
ON THAT FRES-NOTES:
Ryley Widell is a 25-year old from Makawao, Hawaii (Maui). Widell appeared in his first start in a Fresno uniform since signing with the Rockies on April 26. The lefty was considered the top LHP in Hawaii by Perfect Game in high school before taking his talents to Wash­ington State. He would transfer to Central Arizona JC and continue to thrive. Widell was taken in the seventh round (No. 196 overall) by the Minnesota Twins in 2017, where he spent four seasons. In 2018, he missed the entire season due to mononucleosis. After he was released in 2020, Widell would sign with the Dodgers in 2021 and converted to a reliever. He appeared in six games before being released again. Since signing with the Rockies, Widell has been building back up to a starter role.
Tonight was Military Appreciation Night at Chukchansi Park. Some notable skits included push-up challenge, bumper balls and a PROPOSAL! She said YES!