Baseball Winter Meetings preview 2022
Minor League awards, Draft lottery among highlights in San Diego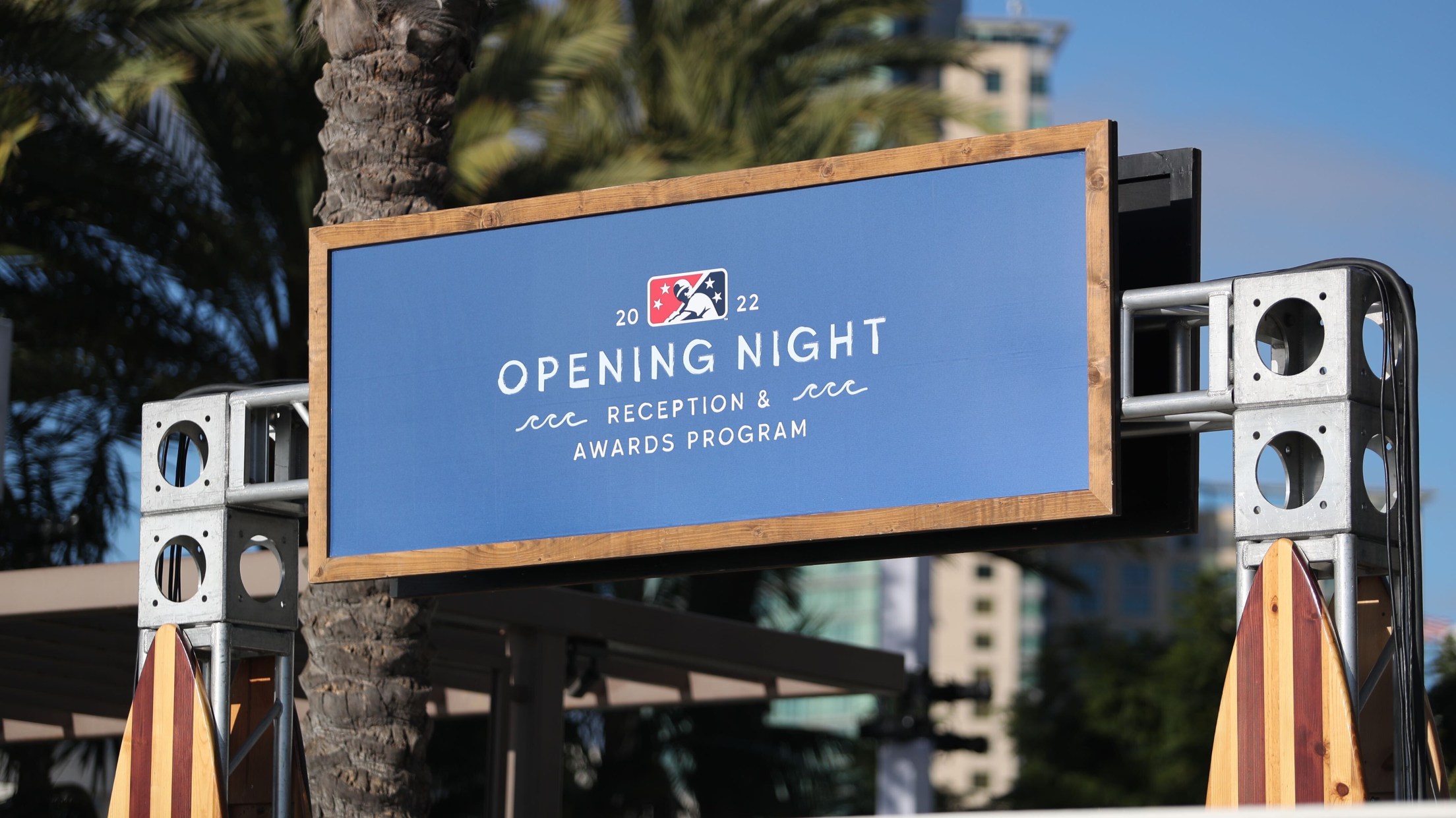 The Baseball Winter Meetings return to San Diego this week, and the Minor League portion as usual is packed with panel discussions, open forums and other gatherings, highlighted Sunday by the Opening Night reception and awards program at the Hilton San Diego Bayfront.
The Baseball Winter Meetings return to San Diego this week, and the Minor League portion as usual is packed with panel discussions, open forums and other gatherings, highlighted Sunday by the Opening Night reception and awards program at the Hilton San Diego Bayfront.
Below are the awards, including the coveted Golden Bobbleheads, handed out at Sunday night's event:
Copa de la Diversión Campeón Award presented by Nationwide: Hillsboro Hops
CommUNITY Champion Award: Richmond Flying Squirrels
Future Star of the Year Award: Rebekah Rivette (Bradenton Marauders)
Executive of the Year Award: Mike Nutter (Fort Wayne TinCaps)
Golden Bobblehead Award – Best Promotion/Event: "Marathon Sunday Runday" (St. Paul Saints)
Golden Bobblehead Award – In-Game Promotion/Feature: Spin to Win Saturdays (South Bend Cubs)
Golden Bobblehead Award - Non-Gameday Event: "Enchant Christmas" (Las Vegas Aviators)
Golden Bobblehead Award - Community Promotion or Event: Uvalde Night Fundraiser (San Antonio Missions)
Golden Bobblehead Award - Digital Campaign or Activation: Joey Jaws (Indianapolis Indians)
Golden Bobblehead Award - Theme Night Collection or Specialty Jersey: Slammin' Sam (Tacoma Rainiers)
Organization of the Year Award: Nashville Sounds (Milwaukee Brewers)
Along with the Minor League awards and other industry gatherings, the baseball action will also be non-stop on the Major League side of the event. As far as prospect news goes, anything and everything can and will happen at the Winter Meetings.
For this year's iteration, Jim Callis, Jonathan Mayo and other members of the MLB Pipeline crew will be keeping a close eye on all the transactions that might impact any of the 30 Major League organizations on any level.
Here's a breakdown of what, when and how to watch:
Trades
When representatives from every team are gathered in the same place, it's a safe bet some blockbuster deals are going to go down. The big league names involved end up in the headlines, but prospects are typically a huge part of the story. And, as a quick look through the biggest prospect trades of all time demonstrates, a considerable percentage of these swaps happen during the Winter Meetings.
This year, the Blue Jays, Cardinals, Dodgers and Mets are among the teams in the best position to deal prospects. Of course, every system has at least one intriguing player who could be dealt.
Draft lottery
A new addition this year, the Draft lottery takes place Tuesday at 8:30 p.m. ET/5:30 PT -- live on MLB Network and MLB.com -- and will determine which teams will be in the catbird seat for the 2023 Draft. The Nationals, Athletics and Pirates each have a 16.5 percent chance of winning the No. 1 overall pick, and most clubs have a shot.
We'll have a close eye on which clubs fortunes favor and which will have to be especially strategic to get the most out of their picks in next year's Draft.
Rule 5 Draft
The Rule 5 Draft takes place on Wednesday at 5 p.m. ET and will be streamed live on MLB.com. Designed to ensure that big league-ready players get big league opportunities, the 100-plus-year-old event permits teams to pick up certain Minor League players who have not been protected by being placed on a 40-man roster. A team that's selected a player in the Rule 5 Draft must pay the team of origin $100,000 and keep the claimed player on the 26-man roster for the duration of the coming season or place him on outright waivers. If the player clears waivers, he's offered back to the club from which he was claimed for $50,000.
Admittedly, the most highly touted prospects tend to be protected from the Rule 5 Draft by dint of either where they are in the development (i.e., not yet ready for The Show and thereby very unlikely to stick on a 26-man roster) or by being placed on their team's 40-man roster.
But there are steals to be had! Johan Santana, R.A. Dickey, Shane Victorino and Josh Hamilton were all Rule 5 Draft picks at one point. The Orioles grabbed Nestor Cortes from the Yankees in the 2017 Rule 5 Draft but returned him the following April. MLB Pipeline recently broke down the top 10 Rule 5 picks of the last decade, and the list is filled with names of players who are now standout contributors in the Majors.
This year, clubs had until Nov. 15 to protect eligible players via the 40-man roster, and there are lots of intriguing players who are up for grabs. Here's one from each team.
Free agent signings
Major League free agent signings might not leap to mind in terms of transactions affecting farm systems, but they have a direct impact on the Draft.
Any team that loses a qualifying free agent, doesn't receive funds from revenue sharing and kept its payroll beneath the luxury-tax threshold in the 2022 season gets to make a compensatory pick after Competitive Balance Round B in the Draft. Teams that exceeded the luxury-tax threshold but lose a qualifying free agent and do not receive revenue-sharing funds get to make a compensatory pick before Round 5.
So, what does that mean in practical terms?
Of the 14 free agents who received qualifying offers this year, two (the Rangers' Martín Pérez and the Giants' Joc Pederson) accepted, one signed a new deal in-house (the Yankees' Anthony Rizzo) and one already signed elsewhere (Tyler Anderson leaving the Dodgers to join the Angels), with 10 headed into the Meetings unsigned.
That means the Cubs (because of Willson Contreras), Braves (Dansby Swanson) and Giants (Carlos Rodón) will receive additional picks before the third round of the 2023 Draft if their free agents sign elsewhere.
The Yankees (for Aaron Judge), the Dodgers (Trea Turner, plus one additional pick already in the bag for Anderson), the Mets (Chris Bassitt, Jacob deGrom, Brandon Nimmo) and the Red Sox (Xander Bogaerts, Nathan Eovaldi) could end up with extra picks between the fourth and fifth round.
For more details and a lay of the land, check out how the 2023 Draft order is shaping up ahead of Tuesday's lottery.
Josh Jackson is an editor for MiLB.com. Follow and interact with him on Twitter @JoshJacksonMiLB.