With 7 Top 20 Yankees Prospects, Patriots Look Ready To Defend Title In 2023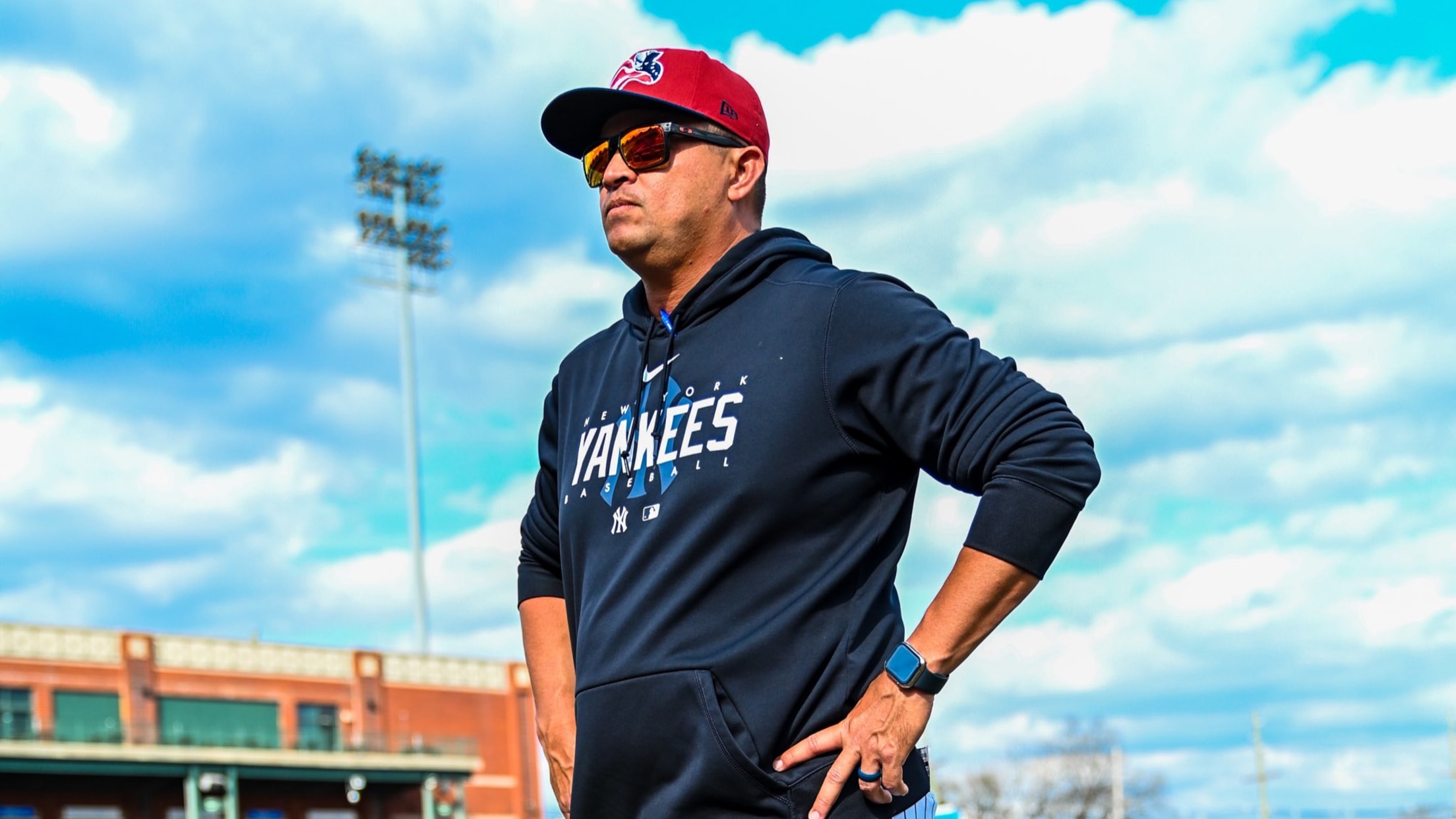 Bridgewater, New Jersey - As the Patriots get set to begin their Eastern League title defense with a three-game opening slate against the Harrisburg Senators beginning Thursday, the team pulled back the curtain on their 2023 roster on Wednesday by allowing local media to chat with the team for the
Bridgewater, New Jersey - As the Patriots get set to begin their Eastern League title defense with a three-game opening slate against the Harrisburg Senators beginning Thursday, the team pulled back the curtain on their 2023 roster on Wednesday by allowing local media to chat with the team for the first time before season ticket holders were treated to an exclusive batting practice and autograph session at TD Bank Ballpark.
After spending the last 16 seasons in various coaching roles in the Yankees organization, new skipper Raul Dominguez has longed for the opportunity to manage a full-season affiliate and is relishing the opportunity that he has been given. Succeeding reigning Eastern League Manager of the Year Dan Fiorito, who will resume his duties as a roving instructor, Dominguez take the reins of an ultra-talented roster that is stocked with seven of the Yankees organization's top-20 prospects, according to MLB Pipeline's rankings.
Anthony Seigler, Will Warren and Trey Sweeney addressed the media ahead of Opening Day at TD Bank Ballpark. pic.twitter.com/1CySTof6Sp

— Somerset Patriots (@SOMPatriots) April 5, 2023
"It is something that I was looking for and I am so happy that the Yankees gave me the opportunity to be a manager, especially here in Somerset," said Dominguez.
A former Yankees prospect himself; Dominguez sports a resume that is as long as it is impressive. Having showcased a great deal of coaching versatility from just about every level of the system - from complex league manager to Triple-A defensive coach and everything in between, Dominguez believes that his experiences in many roles have prepared him to lead the next group of heralded prospects in pinstripes.
"I have a lot of experience working in different levels and I think I have a good reason to be a manager," explained Dominguez. "It's been really good communication so far with the players and I am really happy with the group that I have."
Dominguez confirmed that right-hander Richard Fitts (#10 MLB Pipeline) will toe the rubber on Opening Day. The Yankees 2021 sixth round draft selection out of Auburn University is set to make his Double-A debut with just five starts at High-A under his belt. In his first season in professional baseball last season, Fitts fanned 130 batters in 112 innings and displayed impeccable control for such a young pitcher, posting a 0.98 WHIP across 22 starts.
"I'm really excited to be able to show everybody here up north who I am and do everything that I can for the organization and this team," Fitts said. "I was wanting to start up here obviously just as a good promotion, but I was kind of setting my expectations that I would be happy wherever I'm at. Obviously, I'm very happy to be here as early as I am."
Catcher Anthony Seigler was the Yankees first round pick back in 2018 and will make his Double-A debut after overcoming an array of injuries that have admittedly set his development behind. After a strong year at Hudson Valley in 2022, the highly touted backstop had glowing words about Fitts and the rest of the Somerset pitching staff that he will get to work with this year.
"Anywhere that I call and just put my glove, he can hit that spot," Seigler said of Fitts. "I was able to catch him in Tampa and then once he got up to Hudson Valley, it was the same. He never missed a beat and he can just pound the strike zone with any pitch in any count. He was successful, as you can tell, and he is one of my favorite ones to catch."
Seigler added, "What separates him is that he is able to pound the zone and in any count he can throw whatever he wants."
Fitts will be followed in the rotation by two familiar faces that were vital to the teams championship chase last season in right-handers Clayton Beeter (#15 MLB Pipeline) and Will Warren (#9 MLB Pipeline).
Beeter will take the ball on Friday night coming out of his first spring training with the Yankees after being traded over from the Dodgers in the Joey Gallo trade last summer. Now fully stretched out for a starter's workload, Beeter feels like he can just go out there and pitch to his strengths now that he is not restricted in shorter outings in the opener role that he was deployed in during his time with Los Angeles.
"Last year was really good because I got into the mindset of trying to win games rather than trying to put up stats," admitted Beeter. "When I am able to go five innings, I feel like I can actually help my team win a lot better. Plus, we had a great group here that was in a playoff race and it was real easy to get into that mindset."
Will Warren will pitch the series finale on Saturday night after a 2022 pro debut that earned him the 2022 Kevin Lawn Award as the Yankees Minor League Pitcher of the Year. The 2021 eighth round draft selection believes his experiences both good and bad during his 18 starts in Somerset last year has set him up for success out of the gate in 2023.
"You're not as scared or timid coming into Double-A because last year I didn't know what to expect when I got called up," said Warren. "Now I know that we belong here, and the team is very good. We're coming back to try and win a championship and I think that helps a lot having that experience last year."
"I am so excited that I get to catch this group of guys," said Seigler. "Everybody that we throw up there is going to be electric, they're going to pound the strike zone and they're going to give us everything that we need and that is from the starters down to the relievers. I'm really excited to get it started and it's going to be a fun one to catch."
Matt Kardos | SomersetPatriots.com Beat Writer
Matt Kardos has covered the Yankees minor league system for over a decade and will spend his 11th season on the beat covering the Patriots for SomersetPatriots.com. Throughout his career, Matt has contributed to MLB.com, YES Network and Pinstriped Prospects. When he's not at the ballpark, Matt enjoys traveling with his wife Kimberly, watching Jets football and collecting sports cards.