Blue Wahoos' Bremer Helping Ice Flyers In Moonlight Role On Team's TV Hockey Broadcasts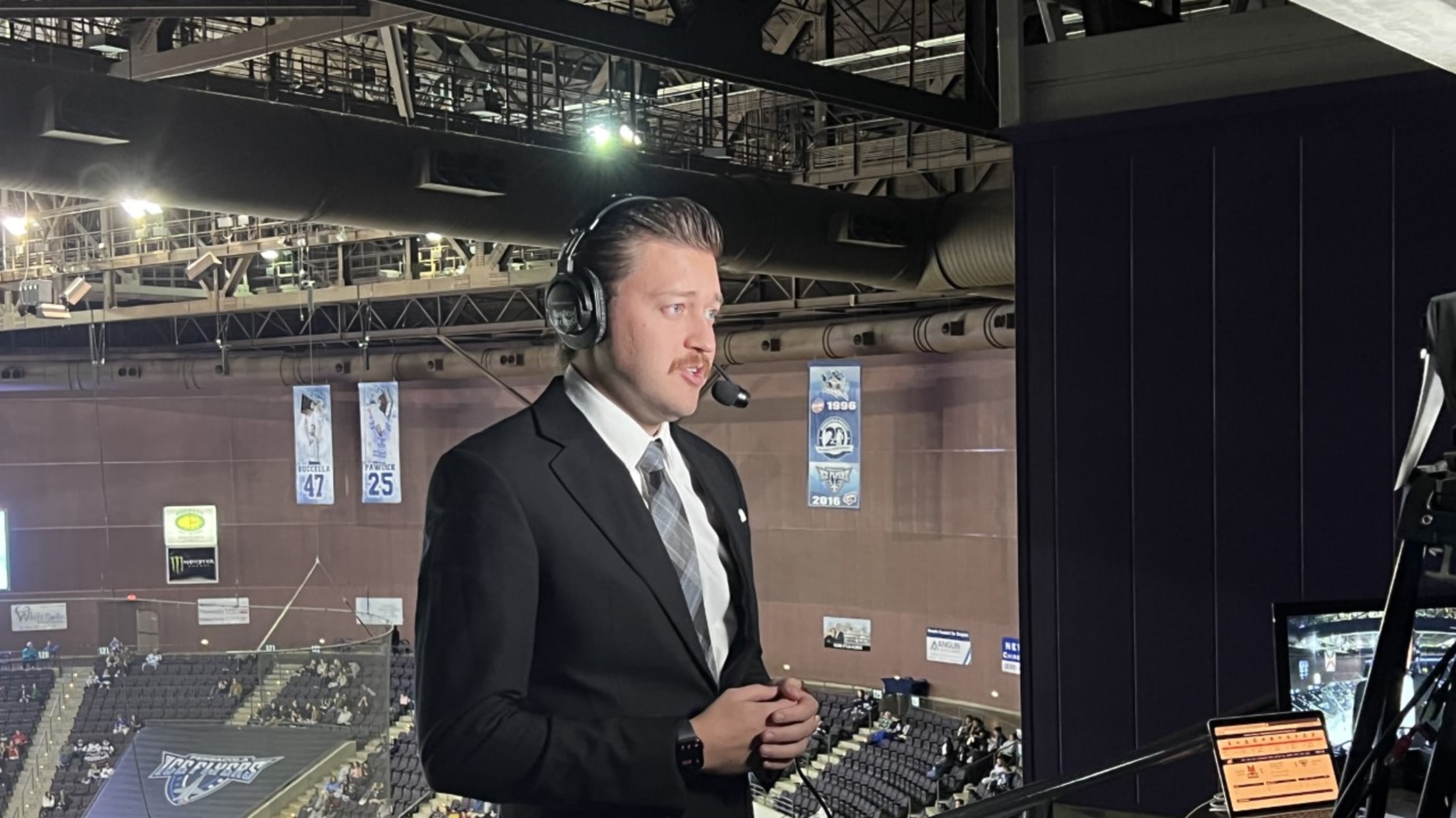 (Bill Vilona/Pensacola Blue Wahoos)
Far above the ice surface, two hours before opening faceoff, Erik Bremer has set up a one-person studio in the upper reaches of the Pensacola Bay Center. With material neatly arranged, rosters, lineups and various other data taped on a table nearby, final preparations have begun for another live television
Far above the ice surface, two hours before opening faceoff, Erik Bremer has set up a one-person studio in the upper reaches of the Pensacola Bay Center.
With material neatly arranged, rosters, lineups and various other data taped on a table nearby, final preparations have begun for another live television broadcast of an Ice Flyers game on YurView, part of the Cox Communications lineup of networks.
Since mid-November, Bremer's association as voice of the Blue Wahoos has transferred into a moonlight role as the TV broadcast voice of Ice Flyers home games. It has meant handling a sport that is a totally different realm from baseball.
"It's been great to step outside my comfort zone a little bit and embrace a new challenge," said Bremer, who joined the Blue Wahoos in March 2022 to become the team's new play-by-play announcer. "Our (hockey) broadcast production is a team effort, and I feel like we're all getting a little better every night as we build our programming from the ground up.
"There are times in baseball where you can luxuriate in the silence, just the ambiance of the ballpark," he said. "And that can add to the broadcast. But in hockey, if you are silent, it is very noticeable, because something is always happening and you need to stay on top of it."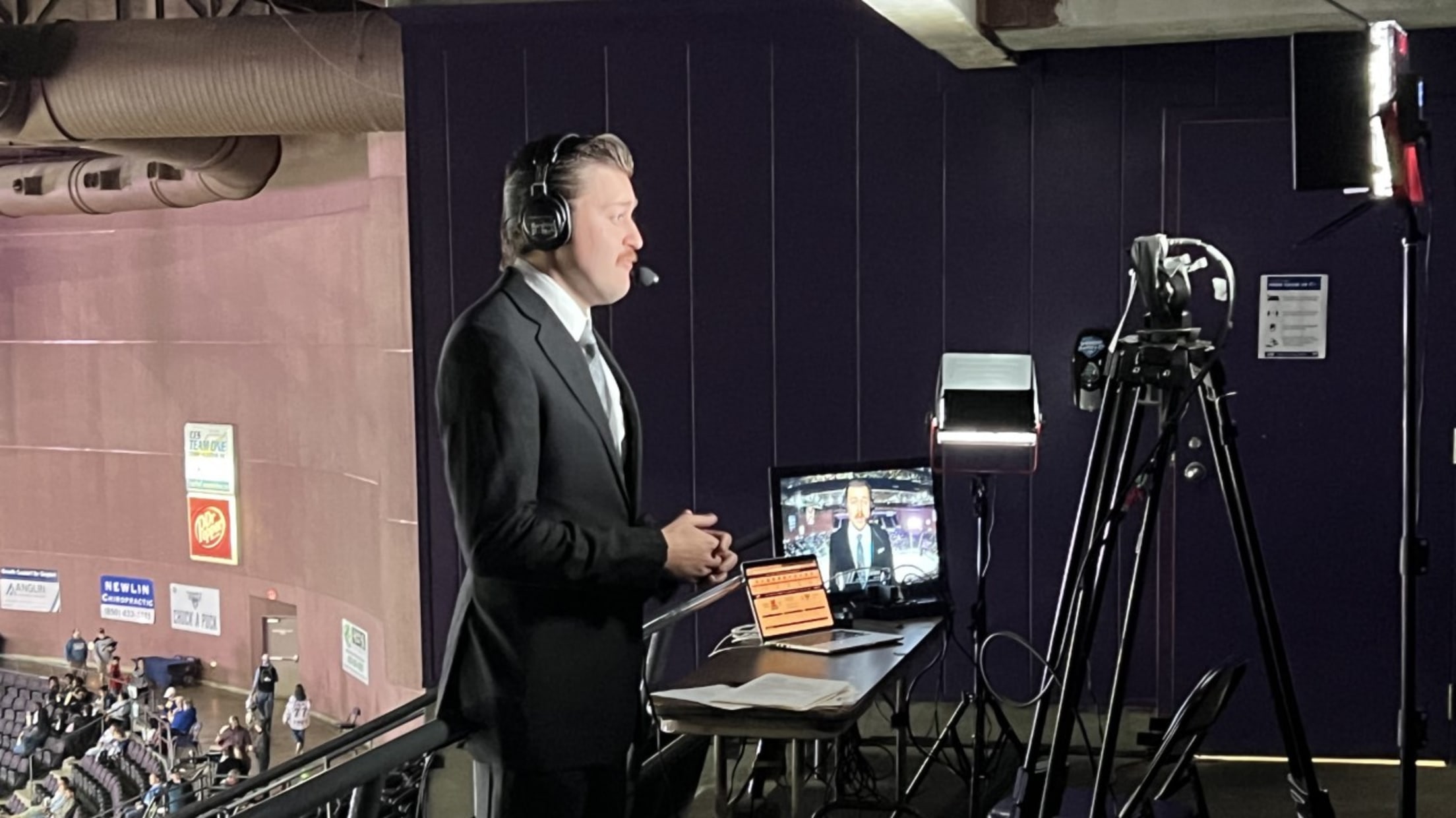 The home game television broadcasts on YurView, including Monday's matinee game against the Macon Mayhem on Martin Luther King Jr. Day, complement the Ice Flyers radio broadcasts of all 28 home games.
Those are handled by Pensacola's long-time hockey announcer Paul Chestnutt on Fox Sports Pensacola. Chestnutt moved to Pensacola in 1996 when the Pensacola Ice Pilots made their debut and has been a fixture on sports radio broadcasts in this area for three decades.
The Ice Flyers are in their busiest stretch of home games all season. They set a franchise record crowd of 6,672 last Saturday against Birmingham, then played Monday against Macon and will face the Mayhem again in back to back-to-back games at the Bay Center on Friday and Saturday, followed by home games next weekend (Jan. 27-28) against Roanoke.
All of the games will be live broadcasts on YurView.
"I think it just adds another layer to what we are doing," said Ice Flyers owner Greg Harris. "We want to showcase our product. This is another advertising and marketing element in my mind. So we are putting our brand out there, the Pensacola market out there.
"It is another thing we are now able to provide. We have the capabilities now to do TV, so let's do it. To have a separate TV broadcast to hit a lot of different markets, that is a big bonus for us. I am interested to see how the trend goes through the rest of this season with some of the numbers we will see."
On the first night of the broadcasts back in November, Harris asked the production group how it was sounding. Bremer had prepped for days to get familiar with the Ice Flyers and gear for the game's non-stop pace. The feedback was good.
"That first night when I asked, they said, 'Oh my gosh, it sounds amazing.' This takes us to a new level," Harris said. "And to have Erik, someone with his broadcast experience and he's growing in hockey, it's definitely a good addition to have Erik being part of our team.
"I look forward to seeing what he's like as we continue, because he's just going to get better and better as his experience grows."
Bremer, who grew up in Minneapolis, had brief, prior experience in hockey broadcasts. He worked broadcasting several high school hockey games in Minnesota, which is the cradle of hockey talent in the U.S.
No other state in America is close to Minnesota with the number of elite hockey players who have either reached the highest level in the NHL or advanced through colleges and the minor leagues. Being a Minnesota native, Bremer knows the sport well.
"I have watched plenty of hockey games in my life," said Bremer, who began his Minor League Baseball broadcasting career in 2017. "The rhythm and pacing in hockey are very different from a baseball game. In baseball, you have day in and day out narratives that really shape the broadcast.
"But hockey is so fast paced and it's more difficult to discern individual matchups. You don't have a pitcher versus a batter, with the attention always on that matchup. So you are much more reliant on the team as a whole and how they are doing, and it's more difficult to quantify that."
The additional exposure is part of a breakthrough season for the Ice Flyers in fan interest. The team is averaging more than 4,000 per-game for the first time in franchise history.
"I think having a robust broadcast on television gives an organization credibility," Bremer said. "People associate watching sports on TV with a professional product and most often a major league caliber product. And though the Ice Flyers and Blue Wahoos are minor league organizations, it is professional sports and I think there is a positive association between watching a product on television and feeling that product is worth your attention and your investment.
"If you have a casual fan thumbing through the TV schedule some evening and they see a well-produced broadcast of a baseball game or hockey game, that signals to them this is legit. And it's true.
"Both of these team operations are run really well, and I'm glad that someone who might not be in the ballpark or at the Bay Center on a nightly basis is able to see that."
In expanding the attendance this season, the Ice Flyers have attracted a noticeable number of families and children, many of whom are first-time spectators.
"For many people, it's also their first hockey game," Bremer said. "So you want to provide an experience that is different and unique and fresh every time. And you see the all the promotions, all the things that are fan focused and fan oriented, and you see the attendance.
"And it's very obvious that they are doing something right, because they have a dedicated fan base here that really values the unique role that hockey can play in this community."