Legendary Organist Nancy Faust Back For Encore With Blue Wahoos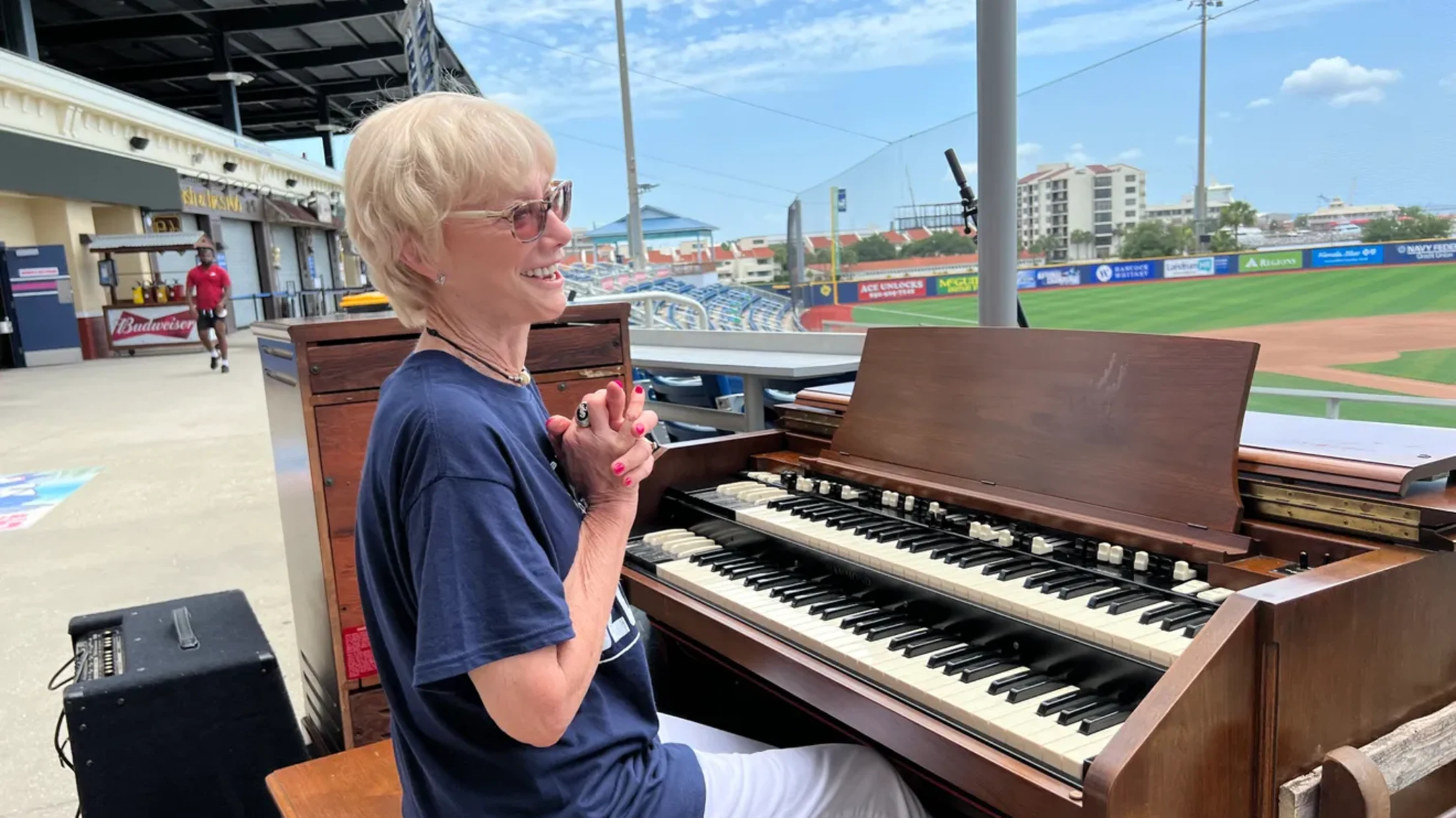 Legendary organist Nancy Faust is back for encore performance on Sunday May 21 at the Blue Wahoos final game of homestand. (Bill Vilona/Pensacola Blue Wahoos)
The return engagement this weekend for legendary baseball organist Nancy Faust at Blue Wahoos Stadium was an easy pitch. She was so thrilled a year ago by the first experience. Faust, 76, the nationally-renown, former Chicago White Sox organist and entertainer for 41 consecutive years, is set for an encore
The return engagement this weekend for legendary baseball organist Nancy Faust at Blue Wahoos Stadium was an easy pitch.
She was so thrilled a year ago by the first experience.
Faust, 76, the nationally-renown, former Chicago White Sox organist and entertainer for 41 consecutive years, is set for an encore performance on Sunday in Pensacola when the Blue Wahoos complete their week-long series against the Tennessee Smokies.
She will be the featured star of "Throwback Sunday" for the 4:05 p.m. game that will include other vintage elements, as part of the Blue Wahoos' Family Sunday experience.
"She is super excited to being come back here," said Mike Fitzpatrick, the Blue Wahoos facilities manager and Chicago native, who helped arrange Faust's performance a year ago at Blue Wahoos Stadium. "I've kept in touch with her throughout the year and she was so amazed by how well everyone treated her like royalty."
Faust first delighted Blue Wahoos fans last June on Father's Day weekend. Her appearance was a special Father's Day gift from Rishy Studer to Quint Studer, the Blue Wahoos' co-owners. Rishy helped arrange the trip from Chicago for Faust and her husband Joe.
Fitzpatrick then worked last year to locate a replica Hammond B3 Organ among anyone in the music business in Pensacola.
He found one through Pensacola resident Tommy Durant who was part of an organ group and had one at a church.
"That was the toughest part, because Nancy only plays that kind of organ," Fitzpatrick said. "And then we had to set it up and get it connect to our audio system at the stadium, so we were able to get all of that worked out."
This year, of course, those logistical challenges are easy. The organ is ready to go. And so is Faust, who will again set up on the concourse behind home plate, along with a tent to protect from the sun, and produce a medley of famous ballpark songs, along with taking fan requests for music.
In addition, Faust is playing on two different dates this summer at ABC Supply Stadium in Beloit, Wisconsin, home of the Beloit Sky Carp, the Miami Marlins' High-A affiliate that is also co-owned by Quint and Rishy Studer.
"It is really a great relationship we have developed," said Fitzpatrick. "She is just so thrilled that we've taken such an interest in having her.
"We had so many fans remark on our surveys after those two games last year saying they wanted Nancy back, they wanted to have an organist at games. They loved her and she was so pumped that everyone took to her."
The White Sox arranged for Faust to play at a spring training game in March in Arizona. She was hired in 1970 by former White Sox owner Bill Veeck, an innovator in those days, to become an organist at Comiskey Park at a time when Major League Baseball games did not include between innings entertainment or music playing.
Faust was featured as part of the documentary entitled "Last Comiskey" on the White Sox final season in 1990 at their long-time former ballpark. Faust played at White Sox games from 1970 until retiring in 2001. She only missed four games in that 41-year period.
Fitzpatrick, along with his business partner, formerly owned a famous bar in Chicago, the Cork and Kerry. In 2005 when the White Sox won the World Series, he arranged for Faust to play at the bar/restaurant the night of the White Sox clinching game.
That night, that connection, enabled Fitzpatrick to reconnect with Faust and get her to play in Pensacola last year.
"We were long time White Sox fans, season ticket holders and we thought it be great idea to get her in the bar to play and help celebrate the White Sox winning the World Series," Fitzpatrick said. "We were able to get her in the bar and got an organ set up and she stayed the whole night.
"It was an unbelievable night and she still remembered it when I called her. She knew who I was and even said she had still had pictures from that night. She told me, 'If you can get the organ, I will try and come down."
It was also Faust's first time meeting Quint and Rishy Studer.
"Everything just clicked so well from that experience last year," Fitzpatrick said.
Among her many achievements, Faust was the first to lead "Take Me Out To The Ballgame" when beloved broadcaster Harry Caray was the voice of the White Sox before he transitioned to become the Chicago Cubs iconic voice.
Inspired by Faust, Caray then became famous for his own rendition of the song at Cubs games when he opened the broadcast window and let fans sing along.
Faust also created the famed "Nah Na Nah, Hey, Hey, Kiss Him Goodbye" theme song that is played worldwide at sporting events. She is recognized with a display at the National Baseball Hall of Fame in Cooperstown. New York.
She was inducted into the Baseball Reliquary's Shrine of Eternals for her dramatic impact in baseball entertainment.
WANT TO GO?
WHAT: Blue Wahoos Baseball
WHO: Tennessee Smokies vs. Blue Wahoos
WHEN: Sunday, 4:05 p.m.
WHERE: Blue Wahoos Stadium
PROMOTION: Throwback Sunday featuring long-time, Chicago White Sox organist Nancy Faust. In addition, the first 1,000 fans will receive a Blue Wahoos team photo taken weeks ago that includes pitcher Eury Perez. Following the game, kids can run the bases and families can toss baseballs in the outfield.