Blue Wahoos On Record Streak To Begin This Week Of Homestand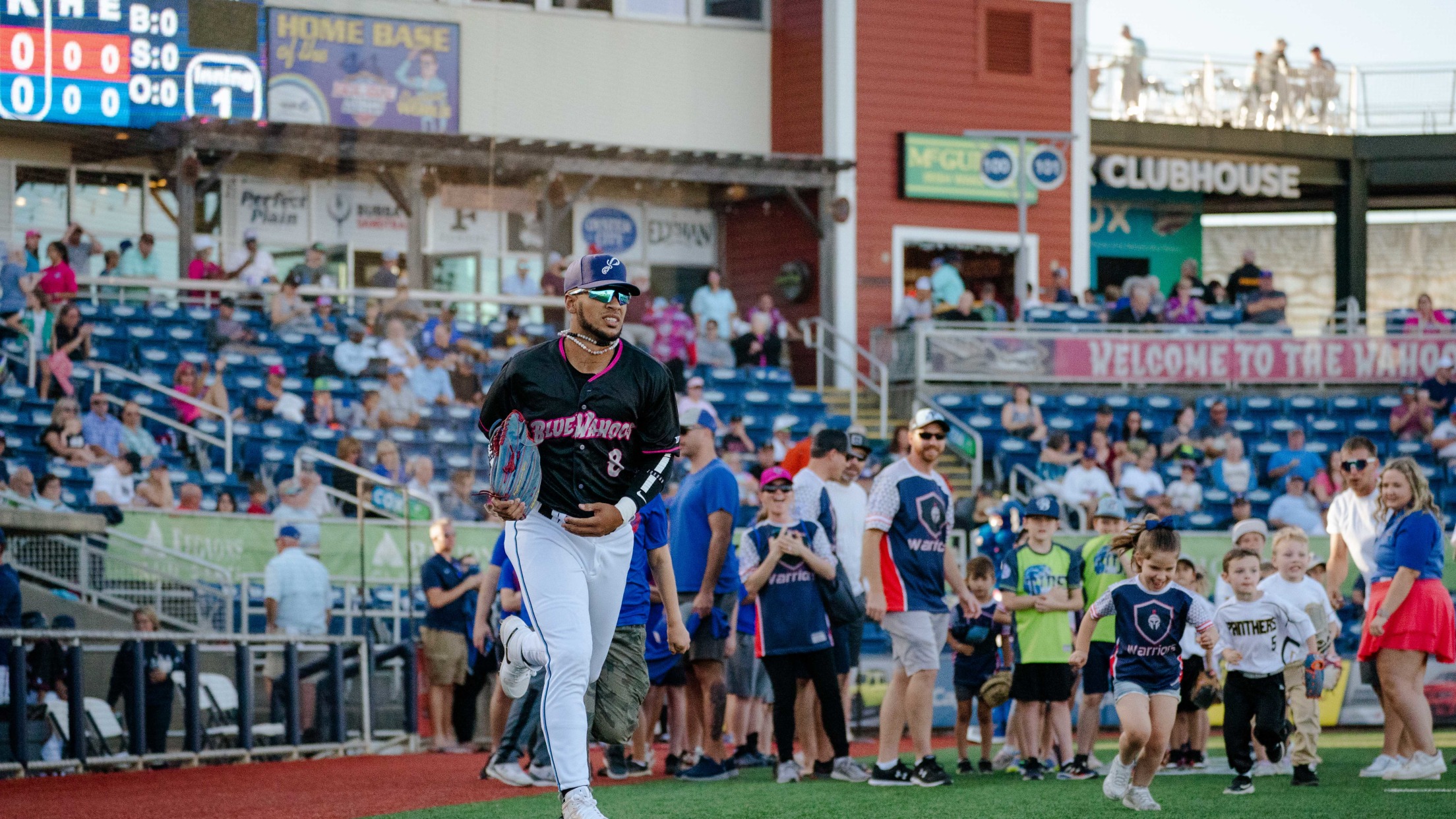 Victor Mesa Jr. helped power the Blue Wahoos to a six-game sweep of Birmingham with a big week at the plate. (Nino Mendez/Pensacola Blue Wahoos)
The Blue Wahoos are back home as one of the hottest teams in Minor League Baseball. Even without their top pitcher, Eury Perez, who made his Major League debut last week with the Miami Marlins, the Blue Wahoos pulled off a rare feat with a six-game road sweep of the
The Blue Wahoos are back home as one of the hottest teams in Minor League Baseball.
Even without their top pitcher, Eury Perez, who made his Major League debut last week with the Miami Marlins, the Blue Wahoos pulled off a rare feat with a six-game road sweep of the Birmingham Barons.
It was only the second time the Blue Wahoos won a complete week series. The previous time, ironically, was exactly one year ago, when they swept the Rocket City Trash Pandas in Pensacola on May 10-15, 2022.
The Blue Wahoos entered Tuesday night's start of homestand against the Tennessee Smokies with a chance to set the franchise record for consecutive wins (9) after reaching an eight-game win streak for the second time in three weeks.
The win streak matches the longest of any team at all levels of Minor League Baseball.
They have now won 16 of their last 17 games, which has vaulted them into a three-game, first-place lead over Biloxi in the Southern League South Division. It is the Blue Wahoos best stretch of success in franchise history.
Included in the feat was a 22-6 win Friday as part of a doubleheader sweep. The 22 runs were the most single-game total in team history. An 11-run eighth inning became a record for most runs scored in one inning in team history.
Strong starting pitching, end-of-game relievers, along with productive hitting from a variety of batters have made this current streak happen.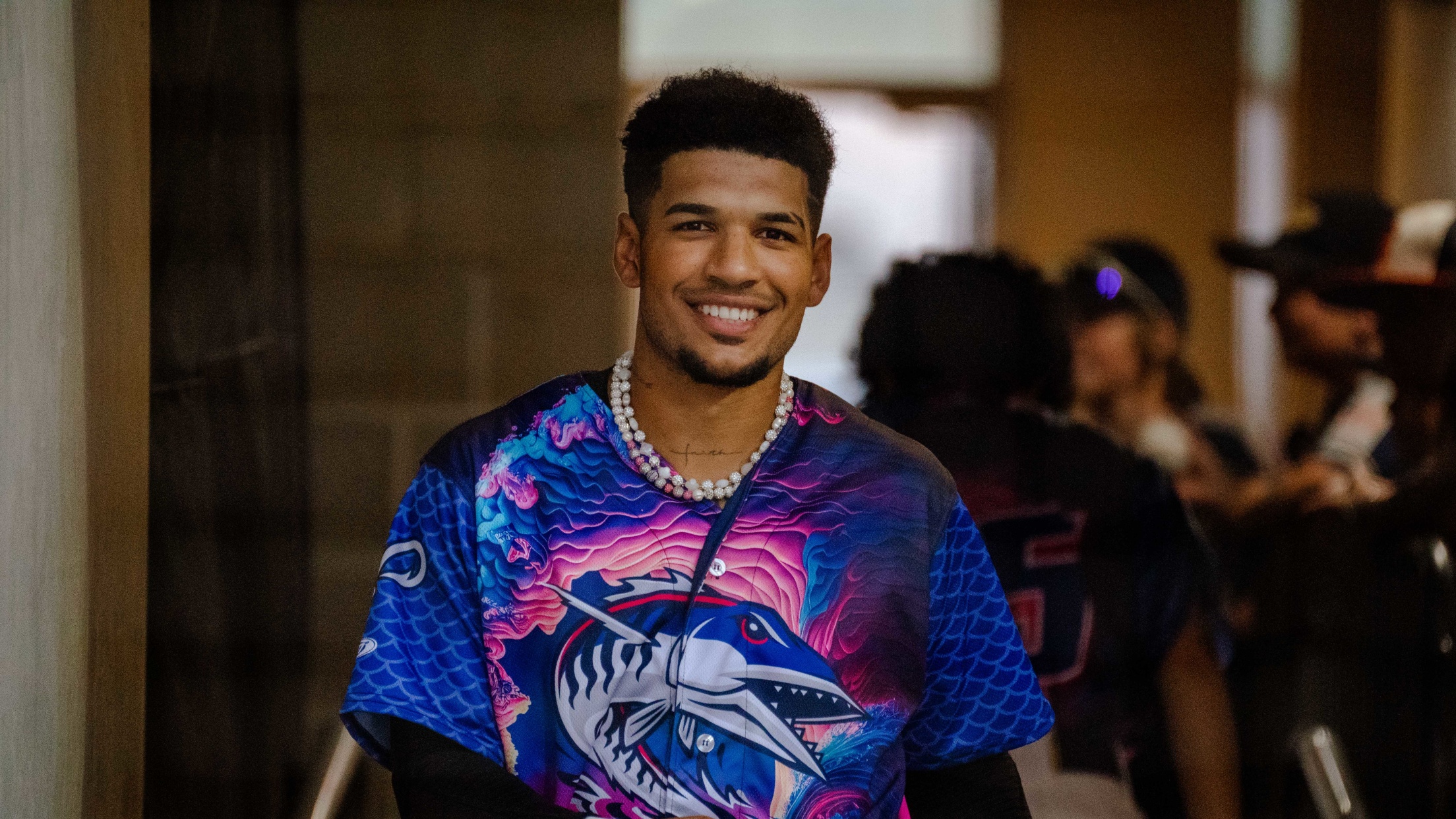 On Sunday, outfielder Victor Mesa Jr. and catcher Will Banfield combined for seven RBI – each hitting home runs – as the Blue Wahoos rallied from an early deficit for a 9-7 victory against the Barons at Regions Field.
Mesa Jr. had one of the game's biggest hits with his 3-run, go-ahead homer in the fifth inning. He finished an outstanding week at the plate with two homers and 11 RBI in the series.
He was named Monday as the Southern League Player of the Week after going 7-for-22 at the plate including two doubles to go along with homers and RBI.
Closer Sean Reynolds recorded his sixth save in seven attempts with a scoreless ninth inning. He gave up a two-out walk, then got Chris Shaw, who had homered earlier, to fly out to end the game.
The Blue Wahoos Joe Rizza provided a two-run cushion when he smashed a two-out, solo homer in the ninth.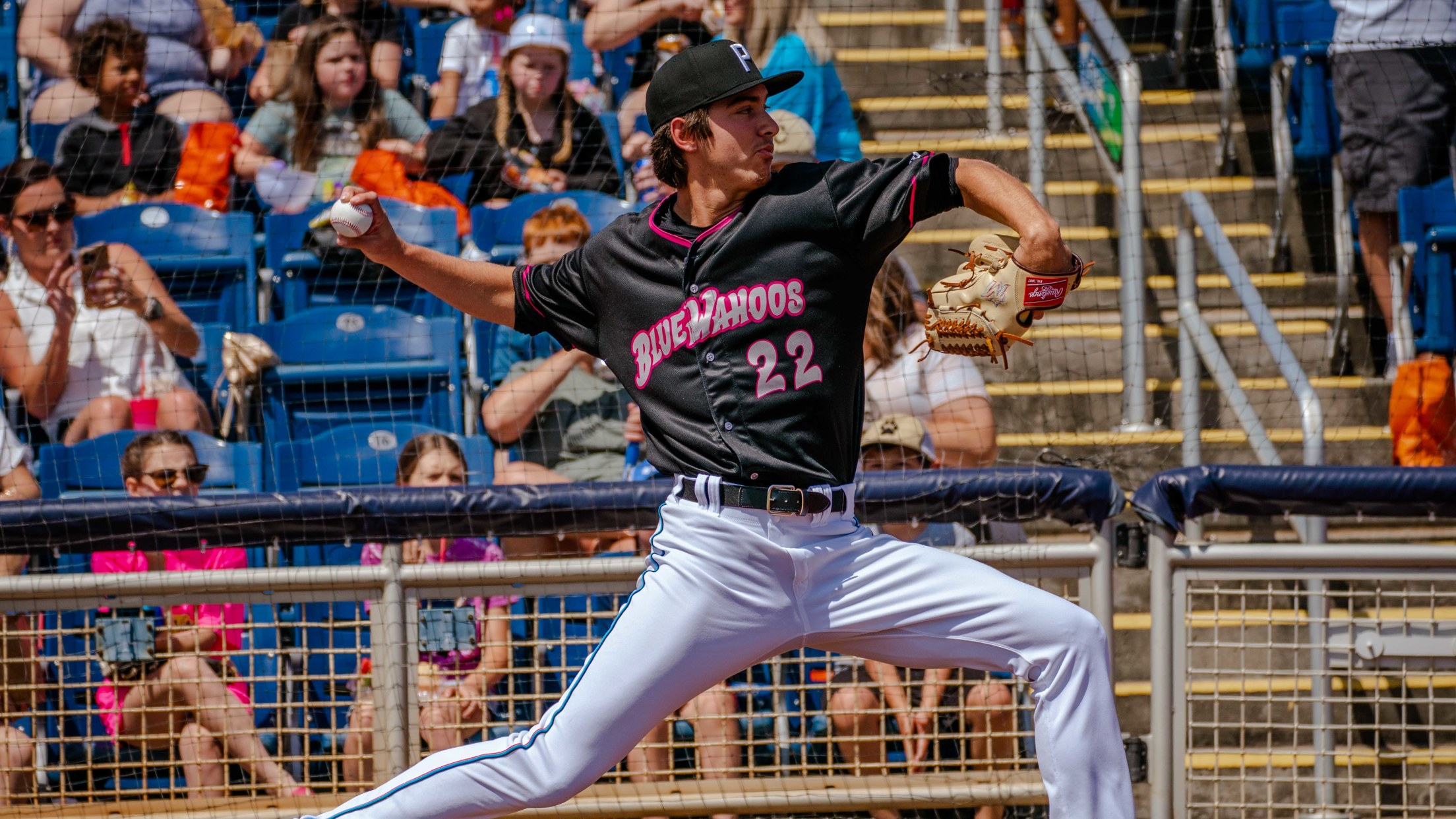 Every Blue Wahoos hitter in the starting lineup reached base. Seven different batters scored runs.
The Barons (11-22) the Chicago White Sox affiliate sustained their ninth consecutive defeat. They had not been swept at home since 2015 in any series longer than four games. They are now 4-18 at Regions Field this season.
Blue Wahoos' starting pitcher Evan Fitterer, who joined the team less than a month ago, had his first rough inning in four outings.
The righthander gave up leadoff walk in the second inning that was followed Adam Hackenberg's 2-run homer. He then hit a batter with one out and Moises Castillo came around to score on a wild pitch to make it 3-0.
But the Blue Wahoos answered with five runs in the fifth inning, highlighted by Mesa Jr. hitting a 3-run bomb over the right center wall that chased Barons starter Garrett Davila. On the first pitch from reliever Yoelvin Silven, Blue Wahoos catcher Will Banfield hit a fastball over the left wall.
On Saturday, Mesa Jr. had a three-run double that was decisive in the team's 6-5 win. His 38 hits lead all Southern League batters entering this week.
WAHOOS NOTABLES
EURY NIGHT: In a game offered free on MLB TV, former Blue Wahoos star and Marlins' top prospect, pitcher Eury Perez, made his much-anticipated Major League debut Friday in Miami with an impressive start against the Cincinnati Reds at Miami's LoanDepot Park. Only five days after his final start in Pensacola for the Blue Wahoos, Perez worked into the fifth inning, allowing a pair of solo home runs and striking out seven batters in the game.
Fans in Miami and the MLB world got to see much of why Perez excelled with the Blue Wahoos last season and first month of 2023. He worked fast, threw strikes, approached 100 mph on his fastball and showed no stress on the mound. He smiled often and impressed everyone.
"I think you don't know what you're going to do at the big league level until you actually do it, and he proved to himself that he's more than capable of getting guys out up here, and he's ready," said Marlins manager Skip Schumaker, speaking to media after the game. "That's (Reds) a good lineup. They've got some real hitters over there. I knew I was going to be impressed anyways, but watching it live, the future is really bright."
Perez surpassed Jose Fernandez (2013) as the youngest pitcher in Marlins history to make his MLB debut.
He became the fourth Blue Wahoos player this season to make his MLB debut, joining pitchers Jeff Lindgren, George Soriano, both with the Marlins and 2019 outfielder Drew Maggi (Pirates). Perez is the 124th player overall in Blue Wahoos history to make his debut.
"Right now it's kind of sinking in right now that I'm a Major League player and I made my debut, but there's a lot of road ahead of me," Pérez said via interpreter Luis Dorante Jr. to media after the game. "And there's a lot of things to do, and with God's help, I'm going to continue playing in MLB baseball."
Perez could make his second start on Thursday when the Marlins wrap up a homestand against the Washington Nationals. His family is in process of arranging visas to travel from the Dominican Republic if he pitches in Miami this week.
STRONG STAFF: Blue Wahoos starting pitchers have gone a combined 9-0 in the past 17 games prior to Tuesday night. They have allowed just 20 earned runs in 91 innings
SPECIALTY ITEMS: The Blue Wahoos have a pair of promotional giveaways for the weekend. On Friday, early-arriving fans will receive a commemorative drawstring bag with the team's championship season logo. On Sunday, a team photo taken earlier this season and includes star pitcher Eury Perez in the photo will be handed to fans entering the gates.
NANCY'S BACK: On Sunday for the series finale against Tennessee, the Blue Wahoos will welcome back Nancy Faust, the retired, long-time famous organist for the Chicago White Sox. She entertained Blue Wahoos fans during a weekend homestand a year ago and the response was so good, she agreed to come back for an encore performance. She will be set up on the concourse behind home plate and the game will feature a medley of ballpark songs and fan request favorites she will play.
THIS WEEK: The Blue Wahoos face the Tennessee Smokies at Blue Wahoos Stadium in the Smokies only appearance this season in Pensacola. The Smokies, the Chicago Cubs' Double-A affiliate, lead the Southern League North Division. The series is a rematch of the teams' Southern League championship series, won by the Blue Wahoos on Sept. 28 in the deciding game of the 3-game series.
This year, the Smokies are led by outfielder Pete Crow-Armstrong, the Cubs' No. 1 rated prospect by MLB Pipeline. He is batting .287 with four homers and 16 RBI in 24 games for Tennessee. Their pitching staff is led by lefthander Jordan Wicks, the Cubs' No. 4 rated prospect, who is 2-0 with a 2.67 ERA in seven starts this season.
WANT TO GO?
WHO: Tennessee Smokies vs. Blue Wahoos
WHERE: Blue Wahoos Stadium
WHEN: Tuesday (May 16) through Sunday May 21
GAMETIMES: Tuesday Thru Friday games start at 6:35 p.m., Saturday at 6:05p.m., Sunday at 4:05 p.m.
PROMOTIONS: Tuesday: Doggone Tuesday presented by Anderson Subaru and Pepsi (Advance ticket purchases are $18 and include ticket, hot dog, chips and drink for one price), plus fans can bring their dog to the game.
Wednesday: Winning Wednesday presented by Hill Kelly: Ballpark Bingo night, plus other contests.
Thursday: Mullet Thursday: Drink specials throughout the night, team transforms into Pensacola Mullets with specialty uniforms.
Friday: Giveaway Friday with the first 1,000 fans receiving a commemorative drawstring bag from sponsor CPC Office Technologies.
Saturday: Post-game fireworks show provided by sponsor Navy Federal Credit Union.
Sunday: Nationally renown organist Nancy Faust, the former Chicago White Sox organist returns to entertain fans, plus it's Family Sunday presented by WKRG News-5 with children able to run the bases and families able to toss baseballs on field. The first 1,000 fans will receive a team photo presented by DLux Printing.
LIVE STREAM – A live audio broadcast of all games are available on www.bluewahoos.com, the MiLB First Pitch App, along with video streaming on Bally Live and MiLB.tv.
TICKETS: Available for all games through www.bluewahoos.com/tickets, along with visiting the stadium box office Tuesday through Friday from 10 a.m. through the game each night and Saturday (2 p.m. opening), Sunday (12 p.m. open) or by calling 850-934-8444.
SOUTHERN LEAGUE STANDINGS
(Through Games On May 14)
NORTH DIVISION
Tennessee Smokies (Chicago Cubs) – 18-15
Rocket City Trash Pandas (LA Angels) 16-17
Chattanooga Lookouts (Cincinnati Reds) – 14-18
Birmingham Barons (Chicago White Sox) – 11-22
SOUTH DIVISION
Pensacola Blue Wahoos (Miami Marlins) 22-11
Biloxi Shuckers (Milwaukee Brewers) 19-14
Montgomery Biscuits (Tampa Bay Rays) 17-16
Mississippi Braves (Atlanta Braves) 14-18