Rare Feats, Series Split, Lead Kept, As Blue Wahoos Stay On Road This Week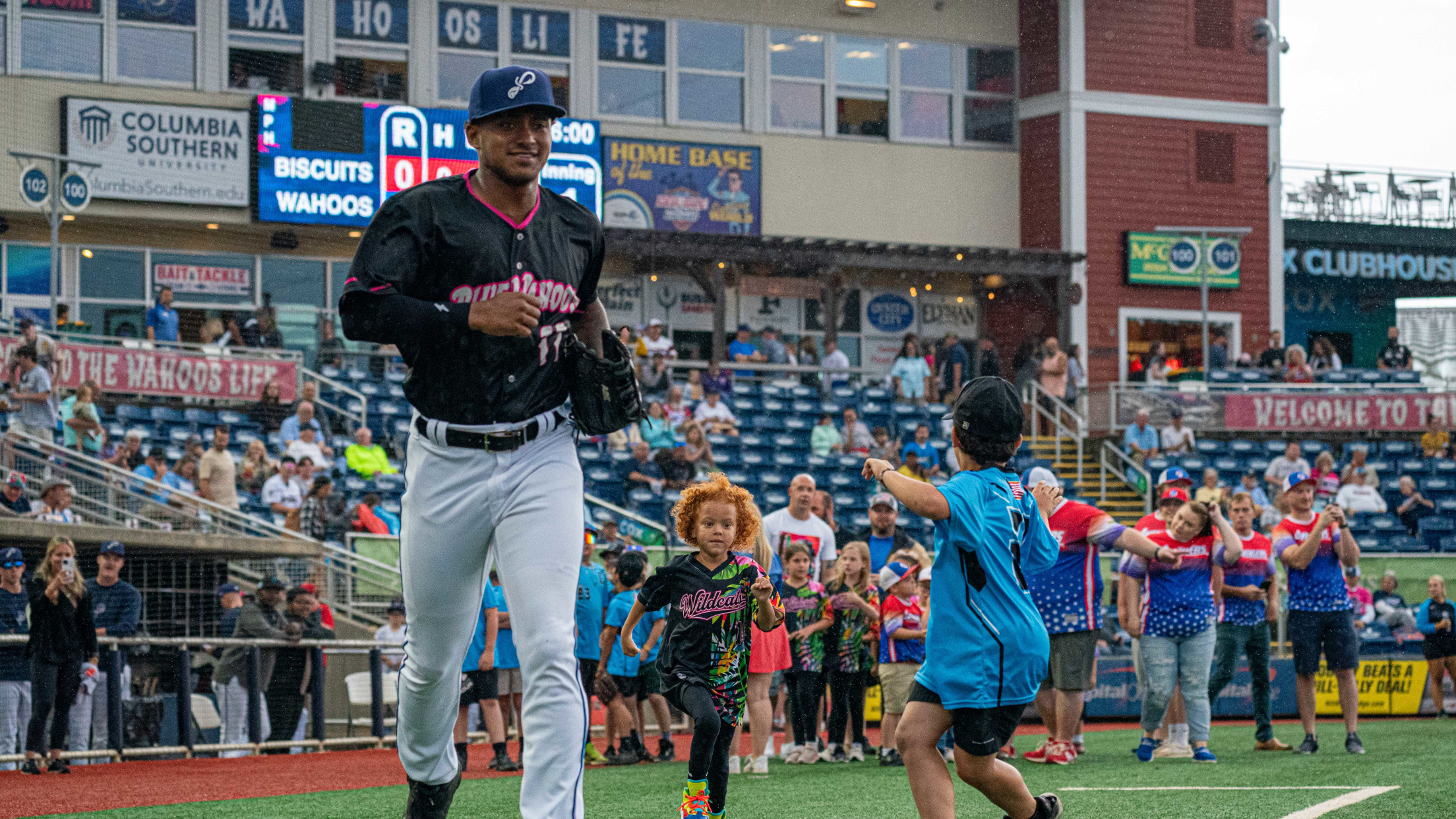 Blue Wahoos outfielder Dane Myers had a big week on the road in team's series split May 28 against the M-Braves. The Blue Wahoos remain on road in Biloxi this week before starting two-week home stand June 6. (Nino Mendez/Pensacola Blue Wahoos)
The Blue Wahoos remain on the road this week. And they've maintained their sizeable lead in the Southern League standings. The Blue Wahoos split their six-game series last week against the Mississippi Braves, winning three of the first four games in Pearl, Mississippi, while falling short on a pair of
The Blue Wahoos remain on the road this week.
And they've maintained their sizeable lead in the Southern League standings.
The Blue Wahoos split their six-game series last week against the Mississippi Braves, winning three of the first four games in Pearl, Mississippi, while falling short on a pair of one-run losses.
They opened a series Tuesday against the Biloxi Shuckers, who trail the Blue Wahoos by five games in the Southern League South Division. There are 24 games left in the first half of the season to determine one of the post-season playoff spots.
Their series against the M-Braves, the Atlanta Braves' Double-A affiliate included the rarity of an inside-the-park home run from Dane Myers in Friday's 4-0 win. It happened in the first inning. Myers hit a line drive that eluded diving center fielder Jacob Pearson and Myers circled the bases.
It was the Blue Wahoos' fifth inside-the-park homer in team history and the first since 2019. Myers, obtained by the Marlins last year in the Rule 5 Draft, has become the Blue Wahoos top hitter with a .285 average, 12 extra base hits, 15 RBI and 10 stolen bases..
In the series opener last Tuesday, Myers was part of theft parade when the Blue Wahoos stole a season-high five bases in a 7-1 win. It included Cody Morissette stealing home and becoming the first Pensacola player in five years to do so.
The Braves battled for a 2-1 walkoff win Wednesday and handed the Blue Wahoos their most lopside-lossed, 10-1 on Saturday. In the series finale, Blue Wahoos ace Patrick Monteverde, who missed a start earlier in the week, had his roughest outing of the season, allowing six runs in three innings for his first loss in what became a 6-5 M-Braves win.
When the Blue Wahoos return next week, they will host their only back-to-back homestands of the season with series against Montgomery and the M-Braves.
WAHOOS NOTABLES
FITTERER REBOUNDS -- After failing to get out of the second inning in his prior starter, righthander Evan Fitterer was back in form in helping the Blue Wahoos to their Friday win against the M-Braves. He produced five shutout innings. It followed the five runs he allowed in the start against Tennessee. Through six starts with the Blue Wahoos, Fitterer has a 2.54 ERA with 29 strikeouts against 22 walks and a .190 batting average against over 28 1/3 innings.
BANFIELD BASHES – With Paul McIntosh on the injured list, Will Banfield been the starting catcher for most of the games in May. In these 15 games, he has gone 22-for-70, a .314 clip with four homers and 18 RBI and raised his average from .164 into .241.
LEAGUE LEADERS – Two Blue Wahoos pitchers, Patrick Monteverde and Sean Reynolds, are atop the Southern League in four categories. Monteverde leads in wins with five and opponents' batting average – a league low .168. Reynolds leads in games pitched with 20 and in saves with seven.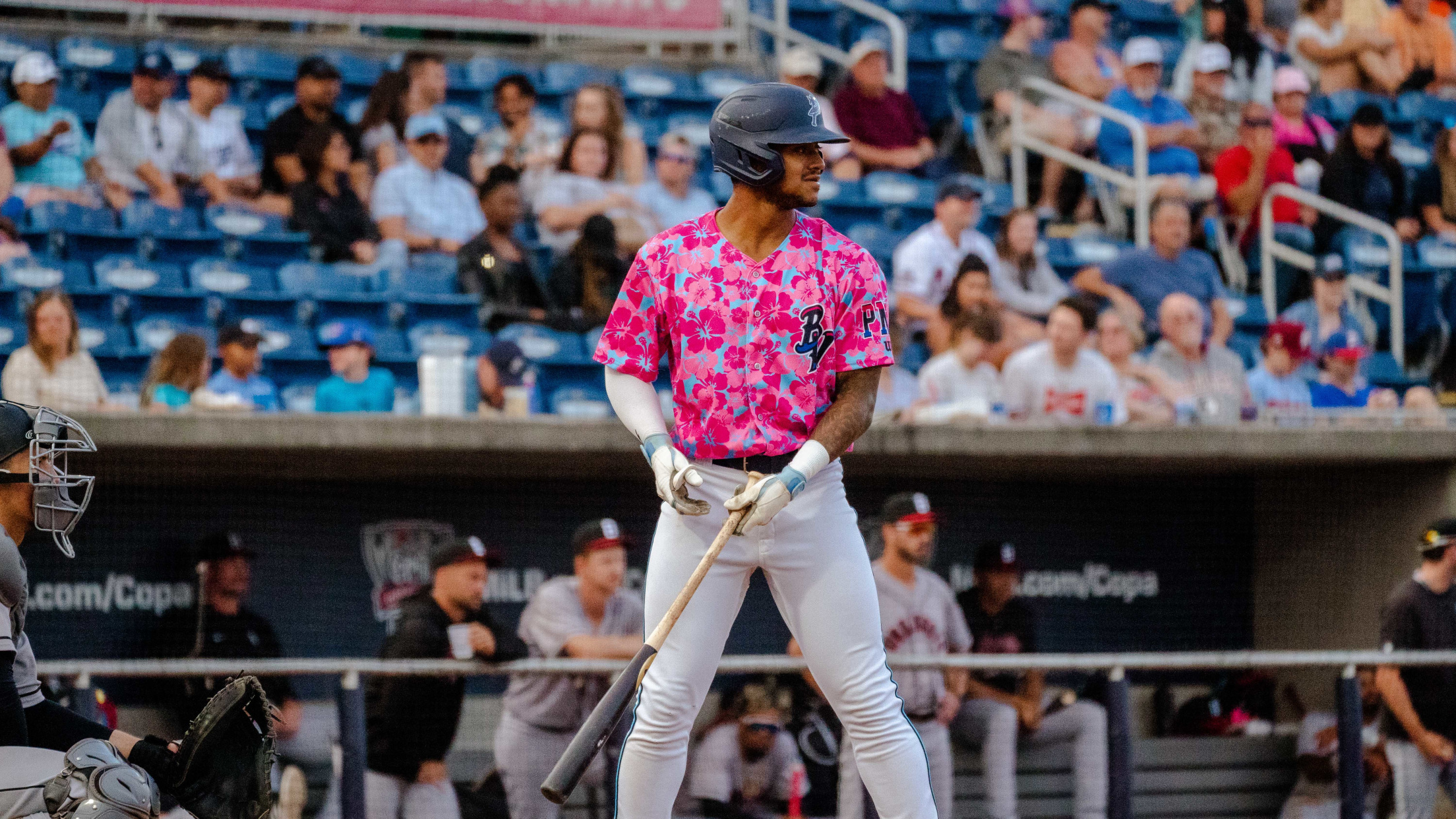 EURY ROYALTY – A year ago, Eury Perez was in Los Angeles, representing the Blue Wahoos as a Miami Marlins prospect at the MLB Futures Game. He attended a weekend event that included LA Angels superstar Shohei Ohtani. Perez got to meet him and posted a photo of the two on his Instagram page.
Now, fast forward. On Sunday, Perez tossed five shutout innings, including a strikeout against Ohtani in leading the Marlins to a 2-0 win to wrap up a 10-game road trip. The former Blue Wahoos pitcher has allowed just two hits to pick up his second MLB win.
"I really admire him," said Perez, in story published in the Miami Herald. "He's such an amazing talent. And I took the picture thinking that it was gonna take me a lot of time to meet him again."
When they met again in far different circumstances, Perez threw a curve ball that Ohtani missed for an inning-ending strikeout.
He also struck out superstar Mike Trout as part of his rookie performance, which now spans four games with a 2.84 earned run average and 19 strikeouts in 19 innings pitched.
""Emotions were very high," Perez said in the Miami Herald story. "Facing batters like them is unbelievable. I was just enjoying every at-bat, every pitch and giving all I got."
THIS WEEK: After returning late Sunday night from their road series in Pearl, Miss. against the M-Braves, the Blue Wahoos had Monday off and left Tuesday morning for the two-hour trip to MGM Park and they will stay in a nearby hotel the rest of the week. The Shuckers split their 6-game series last week against the Montgomery Biscuits as the first part of a two-week homestand. They are led by outfielder Jackson Chourio, the Milwaukee Brewers top prospect, who is rated by Baseball America as the No. 1 overall prospect. in Minor League Baseball. He leads the Shuckers with 29 RBI. Another top prospect is catcher Jeferson Quero, the fourth leading hitter in the Southern League with a .271 average and team-high nine home runs.
This will be the second of five meetings between the teams. They split a 6-game series in Biloxi on April 11-16. The Shuckers will first visit Pensacola on Fourth of July to begin a 6-game series.
Some of the Shuckers promotions this week include a beach towel giveaway on Thursday, the New Orleans Saints Hall of Fame Day on Friday with former Saints players to meet fans, plus post-game fireworks Friday.
WANT TO GO/FOLLOW?
WHO: Blue Wahoos vs. Biloxi Shuckers
WHERE: MGM Park, Biloxi, Mississippi.
WHEN: Tuesday (May 30) through Sunday (June 4)
GAMETIMES: Tuesday Thru Friday games in Biloxi will start at 6:35 p.mf. Saturday at 6:05 p.m., Sunday at 5:05 p.m.
LIVE STREAM – A live audio broadcast of all games are available on www.bluewahoos.com, the MiLB First Pitch App, along with video streaming on Bally Live and MiLB.tv.
SHUCKERS TICKETS: Prices range from $13 to $22 per-ticket in the seating bowl areas. Go to www.biloxishuckers.com/tickets.
NEXT HOMESTAND: Begins on June 6 vs. Montgomery Biscuits.
TICKETS: Available for all Blue Wahoos home games beginning on June 6 through the season are available through www.bluewahoos.com/tickets, along with visiting the stadium box office Tuesday through Friday from 10 a.m. through the game each night and Saturday (2 p.m. opening), Sunday (12 p.m. open) or by calling 850-934-8444.
SOUTHERN LEAGUE STANDINGS
(Through Games On May 29)
NORTH DIVISION
Tennessee Smokies (Chicago Cubs) – 26-20
Chattanooga Lookouts (Cincinnati Reds) – 24-21
Rocket City Trash Pandas (LA Angels) 21-24
Birmingham Barons (Chicago White Sox) – 15-30
SOUTH DIVISION
Pensacola Blue Wahoos (Miami Marlins) 28-17
Biloxi Shuckers (Milwaukee Brewers) 23-22
Montgomery Biscuits (Tampa Bay Rays) 23-22
Mississippi Braves (Atlanta Braves) 20-24