Monteverde Pitches, Morissette Mashes Blue Wahoos to Tenth Straight Win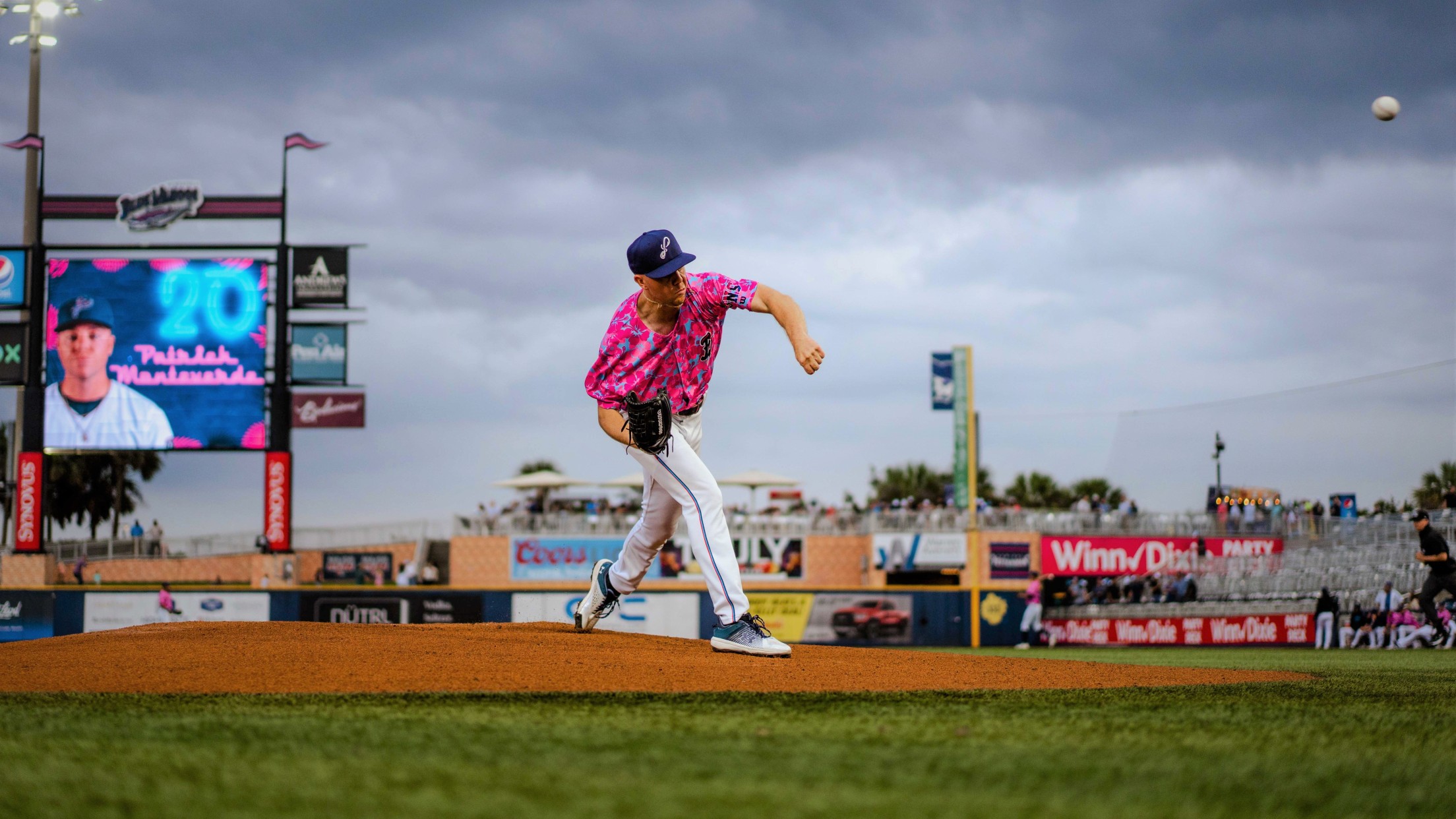 Under threatening skies Wednesday night, Blue Wahoos top pitcher Patrick Monteverde worked five complete innings to up his record to 5-0 as team won 10th straight game. (Nino Mendez/Pensacola Blue Wahoos)
Pensacola, Fla. – The way Patrick Monteverde has produced superlatives in prior starts, it was fitting the team's left-handed ace would deliver the Blue Wahoos a 10th consecutive win. Monteverde, named the Southern League's pitcher of April for his first four stellar outings, worked out of two innings Wednesday with
Pensacola, Fla. – The way Patrick Monteverde has produced superlatives in prior starts, it was fitting the team's left-handed ace would deliver the Blue Wahoos a 10th consecutive win.
Monteverde, named the Southern League's pitcher of April for his first four stellar outings, worked out of two innings Wednesday with baserunners, while upping his league-best record to 5-0 in the Blue Wahoos 7-4 victory against the Tennessee Smokies at Blue Wahoos Stadium.
A crowd of 3,678, which included middle school bands from Shoal River and Davidson schools in Crestview combining to perform the National Anthem, watched the Blue Wahoos catch a break from weather and power their way to a record-extending win total.
It was Pensacola's 18th win in 19 games, continuing the best stretch of success in the team's 11-year history.
We have a lot of guys who have been together (in minor leagues). We have a lot of fun really. We just want to keep building on that," said Blue Wahoos third baseman Cody Morissette.
One common element of the first two months this season has been Monteverde's dominance on the mound.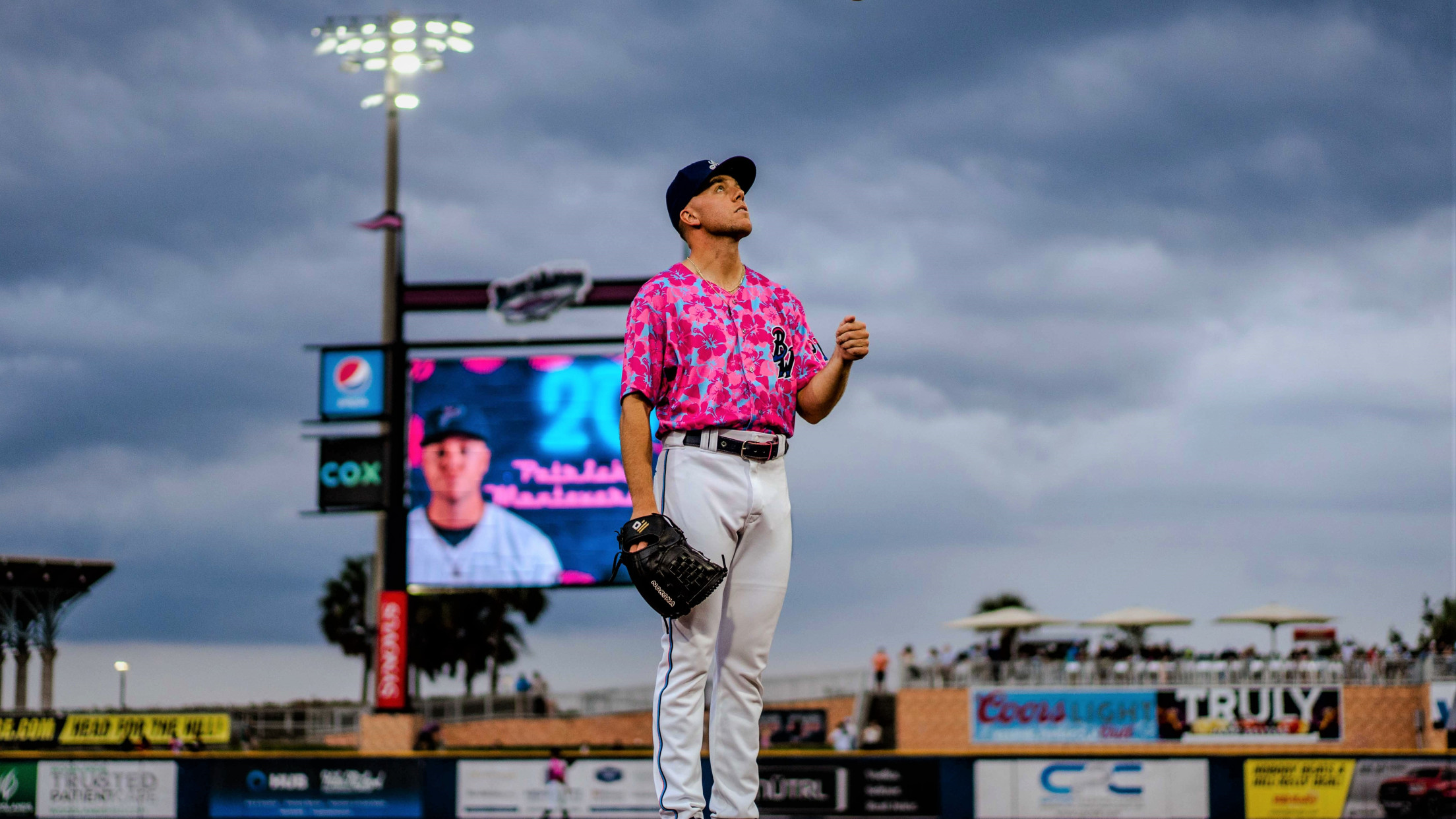 The 25-year-old Pittsburgh native, who entered the 2023 season as the Miami Marlins' No. 30 rated prospect, has now allowed just six runs in seven starts. His earned run average has dropped to 1.29. He allowed just one run on two hits and struck out eight in five innings. He's now had 57 strikeouts and just 12 walks in 42 innings.
His night Wednesday had two pivotal moments. After allowing a walk and double to start the second inning, he got a line-out double play on a spectacular catch from third baseman Cody Morissette. In the third inning, he again allowed a double and a walk, but retired the next three batters on a pair of strikeouts and flyout.
That all proved decisive.
"He's filling up the (strike) zone, he's competing and just throwing strikes," said Morissette. "All of our pitchers are throwing strikes right now and giving us a chance to stay in games, compete and win.: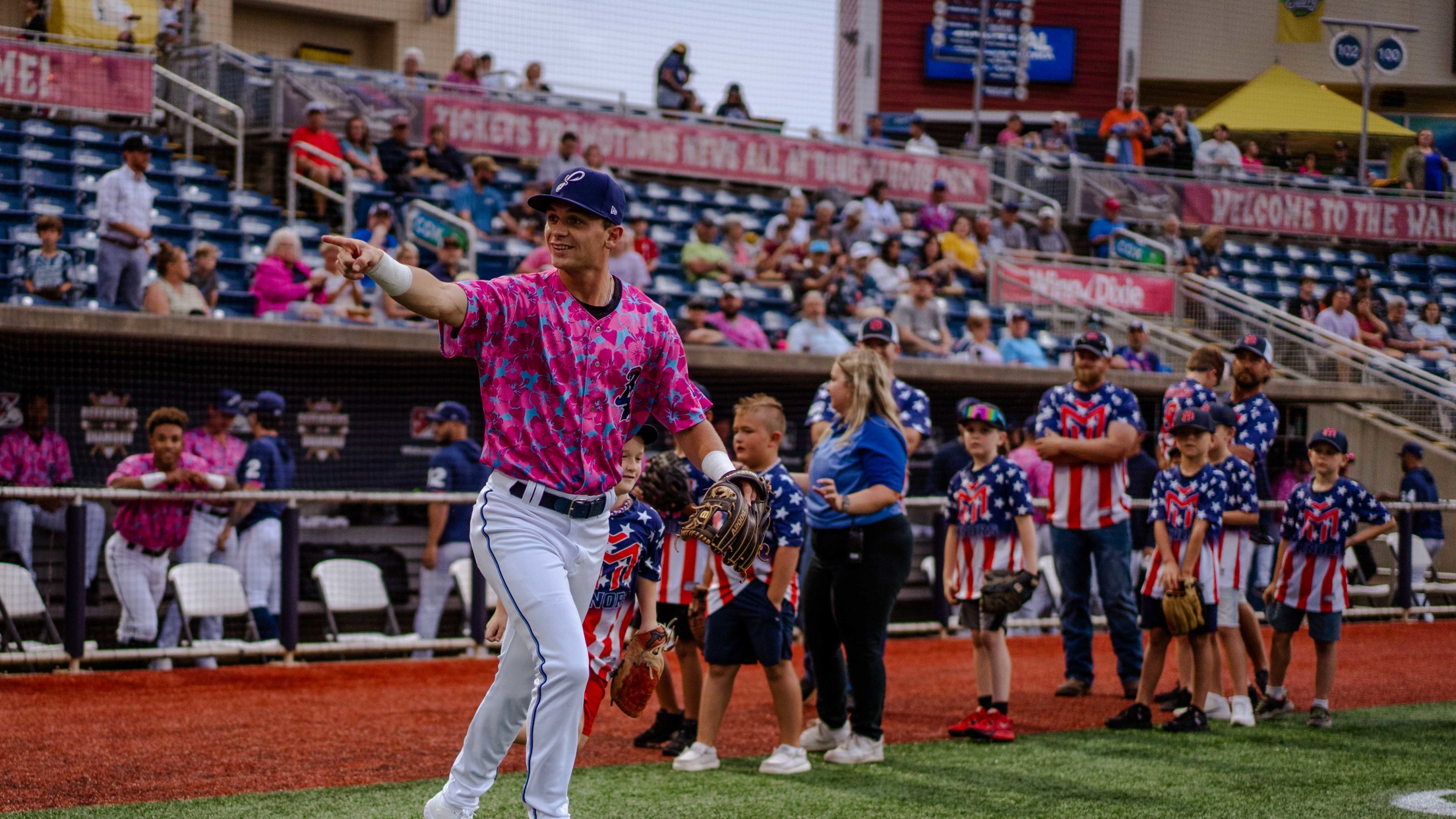 After Victor Mesa Jr. manufactured a second-inning run with a walk, moving over on a ground out and scoring on a throwing error while stealing third, the Blue Wahoos slugged their way to the other six runs in the game.
The biggest smash was Morissette's 2-run homer into the right field berm in the fourth inning. José Devers led off the inning with a double and scored on Will Banfield's single.
The Blue Wahoos tacked on two more runs in the sixth inning on Griffin Conine's RBI sacrifice fly and Troy Johnston's two-out single to make it 7-1.
The Smokies scored three runs in the ninth off reliever Austin Roberts before he ended the game on a force out.
Eight of the Blue Wahoos lineup reached base. Banfield had the team's multi-hit night, going 2-for-4 with a run scored.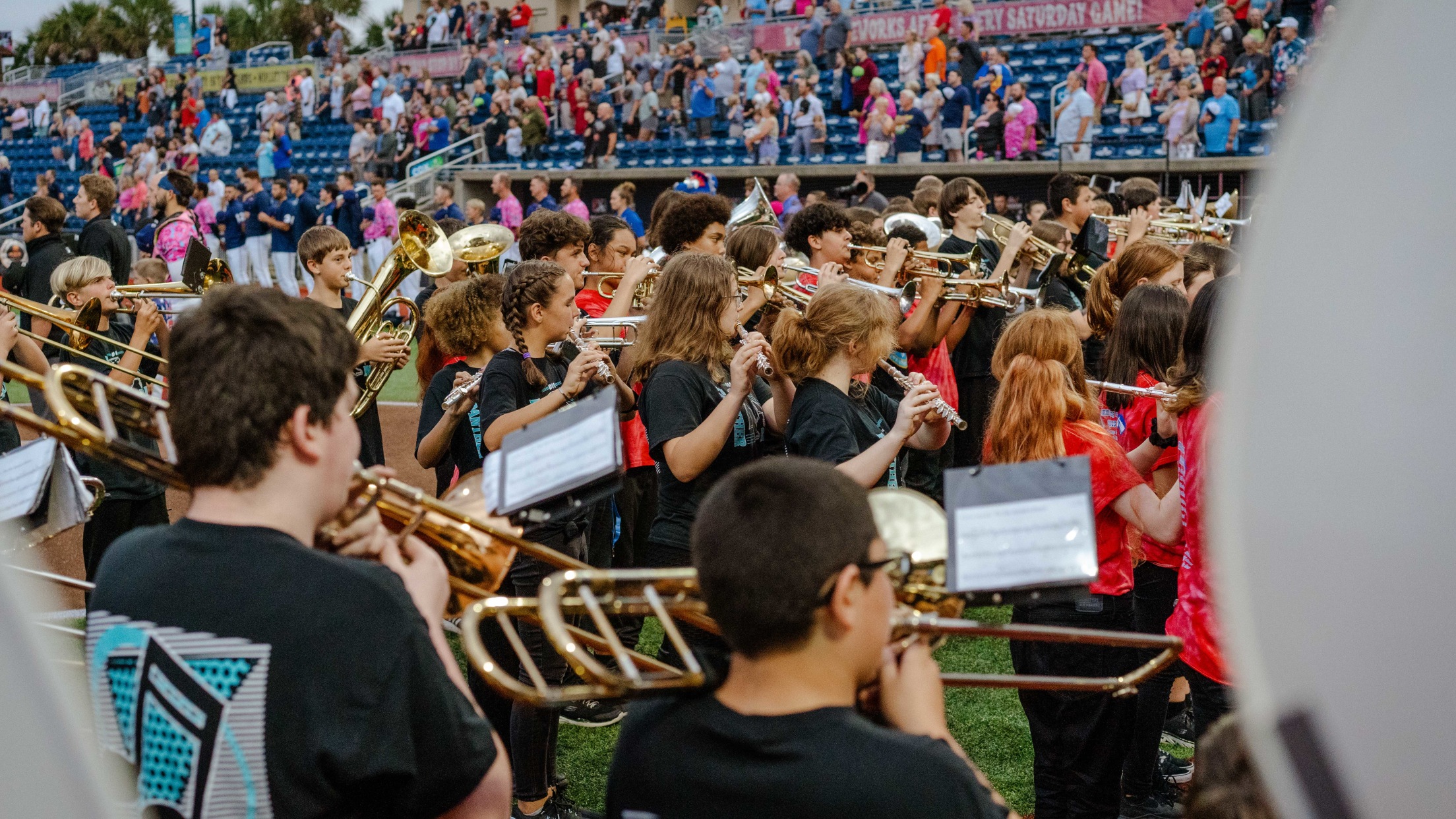 The game was delayed 27 minutes to get the field ready, following the off-and-on light rain all day. The Blue Wahoos kept the field tarp on from Tuesday night to ensure the game could get played.
Remarkably, the heavier rain which hit other parts of Pensacola, never materialized at the ballpark.
The series now heads into Thursday with Blue Wahoos newcomer Jonathan Bermudez, a lefthander, making his pitching debut with a new organization. He was released during spring training from the Sacramento River Cats, the San Francisco Giants' Triple-A affiliate.
He was signed by the Miami Marlins on April 26 and spent the past couple weeks with the Florida Complex League (FCL) Marlins, the rookie league team. Tennessee will throw right-hander Kohl Franklin (0-1, 13.50 ERA).
The game is part of "Mullet Thursday" with the Blue Wahoos wearing their Pensacola Mullets uniforms. It's also "Thirsty Thursday" with several beverage specials in the early portion of the game.
First pitch is at 6:35 p.m. with a live broadcast beginning at 6:30 p.m. on BlueWahoos.com, the MiLB First Pitch app (radio), Bally Live and MiLB.tv (video). For ticket purchases or more information, visit BlueWahoos.com or contact the box office at (850) 934-8444.
*GAME NOTABLES *
--- More than 130 band members middle school programs at Shoal River and Davidson in Crestview were crowded together on the field behind home plate in just enough space to perform the National Anthem.
The joint rendition received a loud applause from the fields.
--- Nine members of the Blue Wahoos team, including Cody Morissette, got up early Wednesday to visit Naval Air Station-Pensacola and watch the Blue Angels perform in their weekly practice.
Capt. Terrence Shashaty, NAS Pensacola base commander, met with the group in his office. The visit followed two last year by the Blue Wahoos to NAS Pensacola.
--- Winning Wednesday sponsored by Hill Kelly included a return of Wahoos Bingo for fans to play. Basically every element of the game became a potential bingo square.