Tourists '23 Coaching Staff is Official
Nate Shaver Returns as Asheville's Manager for Year Number Three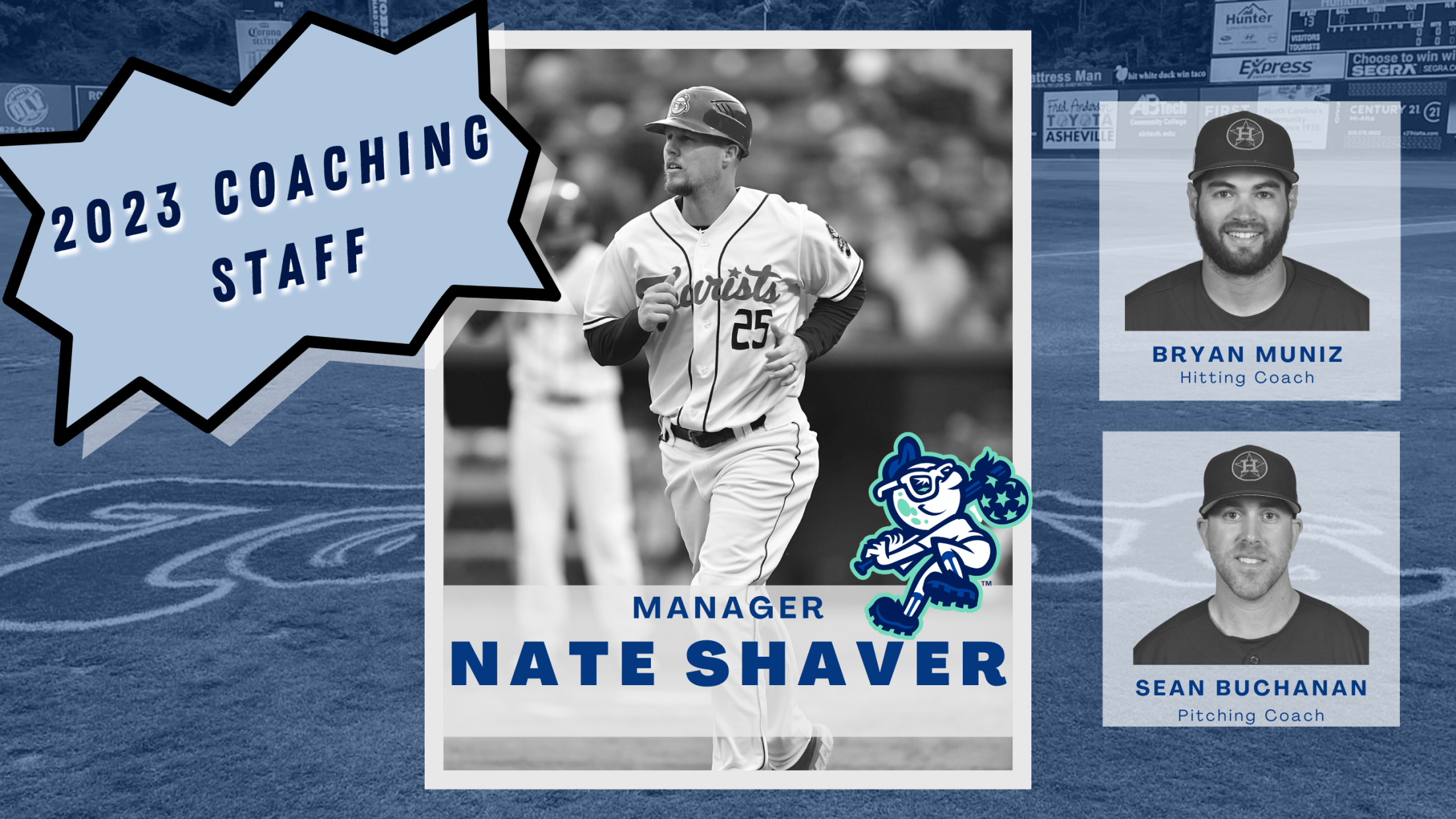 ASHEVILLE- The Houston Astros Player Development Department has announced its minor league field staff for the 2023 season. Nate Shaver is coming back for his third season to manage the Asheville Tourists. Joining Nate on the Tourists staff is Pitching Coach Sean Buchanan, Hitting Coach Bryan Muniz, Development Coach Eric
ASHEVILLE- The Houston Astros Player Development Department has announced its minor league field staff for the 2023 season. Nate Shaver is coming back for his third season to manage the Asheville Tourists. Joining Nate on the Tourists staff is Pitching Coach Sean Buchanan, Hitting Coach Bryan Muniz, Development Coach Eric Stamets, Trainer Max Mahaffey, and Strength Coach Sam Knox.
Shaver, 36, accumulated 116 wins across the last two seasons as Asheville's manager. The 116 victories as the Tourists manager ranks 20th on the Asheville All-Time Managerial wins list. Shaver led the Tourists to a winning record at McCormick Field in both 2021 and 2022. Under Nate's leadership, the Tourists have finished each of the last two years as one of the league's hottest teams.
The Dalles, Oregon native joined the Astros organization in 2018 as a Developmental Coach for the Carolina League champion Buies Creek Astros. In 2019 he became the High-A Manager for the Fayetteville Woodpeckers. Shaver played collegiately at Mt. Hood Community College in Gresham, Oregon and at New Mexico State University.
Buchanan, Muniz, and Stamets are all in their first year with the Tourists in their respective roles.
In 2022, Sean Buchanan was the Pitching Coach for the Astros' Florida Complex League Blue team. Sean's pitching staff in the FCL limited opposing hitters to a .235 batting average. Prior to joining the Astros, Buchanan was the pitching coach at Lehigh University in Pennsylvania.
Bryan Muniz also spent the 2022 season with the Astros' Florida Complex League Blue team as their Hitting Coach. Muniz was drafted by the Astros in 2014 and played four years in Houston's Minor League system. Bryan joined the Astros coaching ranks in 2020 and has earned the opportunity to lead the Tourists hitters in 2023.
Asheville's Development Coach, Eric Stamets, is in his first year coaching with the Astros organization. Stamets enjoyed an 11-year playing career from 2012-2022. Eric played in 869 Minor League games and appeared in 15 Major League games with Cleveland in 2019.
The Tourists are scheduled to begin the season on Thursday, April 6 at home versus the Bowling Green Hot Rods. Full and Half Season Seat Plans as well as Flex Voucher Plans can be purchased by calling (828) 258-0428. The full 2023 schedule can be downloaded here.