De La Cruz Delivers Walk Off for Reading
Tyler McKay Earns Win in Relief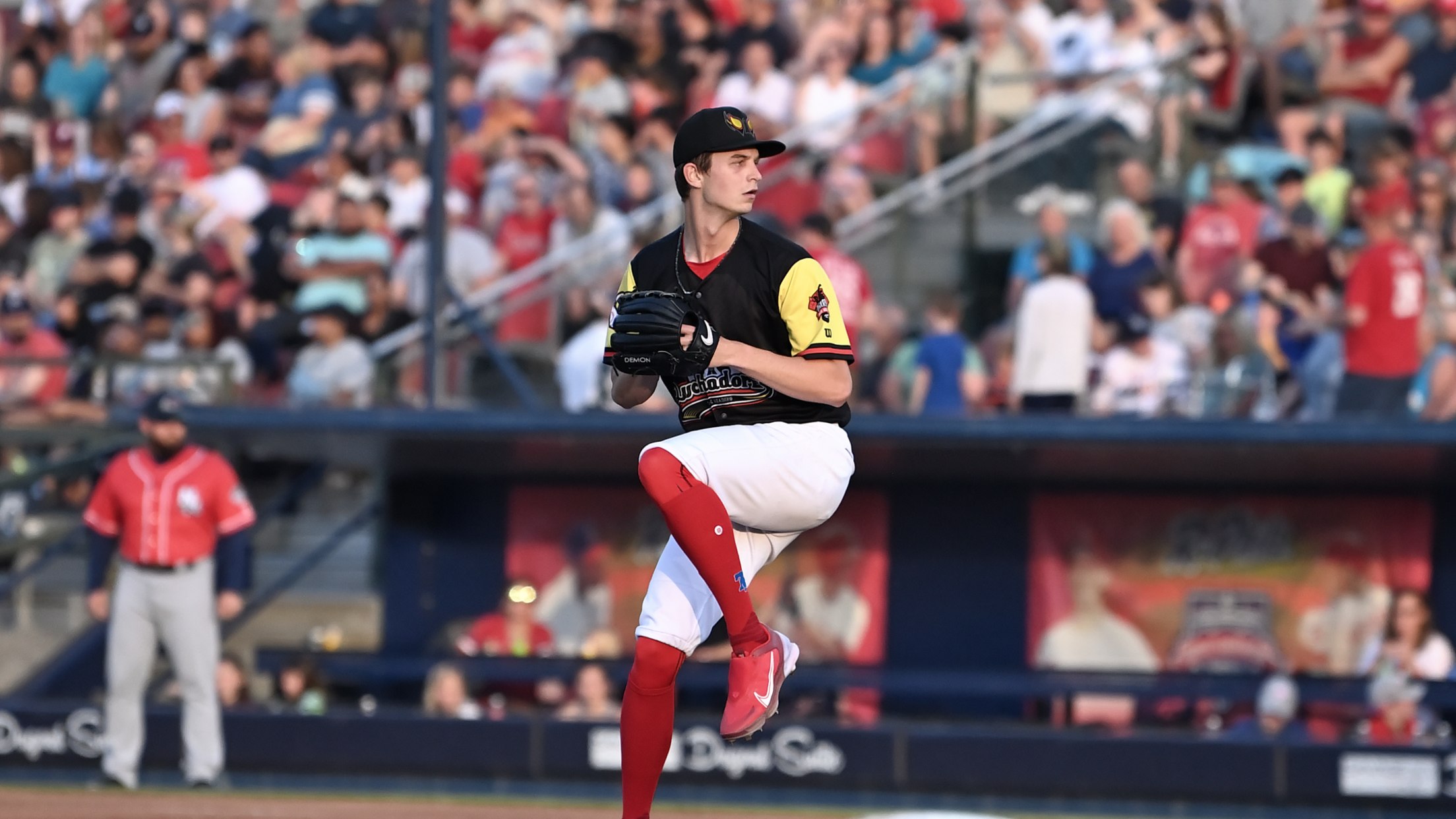 BOX SCORE (Reading, PA) - A walk off from Carlos De La Cruz gave the Reading Fightin Phils the late night win over the Binghamton Rumble Ponies 2-1. The game was delayed almost an hour and half due to heavy rain showers. It was Mick Abel and the Reading bullpen
Reading Rally Not Enough in Loss to Binghamton
Herbert Iser Had Two Hits and First Homer of Season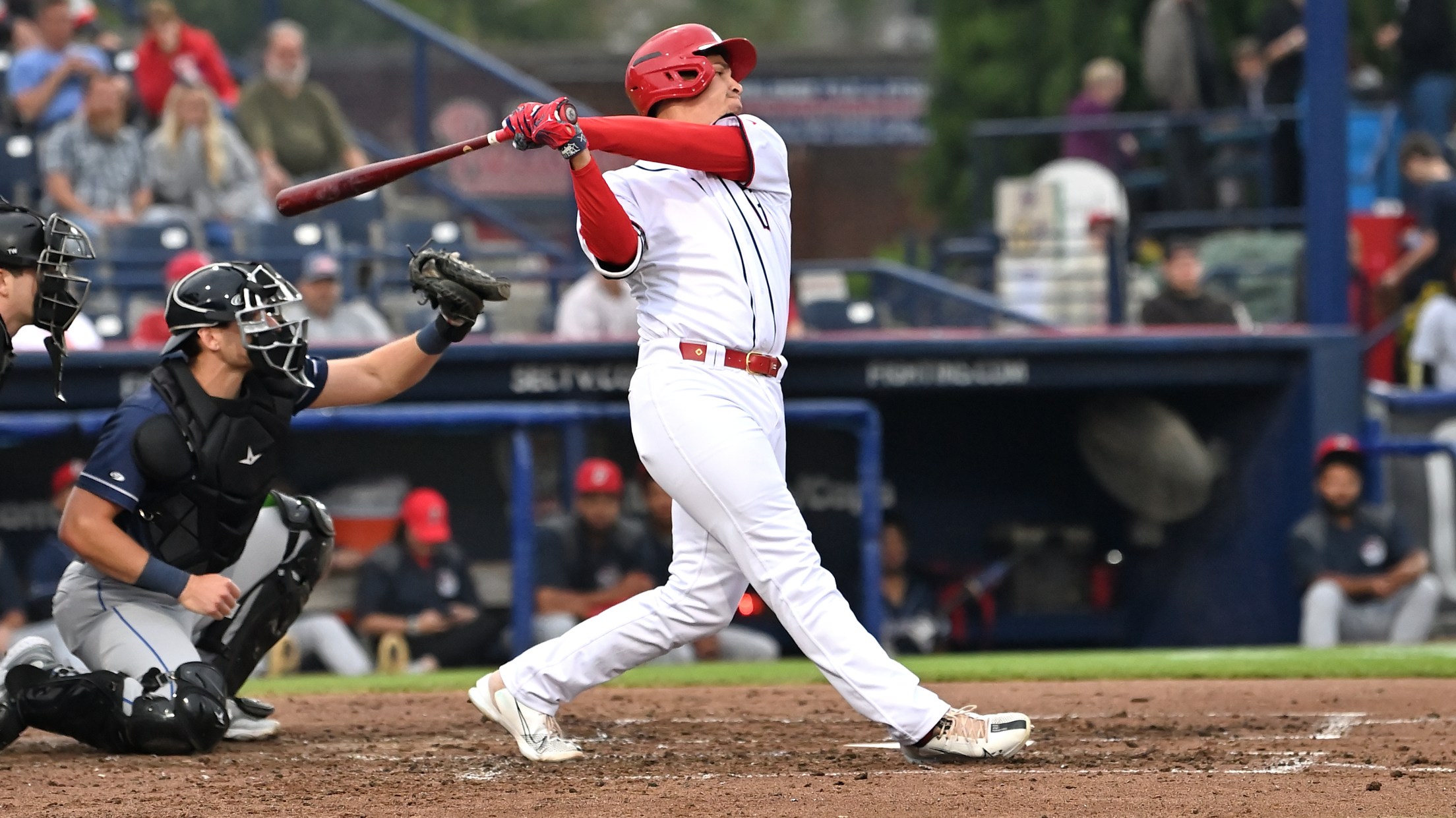 BOX SCORE (Reading, PA) - The Binghamton Rumble Ponies beat the Reading Fightin Phils 10-8 on Thursday night in a 26-hit slugfest between both teams. Binghamton hit well Thursday night, scoring eight runs and notching 10 hits off of Reading starting right-handed pitcher Tyler Phillips. Phillips lasted three and two-thirds
Reading and Binghamton to Play Doubleheader Saturday
Thursday and Friday's Games Remain on at 7 PM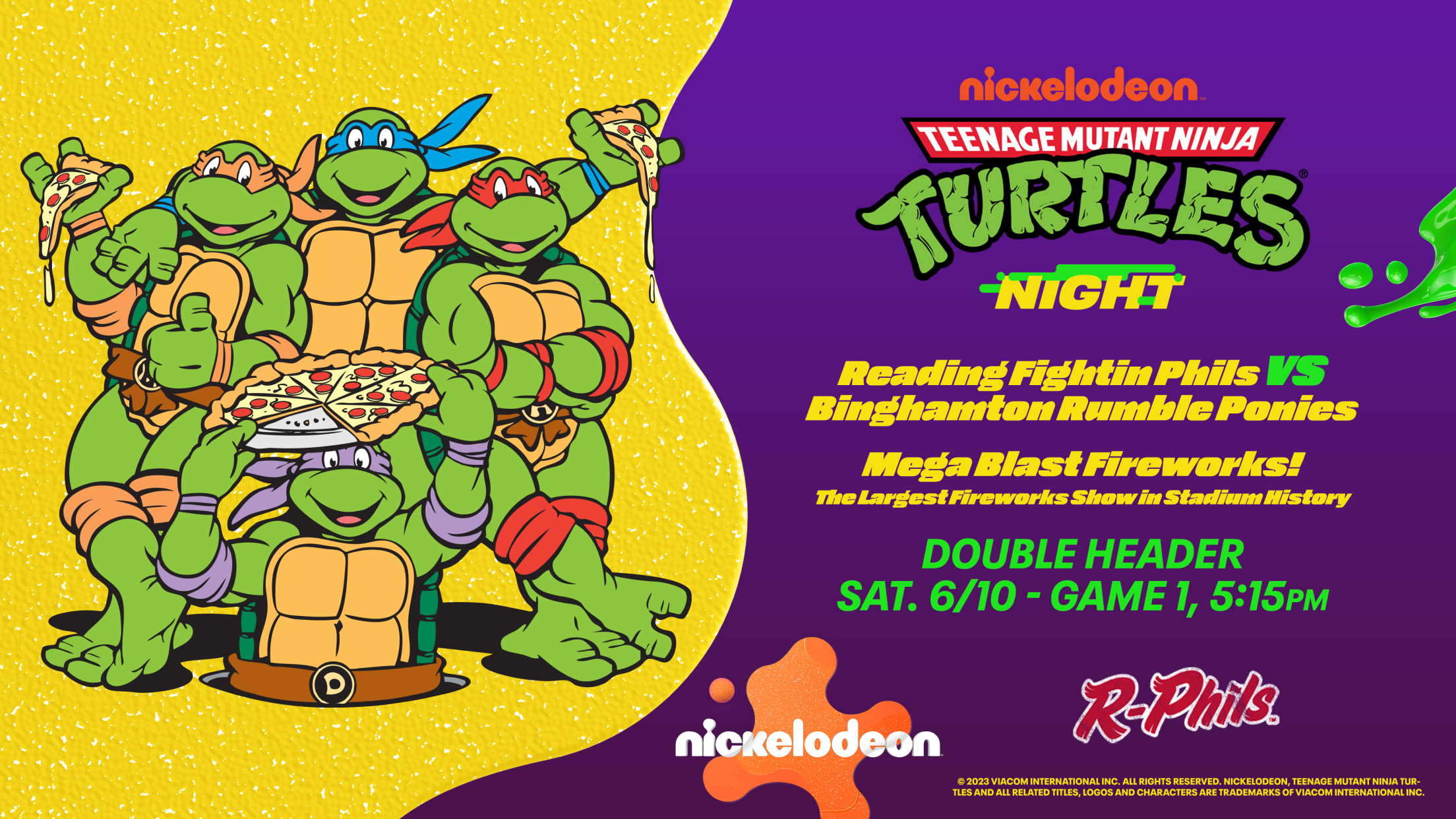 (Reading, PA) - Following Wednesday night's postponement due to poor air quality, the Reading Fightin Phils and Binghamton Rumble Ponies will play a doubleheader on Saturday, June 10. Game one of the doubleheader will begin at 5:15 p.m., with gates and all seating areas opening at 4:45 p.m. Game two
Reading vs Binghamton Postponed 
Reading Fightin Phils. Wednesday, June 7, 2023. Today's Fightin Phils game has been officially postponed, because of poor air quality. Details regarding the rescheduling of today's game will be announced at a later time. Those with regularly purchased tickets dated for June 7, 2023 may exchange their tickets for seating
Reading Falls in Game One Slugfest
Matthew Kroon and Johan Rojas Each Register Four Hits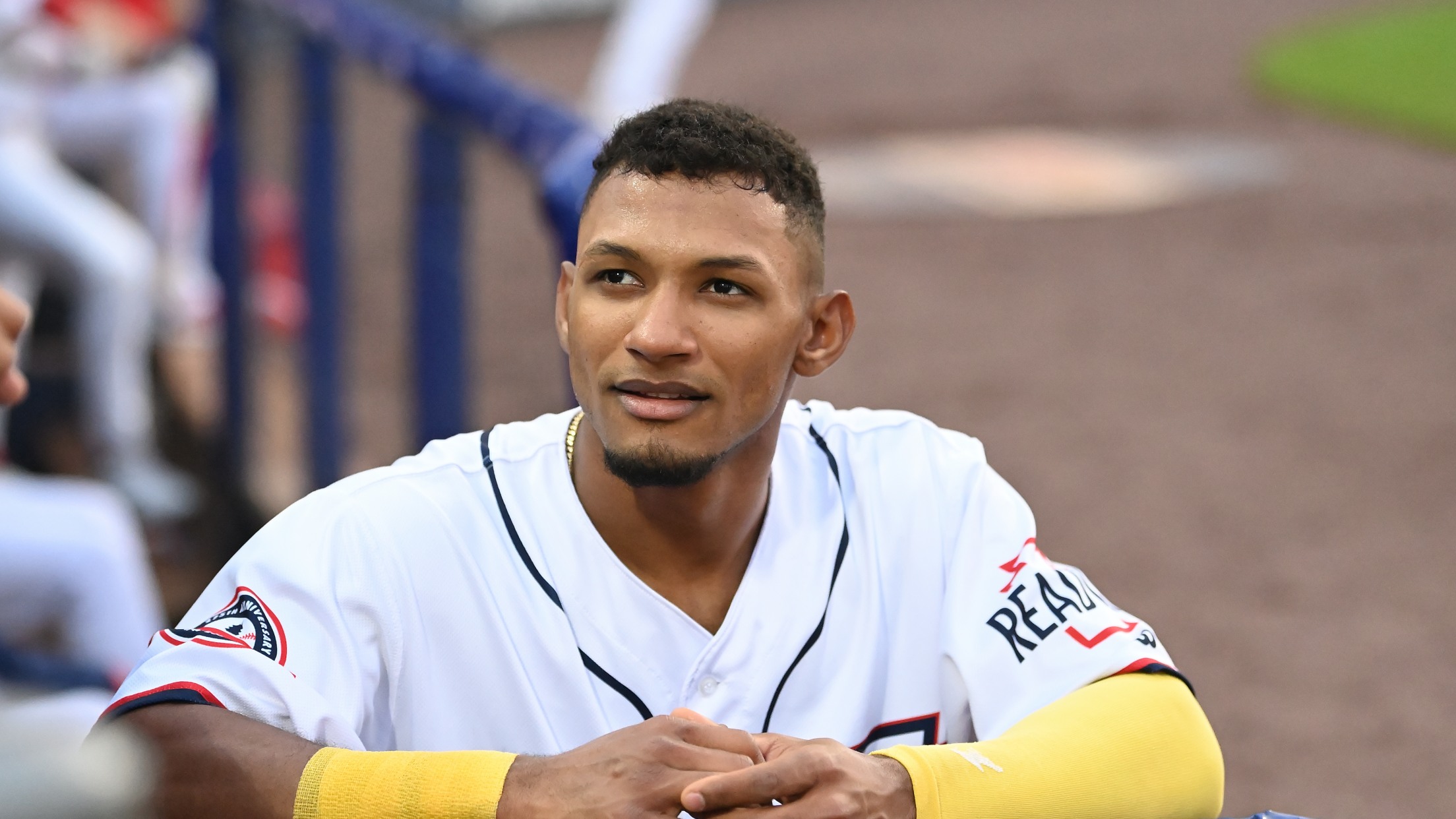 BOX SCORE (Reading, PA) - 15 hits for the Reading Fightin Phils were not enough to get the victory over the Binghamton Rumble Ponies as they fell 10-8 on Tuesday night. Victor Vargas struggled out of the gate for Reading, allowing two runs in the first inning. Matt Rudick started
Phillies José Alvarado Scheduled to Make Rehab Appearance with Reading
Alvarado Owns 0.63 ERA over 14 Games with Phillies this Year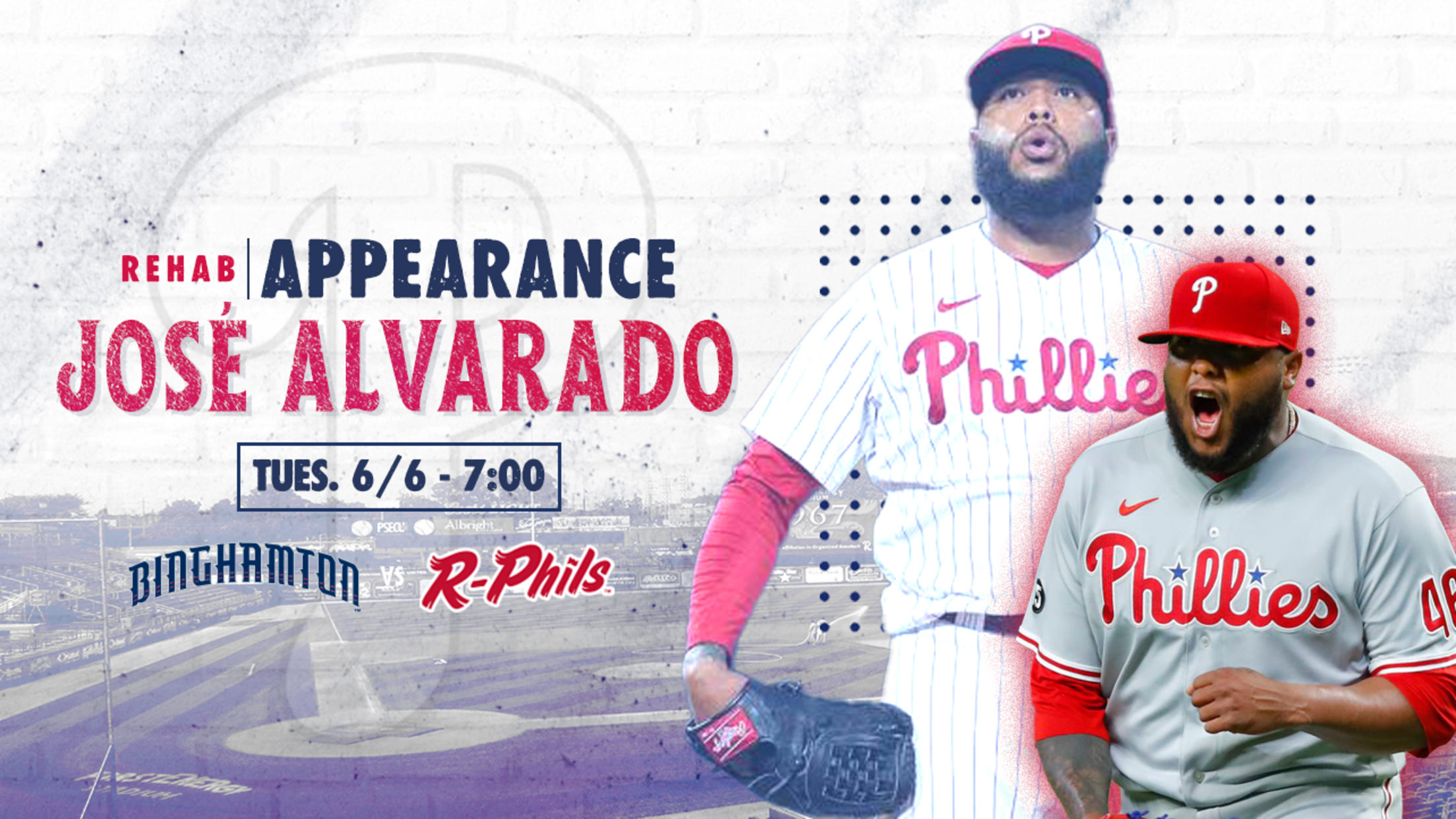 (Reading, PA) - Philadelphia Phillies relief pitcher José Alvarado is expected to make a rehab appearance with the Reading Fightin Phils on Tuesday this week. Reading welcomes the Binghamton Rumble Ponies (New York Mets) to open a six-game series this week. Prior to getting injured, Alvarado started the season red-hot
Carlos De La Cruz Powers Reading to Sunday Win
Carlos De La Cruz With Three Hits and Homer in Win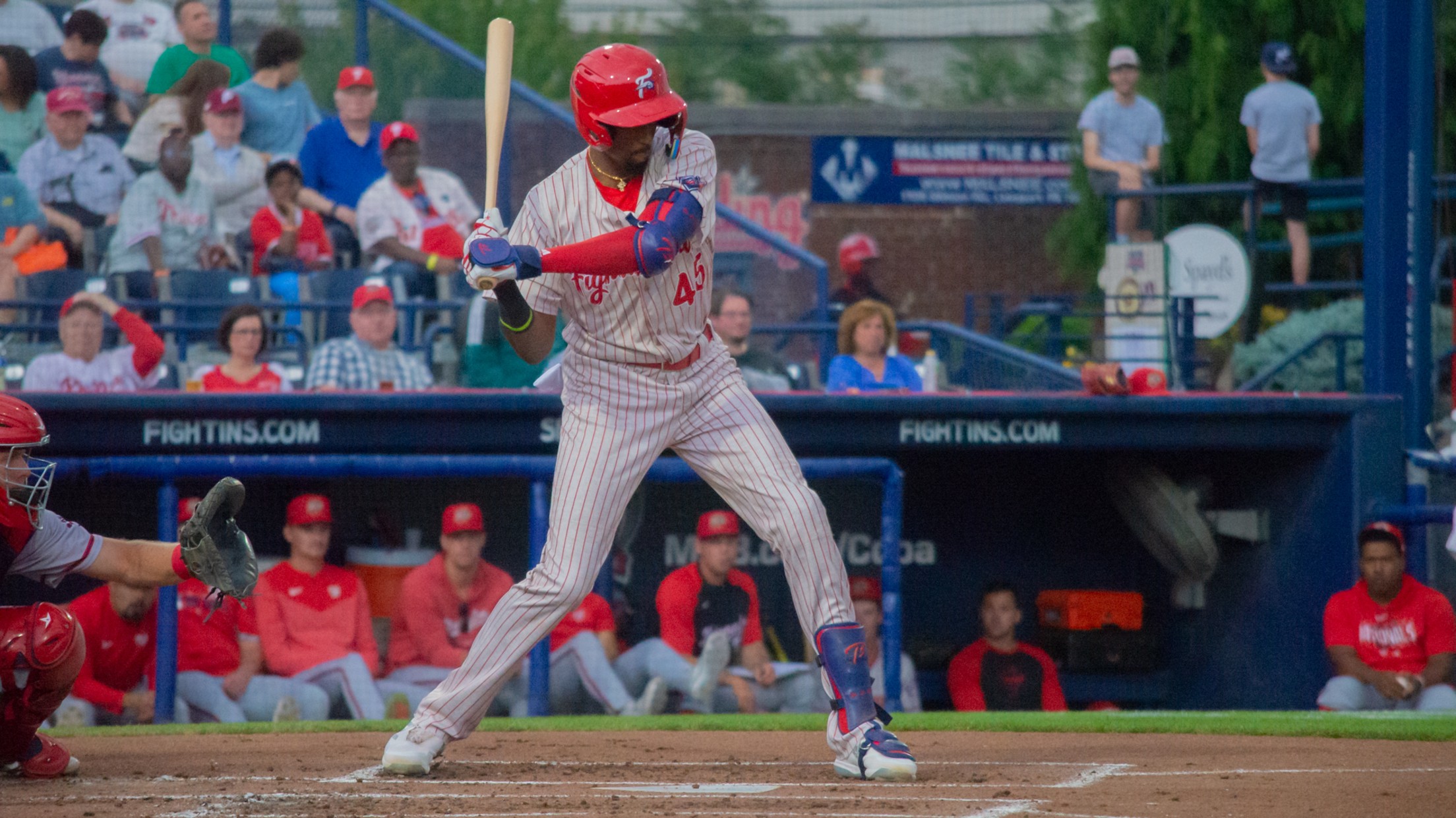 BOX SCORE (Manchester, NH) - A three-hit day from Carlos De La Cruz, including the game-tying homer and eventual game-winning hit, powered the Reading Fightin Phils to a come-from-behind 6-4 win on Sunday. Reading salvaged the final game of the series, but New Hampshire won this week's series 4-2. The
Fisher Cats Victorious in Saturday Pitchers Duel
Josh Hendrickson Strong Over 5.1 Innings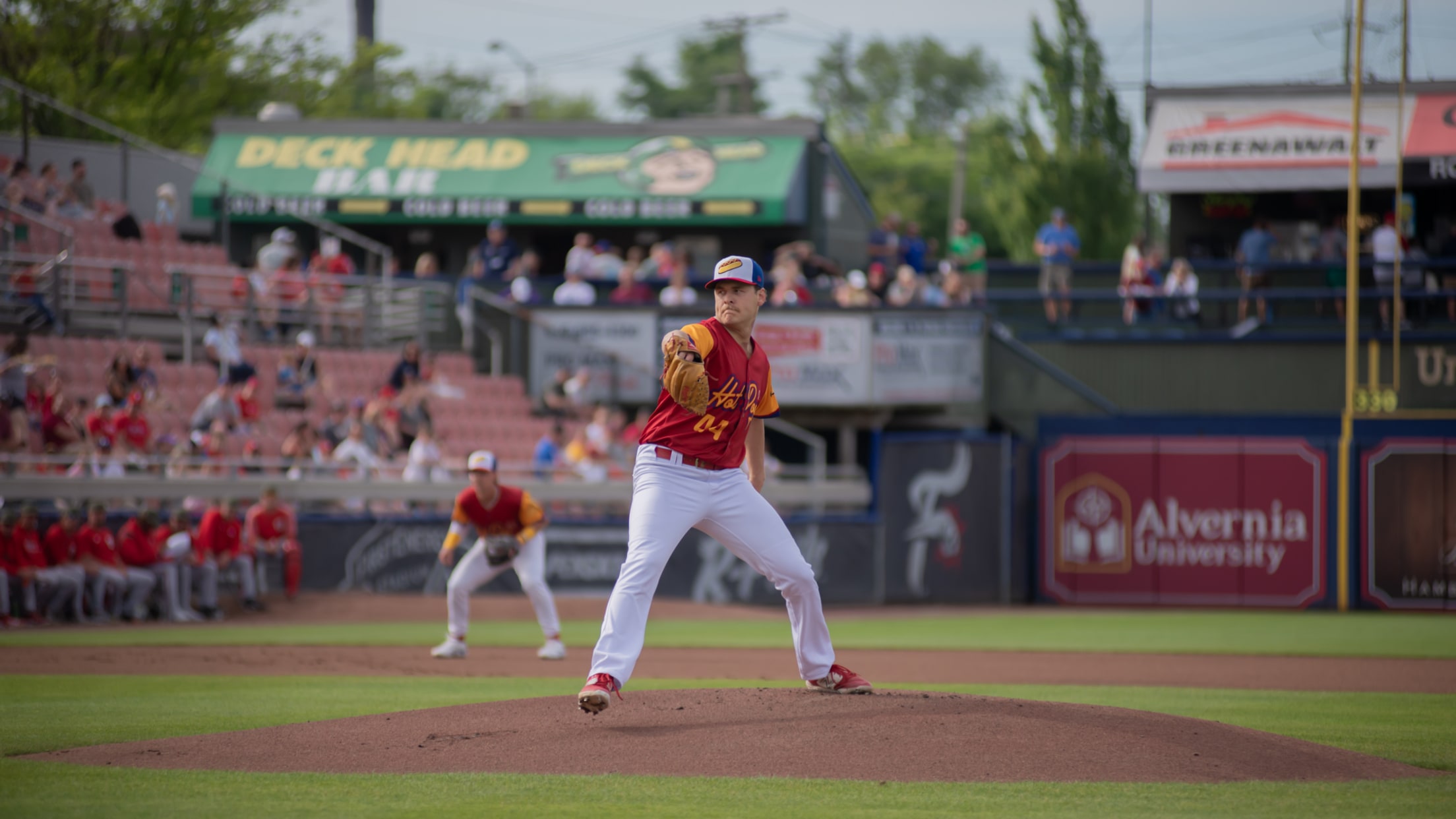 BOX SCORE (Manchester, NH) - It was another quiet night offensively as the Reading Fightin Phils fell 2-1 to the New Hampshire Fisher Cats on Saturday night. The Fisher Cats clinched the series with tonight's win, now holding the 4-1 edge. After Reading was unable to score with bases loaded
Offense Quiet in Friday Night Loss to Fisher Cats
Phillies No. 2 Prospect Mick Abel Tosses Quality Start with Seven Strikeouts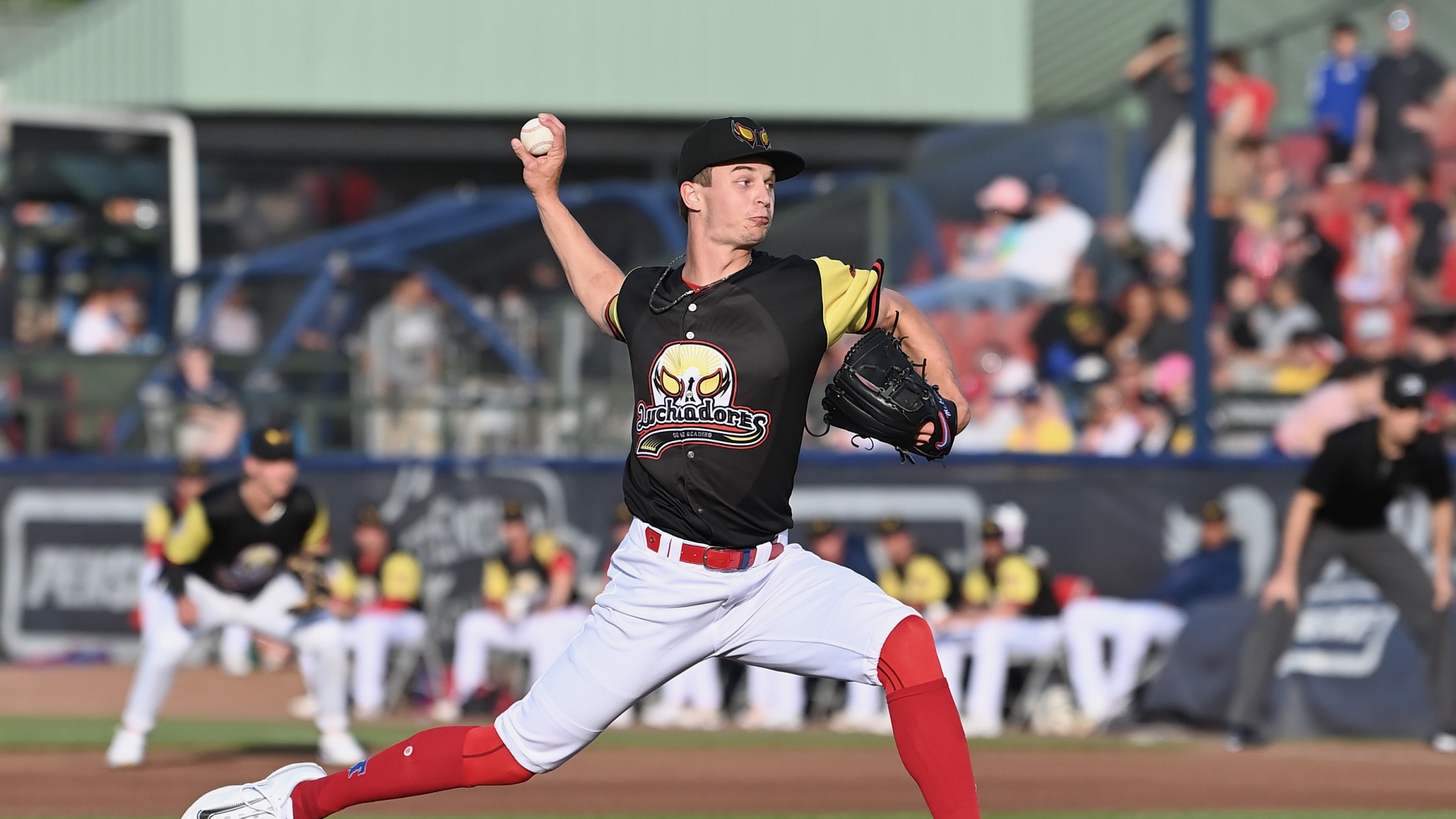 BOX SCORE (Manchester, NH) - It was a quiet night offensively, as the Reading Fightin Phils fell 4-1 to the New Hampshire Fisher Cats on Friday night. New Hampshire holds a 3-1 edge in this week's series. The R-Phils offense went to work with two outs in the top of
Wilson and Podkul Shine as Reading Wins Slugfest
Ethan Wilson and Nick Podkul Each Have Three Hits and Homer in Win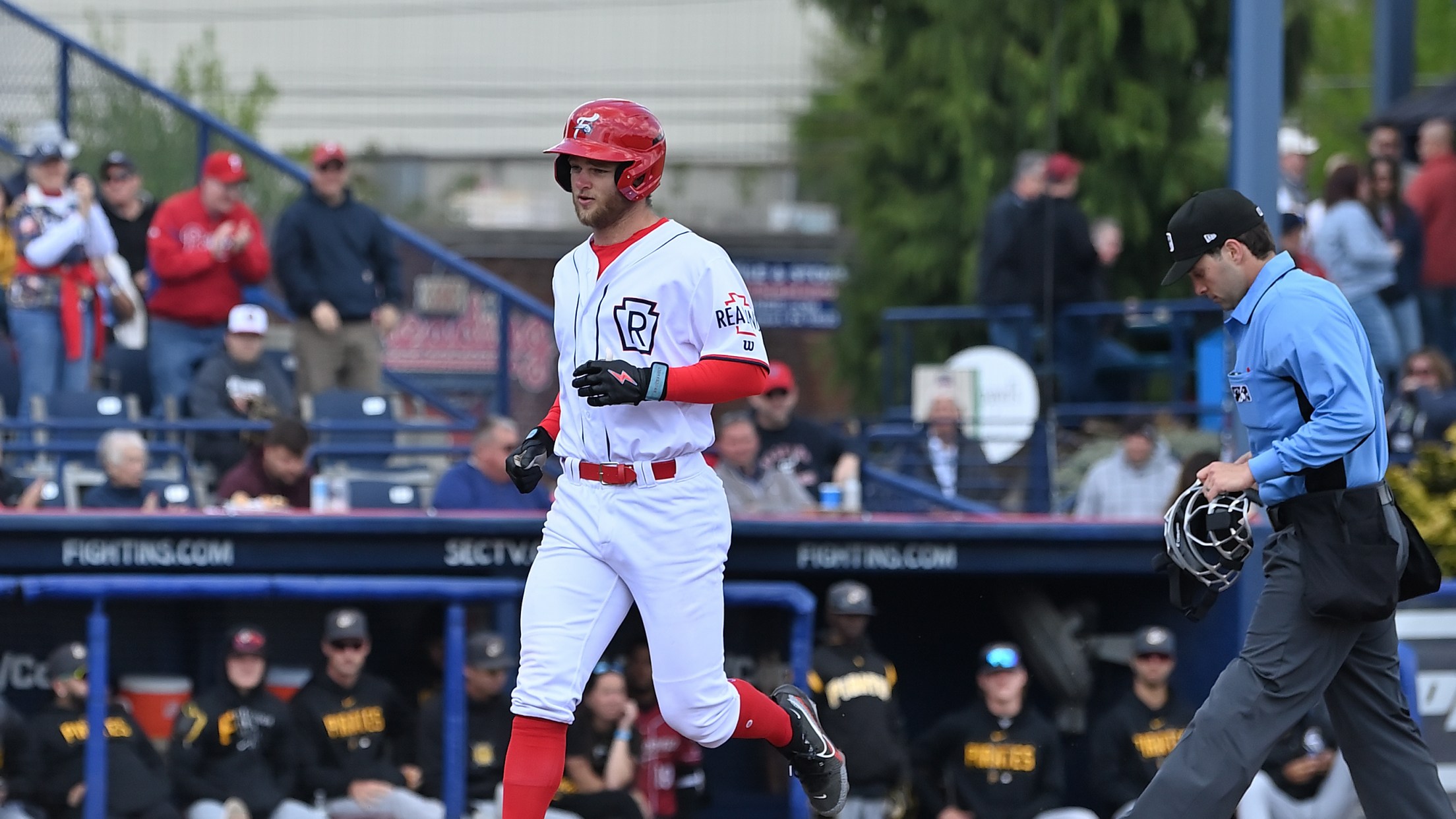 BOX SCORE (Reading, PA) - Three hits each, and back-to-back, home runs from Nick Podkul and Ethan Wilson, propelled the Reading Fightin Phils to a 13-7 win over the New Hampshire Fisher Cats on Thursday night. New Hampshire holds a 2-1 edge at the series' midway point. Reading struck first
Fisher Cats Pull Away Late as Reading Drops Second Straight
Victor Vargas Went 5.1 Innings in Second Start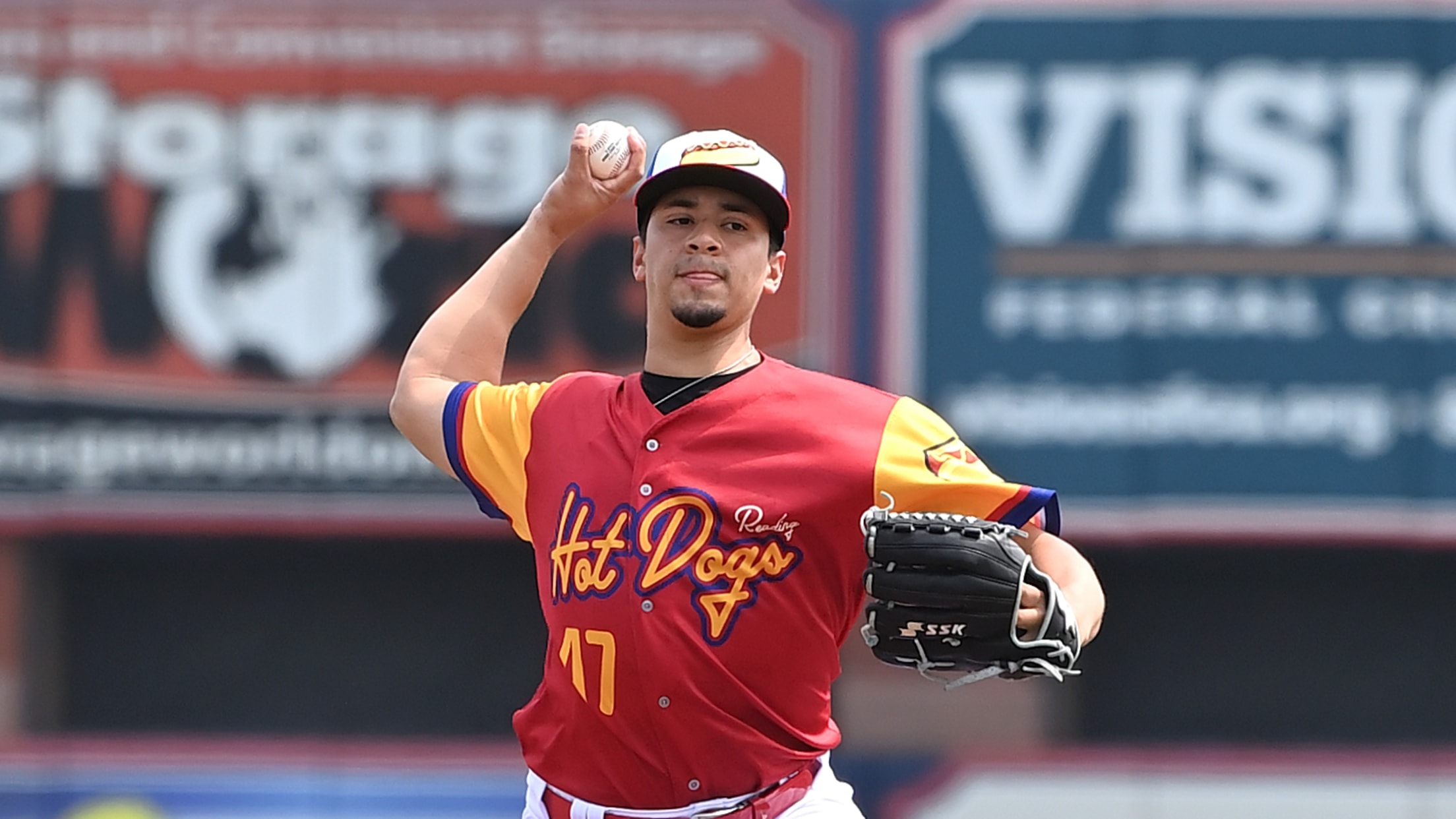 BOX SCORE (Manchester, NH) - It was a quiet day offensively as the Reading Fightin Phils fell to the New Hampshire Fisher Cats 6-2 on Wednesday morning. With the win, New Hampshire has won the first two games of this week's six-game series and now holds a 6-2 edge in
Cats Claw Back for Series Opening Victory
Johan Rojas Picks up Three Hits in Loss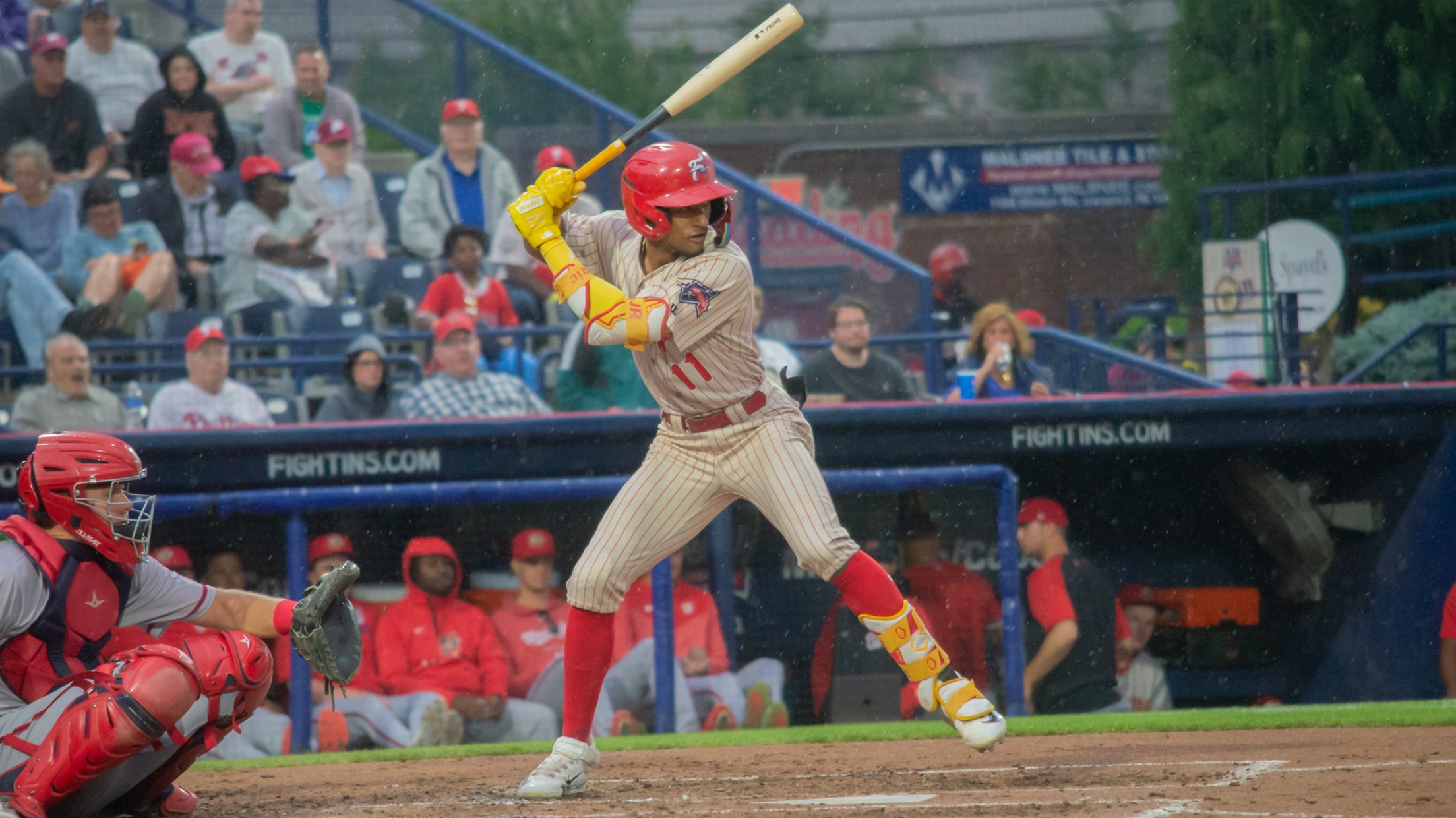 BOX SCORE (Manchester, NH) - Two runs in the bottom of the eighth inning helped the New Hampshire Fisher Cats stifled a Reading Fightin Phils comeback in their 9-8 win on Tuesday night. New Hampshire now leads this week's series 1-0. Offensively, Reading picked up nine hits. Johan Rojas led
Rojas' Home Runs Help Lift Fightin Phils to Third Straight Victory
The Reading Fightin Phils' 3-0 victory against the Harrisburg Senators contributed to a series split.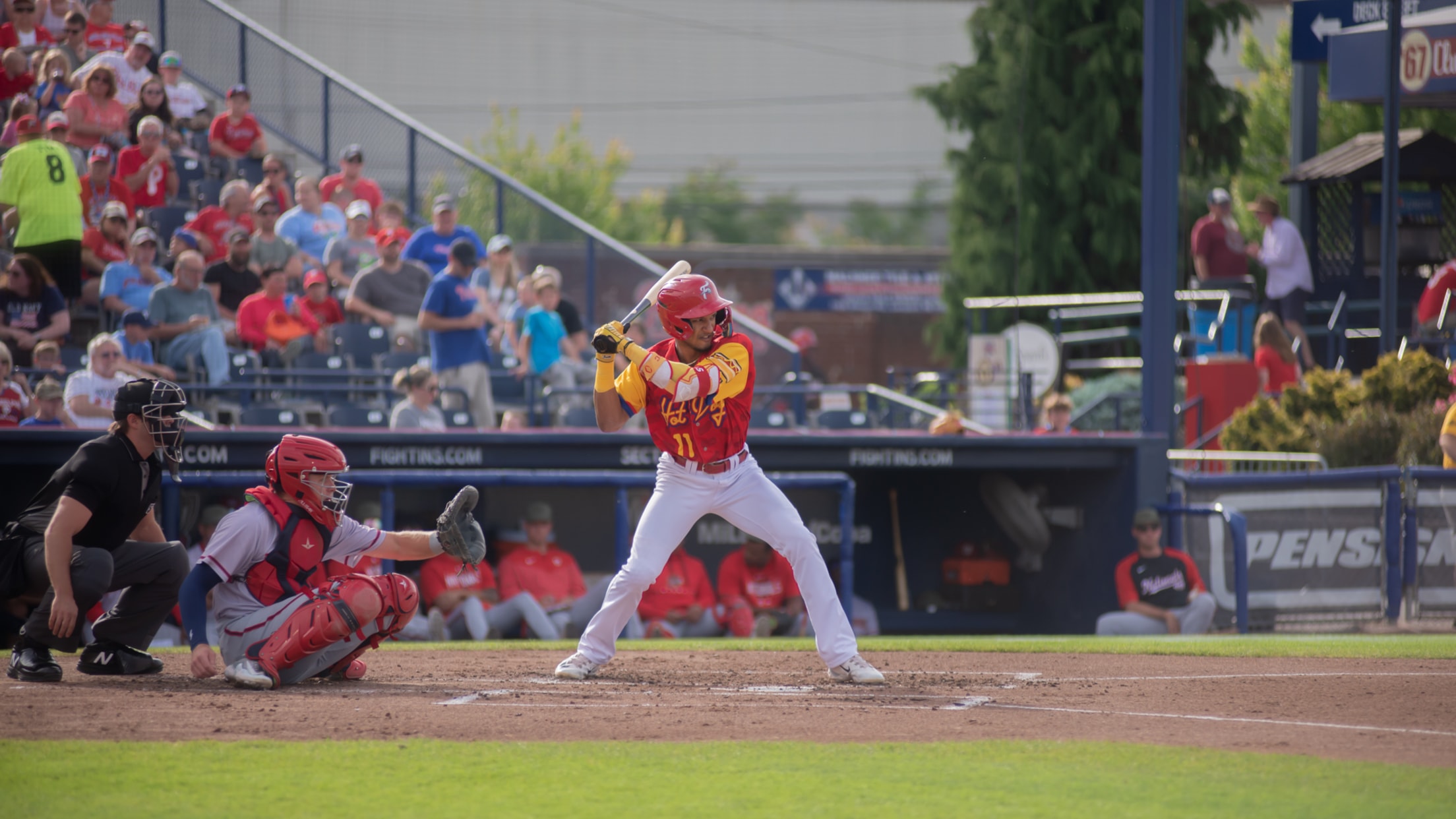 BOX SCORE (Reading, PA) - The Reading Fightin Phils won their third consecutive game against the Harrisburg Senators 3-0. Johan Rojas had a career night for Reading. The Phillies' No. six prospect launched two solo home runs in the series-tying win. Reading starting pitcher Josh Hendrickson threw well for the
Reading Puts the Fight in Fightins with Another Walk Off Win
Podkul, Stokes and De La Cruz all Homer in Win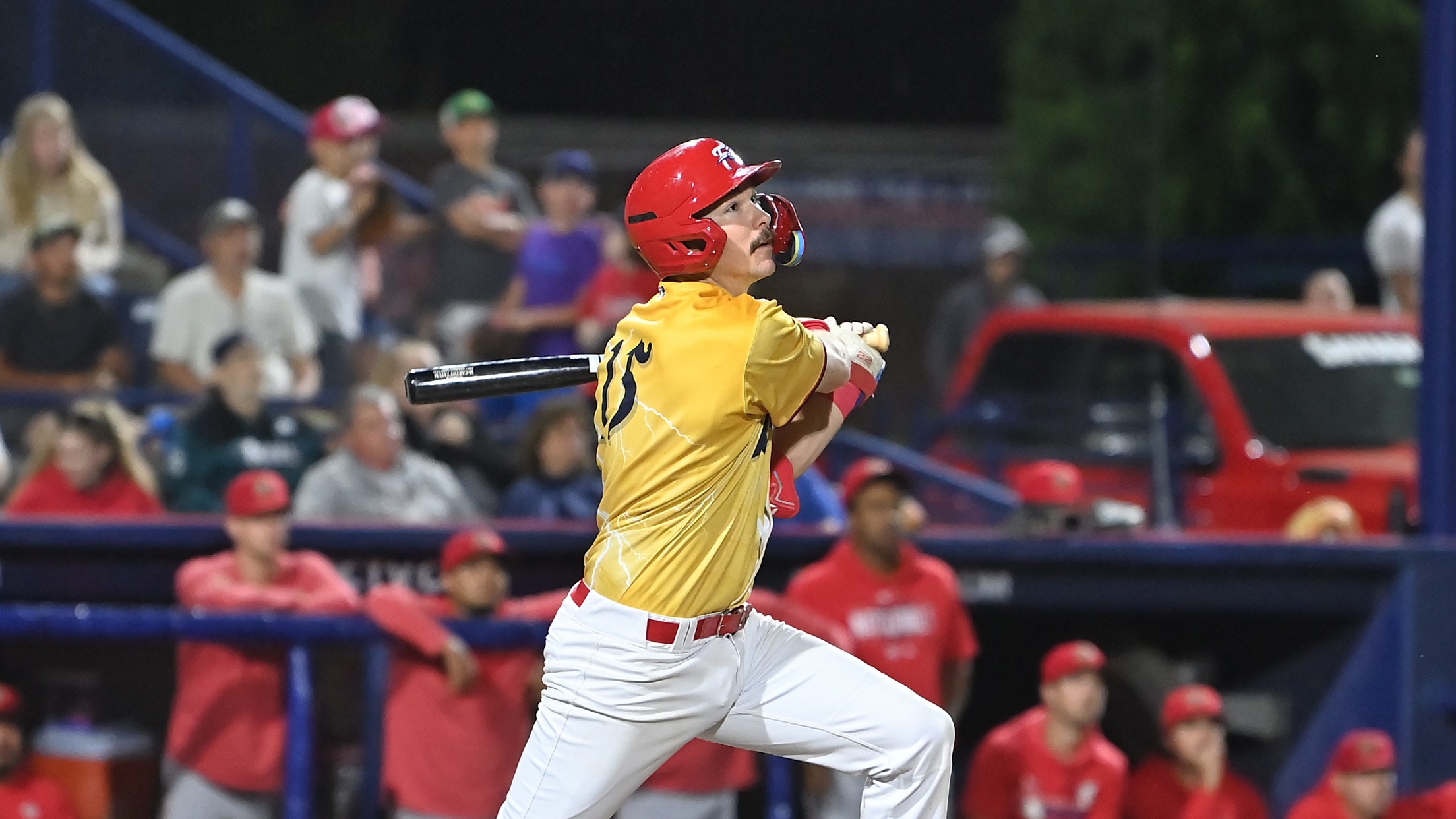 BOX SCORE (Reading, PA) - The Reading Fightin Phils walked things off again to get the win over the Harrisburg Senators 5-4. McCarthy Tatum was the man of the hour Saturday night. A single with the bases loaded gave Reading the win and their second walk off in two nights.
Reading to Host PIAA District Three Championships
Doubleheader to Begin at 4:30 at FirstEnergy Stadium
(Reading, PA) - The Reading Fightin Phils are excited to host Tuesday's PIAA District Three Championship games at FirstEnergy Stadium on May 30. It'll be a doubleheader beginning at 4:30 p.m. First, the 3A Championship Game between Camp Hill and Trinity will get underway at 4:30. Following the conclusion of
McDowell Mashes Walk Off for Reading
Reading wins First Game of Series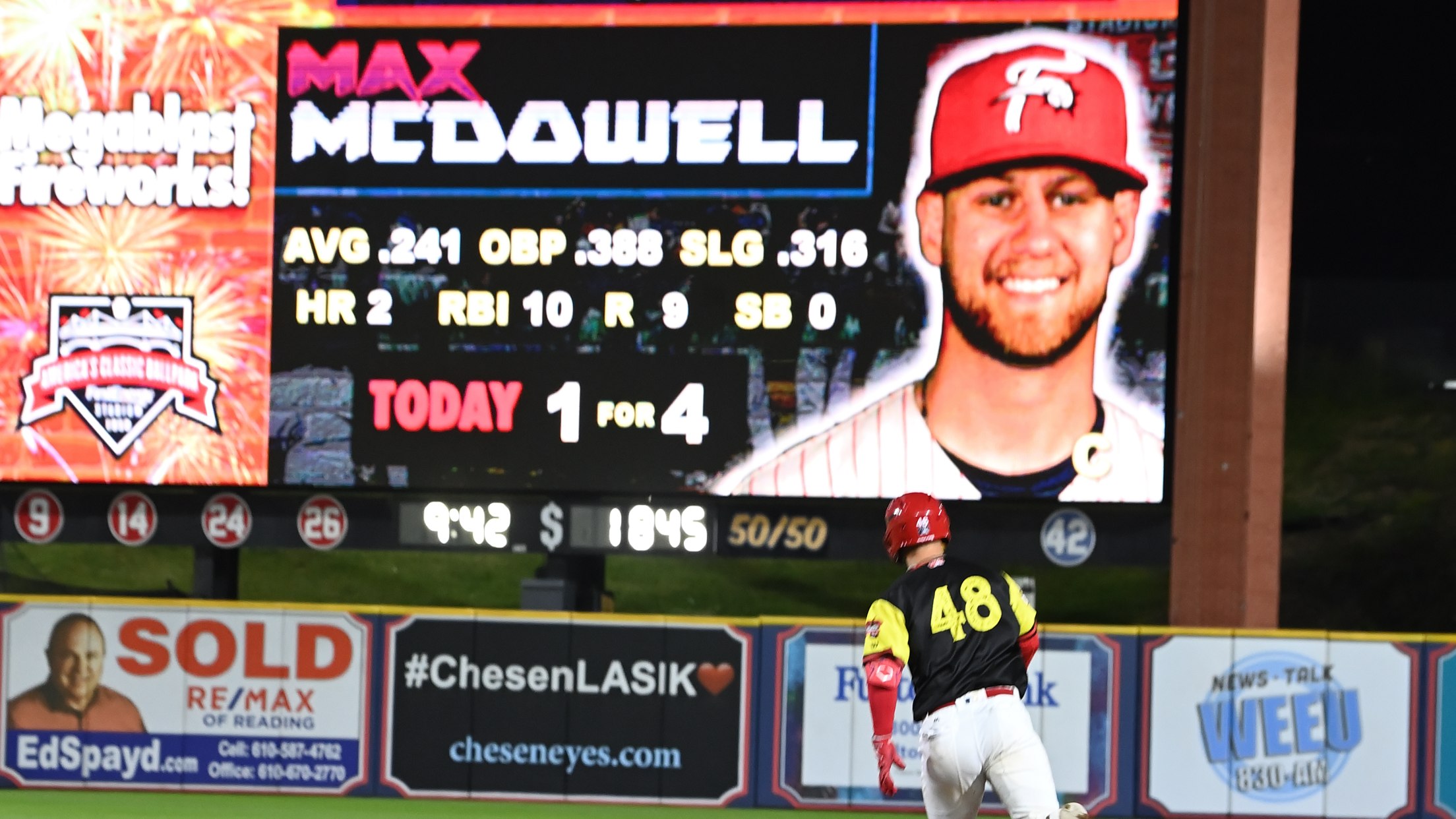 BOX SCORE (Reading, PA) - Max McDowell was the hero in Baseballtown on Friday night. A three run walk off home run gave the Reading Fightin Phils the win over the Harrisburg Senators 10-9. Reading fought its way back after multiple big innings from Harrisburg in the fifth and eighth
Harrisburg Rallies Late to Defeat Reading
Tyler Phillips Strong over Six Innings of Work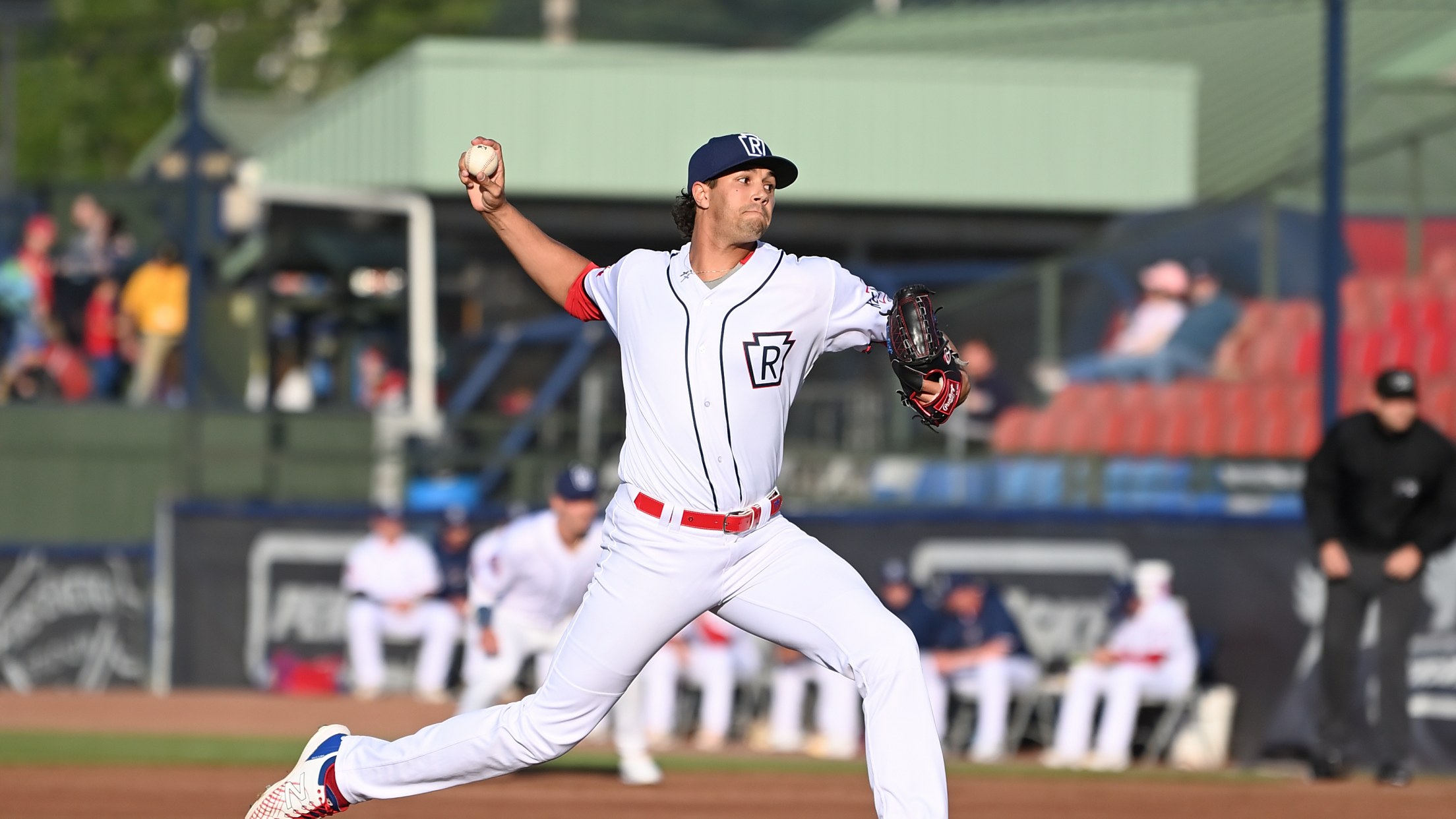 BOX SCORE (Reading, PA) - Another impressive start from a Reading Fightin Phils starting pitcher Tyler Phillips was not enough to get the win, as the Harrisburg Senators rallied late to capture a 9-5 victory on Thursday night. Harrisburg has now won the first three games of this week's series.
McGarry Strong but Fightins Fall Late
Griff McGarry Pitches Four Strong Innings in Start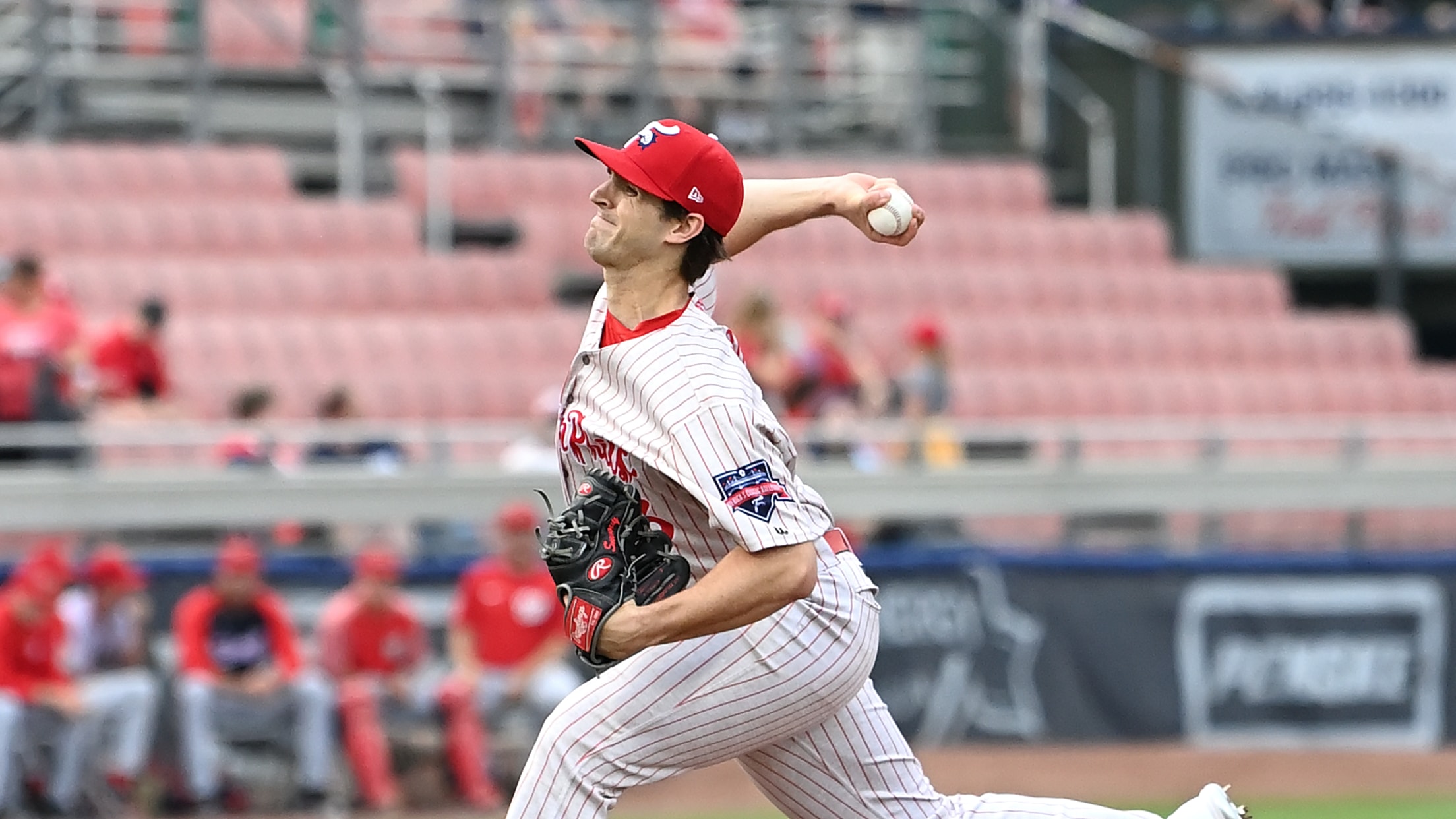 BOX SCORE (Reading, PA) - The Reading bullpen was unable to keep the lead for the Fightin Phils, giving the Harrisburg Senators the win 7-4. The win gave Harrisburg its second win of the six-game series. Griff McGarry looked impressive on the bump, keeping Harrisburg scoreless in his third start
Late Harrisburg Rally Sinks Fightin Phils
Carlos De La Cruz and Max McDowell Both Homer in Loss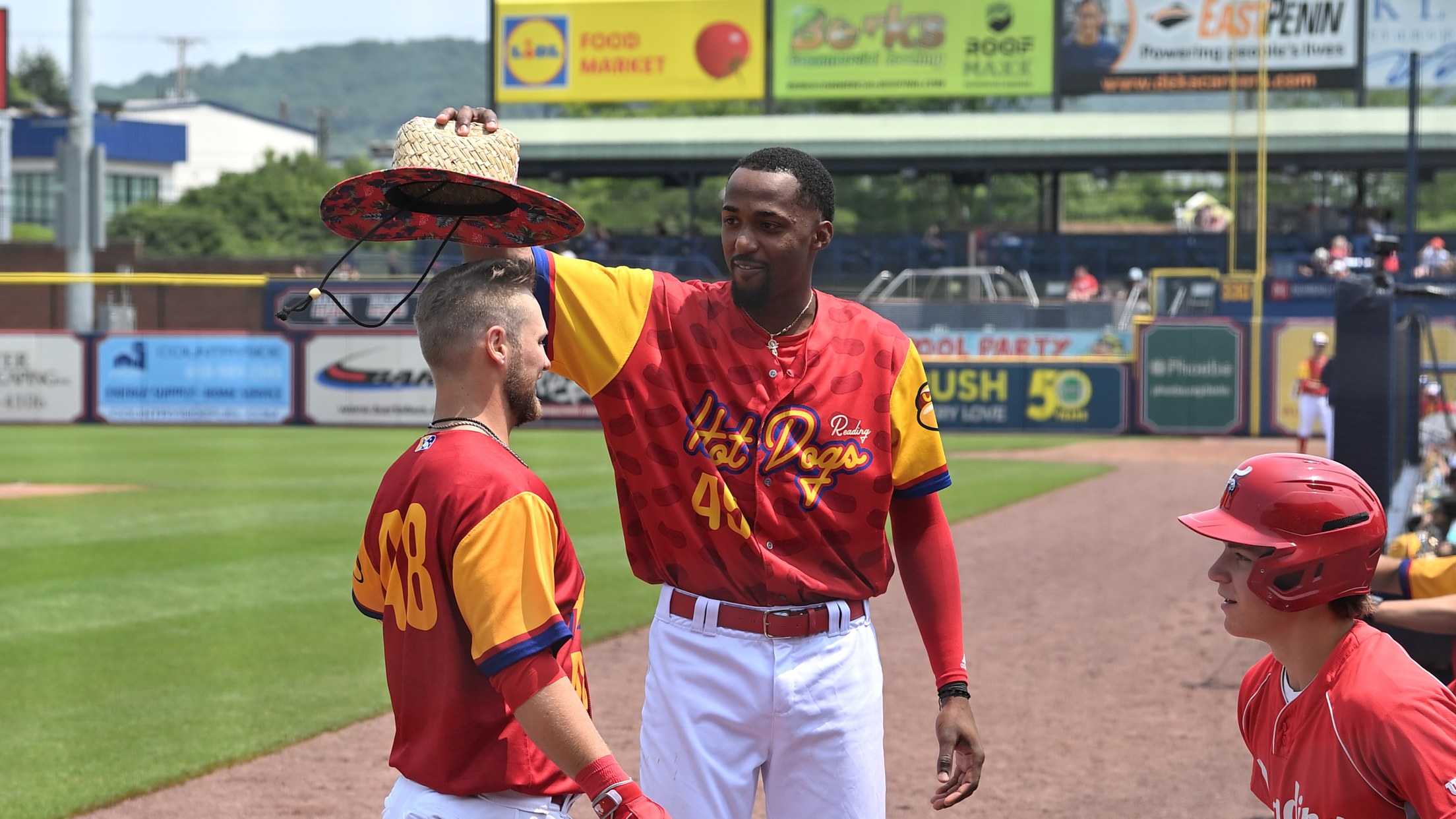 BOX SCORE (Reading, PA) - Home runs from Carlos De La Cruz and Max McDowell were not enough as the Reading Fightin Phils fell to the Harrisburg Senators 8-5 to open the homestand on Tuesday morning. Reading starting pitcher Victor Vargas made his first outing with the team since being
Parkinson Powers Pitching to Series Split
Madison Stokes Homers for Second Straight Game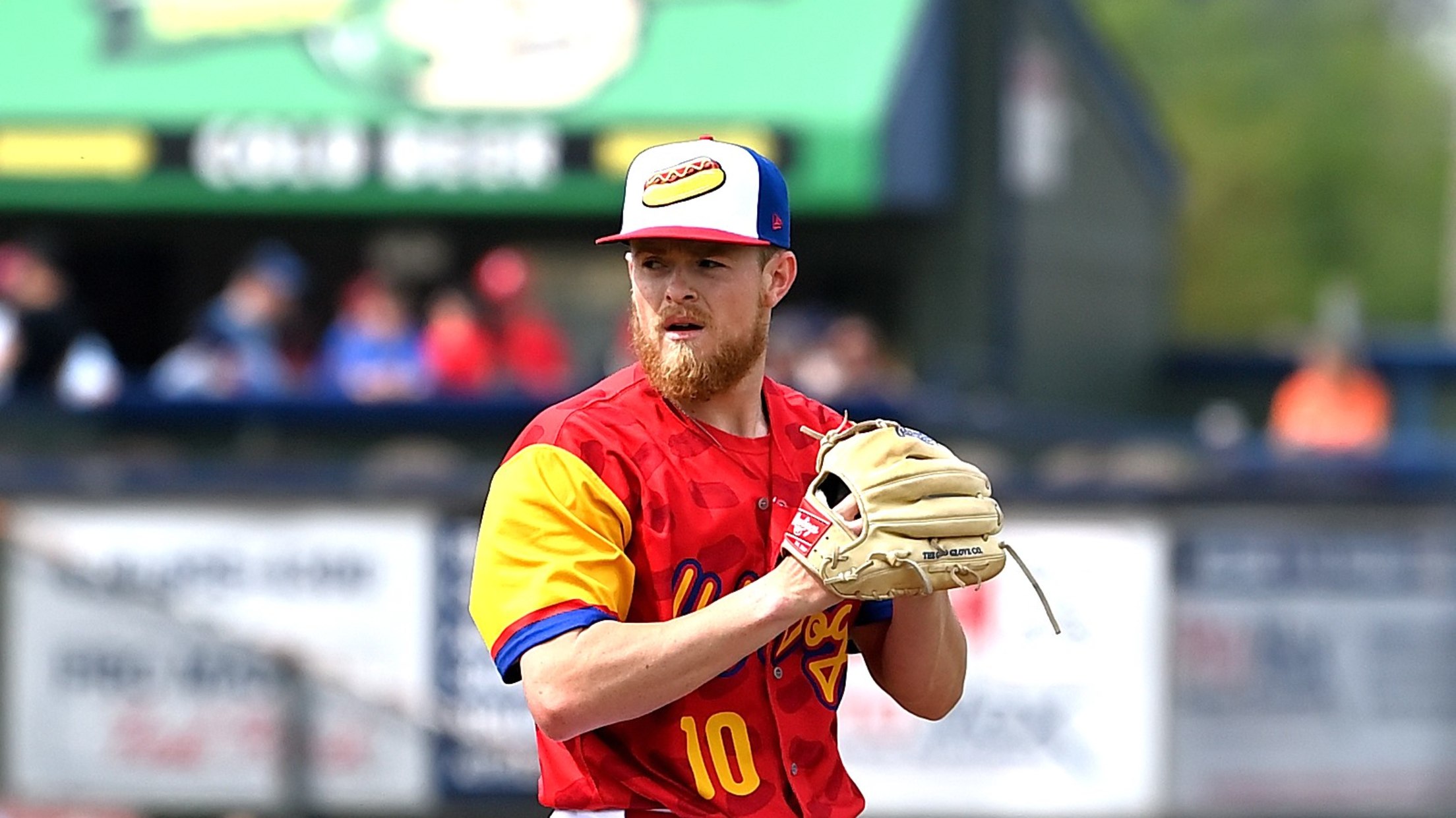 BOX SCORE (Somerset, NJ) - Five-strong innings from David Parkinson set the tone as the Reading Fightin Phils captured a 3-1 triumph over the Somerset Patriots on Sunday afternoon. The win earned a split in the series for both teams and it was the R-Phils second-straight win. Parkinson got the
Strong Bullpen Effort Leads Reading to Victory
Bullpen Allowed No Runs over Five Innings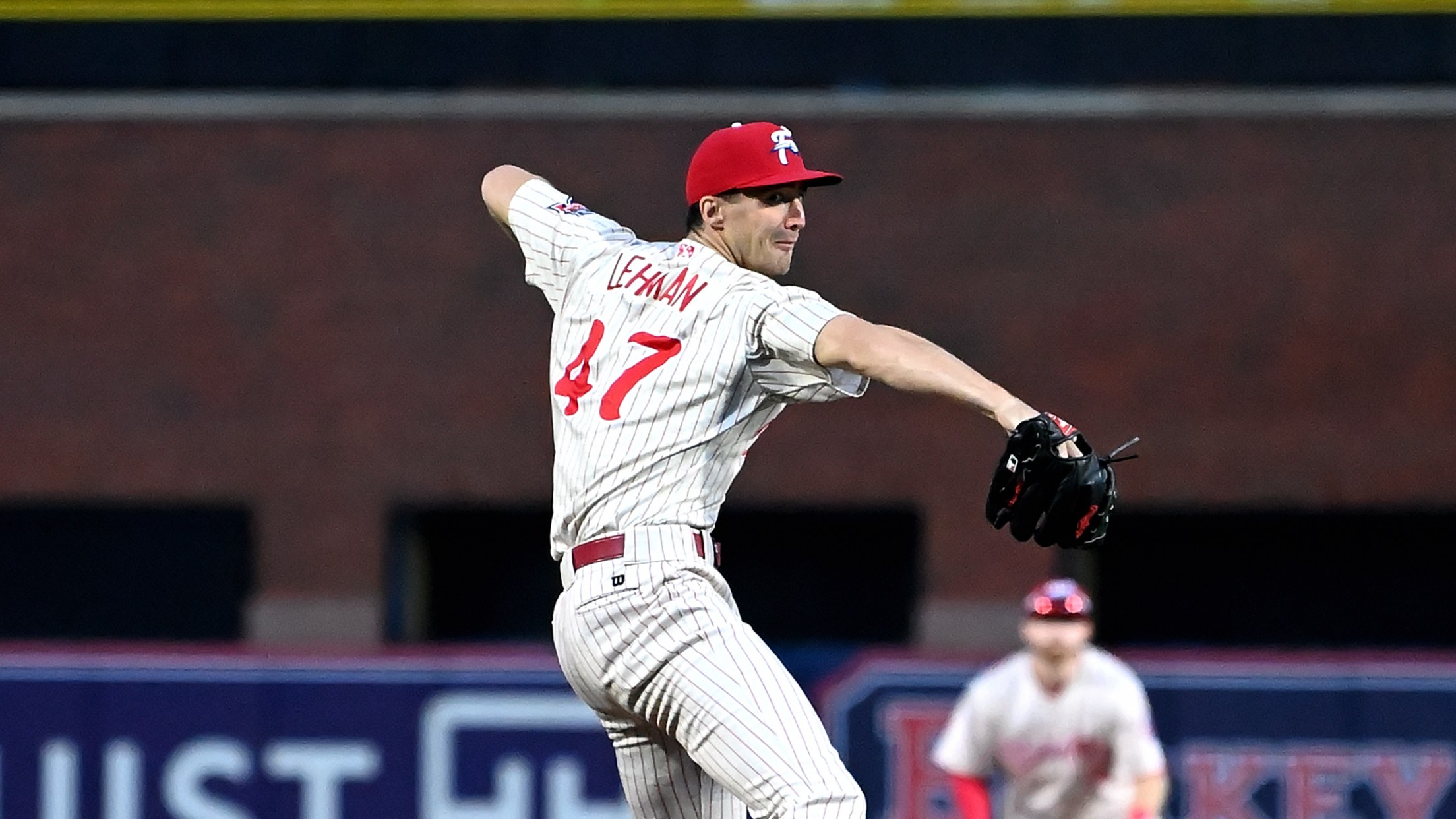 BOX SCORE (Somerset, NJ) - A stellar effort from the bullpen led the Reading Fightin Phils to a 6-5 victory over the Somerset Patriots on Saturday night. The win cut the Somerset series lead to 3-2, as Reading will go for the series split tomorrow. The moment of the night
Patriots Walk off Fightin Phils on Friday Night
Mick Abel Bounces Back with Five Strong Innings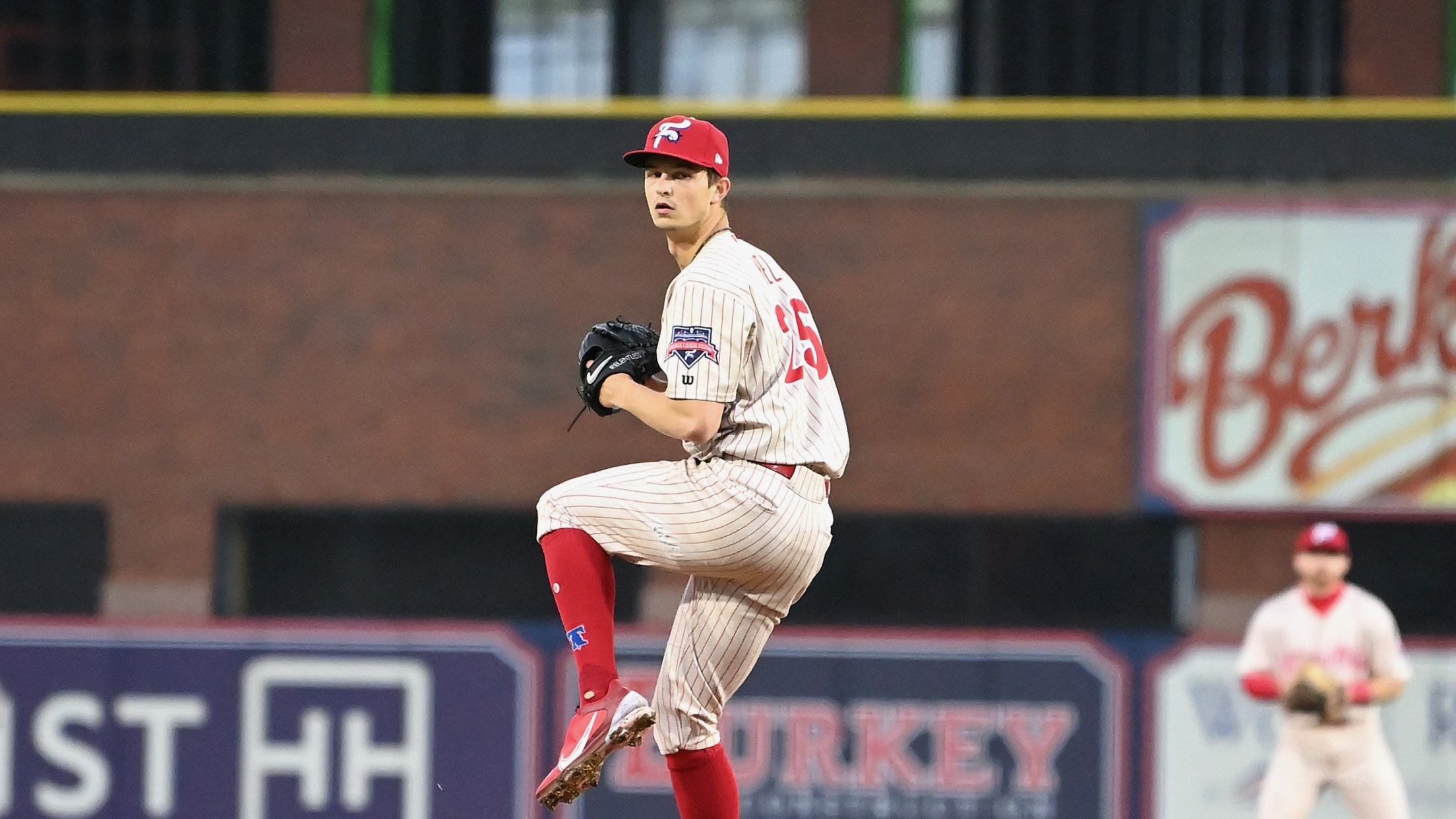 BOX SCORE (Somerset, NJ) - A comeback effort, capped by a ninth-inning walk-off, propelled the Somerset Patriots to a Friday night 4-3 win over the Reading Fightin Phils. The win guaranteed Somerset at least a split of this week's series. As the Fightins have done all week, they struck first
Fightins Fall as Somerset Offense Starts Game Fast
Ethan Wilson Hit Sixth Home Run of Season in Loss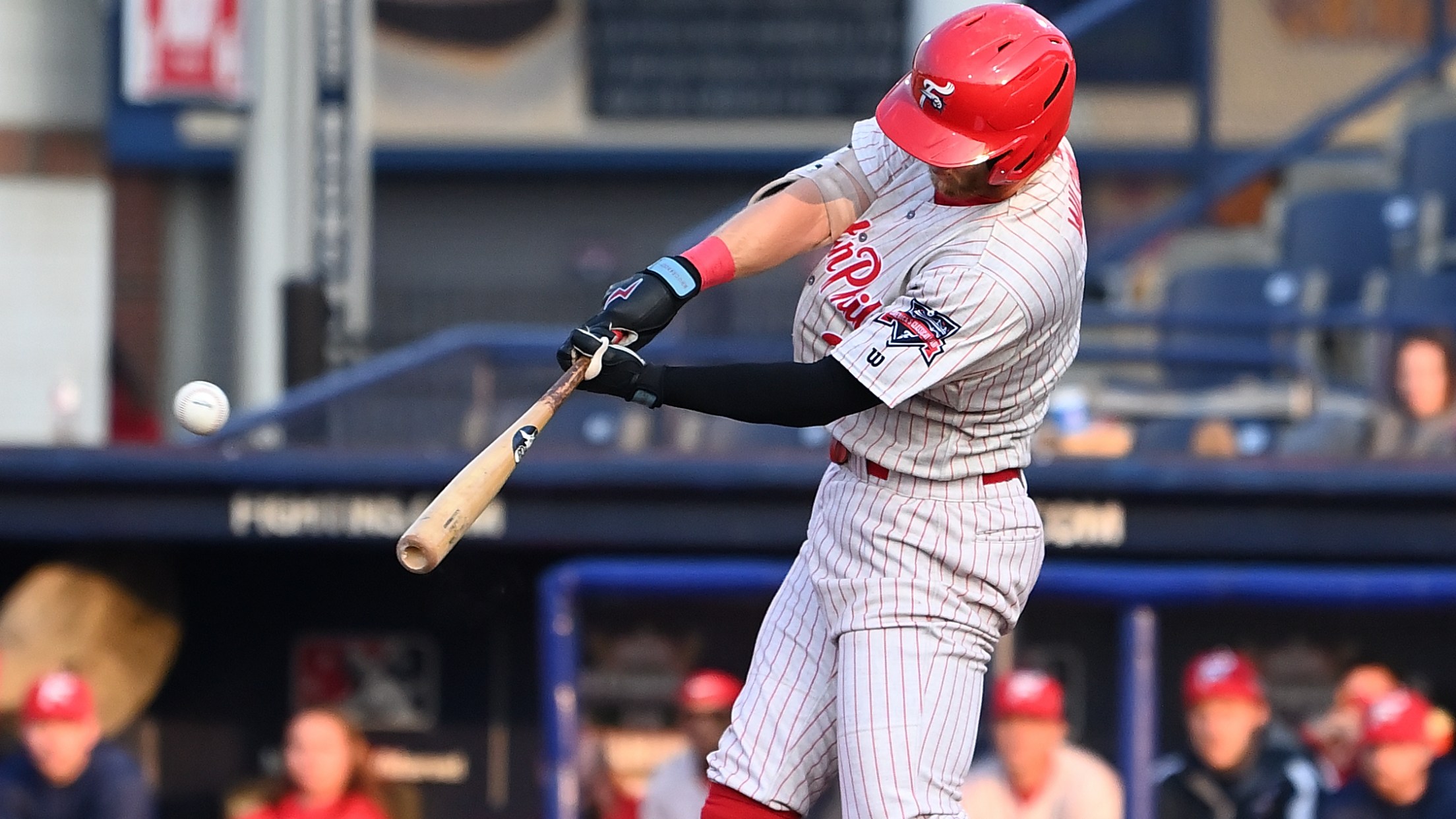 BOX SCORE (Somerset, NJ) - Nine runs in the first four innings was all the Somerset Patriots needed in Thursday night's 10-3 victory over the Reading Fightin Phils. The win gave Somerset the two-games-to-one edge at the midway point of this week's series. The Fightin Phils came out of the
Consistency Key to Taylor Lehman's Early Season Success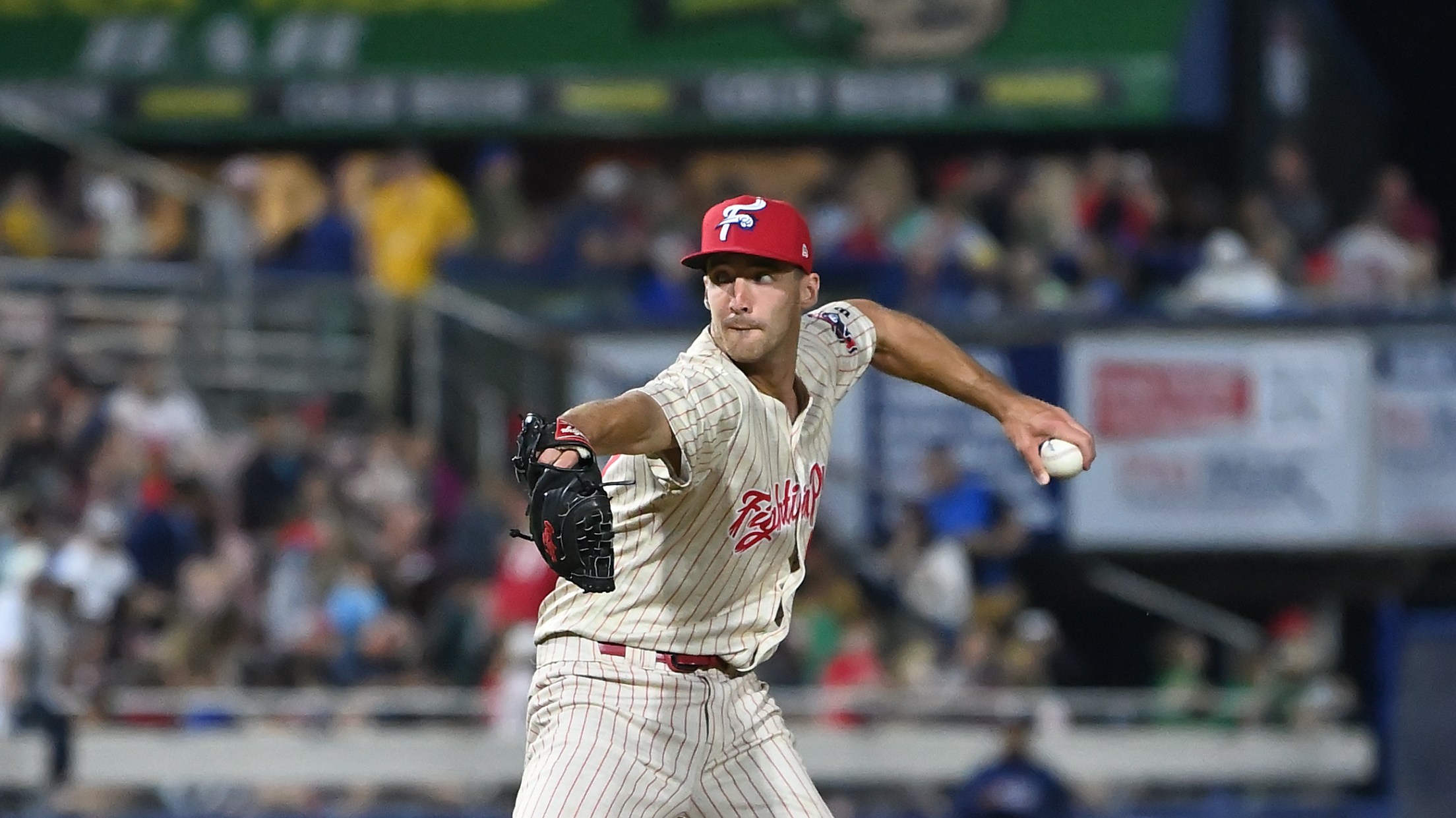 (Reading, PA) - If it's a big moment, late in a ball game, there's usually a good chance Taylor Lehman will be trotting onto the pitchers mound. When on the bump, it's very hard to miss Lehman. His six-foot, eight-inch frame towers over most and he displays a strong aresenal
All Around Effort Leads Fightin Phils to Morning Win
Pitching Picks up Season High 19 Strikeouts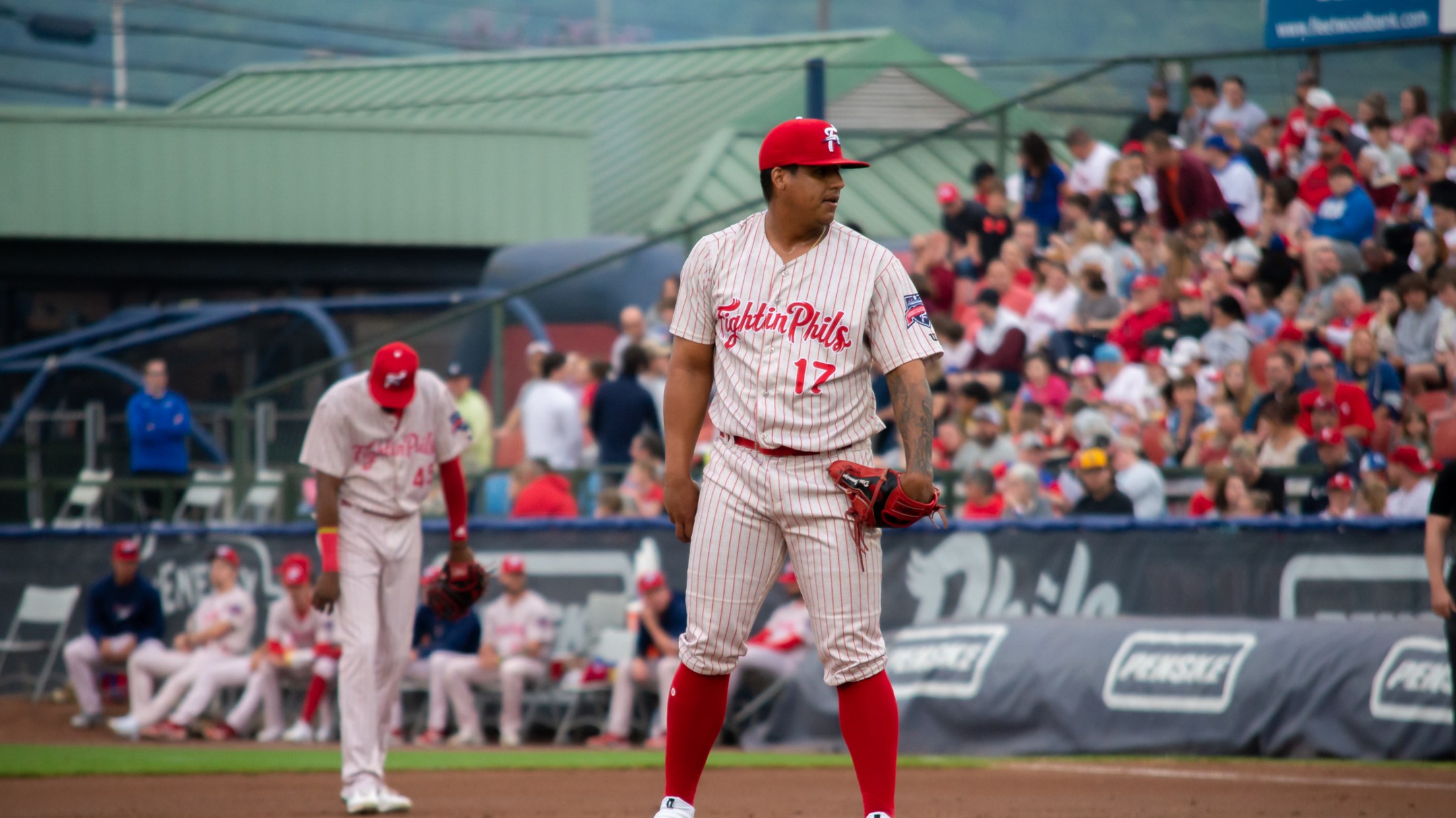 BOX SCORE (Somerset, NJ) - A strong start from Griff McGarry and another offensive outburst awakened the Reading Fightin Phils to an early-morning 9-1 victory over the Somerset Patriots on Wednesday. The Fightin Phils were the beneficiary of a sloppy defensive top of the second from Somerset. Oliver Dunn walked