Garrett's Power & Speed Struck Fear in the PCL
The Summer Of Stone Rolled Through Reno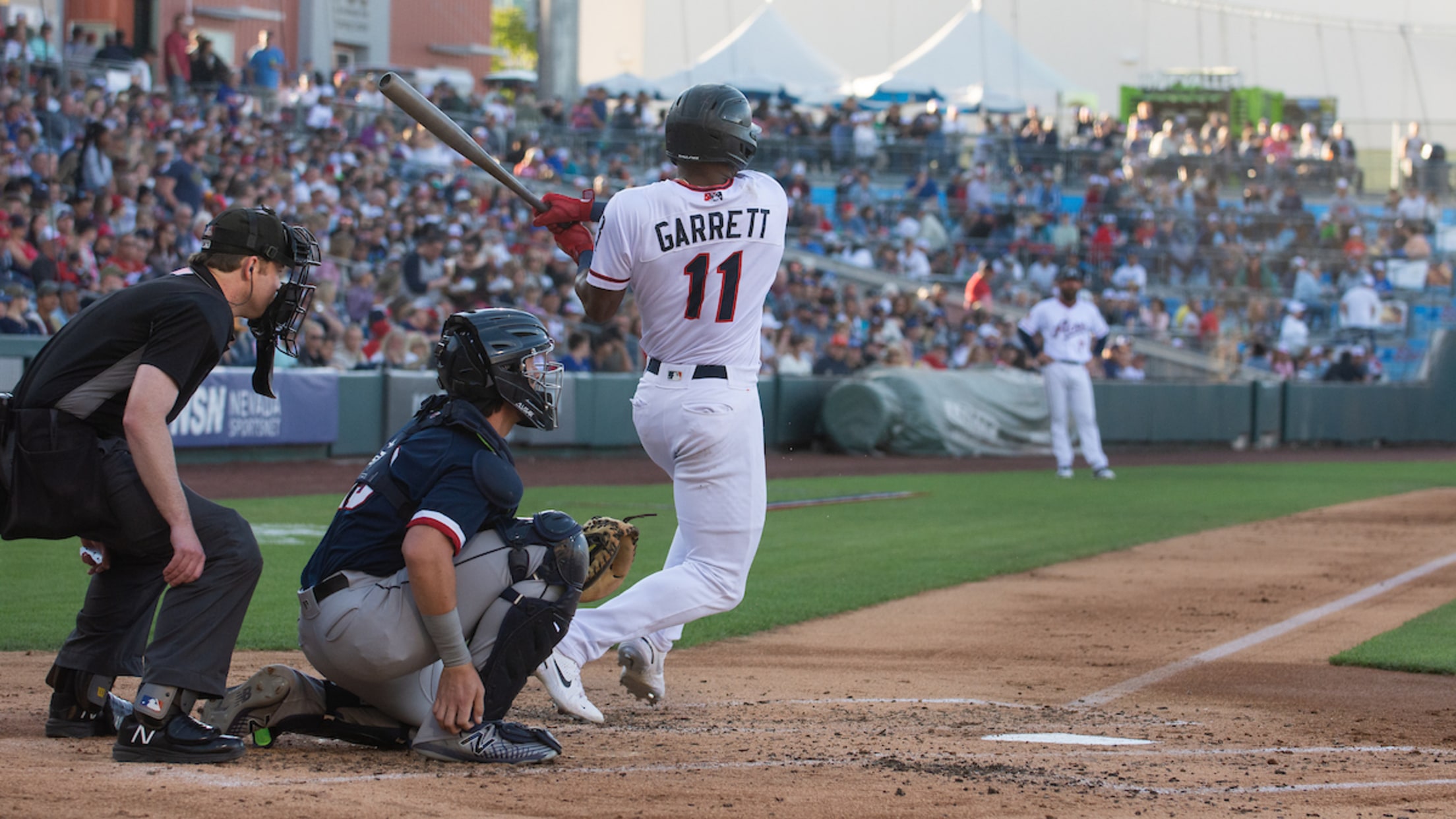 RENO, Nev. – Entering the 2022 season, Stone Garrett's power and speed were never in question following an Arizona Diamondbacks Organizational All-Star selection where the Sugar Land, Texas native notched a 20-plus home run, 80-plus RBI performance with Double-A Amarillo. The 26-year-old quickly solidified himself as one of the premier
RENO, Nev. – Entering the 2022 season, Stone Garrett's power and speed were never in question following an Arizona Diamondbacks Organizational All-Star selection where the Sugar Land, Texas native notched a 20-plus home run, 80-plus RBI performance with Double-A Amarillo.
The 26-year-old quickly solidified himself as one of the premier power threats in the Pacific Coast League with one of the hottest Aprils in Reno Aces history capped by a Pacific Coast League Player of the Month selection. During the season's opening month, he produced a .355 AVG/.417 OBP/.724 SLG offensive line in addition to tallying 55 total bases, eight doubles, one triple, six home runs with 15 RBI, and 13 runs scored.
He collected the Aces' longest-hitting streak of the season during the month, a 14-gamer that ran from April 12-28, which ranks 10th in Ace's history. He also started the 2022 season by reaching base in 24-straight games which ran from April 5 through May 5, and ranks as the club's 10th-longest streak in franchise history.
One of his most memorable moments in an Aces uniform occurred on July 23, when he launched a walk-off home run high off the left-field scoreboard, which provided a 7-6 victory against the El Paso Chihuahuas on Margaritaville Night at Greater Nevada Field.
You could say Stone was our rock this season 😏@stonetx_ | @MiLB pic.twitter.com/93l0lhX6Re

— Reno Aces (@Aces) October 28, 2022
While his timely hitting and light-tower power received most of the recognition, Garrett showcased an exceptional arm in the outfield and speed on the bases. He led the Aces with eight outfield assists and was second on the team with 15 stolen bases.
Following his MLB debut on August 17 in San Francisco, Garrett provided right-handed pop in the D-backs lineup that was on full display during his time in the Pacific Coast League. Over the season's final six weeks, Garrett played in 27 games and produced a .276/.309/539 offensive line, which included 12 extra-base hits (four home runs), 10 RBI, and 13 runs scored.
Despite being promoted to Arizona with six weeks left in the season, Garrett had already established himself among the team's stat leaders. He led the team in games played (112), runs (73), total bases (221), home runs (28), RBI (95), intentional walks (2), strikeouts (105), slugging pct. (.568), OPS (.900). He additionally ranked in the Top 10 of the PCL in home runs, RBI, slugging percentage, OPS, extra-base hits, and total bases.
Garrett's chiseled physique and charismatic smile, in addition to his clutch base hits, left a lasting impression and was a crucial cog in the Aces 2022 PCL Championship season.