McCarthy & Thomas Mash as Reno's 18 Hits Propel Aces a 13-7 Win Over El Paso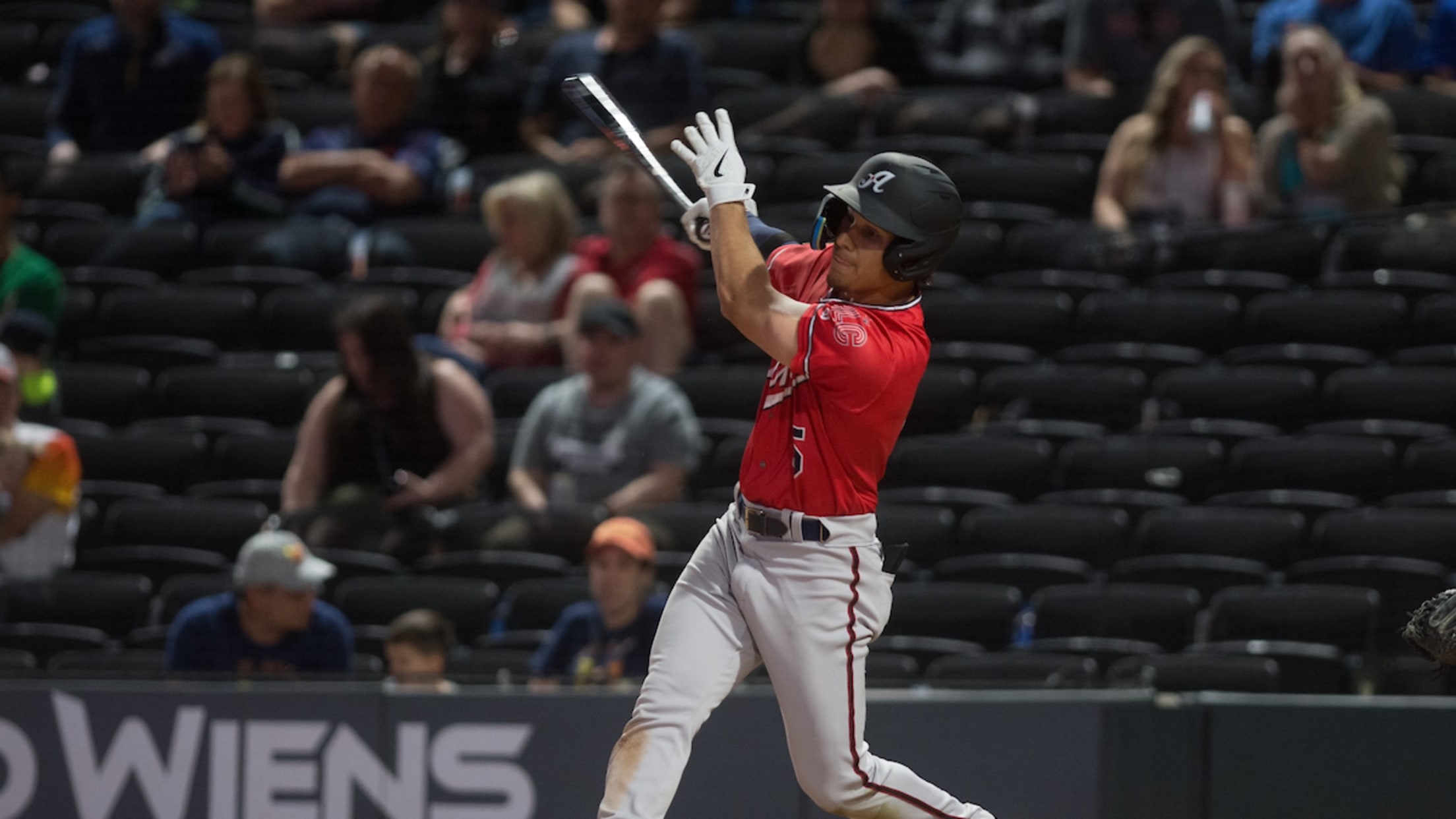 Reno Aces 13, El Paso Chihuahuas 7 W: Jameson (4-0) L: Groome (1-4) S: None First pitch: 5:07 p.m. PST | Attendance: 5,945 | Time: 2:25 El Paso, Tex. – Southwest University Park Click Here for Video Highlights Next time out: @ El Paso, 5/24/23 at 10:05 a.m. (PST) (RNO)
Reno Aces 13, El Paso Chihuahuas 7
W: Jameson (4-0) L: Groome (1-4) S: None
First pitch: 5:07 p.m. PST | Attendance: 5,945 | Time: 2:25
El Paso, Tex. – Southwest University Park
Click Here for Video Highlights
Next time out: @ El Paso, 5/24/23 at 10:05 a.m. (PST)
(RNO) RHP Bryce Jarvis (2-2, 4.13 ERA) vs. (ELP) RHP Matt Waldron (0-4, 7.45 ERA)
EL PASO, Tex. – Jake McCarthy and Alek Thomas launched pair of long-distance home runs as the Reno Aces (29-17) hammered 18 hits in a 13-7 victory over the El Paso Chihuahuas (19-27) Tuesday evening at Southwest University Park.
With the series-opening win, the Aces are a season-high 12 games over .500 and have won eight of their last nine contests.
McCarthy's three-run shot in the fifth inning was tattooed 422 feet over the right-center field wall, while Thomas' blast traveled 429 feet off the center field batter's eye in the eighth inning. The pair of outfielders combined for seven hits, three extra-base hits (two homers), seven RBI, and five runs scored.
Unlike @tdhagerty, we are very excited about Jake McCarthy's 3️⃣-run blast 💯

McCarthy's 4️⃣th home run of the season travels 4️⃣2️⃣2️⃣ feet. pic.twitter.com/fKwCAaugTm

— Reno Aces (@Aces) May 24, 2023
Making his Reno Aces debut in an MLB rehab appearance, Kyle Lewis tallied a pair of base knocks, including a three-run homer in the fifth inning.
Reigning PCL Player of the Week, Tristin English, extended his hitting streak to seven games with a three-hit night.
Drey Jameson (4-0) won his fourth-straight game for the Aces as the right-hander held El Paso to five runs (all earned) on nine hits, two walks, and four strikeouts in six innings.
Aces Notables:
Jake McCarthy; 4-for-6, 1 HR, 3 RBI, 3 R
Tristin English: 3-for-5, 1 2B, 1 RBI
P.J. Higgins: 3-for-4, 1 RBI, 2 R
Alek Thomas: 3-for-5, 1 2B, 1 HR, 4 RBI, 2 R
Kyle Lewis: 2-for-6, 1 HR, 3 RBI, 2 R in MLB rehab start
Drey Jameson: (W, 4-0) 6.0 IP, 9 H, 5 R/5 ER, 2 BB, and 4 K's.
Following a two-week road trip to El Paso and Oklahoma City, the Aces will return to Greater Nevada Field on Tuesday, June 6th. In a six-game series, they will face the Tacoma Rainiers, Triple-A affiliate of the Seattle Mariners.
Single Game tickets are on sale at RenoAces.com, the Greater Nevada Field Ticket Office, or by texting "TIXX" to 21003. Season Memberships are available via RenoAces.com, texting "MEMBER" to 21003, or calling (775) 334-7000.
-ACES-