Red Wings Announce New Bag Policy for 2023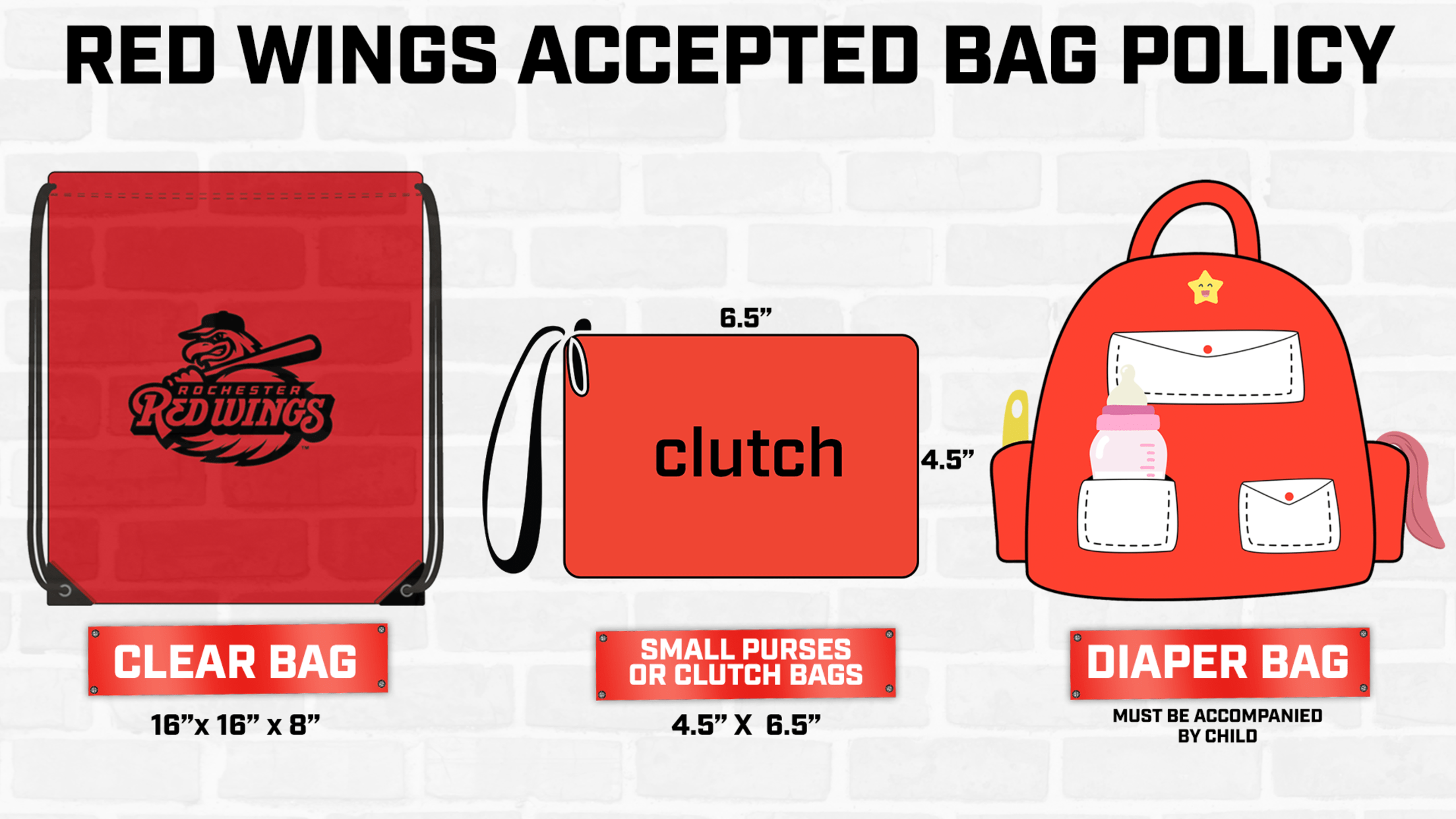 The Rochester Red Wings have announced their bag policy for 2023. These new policies are to be enforced for all events at Innovative Field. - Patrons without bags shall access a designated expedited entry line. - Permitted bags must be transparent and not exceed dimensions of 16" x 16" x
The Rochester Red Wings have announced their bag policy for 2023. These new policies are to be enforced for all events at Innovative Field.
Patrons without bags shall access a designated expedited entry line.
Permitted bags must be transparent and not exceed dimensions of 16" x 16" x 8".
Purses/clutch bags must not exceed 4.5" x 6.5" in size.
The following bags are prohibited: backpacks, briefcases, non-transparent or oversized fanny packs, luggage, computer bags/cases, camera bags, and binocular bags.
Exceptions apply to medical bags and diaper bags, subject to prior approval from Red Wings management.
All bags are subject to security inspection upon entry and at any time within the stadium premises.
Security reserves the right to deny entry to patrons with non-compliant bags or those who refuse inspection.
On-site storage facilities at Innovative Field are unavailable.
Patrons are advised to bring bags that facilitate easy inspection and remove bulky items, such as jackets and blankets, from bags during the inspection process.
Bag policies are aimed to ensure the safety and security of all fans.
All 2023 Red Wings Season Ticket holders will receive a 16" x16" x 8" clear bag as a gift when they pick up their season seats.
The Red Wings 2023 home opener is scheduled for Friday, March 31, 2023, at 4:05 pm against the Lehigh Valley IronPigs. Single-game tickets for all 75 home games are on sale NOW at RedWingsBaseball.com.