Salem Red Sox announce Opening Day Roster ROSTER FEATURES NO. 4 RED SOX PROSPECT MIGUEL BLEIS, 2022 RED SOX SECOND-ROUND PICK ROMAN ANTHONY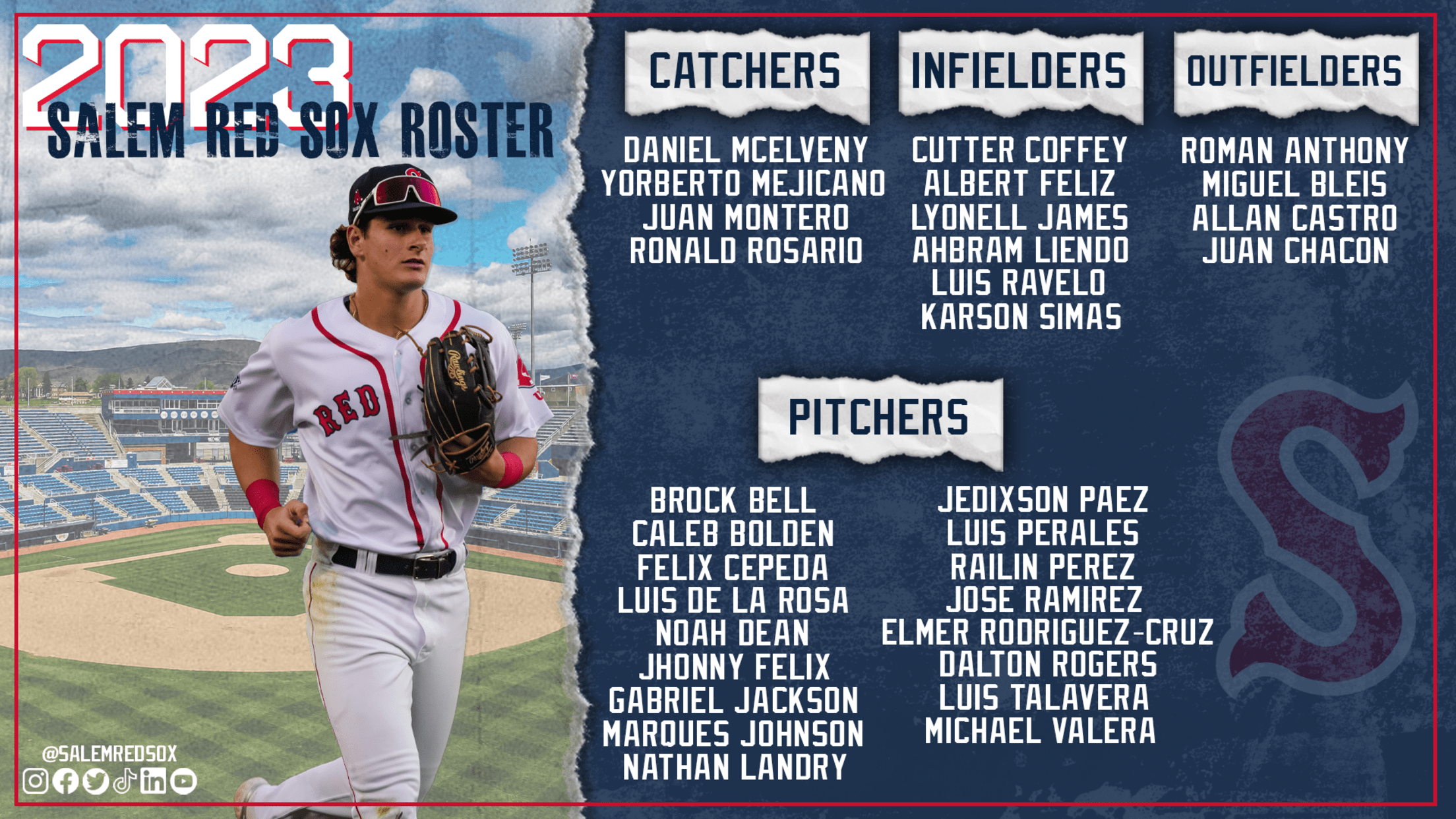 SALEM, Va. – With the home opener set for tomorrow, April 6th vs the Delmarva Shorebirds, the Salem Red Sox have unveiled their 2023 Opening Day roster. This season features 17 pitchers, four catchers, six infielders, and four outfielders. The 2023 Carolina League Class-A stage is set for an exciting
SALEM, Va. – With the home opener set for tomorrow, April 6th vs the Delmarva Shorebirds, the Salem Red Sox have unveiled their 2023 Opening Day roster. This season features 17 pitchers, four catchers, six infielders, and four outfielders. The 2023 Carolina League Class-A stage is set for an exciting and competitive return.
Leading the team this season is manager Liam Carroll. Carroll begins his first season in the Red Sox organization as Salem's manager. He previously worked with Great Britain's national baseball teams, most recently as infield coordinator. Carroll served on Great Britain's coaching staff for the 2023 World Baseball Classic.
"Having had the opportunity to watch these talented young men throughout Spring Training, I could not be more excited for our fans and community to watch our players develop and compete this season," said Carroll. "We're looking forward to the opportunity to represent Boston and Salem at Carilion Clinic Field and throughout the Carolina League!"
Highlighting the Red Sox roster is No. 4 prospect, 19-year old Miguel Bleis. Compared often to international talents such as Rafael Devers, Bleis is built to hit for power standing at 6-foot-3. Salem also welcomes 2022 Red Sox second round draft pick and No. 10 prospect, 18-year old Roman Anthony who blasted a 450-foot homerun during the 2021 High School All-American Game. Salem boasts four additional top 25 Red Sox prospects, including, Perales (No.13), Coffey (No. 19), Rodriguez-Cruz (No. 24), and Rogers (No. 25).
Pitchers (17): Brock Bell, Caleb Bolden, Felix Cepeda, Luis De La Rosa, Noah Dean, Jhonny Felix, Gabriel Jackson, Marques Johnson, Nathan Landry, Jedixson Paez, Luis Perales, Railin Perez, Jose Ramirez, Elmer Rodriguez-Cruz, Dalton Rogers, Luis Talavera, Michael Valera
Catchers (4): Daniel McElveny, Yorberto Mejicano, Juan Montero, Ronald Rosario
Infielders (6): Cutter Coffey, Albert Feliz, Lyonell James, Ahbram Liendo, Luis Ravelo, Karson Simas
Outfielders (4): Roman Anthony, Miguel Bleis, Allan Castro, Juan Chacon
#
The Salem Red Sox are the Low-A affiliate of the Boston Red Sox and call Haley Toyota Field in Salem, Virginia home. The Red Sox are in the Northern Division of the Low-A East League. The team was founded in 1968 and purchased by Fenway Sports Management in December of 2007.