San Antonio Missions Reveal 2023 Break Camp Roster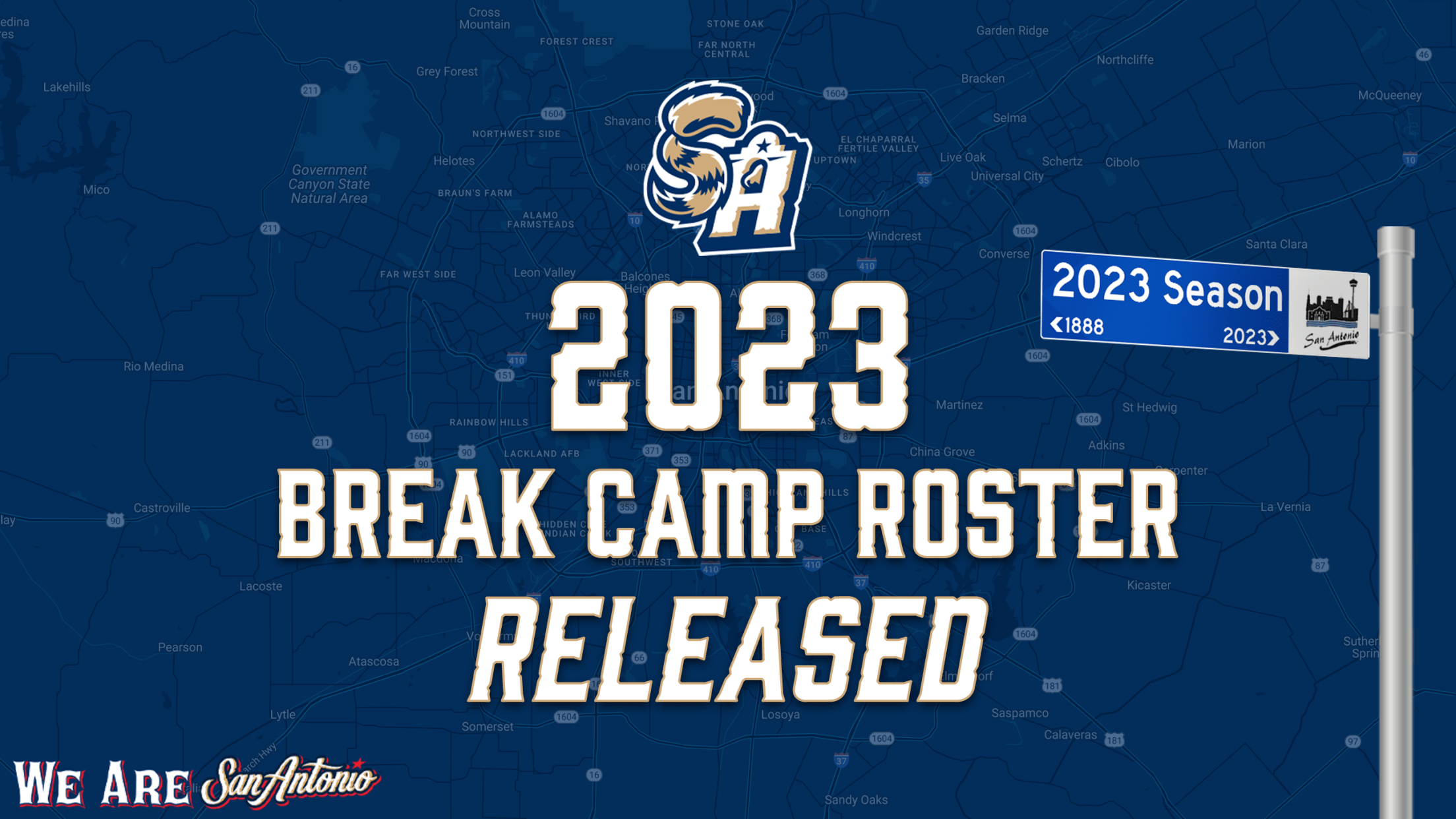 Roster Highlighted by 15 Returners from 2022 Season SAN ANTONIO – The San Antonio Missions, in accordance with the San Diego Padres, have announced their break camp roster. The initial roster consists of 30 players (16 pitchers, 14 position players) and includes three members of MLB Pipeline's Top 30 Padres
Roster Highlighted by 15 Returners from 2022 Season
SAN ANTONIO – The San Antonio Missions, in accordance with the San Diego Padres, have announced their break camp roster. The initial roster consists of 30 players (16 pitchers, 14 position players) and includes three members of MLB Pipeline's Top 30 Padres prospects. The roster contains four players with previous Major League experience and 15 players with previous experience with the Missions.
Reigning Texas League batting champion, Connor Hollis, highlights the list of returning Missions players. Hollis batted .333 with nine homers, 22 doubles and 59 RBI in 103 games for the Missions in 2022. Juan Fernandez, Korry Howell (13th ranked Padres' prospect), Jorge Ona, Tirso Ornelas, Ripken Reyes and Chandler Seagle round out the returning position players from last season.
For the pitching staff, 16th ranked Padres' prospect Jackson Wolf will begin the season in the Alamo City after making two starts for the Missions last year. He will be joined by Lake Bachar, Edwuin Bencomo, Henry Henry, Kevin Kopps, Seth Mayberry, Jose Quezada and Nolan Watson as returning Missions pitchers.
"After the success we had last season, it is exciting to see a lot of familiar faces return to The Wolff this season," said Missions president Burl Yarbrough. The combination of veteran guys and fan-favorites like Henry, Tirso and Seagle should make for some exciting baseball this summer. We can't wait for this group to take the field later this week."
The initial roster contains 15 newcomers including three players with previous Major League experience. Left-hander Jared Koenig made his debut last season with the Oakland Athletics and pitched in 10 games while starting five of those. Left-hander CD Pelham appeared in 10 games for the Texas Rangers during the 2018 season. Lastly, outfielder Daniel Johnson played in 35 games for the Cleveland Guardians during the 2020 and 2021 seasons.
Other newcomers in the pitching staff include Jose Espada, Nick Hernandez and Justin Lopez. Espada, 26, pitched for Puerto Rico during this year's World Baseball Classic. Hernandez, 28, played for the Corpus Christi Hooks from 2017-2022. Lopez, 22, transitioned from an infielder to a pitcher during the 2022 season.
New position players in 2023 include Brantley Bell, Pedro Castellanos and Evan Mendoza. Bell, 28, is the son of former big-leaguer Jay Bell. Castellanos, 25, joins the Missions after recording back-to-back double-digit home run seasons with the Red Sox organization. Mendoza, 26, spent two years with the Springfield Cardinals in 2018 and 2019.
Five members of the initial roster are set to make their Double-A debuts this season, including Lopez. Efrain Contreras, 23, missed the 2021 season after undergoing Tommy John surgery. He spent the 2022 season with High-A Fort Wayne and made 17 starts. Espada previously played in the Blue Jays and Red Sox organizations before signing with San Diego in 2022. He pitched in 11 games for Fort Wayne last season and 28 games for High-A Greenville in 2021. Duncan Snider, 25, is a 6'7" right-hander who signed with San Diego last season after previously playing in the Independent League. Snider pitched in 11 games for Single-A Lake Elsinore in 2022. Lastly, Adam Kerner, 24, appeared in two games for Triple-A El Paso last season. Kerner has also played in 78 games for Fort Wayne dating back to 2021.
The San Antonio Missions will be hosting two exhibition games against Monclova on Saturday, April 1st and Sunday, April 2nd. Saturday's game will be at 6:05 p.m. and Sunday's game at 1:05 p.m.
The 2023 campaign officially begins on Thursday, April 6th when the Missions hit the road for a three-game series with the Tulsa Drillers. The season opener is set for a 7:05 p.m. start. The Missions home opener will be Tuesday, April 11th against the Frisco RoughRiders at 7:05 p.m. That will be the first of a six-game series.
The San Antonio Missions are the Double-A affiliate for the San Diego Padres. The 2023 season will be the 121st professional season for the San Antonio Missions. Season seat memberships, as well as group tickets, for the 2023 season are available now. Call 210-675-PARK to discuss pricing for season tickets, group tickets and hospitality. Single game tickets are on sale now. The Missions Box Office will be cashless this season. Fans can purchase tickets at the box office using credit cards. For more information on the upcoming season call 210-675-PARK (7275) or visit samissions.com.