Series Split: Peraza and McKinney Homer in Loss to Omaha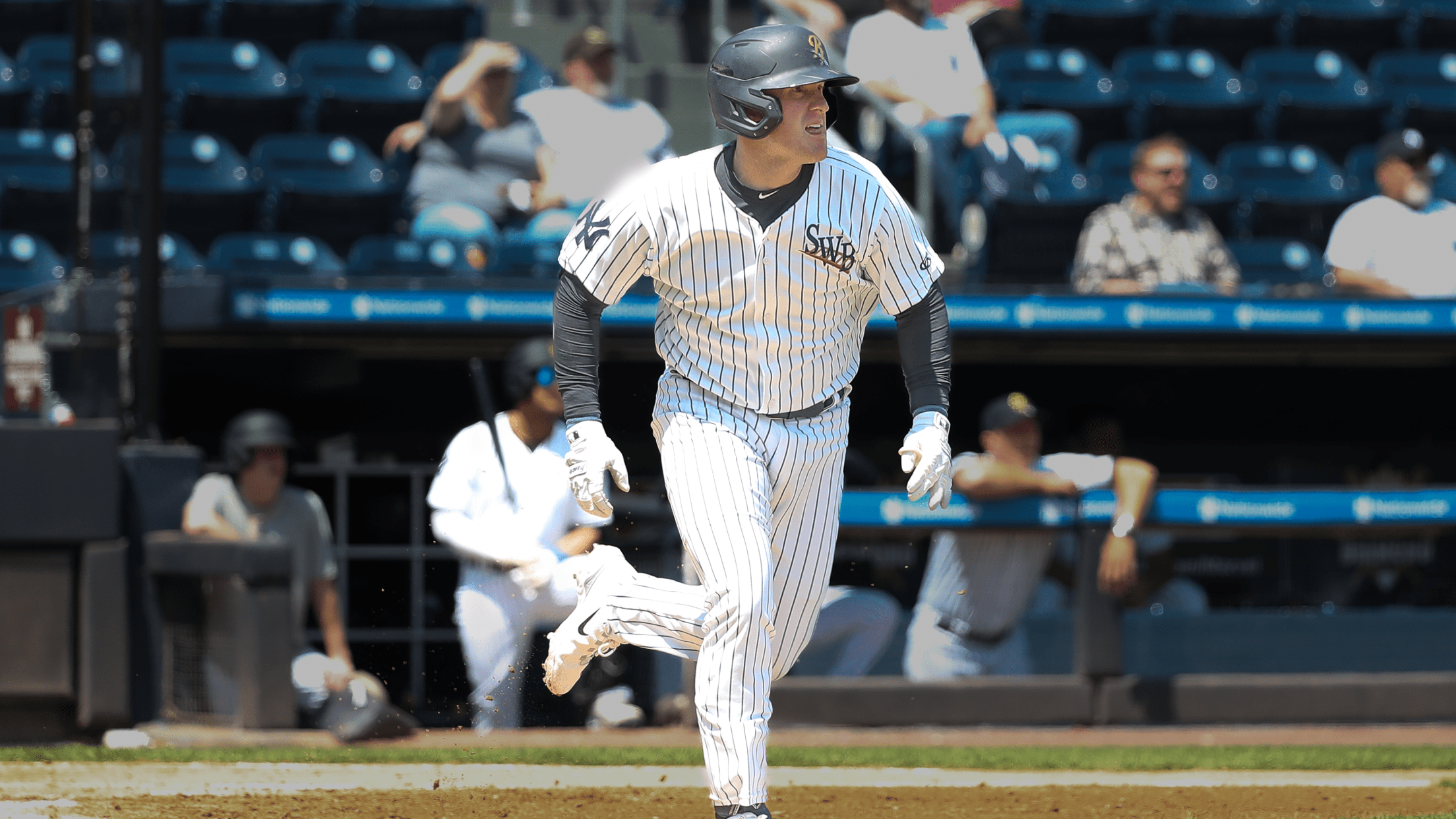 Billy McKinney hit a grand slam Saturday night, but the RailRiders fell 8-6 at Lehigh Valley. (Tim Dougherty)
BOX SCORE | OMA 6, SWB 3 The Scranton/Wilkes-Barre RailRiders dropped 6-3 to the Omaha Storm Chasers on a Sunday matinee contest. In Major League rehab, Oswald Peraza had a home run in the first inning. Billy McKinney had one as well in the eighth, but it was not enough
The Scranton/Wilkes-Barre RailRiders dropped 6-3 to the Omaha Storm Chasers on a Sunday matinee contest. In Major League rehab, Oswald Peraza had a home run in the first inning. Billy McKinney had one as well in the eighth, but it was not enough against Omaha.
The Railriders picked up right where they left off. They wrapped up Saturday afternoon's contest with a homer and led off Sunday's clash with a similar result. On a rehab assignment with Scranton Wilkes-Barre, Oswald Peraza laced a solo home run to the home bullpen to give the team a 1-0 lead in the bottom of the first.
It's good to see ya, Oswald Peraza 👀

Peraza hammers this one 356 ft. and 101 MPH off the bat to put SWB up 1-0 in Bottom 1! #EverythingMajor #RepBX pic.twitter.com/s0npye0Djk

— SWB RailRiders (@swbrailriders) May 14, 2023
CJ Alexander answered back for the Storm Chasers with his second homer in as many games to tie the game back up at one. In the same inning, a wild pitch allowed Jakson Reetz to reach on a strikeout. A double off the bat of Brewer Hicklen and an error allowed Reetz to come home, giving Omaha a 2-1 lead in the top of the second.
In the top of the fourth, Alexander ripped a triple down the first base line and scored following an RBI double from Reetz, further damage was threatened but Mitch Spence fanned Clay Dungan to work out of a jam, Omaha led 3-1 at the top of the fourth.
Franchy Cordero led the bottom of the fourth with a double and Rodolo Durán hit a singled to reach. Billy McKinney worked a walk to load the bases. Jesús Bastidas fought through an at-bat to garner a walk as well scoring Cordero and the Railriders cut the Stormchasers lead to 3-2.
Back and forth scoreless innings were exchanged for three straight, until McKinney broke it up with a solo deep ball to right to tie the game up at three a piece in the eighth. After McKinney's fourth long ball of the season, Estevan Florial had a base hit but was left stranded, keeping the tie at 3-3.
TIE GAME!

Billy McKinney says "See ya!" in Bottom 8 with this moonshot! 👋#EverythingMajor #RepBX pic.twitter.com/MvKMAqJ6dr

— SWB RailRiders (@swbrailriders) May 14, 2023
In the top of the ninth, Hicklen shot a deep ball into left to give Omaha a 4-3 lead. Dairon Blanco recorded a walk and Samad Taylor smoked a two-run shot to pad the lead 6-3.
The Storm Chasers would preserve the three-run lead in the bottom of the ninth putting Scranton-Wilkes Barre down 1-2-3 to end it.
Mitch Spence went five frames allowing five hits, while giving up three runs, two of which were earned. Matt Krook pitched a quiet sixth, fanning three and walking one. Colten Brewer came on in relief of Krook and kept the Storm Chasers at bay, striking out two, and tallying a walk. DJ Snelten (L, 0-3) went two thirds of an inning allowing three runs on the two long balls in the top of the ninth. But, Barrett Loseke recorded a strike out to end the frame.
Drew Parrish finished his day going 3.1 innings, with six hits given up and two runs, striking out six and walking three. Andres Núñez worked out of a jam, Evan Sisk went 1.2 innings allowing a hit and a walk, striking out two. Colin Snyder walked one and struck out two in the seventh, Jonah Dipoto finished with the win (1-0) going an inning, allowing one run on two hits and sitting down two Railriders. Nick Wittgren (S, 5) finished it off with the 1-2-3 ninth earning the save.
The Railriders have an off day tomorrow before traveling to Charlotte to begin their road trip on Tuesday. Right hander Sean Boyle will toe the rubber for Scranton-Wilkes Barre with first pitch scheduled for 6:35pm.