Series Win: Florial & Donaldson Propel SWB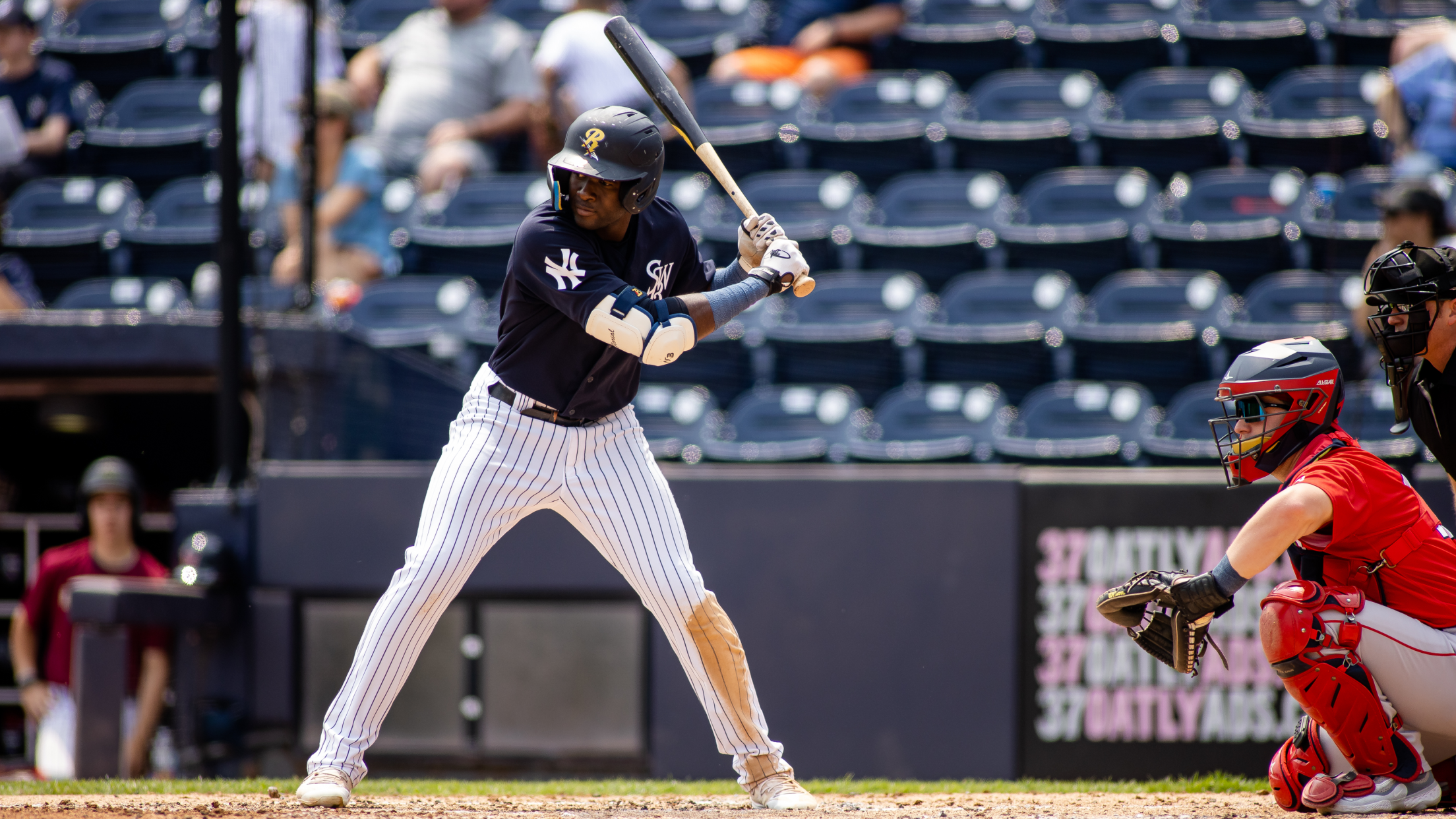 Estevan Florial went 3-for-5 with a double and a home run in Sunday's 11-4 win over Worcester. (Todd Hiller)
BOX SCORE | SWB 11, WOR 4 MOOSIC, PA (May 28th, 2023) -The Scranton/Wilkes-Barre RailRiders toppled the Worcester WooSox 11-4 to secure their fourth series victory of the season. All batters for Scranton/Wilkes-Barre reached successfully in this afternoon's win. Worcester's David Hamilton led the game off with a triple and
MOOSIC, PA (May 28th, 2023) -The Scranton/Wilkes-Barre RailRiders toppled the Worcester WooSox 11-4 to secure their fourth series victory of the season. All batters for Scranton/Wilkes-Barre reached successfully in this afternoon's win.
Worcester's David Hamilton led the game off with a triple and Major League rehabber Christian Arroyo sent him home for an early 1-0 lead.
Estevan Florial started the bottom half of the inning quickly with a leadoff base hit. Yankees Major League rehabber Josh Donaldson drew a walk and Oswald Peraza was hit by a pitch to load the bases. A wild pitch allowed Florial to score and the runners to advance, the RailRiders tied it up 1-1. Kole Calhoun drew a walk to load the bases again, this time for Andrés Chapparo. He laced an RBI single to score Donaldson. Then, afielder's choice from Rodolfo Durán followed by an error on the double play attempt allowed both Calhoun and Peraza to cross the plate. At the end of one, Scranton Wilkes-Barre held a 4-1 lead.
In the second, Florial lined his sixth extra base hit of the season, a double. Donaldson followed with a double of his own to bring in a run extending SWB's lead to 5-1. Peraza lined a base hit and Calhoun drew another walk, loading the bases yet again for Chapparo. He tallied another RBI with a sacrifice fly to score Donaldson for a 6-1 lead.
Worcester cut into the lead with three runs on three hits and a RailRiders error in the third.
In the bottom half, Carlos Narvaez walked and stole a base, setting a runner in scoring position for Florial. The Lackawanna County player of the week smashed his 12th homer of the season to bring the Scranton Wilkes-Barre advantage to 8-4.
IT'S THE FLO SHOW! 🎬

Estevan Florial launches a no-doubter 449 ft. and is a triple shy of the cycle! #EverythingMajor #RepBX pic.twitter.com/FsYeswtcpl

— SWB RailRiders (@swbrailriders) May 28, 2023
Elijah Dunham led the bottom of the fifth off with a double down the right field line. Durán followed with a single, putting runners on the corners for Narvaez who lashed an RBI base hit to bring Dunham. Jamie Westbrook continued the action with a single of his own to bring in Durán, vaulting SWB's lead to 10-4.
The RailRiders struck again in the eighth. Donaldson smashed a solo shot, his first in rehab, to bring the lead to 11-4.
Clear skies all day? Nah, consider the rain brought! 🌧️@Yankees Josh Donaldson DEMOLISHES a 458 ft. solo shot on his MLB rehab assignment with SWB. He's 2-for-3 with a double, homer, and two walks. #EverythingMajor #RepBX pic.twitter.com/sQoEESAn0C

— SWB RailRiders (@swbrailriders) May 28, 2023
Will Warren (W, 2-1) bounced back in a big way going six innings allowing just two earned runs on four hits while striking out eight. On a Major League rehab assignment, Tommy Kahnle pitched a scoreless seventh striking out three of four faced. Colten Brewer took the ball from there and tallied two scoreless innings to close the contest out.
Matt Dermody (L, 2-2) went two innings for Worcester giving up five runs on five hits. Norwith Gudiño tossed 2.1 innings allowing four runs on five hits. Ryan Sherriff and Taylor Broadway combined for 2.2 scoreless innings. Oddanier Mosqueda allowed a run and a hit in an inning of work.
The RailRiders have tomorrow off before heading on the road to take on the Lehigh Valley IronPigs next week. First pitch for Tuesday's clash is slated for 6:45 PM.