Harrison Bader: From Patriot To Pinstriped Postseason Hero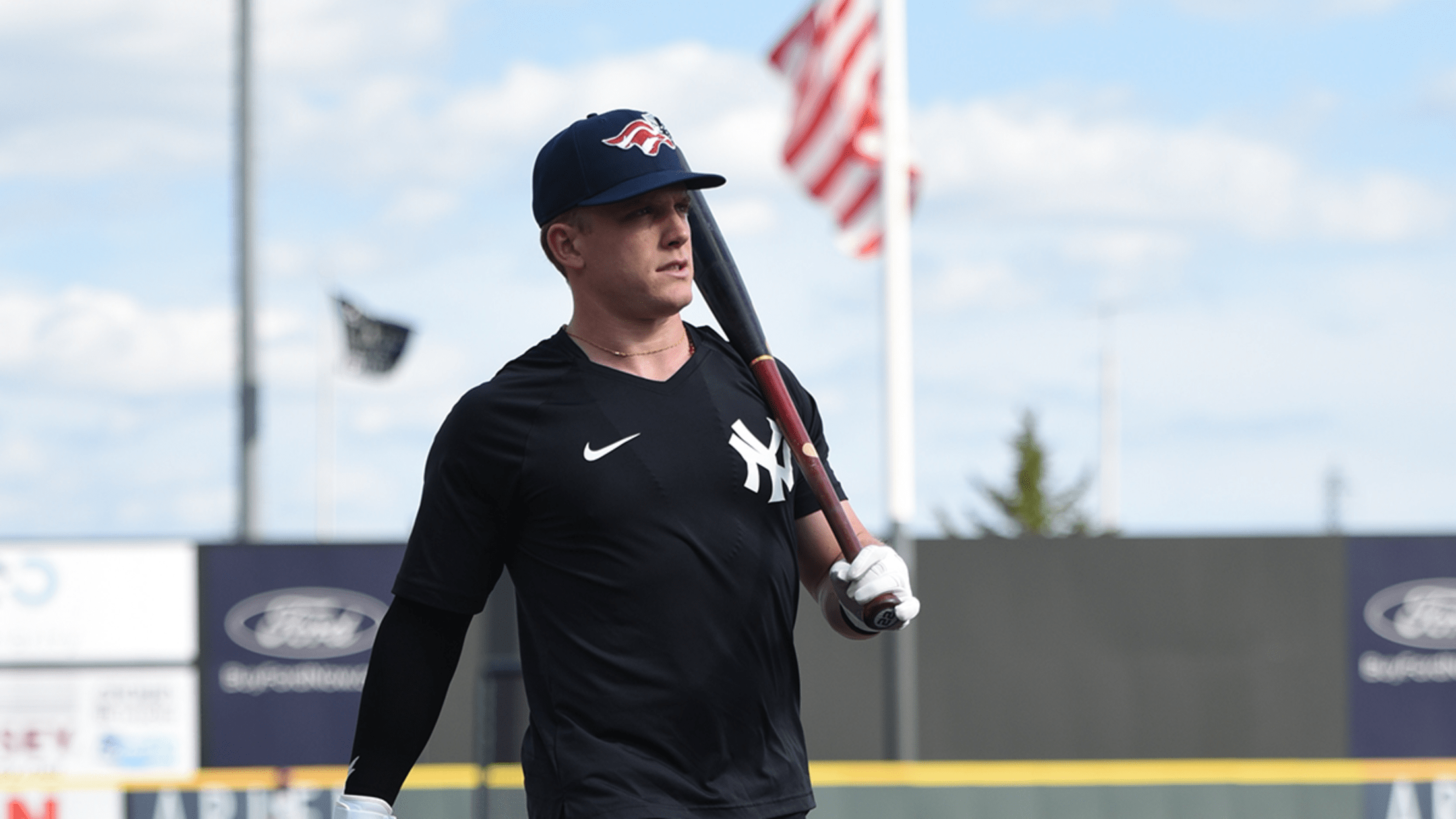 Bridgewater, New Jersey -- Throughout history, the MLB postseason has proven to be a showcase that introduces the world of baseball to its next generation of October heroes. This year, for the Yankees, that hero has unequivocally been Harrison Bader. The 2021 Gold Glover was born and raised a Yankee
Bridgewater, New Jersey -- Throughout history, the MLB postseason has proven to be a showcase that introduces the world of baseball to its next generation of October heroes.
This year, for the Yankees, that hero has unequivocally been Harrison Bader.
The 2021 Gold Glover was born and raised a Yankee fan in Bronxville, New York. He dreamed of wearing pinstripes one day and on August 2, 2022, his dream became a reality.
"It means a lot. There's no doubt about it. I'm not gonna hide the fact that I was born and raised in New York and grew up a Yankees fan. But there's a job to do every single day. I'm absolutely thrilled, but that doesn't take away from what we have going on and that's winning games," Bader said to the media at TD Bank Ballpark ahead of his first game in pinstripes on September 13, the second game of his rehab assignment with the Patriots.
"To be with such an incredible organization as the Yankees with so much history, it's an honor... The Yankees are getting a winning player with a winning mentality and that's all I wanna be."
What was perhaps the Yankees' most overlooked trade deadline deal brought the Bronx's brightest postseason star back to the place he once called home.
Between the blockbuster trade deadline deals that brought the likes of Frankie Montas and Scott Effross to New York, it's been the most silent move that has spoken the loudest for the Yankees this postseason.
Just minutes before the 2022 MLB trade deadline, Bader was acquired by the Yankees from the St. Louis Cardinals in exchange for six-year Yankees starting rotation staple, left-handed pitcher Jordan Montgomery.
"Was I expecting to be traded? No. I think a lot of the level of surprise we feel as athletes comes from lack of preparation or lack of planning and I was surprised because I wasn't planning for it," Bader said.
"We also pivot, react and adjust. That's part of the nature of the game on the field, so I did just that."
At the time he was traded, Bader had been out with right-foot plantar fasciitis, a painful and persistent injury that kept him sidelined from June 27 on with the Cardinals.
After the Yankees traded for Bader, he was added to the 60-day injured list on August 25. All the while, Montgomery, who had posted modest numbers across his Yankees tenure (career 3.94 ERA in 98 appearances), was dazzling in his St. Louis debut.
In his first six starts as a Cardinal, Montgomery went 5-0 with a 1.47 ERA. Over this same, post-trade deadline period, Yankees starters went 4-12 with a 3.84 ERA.
Before Bader had even suited up in pinstripes, Montgomery's early success in St. Louis had set up lofty, and perhaps unrealistic, expectations for Bader in his Yankees tenure--expectations that he paid no mind to.
"Honestly, I pay attention to one clubhouse, that's the clubhouse I'm in and that's the New York Yankees," Bader said in the second week of September, with the Yankees entering a series with high playoff implications in Tampa Bay. "We're just gonna focus on what we have to do to get to the playoffs and make a run for a World Series."
It wasn't until the second week of September that Bader was finally cleared to make his Yankees organizational debut: as a member of the Double-A Somerset Patriots on a Sunday, September 11 in Hartford, Connecticut.
Along the final week of the regular season, Bader played a total of six games with the Patriots, slashing .286/.395/.524 with a home run, his first as a member of the Yankees organization, to go along with four runs scored, four RBI and a stolen base.
Through the course of his rehab from right-foot plantar fasciitis, the former six-year veteran of the Cardinals was insistent on his desire to make an impact in the postseason.
"Hopefully pinstripes in the Bronx is in my very near future... I'm really just focused every single second on being a weapon for this team to help them win in October."
Now, midway through October, not only has Bader met the ambitious expectations he inherited, he has shattered them along an October crash course of excellence.
During the ALDS vs. Cleveland, Bader became the fourth Yankee in postseason franchise history to hit 3+ home runs in a best-of-five postseason series (Giancarlo Stanton, Bernie Williams, Paul O'Neill).
Bader added another home run to his postseason resume in the first game of the ALCS vs. Houston, totaling four in the postseason now, currently the most of any player in baseball.
From his first postseason game with the Yankees on October 11, and the moment he hit his first Yankees home run in that game, Bader has transformed his reputation from that of defense-first, Gold Glove-winning center fielder, to that of a legitimate postseason hero and household name among MLB's broader audience.
A baseball career that started in Eastchester, New York has come full circle for Bader.
From his high school playing days at Horace Mann High School in the Bronx, to his tenures at the University of Florida and the St. Louis Cardinals, by way of Somerset, Harrison Bader has wound up right back where he started in the Bronx, and he's made himself feel right at home.