Baylor's last minute blast beats Tarpons, 1-0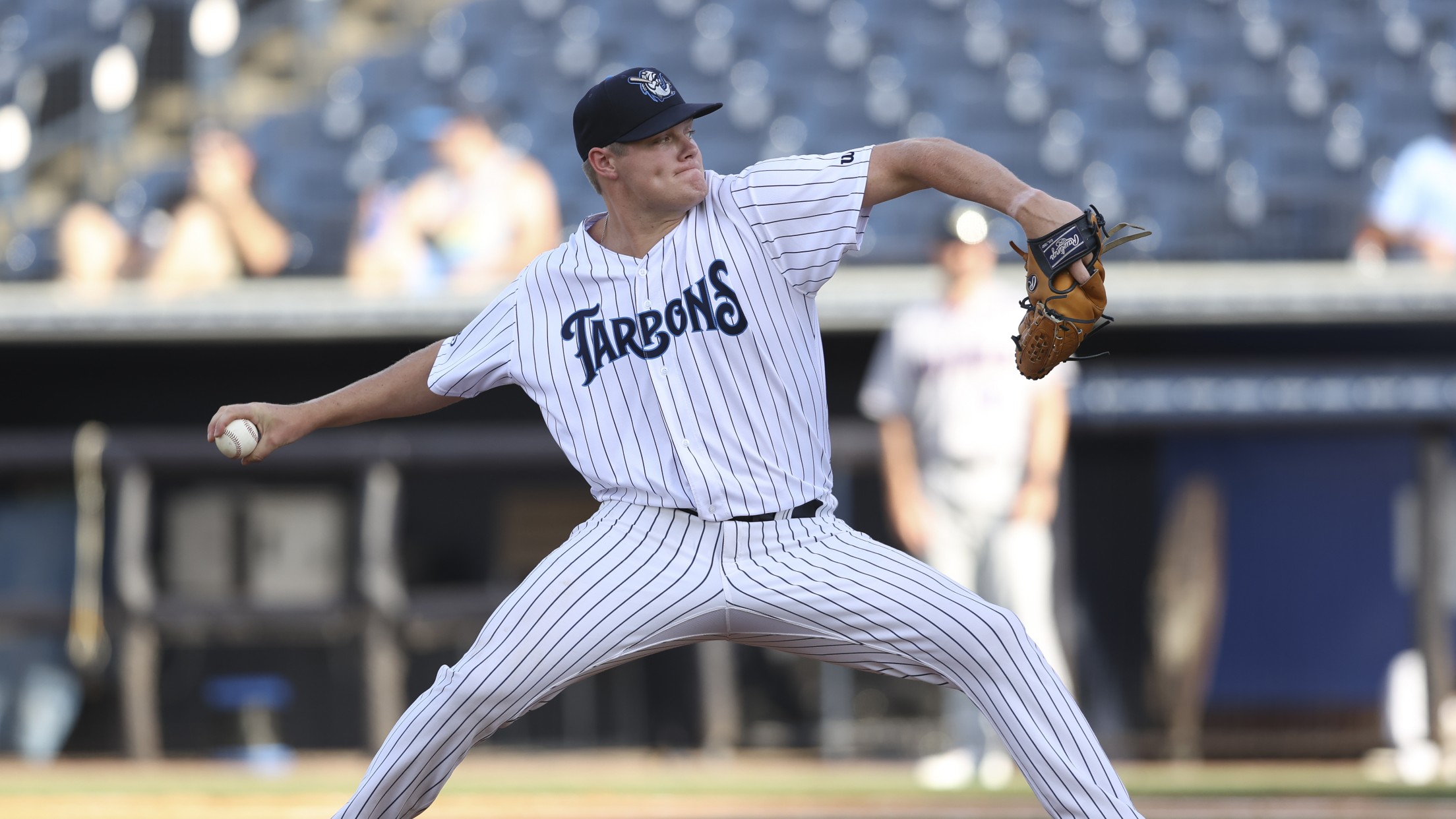 (Tarpons PR)
TAMPA, Fla. – Jabari Baylor's lead-off homer in the top of ninth proved to be the difference Friday night as the Clearwater Threshers (12-22) topped the Tampa Tarpons (20-12) at George M. Steinbrenner Field, 1-0. It was a pitcher's duel throughout, with both starters providing their best stuff. RHP Richard
TAMPA, Fla. – Jabari Baylor's lead-off homer in the top of ninth proved to be the difference Friday night as the Clearwater Threshers (12-22) topped the Tampa Tarpons (20-12) at George M. Steinbrenner Field, 1-0. It was a pitcher's duel throughout, with both starters providing their best stuff.
RHP Richard Fitts toed the rubber for Tampa and was nearly perfect through six innings of work. Fitts, who finds himself ranked within the Yankee's top 30 prospects after the trade deadline, was basically untouchable. He was in complete control, fanning seven batters while allowing only a hit and walk. Fitts took a no-hitter into the sixth but saw it broken up on a bloop single that dropped between three Tarpons.
If only Tampa could have provided him with even an inkling of run support…
The Tarpons certainly lacked hits, only amassing five total, but that does not mean they lacked opportunities.
In the bottom of the second inning, things looked to be going somewhere offensively. CF Madison Santos led off with a walk and DH Ben Rice slapped a single through the hole on the right side to put runners on the corners. Unfortunately, a failed double steal attempt ended the threat as Santos was thrown out at home. Baylor, stationed at second base, cut off the throw to second and whipped the back to Caleb Ricketts behind the plate to get Santos by a mile.
The bottom of the sixth also began promising with a lead-off double by 1B Anthony Garcia. Clearwater reliver Konnor Ash walked 3B Ben Cowles and Santos to load the bases with one out. Ash regained his control and struck out both 2B Jared Serna and Rice to conclude the frame with no damage done.
Manager Rachel Balkovec put the ball in the hands of RHP Harold Cortijo to start the seventh and he twirled two scoreless innings. Instead of rolling with Cortijo, the Tarpons turned to LHP Ryan Anderson to get Tampa through the ninth and set up a possible walk-off victory.
Instead, Baylor greeted Anderson with a lead-off, solo shot to right field which proved to be the only run necessary for Clearwater.
The Tarpons and Threshers clash again tomorrow afternoon for game five of their six game set. RHP Zach Messinger is expected to make the start for Tampa, with first pitch scheduled for 6:30 PM EST.