End Game! Familia finishes Tortugas with walk-off homer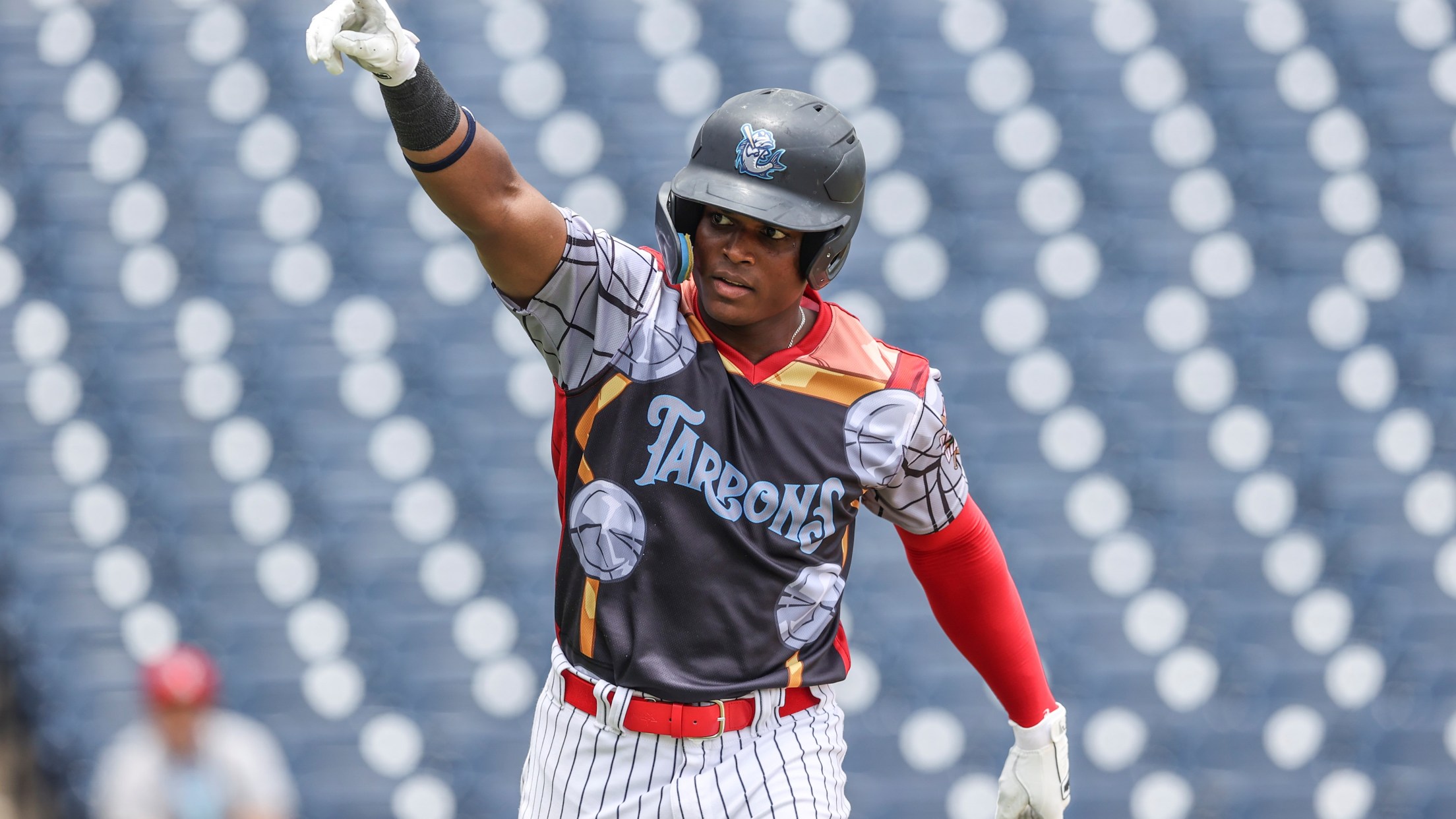 Christopher Familia points to the dugout after winning the game with a walk-off homer. (Mark LoMoglio)
TAMPA, Fla. – Tarpons, assemble! The Tampa Tarpons (13-6) harnessed their superpowers on Marvel's Defenders of the Diamond Day, defeating the Daytona Tortugas (7-13) at George M. Steinbrenner Field, 5-3. LF Christopher Familia summoned the power of Thor, hammering a clutch walk-off home run to win the game for the
TAMPA, Fla. – Tarpons, assemble!
The Tampa Tarpons (13-6) harnessed their superpowers on Marvel's Defenders of the Diamond Day, defeating the Daytona Tortugas (7-13) at George M. Steinbrenner Field, 5-3. LF Christopher Familia summoned the power of Thor, hammering a clutch walk-off home run to win the game for the good guys in the final frame.
Tampa struck first in the bottom of the third inning. Daytona's Javi Rivera walked DH Alexander Vargas and beaned 3B Marcos Cabrera in the side. With two runners on, 1B Anthony Garcia ripped Rivera's offering to the right side of the infield. Braylin Minier made a diving attempt, but the ball ricocheted off his glove into right field to score Vargas.
Vargas produced another run in the fifth as he channeled his inner Hulk to smash a solo shot deep into the right field seats. His sixth homer of the year put Tampa ahead, 2-0.
RHP Chandler Champlain put together a fantastic performance on the mound which wound up one swing away from a complete gem. Champlain lasted six innings, surrendering three runs while compiling a season-high 11 strikeouts.
His stellar performance took a major turn for the worse in the top of the sixth inning. Jamal O'Guinn led off with a single to left and Fidel Castro followed suit with a single to center. Steven Leyton stepped up to the plate and crushed a 3-run bomb to put the Tortugas on top 3-2.
The Tarpons responded right back in the bottom half of the sixth. Calm, cool, and collected like Captain America, 2B Luis Santos smacked a seeing-eye single between short and third to tie the game at three apiece.
RHP Jack Neely replaced Champlain in the top of the seventh and recorded two strike outs while keeping the contest knotted up.
The script was set up perfectly… which Tarpon would answer the call and emerge as Tampa's hero on Defenders of the Diamond Day? The answer… Christopher Familia.
With C Antonio Gomez on first, Familia unleashed a monster homer which landed all the way in Wakanda to win it for the home team. It was Familia's first homer in Single A ball after being transferred to Tampa this week.
The Tampa Tarpons will return to action Friday night after the All-Star break to host the Lakeland Flying Tigers.