Mighty Mussels make light work of Tarpons, 8-3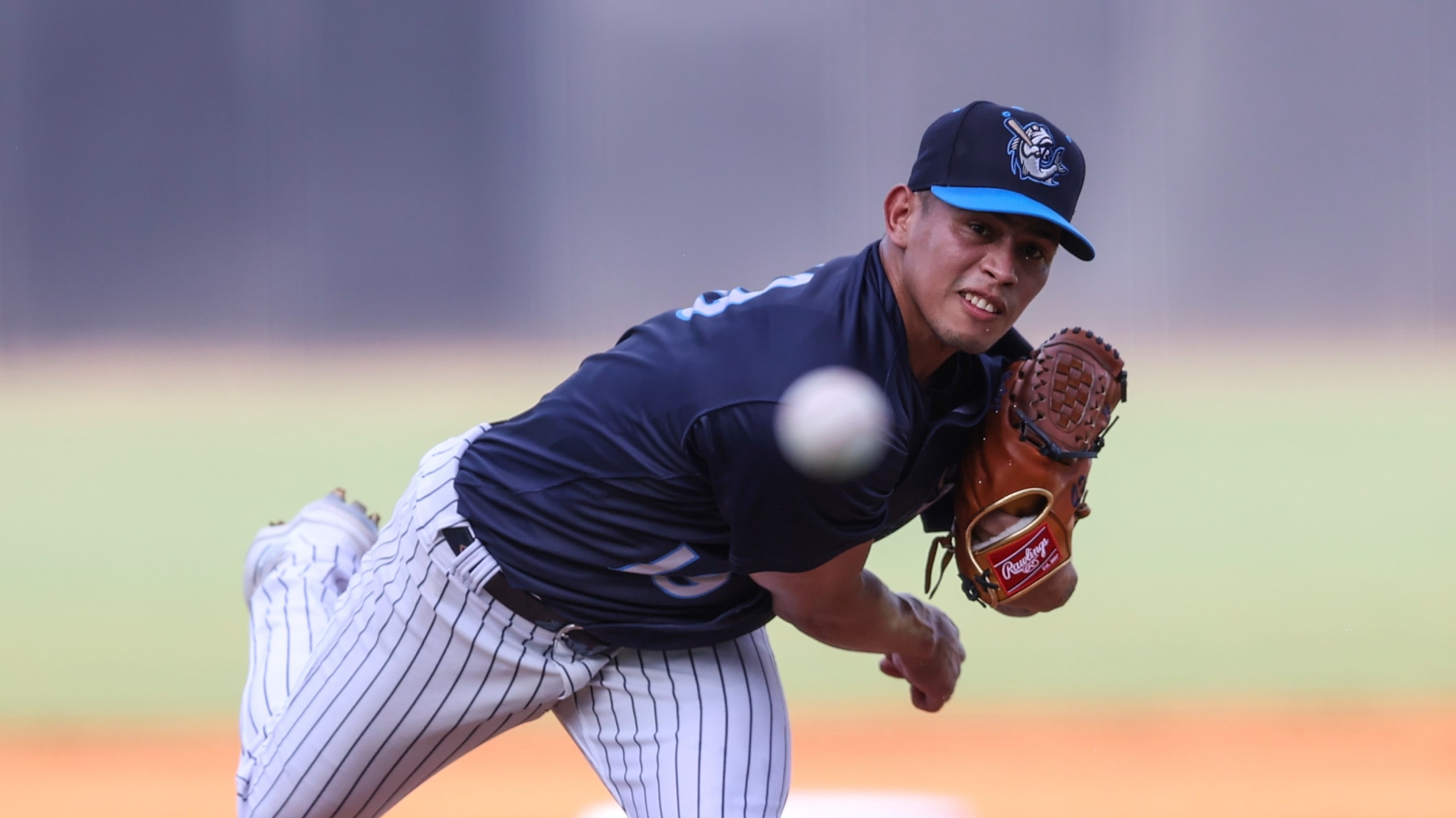 Jonathan Loáisiga throws a pitch during his rehab start in Tampa. (Mark LoMoglio)
TAMPA, Fla. – The Tampa Tarpons (10-4) failed to extend their winning streak to five games, dropping Saturday night's contest to the Fort Myers Mighty Mussels (3-9) at George M. Steinbrenner Field, 8-3. RHP Marco Raya and RHP Pierson Ohl (4-4) combined for 16 strikeouts as Fort Myers outdueled Tampa
TAMPA, Fla. – The Tampa Tarpons (10-4) failed to extend their winning streak to five games, dropping Saturday night's contest to the Fort Myers Mighty Mussels (3-9) at George M. Steinbrenner Field, 8-3. RHP Marco Raya and RHP Pierson Ohl (4-4) combined for 16 strikeouts as Fort Myers outdueled Tampa on the mound.
RHP Jonathan Loáisiga began his rehab assignment with the Tarpons and pitched only the first inning before being relieved by RHP Chandler Champlain (2-5). Loáisiga looked healthy in his first appearance, striking out one of the three batters he faced. Before being sidelined in late May, Loáisiga amassed a 7.02 ERA over 18 appearances this season for the Yankees.
In the home half of the first inning, DH Oswaldo Cabrera led off with a statement, pulverizing Marco Raya's 2-0 over the batter's eye in dead center to give the Tarpons an early lead.
Tampa struck again as CF Jasson Dominguez drilled an RBI double to center field in the bottom of the third inning. RF Raimfer Salinas came around to score after being hit by a pitch.
The Mighty Mussels answered in the next frame with Keoni Cavaco smashing a lead-off homer beyond the right field fence. Next, Mikey Perez hit a line-drive single to right field and came around to score on a towering blast off the bat of Carlos Aguilar two batters later. Aguilar's moonshot may have cleared the stadium and landed on Dale Mabry – but regardless of the landing spot, it gave Fort Myers a 3-2 advantage.
The Mighty Mussels picked up right where they left off the previous inning, tagging Champlain for a few more runs. Misael Urbina smoked a ground-rule double to centerfield and Noah Miller followed up with a walk. Both runners advanced one station on a throwing error by C Antonio Gomez and Urbina crossed the plate on a wild pitch in the dirt. The miscues would set up Cavaco to deliver again – this time, an RBI single to center which put Fort Myers ahead 5-2.
Champlain surrendered another run in the sixth before getting pulled in favor of RHP Jack Neely. It was not Champlain's strongest outing, but he did compile eight strikeouts.
Fort Myers tacked on another two runs in the top of the eighth inning off Neely. Perez dropped his second single of the night in front of LF Madison Santos and Rubel Cespedes drove him in on an RBI double to center. Cespedes tried stretching it to a triple but was thrown out by Dominguez. Next up, Aguiar demolished another baseball that looked to have cleared GMS Field, increasing the lead to 8-3.
Tampa went down quietly in the ninth as Ohl struck out the side.
The Tarpons and Mighty Mussels wrap up their six-game set tomorrow afternoon. RHP Zach Messinger (0-5, 4.46 ERA) will take the mound for Tampa, with first pitch scheduled for noon.